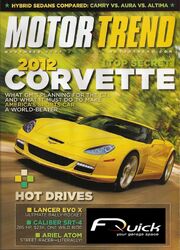 Motor Trend is an American automobile magazine. It first appeared in September 1949, issued by Petersen Publishing Company in Los Angeles, and bearing the tag line "The Magazine for a Motoring World". Petersen Publishing was sold to British publisher EMAP in 1998, who sold the former Petersen magazines to Primedia in 2001. As of 2007, it is published by Source Interlink. It has a monthly circulation of over one million readers.[1]
One of the earliest and most enduring of the magazine's creations was its Car of the Year award, given almost continuously since its inception, although the phrase itself would not become entrenched until well into the 50s. The first winner was the 1949 Cadillac; the company turned it down.[2] The award has gone through several splits and permutations over the years, being called the Golden Wheels Award for a while in the 70s and having given rise to Truck of the Year and Import Car of the Year as well as SUV of the Year. Nevertheless, it is still coveted by manufacturers and is usually covered by the mainstream press as the most important distinction awarded in the American auto industry.
New Car Guides
Edit
The magazine releases a special edition every September and October listing the latest new vehicles. In September the issue looks at the latest automobiles for the next coming calendar year, whilst in October the magazine looks at off-roaders, MPVs and sport-utility vehicles.
Offshoots
Edit
Truck Trend and Motor Trend Classic are two offshoots of Motor Trend magazine. Truck Trend magazine presents features and the latest news about the truck, SUV, and crossover segments. Additionally, the Readers' Rides section allows readers to post images and information about their own vehicles.
Motor Trend Classic, which took a break from publishing in the late 2000s, will be restarted in in 2010. It includes articles about significant classic cars from around the world made during the last 60 years.
Pre-owned Car Warranty
Edit
In 2009, Motor Trend introduced a certified used car program[3], beginning with dealers in Atlanta, GA and Cincinnati, OH. As explained in their press release, the program is powered by EasyCare.
References
Edit
↑ Flory, J. "Kelly", Jr. American Cars 1946-1959 (Jefferson, NC: McFarland & Coy, 2008), p.190.
↑ "Ramsey, Jonathon" (2009-01-24). ""Motor Trend getting into the used car business"". "Autoblog". http://www.autoblog.com/2009/01/24/i-motor-trend-i-getting-into-the-used-car-business/#continued

. Retrieved 2009-01-24

.

 
External links
Edit
Community content is available under
CC-BY-SA
unless otherwise noted.