The Mitsubishi Outlander is a compact Crossover SUV manufactured by Mitsubishi. It is loosely based on the Mitsubishi Lancer platform, though its engine is derived from the Mitsubishi Galant. The Outlander's main competitors in the North American market are the Subaru Forester, Toyota RAV4, Honda CR-V, Mazda Tribute, Hyundai Tucson and the Kia Sportage. Secondary competitors include the Pontiac Vibe, the Saturn VUE, and the Ford Escape.
Designed by Olivier Boulay, the Outlander was first introduced to North America in 2003. The Outlander is sold in Asian markets under the name Mitsubishi Airtrek(except in the Philippines, where it continues to be called the Outlander), while in Europe and the Americas, it retains the Outlander nameplate. The North American version is available in three trim levels: LS, XLS, and Limited (introduced in 2005). All trim levels have the option of front wheel drive or all wheel drive. The all wheel drive version uses normal ("open") differentials for the front and rear axles, with a viscous coupling unit for the center differential.
The North American version, however, only offers one engine, a 2.4 L I4 engine which produces a maximum of 160 hp and 162 ft·lbf of torque. The Airtrek, on the other hand, offers the additional option of a Turbo Engine engine.
Another feature which sets the Outlander apart from some other Crossover SUVs is its Sportronic semi-automatic transmission system (sometimes referred to as a Tiptronic shift system), which allows the driver to selectively shift gears up or down by pushing the shift lever up or down. This system has recently been used on many different types of vehicles, and is generally regarded as a good compromise between an Automatic transmission and a manual transmission. The 2005 model year, however, introduced a 5-speed manual transmission for the LS trim.

See Autopedia's comprehensive Mitsubishi Outlander Review.
Recent Changes
Edit
For 2010, Mitsubishi has announced the unveiling of two special edition Outlanders based on the 2.0 litre variants called the Outlander Roadest 2.0 in Japan. The two special Outlanders feature bodykits fitted to the EVO facelifted and pre-facelift Outlanders. The pre-facelift Roadest will start at 1,995,000 Yen while the EVO-faced Outlander is priced at 2,475,900 Yen.[1]
For 2010, the Outlander receives its first mid-cycle facelift, giving it the front fascia off the Lancer Evo X.
In 2009, Mitsubishi Australia released the limited edition Outlander ACTIV with Active Stability and Traction Control, cruise control, Mitsubishi All Terrain Technology, dual front airbags, all wheel control, 16 inch alloy wheels, automatic climate control air conditioning and comes with metallic and pearlescent paint as standard. It also features over $3,000 AUD of features such as Rockford Frosgate audio system, Bluetooth connectivity, roof rail cross bars, nudge bar, unique front grille, silver door handles and privacy glass. The limited edition Oulander ACTIV is priced at $33,990 AUD driveaway.
Styles and Major Options
Edit
LS
2.4L MIVEC
Cruise control
Active Stability Control
Add more fields as necessary.
MODEL Trims
Manual
SST
Trim3
Trim4
MSRP
£25,999
£27,199
$Price3
$Price4
Invoice
$Price1
$Price2
$Price3
$Price4
Gas Mileage
Edit
Add more fields as necessary.
As seen on the FuelEconomy.gov website, the City/Highway MPG averages are as follows:
Trim
Trim1
Trim2
Trim3
Trim4
MPG
c/h
c/h
c/h
c/h
Engine and Transmission
Edit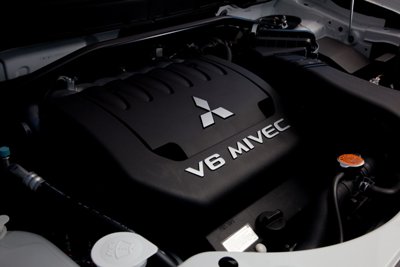 Specifications, details, graphs, pictures and other information regarding the powertrain is placed in this section.
Performance
Edit
Please make sure to write information of the vehicle's performance in a third-person point of view. This section should include information about the car's acceleration figures, handling, braking, etc.
If using information gathered from Road Test articles from a reputable automotive source, then please make sure to cite the quote.
Reliability
Edit
RECALL ALERT:On March 17, 2009, Mitsubishi issued a recall alert affecting 39,711 MY 2008-2009 Mitsubishi Outlanders and Lancers, equipped with an automatic or CVT transmission, due to "Incorrect material composition of the brake booster check valve may cause the check valve to stick closed when the engine is shut off" or faulty brakes. The recall begins next month (April 2009) and Mitsubishi urges owners to contact their local dealer to have their brake booster check valves inspected and replaced free of charge. Concerned owners can contact Mitsubishi at 1-800-222-0037 to learn more. This recall is filed under NHTSA campaign ID number 09V077000. [2]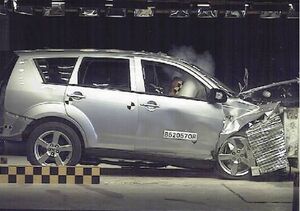 Safety Features
Front Side Airbags
Front and Rear Side Head Curtain Airbags
Driver Airbag With Dual Stage Deployment
Passenger Airbag With Dual Stage Deployment
Front Active Head Restraints
Front and Rear 3-Point Seatbelts
Side Guard Door Beams
Passenger Airbag Cutoff Sensor
Automatic Locking Retractors
Front Seatbelt Height Adjusters
Second Row 3-Point Center Seatbelt
Front Pretensioners With Force Limiters
2010 Facelift
Effort Grey Metalic
Aqua Metalic
Deep Blue Metalic
Cool Silver Metalic
Diamond White Pearl
Labrador Black Pearl
Pheonix Red
Main Competitors
Edit
Create links to other <MAKE> <MODEL> pages in this section.
Hybrid Models
Edit
If there are hybrid versions of this vehicle manufactured, then please elaborate a little bit on it here.
Unique Attributes
Edit
If there are any features of this vehicle that sets it apart from other vehicles in its class, then mention those unique attributes here.
This section should include information on the interior's design, build quality, ergonomics, space (head and legroom, front and rear), features, stowage compartments and overall comfortability and livability. Add pictures wherever applicable and keep information in a third-person point of view.
Resale Values
Edit
Add more fields as necessary.
<MODEL> Year
Year X
Year X-2
Year X-3
Year X-4
Resale Value
$
$
$
$
Criticisms
Edit
Please make sure to keep critiques in a third-person point of view. If using criticisms from a reputable automotive source, then please make sure to cite the quote.
Generations
Edit
Fill in as many as appropriate. Add more if necessary and pictures wherever applicable.
Please make sure NOT to use copyrighted pictures.
Current Generation: (2005–present)
Edit
On October 17, 2005, Mitsubishi announced that the new Outlander would launch in Japan that same day. The redesigned Outlander will start at ¥2,352,000 (about US$20,545). The new Outlander will feature a CVT with a six-speed manumatic function, three row seating, a split tailgate, and an electronically controlled four wheel drive system. The Outlander will continue to use the Mitsubishi GS platform, now used by some DaimlerChrysler models.
Some new features include a lightweight and safer body, a new SOHC 2.4 L 16-valve MIVEC engine; a new INVECS-III Sport Mode CVT, electronically controlled four wheel drive, stability control and other to-be-announced features.
The American market version was shown in April 2006 at the New York Auto Show.
In its home market of Japan it was the best-selling SUV from October 2005 to March 2006, while in the U.S. market it achieved 1,694 and 2,108 sales in November and December 2006, the first two full months it was available; Mitsubishi ultimately hopes for at least 4,000 sales per month in the United States.
At the 2007 SEMA Show, the company displayed a Mitsubishi Evolander concept, powered by a 224 kW (300 PS) supercharged version of the vehicle's 6B31 V6 engine and equipped with suitably uprated suspension, brakes, wheels/tires, body kit and interior. It is mooted that an Outlander Ralliart would closely mimic the mechanical specifications of this concept, although there is no indication that production has been approved.
The Outlander, which features Mitsubishi's RISE safety body, received a four star rating from the Euro NCAP car safety performance assessment programme.
Increased demand for the new Mitsubishi Lancer, and the consequent effects on the capacity of the company's Mizushima production facility, have obliged Mitsubishi to reassess production of the Outlander. In September 2007, they announced that from 2008, production of European market Outlanders would be transferred from Nagoya to its NedCar plant in the Netherlands, while the Citroën C-Crosser and Peugeot 4007 would have their production transferred from Mizushima to Nagoya
First Generation/Origins (2001-2005)
Edit
The Airtrek was first introduced to the Japanese market on June 20, 2001, priced from ¥1.7–2.3 million. It offered a choice of either a 126 PS (93 kW) 4G63 2.0 L or a 139 PS (102 kW) 4G64 2.4 L GDI, mated to a standard INVECS-II 4-speed semi-automatic transmission. Both front- and four-wheel drive were available. The four-wheel drive version uses normal ("open") differentials for the front and rear axles, with a viscous coupling unit for the center differential. A high performance model, using a detuned version of the Mitsubishi Lancer Evolution's 4G63T 2.0 L turbo, was introduced in 2002. The engine produced 240 PS (176 kW) and 343 N·m (253 ft·lbf), although in export markets the Outlander version's output was reduced to 202 PS (148 kW) and 303 N·m (223 ft·lbf).
The Outlander arrived in 2003. A version of the 4G64 powerplant was offered first, while a 4G69 2.4 L SOHC MIVEC I4 producing 158 PS (116 kW) and 220 N·m (162 ft·lbf), and the turbocharged 4G63T appeared in 2004. All had the option of front- or four-wheel drive.
In several South American markets it was known as the Montero Outlander, to benefit from an association with the strong-selling Mitsubishi Montero Sport.
See Autopedia's comprehensive 2001- 2005 Mitsubishi Outlander Review.
Worldwide
Edit
If the vehicle is sold in other markets worldwide, then this is the section to mention that information. Also, mention if the <MODEL> goes by another name in these other markets.
Design quirks and oddities
Edit
Refer to any pop-culture tidbits about the vehicle in this section.
2003 J.D. Power Initial Quality Study 3rd winner (Entry SUV)
External links
Edit
This page uses content from Wikipedia; see Mitsubishi Outlander, which includes these contributors.
Community content is available under
CC-BY-SA
unless otherwise noted.