Mercury Grand Marquis
Mercury
MSRP Range
$26,105 - $36,070
Production
1975-2010
Class
Full-Size Luxury Sedan
Body Style
4-Door Sedan
Length
212.0 in.
Width
84.5 in.
Height
58.3 in.
Wheelbase
114.7 in.
Weight
4,118-4,137 lbs.
Transmission
4-speed Automatic
Engine
4.6L Modular V8 SOHC
Power
224 hp @ 4800 RPM
275 lb-ft @ 4000 RPM
239 hp @ 4700 RPM
287 lb-ft @ 4100 RPM
Similar
Cadillac DTS
Lincoln Town Car
Buick Lucerne
Platform
Mercury Panther Platform
The Mercury Grand Marquis is a full-size rear-wheel drive luxury sedan made by Mercury and manufactured at the St. Thomas Assembly Plant in Canada. It was also built in St. Louis, Missouri until 1985.The Grand Marquis is still the sales leader in its class.  The Grand Marquis is also the only vehicle sold in Canada that still wears a Mercury Badge. The Grand Marquis is also Mercury's best selling vehicle ever, with over 4 Million sold since 1975. The Grand Marquis ceased production along with the Mercury brand after the 2010 model year. Today, the car is especially popular amongst the people involved with taxi companies as it's counterpart, the Ford Crown Victoria is mostly used in law enforcement.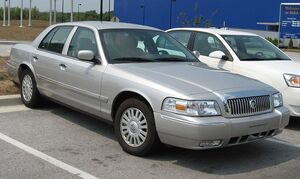 The Grand Marquis is essentially a luxurious version of the Ford Crown Victoria. It comes in two trim levels; GS and LS. The trim level can be identified by the fifth, sixth and seventh digits in the VIN. A Grand Marquis GS is represented by "M74", while a Grand Marquis LS Premium is represented by "M75".
The Grand Marquis shares the same "Panther" platform as the Ford Crown Victoria, Lincoln Town Car and the former Mercury Marauder. The Town Car will soon share the same manufacturing plant with the Grand Marquis and Crown Victoria when Ford's Wixom factory is closed. Current models are powered by Ford's 4.6L SOHC V8 engine, which produces 224 hp, (239 hp with handling/dual exhaust package). The only exception for power output was the Mercury Marauder, the Grand Marquis' high performance cousin which was powered by a DOHC version of the 4.6L engine and produced 302 hp (224 kW).
Power is carried to the rear end by a four-speed electronically-controlled, wide-ratio automatic transmission. This transmission is known as the 4R70W, and is the successor to Ford's AOD and AODE transmissions of the early 1990s.
Mercury has always been marketed as a step-up from the Ford brand and has historically been more performance and luxury oriented. There are indications of that in the Grand Marquis. Properly equipped, the large sedan can be both a comfortable semi-luxury sedan while still offering adequate performance.
The Grand Marquis remains quite affordable, priced well below similarly well-equipped entry-level luxury sedans. Prices for the Grand Marquis range from $26,105 for the GS to $28,995 for the LS Premium.
For 2008, Mercury added a standard tire pressure monitoring system on the GS and LS Premium. In addition, outside temperature display is now standard on the LS. New optional equipment for the GS includes a Comfort Appearance Package that includes leather trim seats, a power driver seat and 17-inch painted aluminum wheels. For 2008 the GS also has an optional Confidence Package with heated mirrors, fog lamps, and traction control. The LS now offers the Travel Package with CD and cassette player and conventional spare tire as optional.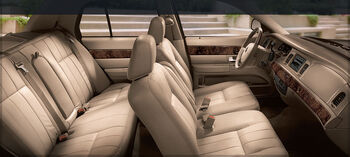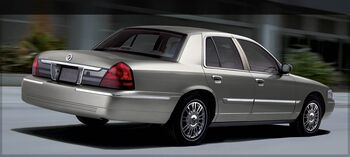 The Grand Marquis is available in GS and LS trims.
GS Standard Features
AM/FM Single CD Stereo
Remote Keyless Entry
Cloth seats with 8 way power driver's seat
Power mirrors
17" Steel Wheels with Chrome Covers
Traction Control
LS Premium Standard Features
In addition to or in place of GS Features
Power Adjustable Pedals
Overhead Console with Compass, Map Lights and Universal Garage Door Opener
Pinstripes
Fog Lamps
Rear seat reading lights
Electrochromic Rearview Mirror
Leather Seats with Upgraded rear bench
Power Heated mirrors
Leather Wrapped Steering wheel
17" Painted alloy wheels
Major Optional Features
Wood/Leather Steering Wheel/w/ Audio Controls
Power Moonroof
AM/FM 6-disc in-dash CD changer
Fog Lamps on GS Model
Driver and Front Passenger 8-Way Power Seats
17" Chrome Wheels
Today's actual prices for the Mercury Grand Marquis can be found at CarsDirect.
Grand Marquis Trims

GS

LS Premium

MSRP

$26,105

$28,995

Invoice

$23,594

$26,254
As seen on the FuelEconomy.gov website, the City/Highway MPG averages are as follows:
Fuel Type

Gasoline

E85 Ethanol

MPG

15/23

11/16
The Grand Marquis is known to have good reliability, according to the Consumer Union.
Standard Safety Features
Traction Control
Driver and Front Passenger Airbags
Front Seatbelt Pretensioners
4-wheel ABS
Laminated Side Glass
The NHTSA has conducted crash tests of the 2007 Grand Marquis. Its full scores are available at safercar.gov.
Rating (Stars)

Front

Side

Rollover

Driver

Passenger

Front Seat

Rear Seat

2WD

4WD

5

5

4

5

5

-
| | | | |
| --- | --- | --- | --- |
| Smokestone |   | Dark Toreador Red |   |
| | | | |
| --- | --- | --- | --- |
| Light Ice Blue |   | Driftwood Gray |   |
| | | |
| --- | --- | --- |
| Silver Birch/Driftwood Gray |   |   |
| | | |
| --- | --- | --- |
| Vibrant White/Silver Birch |   |   |
| | | |
| --- | --- | --- |
| Interior Colors | Cloth | Leather |
==Main Competitors==
Bumper to Bumper: 36 months/36,000 miles Major Components: 60 months/60,000 miles
Rust Through: 60 months/unlimited miles
Roadside Assistance: 60 months/60,000 miles
The Grand Marquis has never been offered as a hybrid model.
Chrome Waterfall Grille.
Still using the 1979 Panther Platform.
http://www.kbb.com/KBB/UsedCars/Mercury_Grand%20Marquis_Sedan.aspx
What's Best About Grand Marquis
[
edit
|
edit source
]
"The Grand Marquis offers almost all the comfort and convenience of the Lincoln Town Car, and it's priced lower than many luxury mid-size cars." — New Car Test Drive
"You can sleep better at night knowing that the Grand Marquis scores well in National Highway Traffic Safety Administration crash tests; it earned a perfect five stars in frontal impact testing and four stars in side-impact testing." — Edmunds.com
Some say Grand Marquis is old and worn out because it is being built on the same Panther Platform is was being built on in 1979.
Grand Marquis has not had a "full" redesign since 1992 just major refreshes every 2 to 3 years.
Fourth Generation 2006-2010
[
edit
|
edit source
]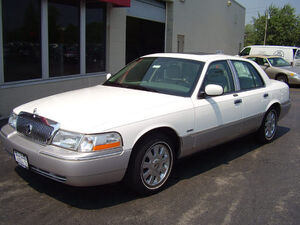 2003: The Grand Marquis received a facelift and new rear fascia, along with refreshed interior door panels (including door handles and power window/power lock control switches) and an optional overhead console (standard on the LS Series). However the real changes were under the skin, with the second generation of the Panther platform. An all-new hydroformed frame was engineered, rack and pinion steering replaced the old recirculating ball system, and the front and rear suspension, as well as the brakes, were redesigned. An engine knock sensor was made standard along with a six-quart (5.7 L) oil pan (20% larger than the 2002 model). The wheels were redesigned with a high positive offset. A quiet EBD brake booster with a mechanical panic assist system was added. Other changes included an intake manifold with aluminum water crossover and an electronic returnless fuel system. Side airbags were also made available and a dual media (cassette/CD) player made standard. More minor changes included a redesigned engine cover with a chrome V8 logo, the oil fill was moved to the passenger valve cover and the power steering fluid reservoir moved to the radiator surround (previously on the front of the engine). A shoulder belt was put into place for the rear middle passenger and a valet key was made standard.[1]
2004: No major changes were made. The option/standard list was modified.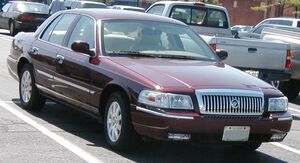 2005: A number of changes were made for the 2005 model year. An electronic throttle control system was put in place, moving the cruise control function to the main computer. Occupant weight sensors were added, which could disable the passenger airbag. Other changes included two new front crash severity sensors, a new steering column and two-spoke steering wheel and the addition of a mast antenna on the right rear fender. Interior changes included new wood trim, chrome interior door release handles and an Audiophile 6 disc in-dash CD changer (optional on the LS Series), The LSE trim was added mid year. The steering wheel lock feature was eliminated.[1]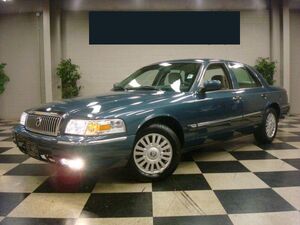 2006: For 2006, the front end was refreshed. This included a new, rectangular grille, bearing a likeness to the 1980s models. Fog lights were now an option. Interior changes included a new steering wheel and dash layout, as well as a new instrument cluster, which featured the addition of a tachometer and digital odometer/tripmeter. The mast antenna on the right rear fender was integrated back into the rear window and new wheel designs were made available. This was the first year for the 4R75E transmission.[1]
2007: For 2007 the Palm Beach package was added which includes a leather-wrapped steering wheel, heated exterior mirrors with chrome fronts, cashmere leather seats with embroidered "Palm Beach" logos, side impact air bags, unique satin applique on the instrument panel and door panel, "Palm Beach" badging, and 16" 9-spoke chrome wheels. Also the lineup has been simplified to just GS & LS. There is also the option for a conventional spare tire and an auto dimming rear view mirror. An Audiophile 6 disc in-dash changer with an 8 speaker configuration is available. The engine is now E85 fuel capable..[1]
2008: For 2008, Mercury added a standard tire pressure monitoring system on the GS and LS. In addition, outside temperature display is now standard on the LS. New optional equipment for the GS includes a Comfort Appearance Package that includes leather trim seats, a power driver seat and 16-inch painted aluminum wheels. For 2008 the GS also has an optional Confidence Package with heated mirrors, fog lamps, and traction control. The LS now offers the Travel Package with CD and cassette player and conventional spare tire as optional..[1]
Third Generation 2000-2005
[
edit
|
edit source
]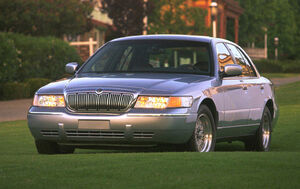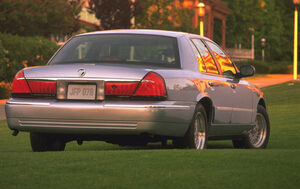 1998: The Grand Marquis received an exterior refresh, including new front and rear fascias, grille, hood, headlights, cornering lights, taillights, bumpers, door mirrors and wheels. There were a number of small interior updates, such as a new two-spoke steering wheel, green LED backlighting, a black column shift lever and turn signal/wiper stalk arm (previously chrome), and a Gentex auto dim rear view mirror with an integrated compass. A single CD player became available, as well as an eight-way power passenger seat with lumbar support. The analog gauges now had red pointers, instead of the orange ones in previous years.
A number of mechanical changes were also made. A fail-safe cooling system with a dual speed electric fan was put in place, along with a coil-on-plug ignition system. Larger dual piston brake calipers were added to the front, hence 16 inch wheels were now standard. A Watt's Linkage Suspension was added to the rear. Fuel lines were moved to the passenger side frame rail. A coded ignition key (known as Passive Anti-Theft System [PATS]) system was introduced and a 72 amp/hour battery replaced the previous 58. Other minor changes included a redesigned engine cover and the power steering fluid reservoir being moved to the front of the engine.[1]
1999: No major changes were made. The option/standard list was modified.
2000: Anchors for child seats were added in the rear. A new trunk release allowed occupants trapped in the trunk to exit without assistance.
2001: Changes included adjustable pedals and higher engine output.
2002: Heated door mirrors, ABS and Traction Control were added to the standard options list. The trim levels for this year are GS, GS Convenience, LS Premium, LS Ultimate, and top-line LSE editions.
Second Generation 1994-1999
[
edit
|
edit source
]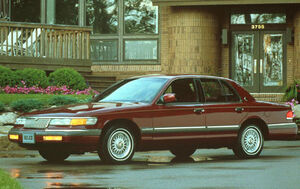 1992: This was the first year for the 4.6 L SOHC modular V8 engine. The car was also completely redesigned, with its angular shapes replaced by a new aerodynamic body. The new rounded design was then highly regarded for its light weight and low wind resistance, which led to increased fuel efficiency. The interior was redesigned, with new door trim and seats. Four-wheel disc brakes were made standard, along with speed-sensitive power steering and a 19 gallon fuel tank. Rear air suspension was optional, along with a keyless entry system.[1]
1993: A front passenger's side airbag was made standard. An overdrive button was added on the end of the shifter.
1994: Side impact protection was added, allowing the car to comply to future 1997 standards.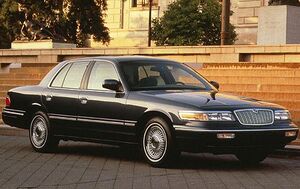 1995: This was the first year for the 4R70W transmission along with an OBD-II compliant computer. The vehicle received an exterior refreshing, along with a choice of new wheels. The interior was also redesigned with a new dashboard, seats, door trim panels, and door-mounted power seat controls. 10 inch front seat tracks were standard. A 2.73 rear axle ratio was made standard, over last year's 3.08. The power antenna was integrated into the rear window on all models and an electronic temperature control system was available on the LS series.[1]
1996: A new four-spoke steering wheel replaced last year's "brick" steering wheel and a single key entry system was introduced. The throttle body linkage was redesigned along with the engine cover and an all-plastic intake manifold was made standard. Shifting performance was also improved.[1]
1997: The power steering system was upgraded for more precise handling and better component durability.
First Generation 1986-1993
[
edit
|
edit source
]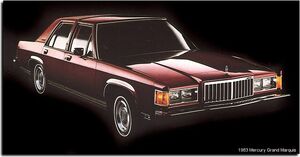 1983: The Marquis, like the Ford LTD, split into a mid-size version based on the Ford Fox platform platform while the Grand Marquis continued with the Panther platform. The grille was changed slightly this year.
1986: Sequential electronic fuel injection is added.
1987: The Grand Marquis is now built exclusively at the St. Thomas plant.
1988: The exterior received minor changes; the familiar cross-and-wreath hood ornament, as well as the other cross emblems, were replaced by Mercury's "Flying M" logo. The rest of the exterior emblems were updated to the new block script used on the Sable. The 2-door coupe was no longer available.
1990: The dashboard of the car was completely redesigned, including the airbag-equipped "brick" steering wheel.
1991: The electronically controlled Ford AOD-E transmission was introduced.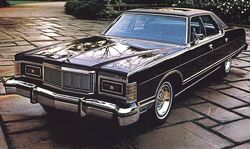 The Mercury Marquis was introduced as a trim package on the 1967 Mercury Monterey. The Marquis name gradually replaced Monterey. The Grand Marquis trim line was introduced in 1975 as a step up from the base Marquis and Marquis Brougham. The Grand Marquis became a model in its own right in 1983. Since then, there have been four generations of the Grand Marquis, with a major redesign in 1992 (the Mercury Colony Park wagon was not redesigned but discontinued), a refresh in 1998, and a major revamping of the front suspension and steering system in 2003.
In Canada, after the Mercury brand was phased out in 1999, the car was sold as the Ford Grand Marquis but still remains badged as a Mercury, despite being named a Ford in all Canadian sales literature. Since the demise of the Mercury Marauder in 2004, the Grand Marquis is the last remaining Mercury vehicle sold in Canada. It replaces the civilian Crown Victoria, which is now sold only to commercial fleets and law enforcement in Canada (as a Police Interceptor).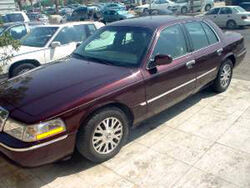 The Grand Marquis and its twin, the Ford Crown Victoria, are popular sedans in the Middle East. This is especially true in countries like Kuwait and Saudi Arabia. Vehicles with Middle East specifications (also known as GCC spec) come with slightly different options and features, including the GS-L trim. A true dual exhaust system is standard, as well as aluminum wheels. LS wheels are standard on the GS trim and vehicles manufactured after 1998 come with Lincoln Town Car seats, available in both cloth and leather trim.
The Handling and Performance Package (HPP) was renamed to the "Export Handling Package" (EHP) and differs slightly from the Handling and Performance Package. The dual exhaust system is not part of the EHP (since it already comes standard), and it comes with a 2.73 rear axle ratio over the 3.27 of the HPP. The Export Handling Package usually comes standard on the LS and shares the same 16 inch aluminum wheels with the LSE. A long wheelbase version is also available, called the Grand Marquis GSL. In North America, the long-wheelbase model is only available to fleet customers as a commercial version of the Ford Crown Victoria.
Despite rumors to the contrary, Ford has announced that they will continue to produce the Grand Marquis through at least 2010.
The company does plan on redesigning it along with the Crown Victoria sometime in the future, likely retiring the Panther platform altogether and moving them to the Ford D2C platform (used by the Ford Mustang). While Ford would likely replace the Crown Victoria name with something along the lines of Fairlane or maybe even Galaxie, to go out of Ford's plans to use names that start with the letter "F"), the Grand Marquis name would most likely be shortened back to "Marquis" to go along with Mercury naming their cars with names that begin with the letter "M".
Design quirks and oddities
[
edit
|
edit source
]
Using same basic Panther Platform it used in 1979.
Using same Door and window design since 1992.
Using same Dash Design since 1995.
Class exclusive standard V8 Engine.
Roomiest Interior in its class.
Largest Trunk in its class.
5 Star safety rating in all 5 categories 13 years running 1995-2008.
Mercury Grand Marquis Won the AutoPacific 2007 Ideal Vehicle Award for Large Luxury Car.
Community content is available under
CC-BY-SA
unless otherwise noted.