Mercedes-Benz SLS AMG
Mercedes-Benz
aka
None
Production
2010 - 2014
Class
Supercar
Body Style
2-door, 2-seat Front-Engined Coupe
2-door, 2-seat Front-Engined Roadster
Length
4638 mm
Width
1939 mm
Height
1262 mm
Wheelbase
2680 mm
Weight
3,600 lb (1,620 kg curb)
Transmission
7-speed dual-clutch

SPEEDSHIFT

, RWD
Engine
6.2 litre

M159 engine

V8
4 AMGwith electric drive electric motors
Power
Petrol
571 PS (420 kW) @ 6800 rpm
479 lb-ft (650 Nm) of torque @ 4750 rpm

Electric
526 hp (392 kW) @ N/A rpm
649 lb-ft (880 Nm) of torque @ N/A rpm
Similar
similar (competition)
Designer

Gorden Wagener
The Mercedes-Benz SLS AMG is a luxury grand tourer automobile developed by AMG to replace the Mercedes-Benz SLR McLaren.[1] The car is the first Mercedes automobile designed in-house by AMG and is described by Mercedes-Benz as a spiritual successor to the 300SL Gullwing,[2] despite a design that visually draws more of its inspiration from the 300 SLR Uhlenhaut Coupé.
The vehicle was unveiled at the 2009 IAA. Sales began in mid-2010 in Europe with MSRP of €177,310 (including taxes)[3] and will begin in the United States in mid-2011 for less than $200,000. Promotional advertisements of the SLS AMG have also begun airing in India as well from April 2010. The SLS AMG is featured as the cover car for the PlayStation 3 racing game Gran Turismo 5, and was the safety car for the 2010 Formula One season. [4] The car was replaced by the amg gt.
Recent Changes
in 2014 Mercedes-Benz revealed the SLS AMG Final Edition. It is Available in Coupé and Roadster bodies, they are limited (350 units total, 25 in Japan) versions of SLS AMG GT with exposed carbon fiber hood with central air outlet, carbon fiber front splitter on the front apron, fixed carbon fiber rear spoiler from SLS AMG Coupé Black Series, a choice of 2 exclusive AMG forged light-alloy wheels (inlaid in matte black with the spokes and rim flange in a high-sheen finish, completely painted matte black highlighted by a pencil thin high-sheen rim flange), designo magno graphite matte body colour (from the SLS AMG GT3 "45th ANNIVERSARY"), struts of the rear apron in high-gloss black, red-painted brake callipers, 265/35 R 19 (front) and 295/30 R 20 (rear) Dunlop Sport Maxx Race Cup tires as a no-cost option, designo Exclusive leather upholstery in a diamond-stitch pattern at center panels of both the seats and the doors, contrasting topstitching in silver with black leather upholstery, silver seat belts, black floor mats edged in silver leather, high gloss carbon fiber trim, "AMG FINAL EDITION - 1 of 350" badge on the carbon fiber center console, 3D seam (a fine strip of Alcantara) set into the leather-covered upper dashboard, contrasting topstitching in silver at 3D seam, AMG Performance steering wheel in Alcantara with a silver 12 o'clock marking and black metal inserts, high-gloss black surrounds of the air vents, sports seats with an embossed AMG crest in the head restraints. The "Final Edition" changes do not result in any quantifiable performance difference over the prior year model. Horsepower, torque, 0-60 speed, and top speed are all identical. The vehicle was unveiled in 2013 Los Angeles Auto Show and 2013 Tokyo Motor Show, followed by 2013 Osaka Motor Show. The Japan model was set to be delivered in June 2014, which included 20 Coupés, 5 Roadsters, a choice of 6 body colours (Fire Opal solid, Obsidian Black metallic, Elysium Silver metallic, AMG Imola Grey (premium), designo Magno Graphite (matte) (premium), designo Mystic White 2 (premium)), black designo Nappa full leather interior upholstery with silver diamond pattern stitching at door centre panel, seat centre; anthracite roof liner, choice of 3 soft top colours for Roadster (black, beige, red), carbon fibre door mirror, Bang & Olufsen BeoSound AMG sound system, optional AMG Carbon-Ceramic brake.
Styles and Major Options
A SLS AMG Roadster was released on May 5, 2011. It retains the same specifications, dimensions and drivetrain as the Coupe but is a convertible with a power folding fabric top and instead of having gullwing doors, it has conventional doors.
Pricing
Add more fields as necessary.
MODEL Trims
Coupe
Trim2
Trim3
Trim4
MSRP
€177,310
$Price2
$Price3
$Price4
Invoice
$Price1
$Price2
$Price3
$Price4
Gas Mileage
Tank capacity: 85 litres (+14 litres reserve)
As seen on the FuelEconomy.gov website, the City/Highway MPG averages are as follows:
Trim
Trim1
Trim2
Trim3
Trim4
MPG
c/h
c/h
c/h
c/h
Engine and Transmission
Engine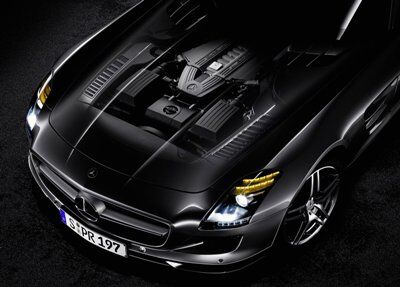 The SLS AMG is powered by the internally designated M159 engine. It is based on AMG's M156 engine, but is rated 563 bhp (571 PS; 420 kW) @ 6800rpm and 650 Nm (480 lb·ft) @ 4750 rpm. Compared to the standard AMG engine, the SLS's engine includes an all-new intake system, reworked valve train and camshafts, the use of flow-optimised tubular steel headers and dethrottling of the exhaust system. The engine also utilizes a dry-sump lubrication system to lower the center of gravity of the car. The fuel consumption of the SLS AMG is around 13 L/100 km (18 mpg-US).[2]
Transmission
Standard transmission is SPEEDSHIFT 7-speed dual-clutch transmission through a lightweight carbon fiber driveshaft.[2] Selectable driving modes include "C" (Controlled Efficiency), "S" (Sport), "S+" (Sport plus) or "M" (Manual).[5]
Gear Ratios
Final Drive – 3.67
1st gear – 3.40
2nd gear – 2.19
3rd gear – 1.63
4th gear – 1.29
5th gear – 1.03
6th gear – 0.84
7th gear – 0.72
Reverse – -2.79
Performance
Please make sure to write information of the vehicle's performance in a third-person point of view. This section should include information about the car's acceleration figures, handling, braking, etc.
If using information gathered from Road Test articles from a reputable automotive source, then please make sure to cite the quote.
Braking
Optional on the SLS AMG are carbon-ceramic disc brakes. These brakes provide increased stopping power with a 40% weight reduction compared to the standard brake system.[2]
Reliability
Warranty options and scheduled maintainence information should be mentioned here.
Safety
This section should reference points on safety ratings and features of the vehicle.
Photos
Add Photos of the vehicle here.
Please make sure not to use copyrighted photos.
Colors
Exterior
Metallic
197 Obsidian Black
775 Iridium Silver
950 Caspian Blue
434 Zircon Red
Special ($1500)
756 Himalayas Medium Grey
799 Diamond White
Matte Finish ($3000)
044 Alanite Grey
054 Sylvanite Grey
ALU-BEAM ($10000)
047 ALU-BEAM "Liquid Metal"
Interior
Designo Leather
501 Black
505 Sand
507 Classic Red
515 Porcelain
Main Competitors
Electric Models
The SLS will also feature an all-electric model. This offspring of Daimler's US$ 50 million investment in Tesla Motors is powered by four electric motors placed close to the wheels, mounted just inboard of the suspension components rather than in the wheel hub itself so as not to add unsprung mass. According to Mercedes, the electricity will be stored in a 48 kWh liquid cooled lithium ion battery pack placed along the central tunnel. In all, the electric drivetrain is expected to produce 526 hp (392 kW) and 649 lb-ft (880 Nm) of torque. It also translates to a naught to 100 km/h acceleration of approximately 4 seconds. The electric SLS will not be ready in time for the conventionally powered model's debut in September 2009 but it is expected to be ready for sale by 2013. [1][2]
On June 21, 2010, Mercedes finally revealed the SLS E-Cell prototype, a working prototype of the 2013 production model. Covered in a bright yellow paint called Lumilectric Mango, the E-Cell a quartet of electric motors with the pair at each axle integrated with reduction gears to drive all four wheels producing 526 hp and 649 pound-feet of torque and redlining at a loftly 12,000 rpm. The installation of the front motors necessitated the replacement of the double-wishbone suspension with a multi-link setup with push-rod dampers.
The lithium polymer batteries are split between the center tunnel and a box mounted behind the cockpit, and can provide a combined output of 480 kilowatts (643 horsepower). Two separate cooling circuits can manage the temperature of the battery packs and related power electronics by either heating or cooling the units as needed.
An extendable front splitter works with the reshaped rear diffuser to increase available downforce beyond what's possible with the standard 6.2-liter-V8-powered SLS. Inside, the electric SLS gets a 10-inch touch screen in the center console.
Mercedes-Benz SLS AMG E-Cell prototype
Unique Attributes
The car is made to honor the classic Mercedes-Benz 300SL. Retro features include Gullwing doors, big Mercedes Benz logo at the grille and front engine layout, rather than having the engine at the back like most of its competitors.
This is the first car that was built completely by AMG from the scratch. Usually AMG cars are modified Mercedes cars.
Interior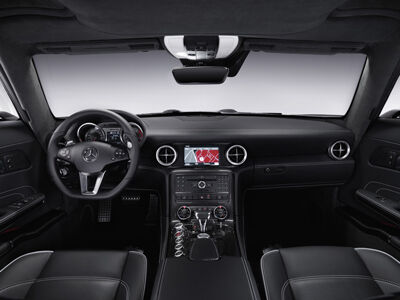 This section should include information on the interior's design, build quality, ergonomics, space (head and legroom, front and rear), features, stowage compartments and overall comfortability and livability. Add pictures wherever applicable and keep information in a third-person point of view.
Resale Values
Add more fields as necessary.
<MODEL> Year
Year X
Year X-2
Year X-3
Year X-4
Resale Value
$
$
$
$
Criticisms
Tiff Needle from Fifth Gear UK commented the SLS AMG as being boring due to its maximum power at higher end.
Jeremy Clarkson from Top Gear UK prefer choosing the SLS AMG over its competitor,Ferrari 458 Italia.Clarkson said the car has a sense of humor by having a fun oversteer that can still being controlled.
Generations
The SLS AMG finally was put to an end in 2015. It was replaced by the AMG GT S.
Worldwide
If the vehicle is sold in other markets worldwide, then this is the section to mention that information. Also, mention if the <MODEL> goes by another name in these other markets.
Trivia
A Mercedes-Benz SLS AMG is featured in the 2011 film Transformers: Dark of the Moon as one of the film's movie antagonists called Soundwave.
Design quirks and oddities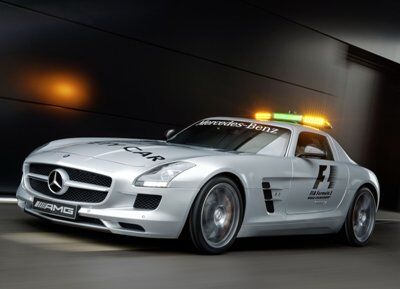 3 test cars (2 coupes and a convertible) were spotted doing trial runs in a small mining town in Nevada and in Monterey, California.[3]
Jay Leno created a Rendezvous-inspired short film featuring the SLS AMG hunting down a secret race track in LA.
The SLS AMG has been chosen as the official safety car for the 2010 F1 season.
The SLS appeared in the movie Transformers: Dark of the Moon.
Awards
List out notable awards that the model has recieved while in production. Boldface the company or organization that gives out the award, and Italicize the name of the award.
See Also
References
External Links
News and References
Enthusiast Sites and Discussion Forums