Mazda RX-8

Mazda

aka
RX8
Production
2003-2012
Class
Sports car
Body Style
2-door quad coupé
Length
2004–08: 4,425 mm (174.2 in)
2009–12: 4,470 mm (176.0 in)
Width
1,770 mm (69.7 in) / 1,850 mm (72.8 in) including mirrors
Height
1,340 mm (52.8 in)
Wheelbase
2,703 mm (106.4 in)
Weight
Manual: 1,309–1,373 kg (2,886–3,027 lb)
Auto: 1,384 kg (3,051 lb)
Transmission
4-speed automatic
6-speed automatic
5-speed manual
6-speed manual
Engine
1.3 L RENESIS (Wankel) NA
Power
232 hp @ 8,500 rpm
159 ft lb of torque @ 5,500 rpm
Similar
similar (competition)
Designer
Designer (lead designer if it was a team effort)

The Mazda RX-8 is a sports car manufactured by the Mazda Motor Corporation. It first appeared in 2001 at the North American International Auto Show. It is the successor to the RX-7 and like its predecessors in the RX range it is powered by a Wankel rotary engine.
Mazda announced on August 23, 2011, that the RX-8 will be discontinued from production.
See Autopedia's comprehensive Mazda RX-8 Review.
Recent Changes
Edit
For 2009, the RX-8 recieves an extensive mid-cycle facelift. The overhaul entails a new front and rear fascia, revised head and taillights, upgraded cabin materials, a bevy of new standard equipment and a new suspension set-up. Although the engine remains relatively unchanged, performance has been boosted in the optional R3 Sports Package to either 232 hp or 212 hp guise. The former is complemeted by a six-speed manual along with a sport-tuned suspension, 19 inch alloy wheels, Recaro sports seats, a 300-watt Bose audio system with surround sound and noise compensation, Bluetooth and keyless entry and start. In the latter, however, power transmission is handled by a semi-automatic six-speed with paddle shift. [1]
The 2007 RX-8 remains largely unchanged from the previous model year, with the exception of two new exterior colors and the minor addition of certain standard interior features previously offered only as options.
To celebrate the Mazda Rotary engine's 40th Anniversary, on August 2007, Mazda launched the extremely limited edition RX-8 Rotary Engine 40th Anniversary. It is available exclusively in Marble White body color while the interior is covered in black leather and light silver Alcantara.
Styles and Major Options
Edit
In North America, the 2007 Mazda RX-8 comes in three trims: the Sport, Touring, and Grand Touring. All three are equipped with the same standard 1.3L 232hp rotary engine, 6-speed manual transmission, rear wheel drive, and sport suspension. Main differences between the trims consist of options upgrades. Some of the standout features include:
RX-8 Sport
Tochigi Fuji limited slip differential
18" silver alloy wheels
Cloth seating and door trim
Leather steering wheel and leather/aluminum shift knob
Manual front air conditioning
6-speaker AM/FM/CD audio system

RX-8 Touring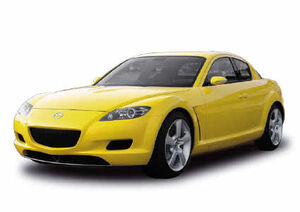 Adds to or replaces Sport features with:
Driveline traction control
Express open sunroof
Auto-dimming day/night headlights
9-speaker Bose AM/FM/6CD-changer audio system w/amplifier
HomeLink Wireless Control System

RX-8 Grand Touring
Adds to or replaces Touring features with:
8-way power driver's seat
Heated front bucket seats
Leather seating trim and leatherette door trim
Heated remote side mirrors
Today's actual prices for the Mazda RX-8 can be found at CarsDirect.
RX-8 Trims

Sport

Touring

Grand Touring

MSRP

$26,435

$29,535

$31,070

Invoice

$24,458

$27,318

$28,735
Gas Mileage
Edit
As seen on the FuelEconomy.gov website, the City/Highway MPG averages are as follows:
Reliability
Edit
According to Automotive Information Systems, the RX-8 has exhibited good long-term reliability. the 2004 model received an overall Green rating in every category. Those who follow the intstruction manual and observe the proper break in period should have minimum problems. Reports of odd floodings and higher than normal oil consumption has been noted, along with catalytic converter failure due to cold start carbon build up on early models. Mazda has fixed the problem in late 2004, and is repairing free of charge older, defective RX-8's.
A large number of RX-8 owners report engine failure and poor response from Mazda.
In safety tests carried out by the NHTSA, the RX-8 performed well. Side-impact and driver's side front-impact crash tests yielded 4-Star ratings, while tests for rollover and passenger side front-impact earned the RX-8 5-Star marks. Some of the standard safety features on the RX-8 include:
Front and rear anti-roll bars
4 wheel anti-lock brakes
Driver/Passenger front-impact airbags
Driver/Passenger seat-mounted side-impact airbags
1st/2nd row overhead airbags
Occupancy sensors
Side-impact bars
Available color combinations will vary by trim, and a full list is viewable at CarsDirect.com. Some of the available combinations are:
Exterior
Brilliant Black Clearcoat
Crystal White Pearl
Galaxy Gray Mica
Sunlight Silver Metallic
Velocity Red Mica
Interior
Main Competitors
Edit
Hybrid Models
Edit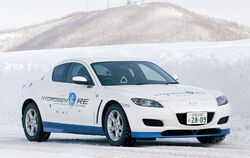 Mazda has been developing it's flex-fuel Hydrogen RE project based off of its Mazda RX-8 vehicle. As of March of 2007, it is in it's 7th generation.
Unique Attributes
Edit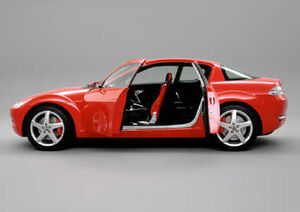 The car features a pair of rear-hinged Clam Shell Doors, termed Freestyle Doors by Mazda, to provide easier access to the rear seats. The RX-8 has no B-pillar between the front and rear doors, with the leading edge of the rear door acting as a 'virtual pillar' to maintain structural rigidity. Because of the overlapped design, the rear doors can only be opened when the front doors are open.
Resale Values
Edit
According to Kelley Blue Book, "as sports cars go, the RX-8 holds an excellent resale value, just below the BMW 3 Series and Infiniti G35 Coupe, but much better than the Chrysler Crossfire, Chevrolet Monte Carlo SS and Mitsubishi Eclipse."
Criticisms
Edit
"I wasn't too impressed by the RX-8's styling, inside or out. Exterior styling has a lot of odd bulges here and there, including a couple on the roof." - MSN Autos
"The RX-8's rotary engine, with its occasional fuel consumption issues and short-at-the-bottom torque curve, may not be to your liking. The compact rotary engine delivers its torque high in the rpm band, meaning you have to run the revs high when passing or accelerating." - Kelley Blue Book
First Generation: (2004–2011)
Edit
The RX-8 was designed as a front mid-mounted, rear-wheel drive 2+2 coupé. The car has a 50/50 weight distribution, achieved by mounting the engine behind the front axle. Weight is trimmed through the use of materials such as aluminium and plastic for the body panels and a carbon composite for the driveshaft.
Overall dimensions
Powertrain
Edit
The RX-8 is powered by a 1.3 L naturally-aspirated RENESIS rotary engine, which features newly designed side intake and exhaust ports. The engine is smaller and lighter than previous rotaries, primarily due to the lack of a turbocharger and associated parts.
The engine is designed in various configurations for different models, but in its most powerful setup develops 250 PS (247 hp, 184 kW) at 8,500 rpm with a redline at 9,000 rpm and fuel cut-off at 9,500 rpm. It won the International Engine of the Year and Best New Engine awards in 2003 and holds the "2.5 to 3 liter" size award for 2003 and 2004.
The power is delivered to the rear wheels via a 5- or 6-speed manual gearbox or a 4-speed automatic through a limited slip differential.
Shinka/Evolve
Edit
Mazda introduced a special Shinka edition to the U.S. market in 2005, and to the UK market in 2006 where it was branded as the Evolve. New features included Shinka badges on the B-pillar, new paint colours (Black Cherry Mica, Copper Red and Phantom Blue), re-styled mirrors, alcantara-trimmed leather seats, updated component materials, and enhanced chassis and suspension tuning. Power output remained unchanged from the standard models.
Hydrogen RE
Edit
At the 2004 North American International Auto Show, Mazda unveiled the RX-8 Hydrogen RE concept car, designed to run on either hydrogen or gasoline. In February 2006, Mazda revealed that it would start leasing a dual-fuel RX-8 to commercial customers in Japan, and in March 2006 announced its first two customers, claiming the first fleet deliveries of a dual hydrogen/gasoline production car.
The Senku is a prototype of the next rotary powered Mazda vehicle. Designed as a practical sports car for adults, it has a 2-piece hatchback, a single large sliding door on both sides, and a highly advanced direct-injected rotary engine with electric hybrid technology.
UK (May 2006)
Edit
Model
Estimated
On the Road
Vehicle Price
Insurance
Group /
Licence Band
CO2
Emissions
(g/km)
192 ps (141 kW), 5-Speed
£21,400
15E / G
267
231 ps (170 kW), 6-Speed
£22,900
16E / G
284
Worldwide
Edit
The Mazda RX-8 is sold in Europe, North America, and Japan. It is also a popular street racing car in Japan.
Design quirks and oddities
Edit
The car is used in the Formula Woman racing series which started in 2004. A slightly modified RX-8 was also featured in the 2003 film X2: X-Men United.
The car is also used in the video game Need for Speed: Carbon for $25,000 ( when Nikki is hired, the car will lower its price to $ 22,000 ) as a tuner car.
The RX-8 has won numerous awards including Wheels magazine's Car of the Year for 2003. In 2004 it was nominated for the North American Car of the Year award. It was also named on Car and Driver magazine's Ten Best list for 2004, 2005, and 2006.
External Links
Edit
Online Forums
Community content is available under
CC-BY-SA
unless otherwise noted.