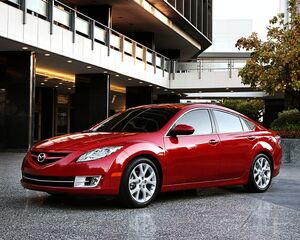 The Mazda Atenza (JDM) or Mazda6 is a midsize car from the Japanese carmaker Mazda. Replacing the Capella/626, the Atenza/Mazda6 has sold over one million units worldwide since its introduction, making it the fastest Mazda vehicle to reach the one million mark.
See Autopedia's comprehensive Mazda Mazda6 Review.
Recent Changes
Edit
For 2011, the JDM Mazda Atenza receives its first mid-cycle facelift, which reportedly will also grace the USDM and world market Mazda 6. The nip and tuck further pushes the Atenza's aesthetic deeper into Mazda's Nagare design language. That said, the changes are a little more than skin deep as the Atenza also gets chassis tweaks and Mazda's new 2.0 litre DISI gasoline four-pot with direct injection.
For 2010, the UK will get a special edition version of the Mazda6 called the "Tamura Special Edition". It is essentially a 2.0 5dr TS model that gets minor styling tweaks such as new front and rear sports bumpers, side skirts, rear spoiler, privacy glass, clear rear light bezels and special 18-inch wheels. Prices start at £16,695.
For 2009, Mazda releases a special edition of the Atenza (JDM Mazda6) in Japan. The 2.0 Style Edition Atenza features 6 paint schemes, including Lilac Silver Metallic and Stormy Blue Mica, which aren't available on the regular Atenza, LED door mirror indicators, discharge headlights, 17-inch alloys, blackout gauges (the dashboard and instrument panel dials are visible only when the engine is engaged) and a leather-wrapped steering wheel and shift knob. The car will be powered by a 2.0-liter engine mated to a five-speed slushbox as the car is based on the Atenza 20C.
On August 7, 2007, Mazda released a teaser shot of the upcoming 2009 Mazda6 on the internet (see above). The 2009 Mazda6 will debut sometime in 2008, while the current Mazda6 continues on for the 2008 model year. Both the Mazdaspeed6 and Sport Wagon models have been discontinued for the 2008 model year, but a Mazdaspeed version will most likely return after the introduction of the 2009 Mazda6.
A week before its official Frankfurt Motor Show in September 2007, the 2008 Mazda6 was leaked on the web. The vehicle is all-new for the model year and features new styling as well as a host of other improvements.
Styles and Major Options
Edit
The Mazda Mazda6 is available in four trims: the Sports Sedan, 5-door Hatchback, Sports Wagon, and Mazdaspeed6 edition. Certain engines are only available with certain trims, and there are various option packages to choose from.
For trim levels for the Australasian bound Mazda6s, go to Trim levels for ADM Mazda6.
Today's actual prices for the Mazda Mazda6 can be found at CarsDirect.
| 2006 Mazda Mazda6 Trim | MSRP | Invoice |
| --- | --- | --- |
| Mazda6 i Sedan | $19,110 | $17,658 |
| Mazda6 s Sedan | $23,010 | $21,248 |
| Mazda6 i Sport Sedan | $21,810 | $20,143 |
| Mazda6 s Sport Sedan | $23,910 | $22,076 |
| Mazda6 i Grand Touring Sedan | $24,710 | $22,812 |
| Mazda6 s Grand Touring Sedan | $27,260 | $25,159 |
| Mazda6 i Grand Sport Sedan | $25,210 | $23,272 |
| Mazda6 s Grand Sport Sedan | $27,110 | $25,020 |
| Mazda6 i Sport Hatchback | $22,210 | $20,511 |
| Mazda6 s Sport Hatchback | $24,510 | $22,628 |
| Mazda6 s Grand Sport Hatchback | $27,710 | $25,572 |
| Mazda6 s Wagon | $23,610 | $21,799 |
| Mazda6 s Sport Wagon | $24,610 | $22,719 |
| Mazda6 s Grand Touring Wagon | $27,160 | $25,067 |
| Mazda6 s Grand Sport Wagon | $27,910 | $25,717 |
| Mazdaspeed6 All-Wheel Drive Sport | $27,995 | $25,833 |
| Mazdaspeed6 All-Wheel Drive Grand Touring | $29,925 | $27,608 |
Gas Mileage
Edit
As seen on the FuelEconomy.gov website, the City/Highway MPG averages are as follows:
Trim

2.3L 4-cyl.
Manual

2.3L 4-cyl.
Automatic

3.0L 6-cyl.
Manual

3.0L 6-cyl.
Automatic

2.3L 4-cyl.
6-spd. Manual

MPG

24/31

23/32

20/27

19/27

19/25
Reliability
Edit
Based on crash tests performed by the NHTSA, the Mazda6 has received mostly excellent ratings since its introduction in 2002. The one area that falls slightly short is its Front Seat Side-Impact rating, which, at 3/5 stars, is merely average.
Each Mazda6 trim comes standard with several safety features, including:
2008 Mazda Mazda6
Colors vary between the Mazda6 and the Mazdaspeed6, and colors vary within these trims as well.
Main Competitors
Edit
Hybrid Models
Edit
While Ford also uses the Mazda6's CD3 platform as the basis for a number of their vehicles and subsequently plans to offer a hybrid powertrain on the platform for some models, Mazda has not announced any such plans for the Mazda6.
Unique Attributes
Edit
Mazda6 is one of the few mid-size models sold as both a 5-door and a wagon in the USA.
Resale Values
Edit
According to Kelley Blue Book, "the Mazda6 is expected to hold a modest resale value, retaining an estimated 56 to 59 percent of its value at 24 months, depending upon the trim level. That's much lower than the values projected for the Honda Accord, Toyota Camry, VW Jetta and Nissan Altima, but better than those of the Ford Fusion, Hyundai Sonata and Mitsubishi Galant."
Criticisms
Edit
"The Mazda6 is not as spacious as many of its competitors." - Kelley Blue Book
"The other minor shortcoming is that an auto-down/up feature is available only for the driver's window." - Edmunds.com
"We like Mazda's talk of connecting emotionally with customers. But we're not sure they've reached far enough with the 6 to grab the attention they need." - Motor Trend
Current Generation (2008-present)
Edit
First Generation/Origins (2002-2007)
Edit
North American Mazda6 production is handled at the AutoAlliance International plant which is a joint venture between Ford and Mazda. The first Mazda6 rolled off this Flat Rock, Michigan assembly line on October 1, 2002, just one month after production of the 626 ended. In its first years, the Mazda6 came with a 4-speed automatic, 5-speed automatic "AT" or a 5-speed manual transmission.
In 2005, a 6-speed automatic became available on the 6-cylinder models, while the 4-cylinder sedan received a 5-speed manually shiftable automatic.
On July 2007, Australian bound Mazda 6s saw an upgrade with an addition of an extra gear for both automatic and manual transmissions. The cars now get a 6 speed Manual and a 5 speed Automatic. Mazda had revised spec levels for the Mazda 6 range starting with the Sports (from $28,990 AUD for the manual)replacing the Classic and the Classic Sports (from $39,990 AUD) replacing the Luxury Sports. The diesel version known as the MZR-CD is available in hatchback ($38,090) and wagon ($35,205) variants available only in a manual. The MPS remained unchanged.
Overall Dimensions
Length: 4670 mm (Sedan) Width: 1950 mm Height: 1435 mm Wheelbase: 2675 mm

Mazdaspeed Atenza
Edit
The 2006 Mazdaspeed Atenza (known as Mazdaspeed 6 in North America and Mazda6 MPS in Europe and Australia) is a high-performance version of the Mazda6. It features a turbocharged version of the 2.3 L MZR I4 which produces 272 PS (200 kW) (European version is detuned to 260 PS (191 kW); the North American version, at 274 hp (204 kW), is more powerful). This 2.3 L DISI turbocharged engine features direct fuel injection and conforms to the new Euro 5 emissions standards. It has a revised front fascia with a raised hood, a 6-speed transmission, and all wheel drive. The all wheel drive system uses Mazda's Active Torque Split computer-based control which routes up to 50% of the power to the rear wheels depending on driving conditions. Mazda currently has no plans to enter the car into rally racing, and the Mazdaspeed Atenza is meant to compete with its Japanese-made rival, the Subaru Legacy GT and similar sport sedans rather than the smaller, rally-car-derived Subaru Impreza WRX STi and Mitsubishi Lancer Evolution.
Originally scheduled to be launched in June 2005, the Mazdaspeed Atenza was delayed until November. In North America, the Mazdaspeed6 comes in two trim levels; the "Sport" trim with cloth interior and standard key entry and ignition; and the "Grand Touring" trim with leather interior, keyless entry/ignition, and an optional DVD navigation (of which the Canadian model lacks DVD navigation). Automatic climate control is standard, as is a 200 W Bose stereo system featuring 7 speakers and a 9 in. subwoofer in addition to an in-dash 6-disc CD changer. A sunroof with moonroof feature is optional on the Grand Touring trim.
Although Mazda estimates 0-60 mph times to be 6.2 seconds, recent independent tests by automotive journalists have suggested that the actual numbers might range between 5.4-6 seconds (with DSC deactivated).
Worldwide
Edit
Not all configurations are available in all areas. For example, the Mazda6 as released in Australia was a four-cylinder car only, while the last 626 which it replaced was a four or six-cylinder car. In addition, the name Atenza (which means Attention) is used only in Japan; the Mazda6 moniker is used everywhere else in the world. In China, the Mazda Atenza is used as the base for the Hongqi Benteng, an upscale model in the Red Flag range manufactured by the First Automobile Works in Jilin Province.
European versions also feature a four-cylinder turbodiesel, and while power is directed to the front wheels only in most markets, full-time all wheel drive models are available in Japan and Europe.
Hofu plants in Hiroshima produce the Mazda6 for Europe and some Asia markets, including Australia. There are also satellite plants building Mazda6 models in China and Thailand for their respective local markets.
Design quirks and oddities
Edit
Software computer updates change the fuel map.
The Mazda6 was 2nd place European car of the year and made Car and Driver magazine's Ten Best list for 2003.
The Sport Wagon won the Canadian Car of the Year Best New Station Wagon award, while the Sport sedan won the Canadian Car of the Year Best New Family Car award for 2005.
The Atenza Wagon also won What Car?'s Best Estate award in 2004.
In 2002, the Mazda 6 won Australia's Best Mid-Size Car Over $25,000 by the RACV.
In 2009, Australian used car site Carsales awarded the Mazda 6 the People's Choice Award for its size class.
External links
Edit
News & References
Online Forums
Community content is available under
CC-BY-SA
unless otherwise noted.