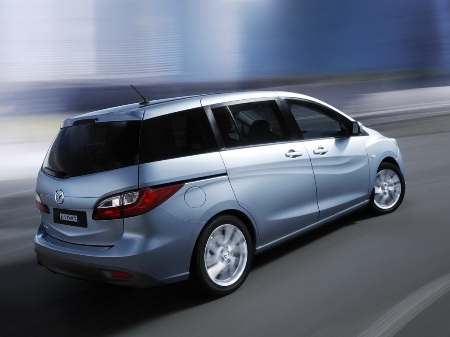 The Mazda Mazda5 (called Premacy in the rest of the world) was a compact MPV until 2005, before becoming a minivan for the 2006 model year (C-class). The first generation Premacy was built in Japan and exported to Europe and Asia. A rebadged version was sold by Ford in a few Asian markets (including Japan) as the Ford Ixion or Ford MAV. The second generation is sold worldwide as the Mazda5. As of March 31, 2005, 285,258 Premacy and Mazda5 models had been sold worldwide since introduction.
The first generation Premacy was a 2-row, 4 or 5-passenger vehicle, while the second generation adds a third row of seats for up to 6 passengers. Both generations were true vans with flat floors and folding/removable second (and third) row seating.
Recent Changes
Edit
The 2010 Geneva Motor Show play host to the launch of the third-generation 2011 Mazda5 which brings its styling into line with Mazda's Nagare Flow design language. Among the engine options will be Mazda's newly-developed 2.0-litre four-cylinder gasoline engine with direct-injection and i-stop, linked to a six-speed manual transmission with gear ratios specific to this version. The gasoline line-up will also features a 1.8-liter engine with a six-speed manual transmission. [1]
Styles and Major Options
Edit
Certain vehicles come in different trim levels or body styles. Features and major options should be mentioned here.
Add more fields as necessary.
MODEL Trims
Sport
Touring
Grand Touring
Trim4
MSRP
$19,990
$21,990
$24,670
$Price4
Invoice
$Price1
$Price2
$Price3
$Price4
Gas Mileage
Edit
Add more fields as necessary.
As seen on the FuelEconomy.gov website, the City/Highway MPG averages are as follows:
Trim
Trim1
Trim2
Trim3
Trim4
MPG
c/h
c/h
c/h
c/h
Engine and Transmission
Edit
Specifications, details, graphs, pictures and other information regarding the powertrain is placed in this section.
Performance
Edit
Please make sure to write information of the vehicle's performance in a third-person point of view. This section should include information about the car's acceleration figures, handling, braking, etc.
If using information gathered from Road Test articles from a reputable automotive source, then please make sure to cite the quote.
Reliability
Edit
RECALL ALERT: Mazda was forced to recall the Mazda5 in the United States shortly after production began due to a risk of exhaust system fires. The company gave customers $500 (For Canadian owners, it is C$500) plus a loaner car while the problem was mitigated. 2,700 vehicles were affected.
This section should reference points on safety ratings and features of the vehicle.
Add Photos of the vehicle here.
Please make sure not to use copyrighted photos.
List the colors that the particular <MODEL> is offered in.
Main Competitors
Edit
Create links to other <MAKE> <MODEL> pages in this section.
Hybrid Models
Edit
If there are hybrid versions of this vehicle manufactured, then please elaborate a little bit on it here.
Unique Attributes
Edit
If there are any features of this vehicle that sets it apart from other vehicles in its class, then mention those unique attributes here.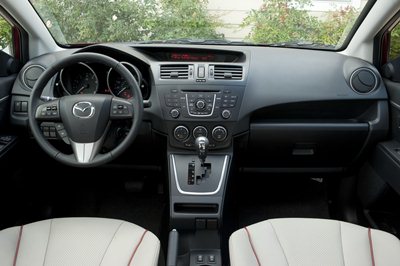 This section should include information on the interior's design, build quality, ergonomics, space (head and legroom, front and rear), features, stowage compartments and overall comfort and livability. Add pictures wherever applicable and keep information in a third-person point of view.
Resale Values
Edit
Add more fields as necessary.
<MODEL> Year
Year X
Year X-2
Year X-3
Year X-4
Resale Value
$
$
$
$
Criticisms
Edit
Please make sure to keep critiques in a third-person point of view. If using criticisms from a reputable automotive source, then please make sure to cite the quote.
Generations
Edit
Fill in as many as appropriate. Add more if necessary and pictures wherever applicable.
Please make sure NOT to use copyrighted pictures.
Current Generation (2011-present)
Edit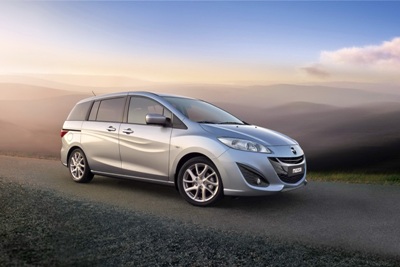 Second Generation (2006-2010)
Edit
The new 2006 model has been on sale since summer 2005. It is now sold as the Mazda5 in all markets and is considered a much better car than the old Premacy model. It is now classified in the United States as a minivan, because of its sliding doors. It is based on Ford's global C1 platform, meaning it shares many parts with the Mazda3. Its closest relative is the European compact MPV Ford Focus C-Max, though the Mazda5 uses minivan-style sliding doors in the rear while the Ford has four conventional front-hinged doors. This version of the vehicle was also introduced for sale in the United States, making it the first compact minivan in that market since the discontinuation of the Mitsubishi Expo in 1995, along with its twins, the Dodge/Plymouth Colt Vista and the Eagle Summit Wagon. It is now North America's lowest priced minivan, overtaking the Ford Freestar.
In the US market the Mazda5 fits six passengers using three rows of seats, with 2 seats per row, and replaces the MPV as its minivan for that market. In the European market it is sold as a seven seater using Mazda's 'Karakuri Seating System', which means the car has three rows of two seats, with the seventh seat a clever fold away jump seat in the centre of the middle row. Mazda has managed to use proper three point seat belts on all seven seats and avoided resorting to a lap only belt on the seventh seat.
The middle row of seats recline and slide front-to-rear, and fold flat to ease cargo loading. The rear row also folds flat.
Specifications
Edit
The wheelbase is 2740 mm (108 in) with an overall length of 4505 mm (177 in).
Engine options:
First Generation/Origins (1999-2005)
Edit
The 1999 Premacy used Mazda's CP platform. It was available with either front or all wheel drive and was equipped with an automatic transmission. As the Premacy had only five seats, it was less modular than some if its adversaries such as the Opel Zafira and Honda Stream. The second-row seats could be folded and removed as on many other minivans.
This generation Premacy was also sold in some Asian markets as the Ford Ixion.
It was powered by a number of engines:
Worldwide
Edit
If the vehicle is sold in other markets worldwide, then this is the section to mention that information. Also, mention if the <MODEL> goes by another name in these other markets.
Design quirks and oddities
Edit
Refer to any pop-culture tidbits about the vehicle in this section.
The Mazda5 was named "Best New Multipurpose Family Vehicle" in the 2006 Canadian Car of the Year awards. Consumer Reports ranked the Mazda5 as the best "tall wagon" in their test, though the car failed to gain a "recommended" rating due to unknown reliability.
External Links
Edit
News and References
Enthusiast Sites and Discussion Forums
This page uses content from Wikipedia; see Mazda Premacy, which includes these contributors.
Community content is available under
CC-BY-SA
unless otherwise noted.