The Mazda3 is a compact automobile manufactured by the Mazda Motor Corporation. It is the third generation of compact vehicles designed and produced by Mazda. In Japan, The 4-Door Mazda3 is called the Axela and the 5-Door |Mazda3 is called the Axela Sport.
The Mazda3 will be getting a minor facelift for the model year 2007. There will be a redesigned grille and fog lights, redesigned rims, new interior color scheme, auxiliary audio input jack, a second 12V power outlet, rear seat armrest with cupholders, LED taillights on top trim of the sedan, higher fuel economy and available stability control/traction control.
A high performance version known as the MazdaSpeed3 has been released on June 22nd of 2006, with first shipments to the US arriving in September. It is powered by a 2.3L turbocharged engine producing approximately 260hp.
Recent Changes
At the 2009 Geneva Motor Show Mazda unveiled two new variants for the Mazda3. The first is the Mazda3 i-stop which is, essentially, Mazda's new stop-start technology. It is mated to Mazda's MZR 2.0 DISI engine developing 150 hp and 138 lb·ft (187Nm) of torque and delivering a 12 percent improvement in fuel economy for the Mazda3 over the previous 2.0 liter version. The second is the long-awaited performance variant of the new 3. The Mazda3 MPS has Mazda's MZR 2.3 liter Direct Injection Spark Ignition turbocharged engine with 260 hp and 280 lb-ft (380 Nm) of torque. [1]
Mazda3 i-stop
There is an all-new Mazda3 for MY2010. It is expected to officially debut at the 2008 Los Angeles Motor Show, however, pictures of the vehicle has been released as early as a month before at the Sydney Motor Show. The new car shows off Mazda's new design language first seen in the Nagare concepts. The Sportback variant debuts 2 weeks after the sedan at the Bologna Motor Show. [2][3][4][5] [6]
Design
The Mazda3 is based on Ford's global Ford C1 platform, which was developed by Volvo and which is shared with the latest European Ford Focus and Volvo S40. Chassis development was carried out by Mazda and suspension designed by Ford. Based on the styling of the MX-Sportif concept car, the Mazda3 is available in two body styles, a four-door sedan, marketed as "coupé style" in Europe, and a five-door hatchback, branded the Sport version in America and Japan.
Front suspension is by MacPherson struts, with coil springs and an anti-roll bar. Rear suspension is a Ford-designed "E-link" multi-link suspension, with four locating links per wheel and an anti-roll bar, suspended on coil springs that are mounted inboard of the shock absorbers to reduce suspension intrusion into the cargo area. Disc brakes are standard at all four wheels, with 300 mm (11.8 in) discs front and 279 mm (11 in) discs rear; anti-lock braking system and Electronic Brake-force Distribution are available or standard, depending on the model. Wheel and tire sizes vary with model, from 15-inch (381 mm) on base models to option 17-inch (432 mm) wheels on upper-level models.
When first introduced, American Mazda3 models were available in only two trim levels, i and s, with the 2.0L and 2.3L engines, respectively. Since then Mazda has introduced a proliferation of additional models under the Touring and Grand Touring labels. UK Mazda3s are offered in S, TS, TS2, and Sport models.
All Mazda3 models except the European diesel-powered model use the inline-4 Mazda MZR engine, with various displacements and outputs depending on model and market. Transmissions are a 5-speed manual transmission and a 4-speed automatic transmission; for the 2006 model year, a 5-speed automatic became optional on models with the 2.3L (137 cu. in.) engine.
Styles
The Mazda3 comes in 8 different styles:
Mazda3i 4-door sedan
Mazda3i Touring sedan
Mazda3s 4-door sedan
Mazda3s Touring sedan
Mazda3s Grand Touring sedan
Mazda3s 4-door Hatchback
Mazda3s Touring Hatchback
Mazda3s Grand Touring Hatchback
Details about each of these styles can be found at CarsDirect.
Pricing
Today's actual prices by city can be found at CarsDirect.
Mazda3 Trim

Mazda3 i Sedan

Mazda3 i Touring Sedan

Mazda3 s Sedan

Mazda3 s Touring Sedan

Mazda3 s Grand Touring Sedan

Mazda3 s Hatchback

Mazda3 s Touring Hatchback

Mazda3 s Grand Touring Hatchback

Price

MSRP

$13,710

$15,990

$16,880

$17,615

$19,165

$17,370

$17,615

$19,165

Invoice

$12,848

$14,975

$15,805

$16,489

$17,935

$16,262

$16,489

$17,935
Gas Mileage
4 Cylinder 2.0L: 28/32 MPG
4 Cylinder 2.3L: 25/32 MPG
Fuel efficiency also varies between automatic and manual transmission models.
Engine and Transmission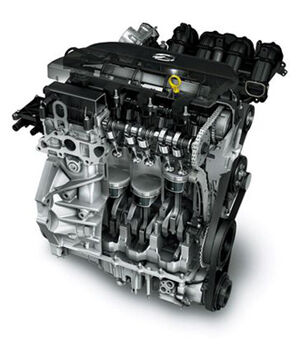 Specifications, details, graphs, pictures and other information regarding the powertrain is placed in this section.
Performance
0-62 MPH: 6.1 seconds (MazdaSpeed3)
Reliability
Epinions.com users give the 2004 Mazda3 "4 out of 5 stars" for reliability. Consumer Reports gave the Mazda3 an above-average reliability rating.
The Mazda3 is ranked 10th place in Top Gear's latest reliability survey.
Safety
NHTSA gave the Mazda3 4 out of 5 stars for the frontal crash test rating and 3 out of 5 stars for the side impact test rating.
Standard safety hardware on the 2018 Mazda 3 incorporates antilock plate brakes, security and footing control, dynamic front head restrictions, a rearview camera, front side airbags and side window ornament airbags. Low-speed forward impact cautioning with automatic emergency braking and a blind side checking framework with rear cross-traffic alert come standard on Touring and Grand Touring models.
Other optional safety hardware incorporates a lane takeoff cautioning and mediation framework and a more competent forward impact cautioning and relief/braking framework. Mazda 3 Grand Touring hatchback ground to a halt from 60 mph in 120 feet, which is a normal separation for the fragment.
The 2018 Mazda 3 crash test appraisals have not yet been discharged, but rather the 2016 evaluations have been. Also, in light of the fact that the car's structure hasn't changed altogether, those appraisals will probably carry over. In government crash testing, the Mazda 3 got five out of five stars for overall crash security, with five stars for aggregate front-crash assurance and five stars for aggregate side-crash insurance.
The Insurance Institute for Highway Safety (IIHS) gave the Mazda 3 the most astounding conceivable rating of Good in its moderate-cover and small-cover front-affect crash tests. The 3 likewise earned a Good evaluating for the side-affect, roof quality and head restriction/situate (whiplash assurance) tests.
Standard features for the passage level 2018 Mazda3 Sport incorporate electronic stopping brake, the Mazda Connect infotainment framework with 7-inch screen, 6-speaker AM/FM/HD Radio sound with USB information and Bluetooth telephone blending and sound spilling, rearview camera, push-catch begin and cruise control.
On the off chance that you go one trim higher, the Mazda3 Touring includes features, for example, blind side observing with rear cross-traffic alert, Smart City Brake Support, 16-inch aluminum-alloy wheels, double zone automatic atmosphere control, a power driver's seat, warmed front seats, halogen haze lights, rain-detecting windshield wipers and Leatherette seating.
Amazing Touring models bring a power sunroof, Bose sound, head-up show and calfskin seating.
Photos
Development & Design
Colors
Colors available vary by trim. Exterior
Black Mica
Copper Red Mica
Nordic Green Mica
Rally White
Shimmering Sand Metallic
Strato Blue Mica
Sunlight Silver Metallic
Titanium Gray Metallic
Velocity Red Mica
Whitewater Pearl Mica
Winning Blue Metallic
Interior
Beige
Black
Black/Blue
Black/Charcoal
Black/Red
Main Competitors
Unique Attributes
Sports Sedan and Mods
Mazda has always been known for producing sporty vehicles, the Mazda3 is no exception. The Mazda3's competitors offer less horsepower and fewer "sporty" features. The Mazda3 is not a typical family sedan, check out ModernRacer to see some pros and cons of the Mazda3's sporty attributes.
Interior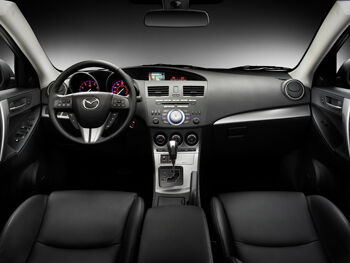 Resale Values
The Mazda3 is priced to beat out the Honda Civic and Toyota Corolla. It is generally $3,000 to $4,000 less expensive than these competitors. CarsDirect offers examples of used Mazda3 values, dealer and private party.
This is most likely due to very little changes when the new model is released. For example the 1993 Mazda3 looks almost the same as the 1994 edition so buyers did not want to waste money on the same car.
Criticisms
Criticisms of the 2004 Mazda3 include:
Passenger Space: Rear passengers have little leg room if the front occupants are above average height.
Generations
Current Generation (2010 - present)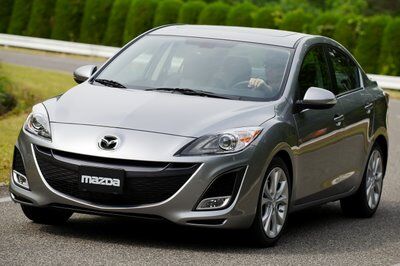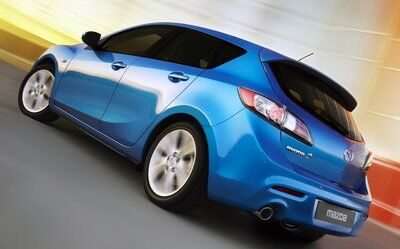 Inside the MazdaSpeed3, refinement has been made with the suspension. These include larger diameter stabilisers, dampers set for higher roll stiffness, spring rates tuned to the stiffer chassis and new wider Dunlop tyres with increased sidewall strength.
First Generation (2004 - 2009)
Aside from the (optional) availability of electronic stability control, the Mazda Mazda3 has received only minor cosmetic changes for the 2007 model year. The exterior changes are minimal, but extend to revised bumpers with the lower air intake opening resembling the shape of the traditional Mazda 5-point grille, a revised range of alloy wheels and several new interior colour combinations. The interor also has an audio jack and an improved keyless entry system.
On January 22, 2008, Mazda unveiled a facelifted MY 2009 Mazda3/Axela for the Japanese market. [7]
Mazda3 MZR CD
The Mazda3 MZR CD is the diesel version sold for European and Australian markets. Its engine produces 135 hp @ 3500 rpm and 266 lb-ft of torque @ 2000 rpm but it only comes with a six speed manual gearbox. The car's capable for fuel economy of 6 L/100 km.
The car is aimed to compete with the European diesel cars such as the Volkswagen Golf, Peugeot 307 and the Holden Astra.
Previous Lineage
The Protege (1999-2003)
In 1999 Mazda redesigned its "entry level" 4 door sedan with new european styling and called it the Protege. Three versions again went on sale: base DX, well-equipped LX, and sporty ES. DX and LX models got a new 1.6-liter 4-cylinder engine, rated at 105-horsepower (13 more than the prior 1.5-liter).
2000 Mazda Protege
Front side airbags became available as part of the premium package on the LX and ES models. Other changes were minimal.
2001 Mazda Protege
The Protege earned a front-end facelift for 2001, along with available 4-wheel disc brakes. A 130-horsepower 2.0-liter 4-cylinder engine became available, too. Otherwise, the Protege was essentially a carryover. During the 2001 model year, Mazda launched a special MP3 edition of the Protege. Not only did it feature a Kenwood MP3-capable audio system, but it included a higher-output (140-horsepower) engine and a host of performance components from racing suppliers. The extras included low-profile tires on 17-inch Racing Hart wheels, a large front air dam with integrated driving lights, side sill extension, and a big rear spoiler. Only about 1500 were built, painted either Laser Blue or Vivid Yellow. (Source: Consumer Guide.com)
2002 Mazda Protege
The Protege5 joined the lineup in 2002 as a sport wagon/hatchback model.
2003 Mazda Protege
The 170-hp MazdaSpeed version of the Protege joined the line up. ES and Protege5 got revised alloy wheels, silver gauge faces (2002 had off-white), and some differing options packages (leather, 6-cd, subwoofer) for 2003. Most of the changes of the 2003 model were actually released with the 2002.5 models. A 2002.5 model is notable for having fender-mounted turn signal repeaters on a 2002, which only the 2001 Protege MP3 had previously.
The 2003 Mazda Protege had a critical recall involving loose screws in the intake manifold entering the combustion chamber and damaging the engine, sometimes irrecoverably. The culprit screws come from the two butterfly valve systems housed in the intake manifolds of almost all 2.0 litre third-gen Proteges. Not all 2003 models were affected, a dealership can check based on your VIN. The recall issue has been reported to happen to some outside of the recall range, with limited success obtaining repairs from the dealership.
The 323 (1990-1994)
Two distinct models resulted from the redesign of Mazda's front-drive subcompact for 1990: a 2-door hatchback, again called 323; and a longer, more costly 4-door sedan named Protege. Though similar in front-end appearance, the two shared no sheetmetal. An 82-horsepower, 1.6-liter 4-cylinder engine again powered the 323. A 5-speed manual gearbox was standard; 4-speed automatic optional. Base and SE editions went on sale. The latter got cloth upholstery instead of vinyl, as well as tinted glass and upgraded interior trim. Motorized front shoulder belts and manual lap belts were installed. (Source: ConsumerGuide.com
1991 Mazda 323
Minor standard equipment changes were made.
1992 Mazda 323
New taillight lenses installed.
1993 Mazda 323
No changes except the addition of Mazda's new logo.
1994 Mazda 323
Yet again, this model did not receive any updates. Still lacking safety features, sales were slow.
Worldwide
The Mazda3 is a compact automobile manufactured by the Mazda Motor Corporation. The name "Mazda3" is used in some markets, where as in Japan, Mazda's home market, it is the Axela. The Axela was introduced for the 2004 model year, replacing the Mazda Protegé.
The Axela has been very well-received in all markets, and in 2005 was the second best-selling car in Canada. Mazda is increasing production of the Axela at its Hofu 1 and 2 factories to meet heavy worldwide demand of over 300,000 units per year.
Design quirks and oddities
The only frequently mentioned oddity the Mazda3 possesses is the ergonomics. It isn't proportioned correctly for someone over 6' tall, driver or passenger.
Awards
The Mazda3 has receieved 55 awards worldwide since it's introduction to the market in 2004.
2004 Driver's Choice Awards, MotorWeek.
2004 AAA AutoGuide award winner: "under $15,000" category ,AAA.
RJC Car of the Year 2004: Best6, RJC.
Car of the Year 2004 (National Title), Croatian Association of Car Journalists
Editor's Most Wanted Vehicles for 2004; Most Wanted Sedan Under $15,000, Edmunds.com.
2004 Denmark's Car Of The Year
2004 Turkey's Car Of The Year
2004 Croatia's Car Of The Year
2004 Czech Republic's Car Of The Year
2009 Carsales Small Car People's Choice Award
See also
External links
News and References
Online Forums