Mazda Mazda2
Mazda
aka
Mazda Demio (Japan market)
Production
2007 - present
Class
Subcompact
Body Style
2-door, 5 seat hatchback
4-door, 5-seat hatchback
4-door, 5-seat sedan
Length
4270 mm
Width
1695 mm
Height
1480 mm
Wheelbase
2490 mm
Weight
1004 kg
Transmission
5 speed Manual
4 speed Automatic, FWD
Engine
1.5L S-VT
Power
N/A hp @ N/A rpm
N/A lb-ft of torque @ N/A rpm
Similar
Suzuki Swift
Designer
Designer (lead designer if it was a team effort)
Use the following MODEL TEMPLATE as the foundation for the Autopedia's Model page:
Start off with a brief Introduction to the particular MODEL. Please DO NOT use the same Introduction text from the <MODEL> Review page, but rather paraphrase ideas relevant to grasp an overall scope of the vehicle.
Please include the following line at the bottom of this section. Please replace <MODEL> Review with the proper text:
Recent Changes
Edit
For 2010, the Mazda2 quietly receives a mid-cycle facelift to bring it into line with Mazda's new design language.[1]
For 2010, the UK will get a special edition version of the Mazda2 called the "Tamura Special Edition". It is essentially a TS2 trim model that gets minor styling tweaks such as 16-inch dark grey wheels. Prices start at £10,275 for the three-door and £10,775 for the five-door. [2]
For 2010, Mazda of Germany is marketing a 400 unit limited edition model of the Mazda 2 known as the "Fit for Fun". The car is imbued with a sport package that includes dark headlamps, a front apron, rear wing, painted grille, side skirts and dark grey 16-inch alloy wheels, automatic climate control, Dynamic Stability Control (DSC) with traction control (TCS), onboard computer and rain sensor for the windshield wipers. Available only in Black or White, prices start at €15,800. [3]
Styles and Major Options
Edit
Full bodykit (front and rear spoiler, side skirts)
16 inch alloy wheels
Air conditioning
6 disc CD player (MP3 compatible)
Front, side and curtain airbags
Anti-lock Brakes
Electronic Brake Force Distribution
Brake Assist
Add more fields as necessary.
MODEL Trims
Trim1
Trim2
Trim3
Trim4
MSRP
$Price1
$Price2
$Price3
$Price4
Invoice
$Price1
$Price2
$Price3
$Price4
Gas Mileage
Edit
Add more fields as necessary.
As seen on the FuelEconomy.gov website, the City/Highway MPG averages are as follows:
Trim
Trim1
Trim2
Trim3
Trim4
MPG
c/h
c/h
c/h
c/h
Engine and Transmission
Edit
Specifications, details, graphs, pictures and other information regarding the powertrain is placed in this section.
Performance
Edit
Please make sure to write information of the vehicle's performance in a third-person point of view. This section should include information about the car's acceleration figures, handling, braking, etc.
If using information gathered from Road Test articles from a reputable automotive source, then please make sure to cite the quote.
Reliability
Edit
Warranty options and scheduled maintainence information should be mentioned here.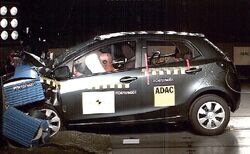 December of 2007 saw the Mazda2 recieve the highest rating of 5-Stars for adult protection, plus a class-leading 4-Stars for child protection and a competitive 2-Stars for pedestrian protection from the EuroNCAP ADAC-administered crash testing. [5]
Sedan
Hatchback
Add Photos of the vehicle here.
Please make sure not to use copyrighted photos.
The car should be offered in Black, Cherry Red, Leaf Green, Silver, Gray, Medium Blue, and Pearl Purple. Mazda is thinking of adding more colors to the line-up. We'll just have to wait and see the other colors!
Main Competitors
Edit
Hybrid Models
Edit
If there are hybrid versions of this vehicle manufactured, then please elaborate a little bit on it here.
Unique Attributes
Edit
If there are any features of this vehicle that sets it apart from other vehicles in its class, then mention those unique attributes here.
This section should include information on the interior's design, build quality, ergonomics, space (head and legroom, front and rear), features, stowage compartments and overall comfortability and livability. Add pictures wherever applicable and keep information in a third-person point of view.
Resale Values
Edit
Add more fields as necessary.
<MODEL> Year
Year X
Year X-2
Year X-3
Year X-4
Resale Value
$
$
$
$
Criticisms
Edit
Please make sure to keep critiques in a third-person point of view. If using criticisms from a reputable automotive source, then please make sure to cite the quote.
Generations
Edit
Fill in as many as appropriate. Add more if necessary and pictures wherever applicable.
Please make sure NOT to use copyrighted pictures.
Current Generation: (2007–present)
Edit
First Generation/Origins (YYYY–YYYY)
Edit
Worldwide
Edit
The Mazda2 is sold in a variety of markets including Australia and North America.
Design quirks and oddities
Edit
In the What Women Want survey conducted by the RACV in 2003, the Mazda 2 is the most popular choice for women buying a Mazda.
2009 Carsales Light Car People's Choice Award
External Links
Edit
Community content is available under
CC-BY-SA
unless otherwise noted.