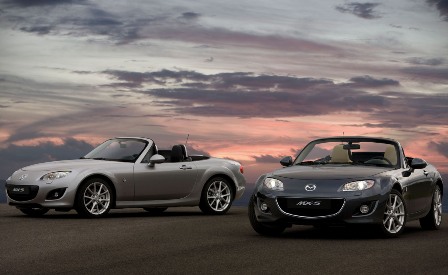 The Mazda MX-5 is a popular sports car built by Mazda in Hiroshima, Japan. It is known as the MX-5 Miata (or more popularly, just Miata) in North America, where it was one of the few Mazdas to be given a name. It is known just as the MX-5 in Oceania and Europe and the Eunos Roadster or simply Roadster in Japan. It was initially unveiled at the Chicago Auto Show on 10 February, 1989. The Miata is the world's best-selling sports car, with 720,407 cars produced and sold between February 1989 and March 31 2005. Beginning with the third-generation 2006 model, Mazda consolidated worldwide marketing using the MX-5 name, though enthusiasts in the U.S.A. steadfastly refer to it as a Miata, a name that means "reward" in Old High German.
See Autopedia's comprehensive Mazda MX-5 Review.
Recent Changes
Edit
For 2009, the MX-5 Miata receives its first mid-cycle facelift.[1]
The biggest change to come about for 2007 is the addition of an MX-5 model built with a power retractable hardtop. Other features remain the same as the 2006 models.
On May 29, 2007, Mazda released a special edition of the vehicle called the MX-5 Icon, in celebration of the Mazda Wankel Rotary Engine's 40th Anniversary on May 30.
Styles and Major Options
Edit
The 2007 MX-5 comes available in 4 trims: the SV, Sport, Touring, and Grand Touring. In addition, all trims with the exception of the SV are available in both softtop and hardtop versions. All come equipped with the same standard 2.0L 166hp I-4 engine and rear wheel drive, and while the SV and Sport trims have 5-speed manual transmissions, the Touring and Grand Touring feature a 6-speed manual transmission. Other standout features are as follows:
SV
16" silver alloy wheels
4-way front bucket seats
Cloth seating and vinyl door trim
Manual convertible roof
4-speaker AM/FM/CD audio system
Power windows and mirrors
Sport
Available power convertible hardtop roof
Leather/metal-look steering wheel material
Touring
17" silver alloy wheels
Leather shift knob, leather/metal-look steering wheel
Available power convertible hardtop roof
6-speaker AM/FM/CD audio system with steering wheel controls
Power windows, locks, and mirrors
Grand Touring
Leather seating and leatherette door trim
7-speaker Bose AM/FM/CD audio system with amp and steering wheel controls
Today's actual prices for the Mazda MX-5 can be found at CarsDirect.
MX-5 Trims

SV

Sport

Touring

Sport
hardtop

Grand Touring

Touring
hardtop

Grand Touring
hardtop

MSRP

$20,435

$21,435

$23,240

$24,350

$24,500

$25,100

$26,360

Invoice

$18,883

$19,804

$21,468

$22,490

$22,629

$23,181

$24,342
Gas Mileage
Edit
As seen on the FuelEconomy.gov website, the City/Highway MPG averages are as follows:
Trim

MPG

25/30

24/30

22/30
Reliability
Edit
Although the latest generation of the MX-5 Miata is still too young to provide accurate long-term reliability information, Consumer Reports states that "first-year reliability has been average."
Although the NHTSA has yet to post safety information on the MX-5, Autos.com reports that the MX-5 places 5th in safety for its Sporty Car category. Some of the standard safety equipment found on the MX-5 includes:
Front and rear anti-roll bars
4-wheel anti-lock brakes
Driver/passenger front-impact airbags
Driver/passenger side-impact airbags
Occupancy sensors
Side impact bars
Ignition disable
Colors will vary according to trim, and a complete list is viewable at CarsDirect.com. Some of the available choices are: Exterior
Brilliant Black
Copper Red Mica
Highland Green
Stormy Blue Mica
Sunlight Silver Metallic
True Red
Interior
Main Competitors
Edit
Hybrid Models
Edit
There are currently no hybrid models of the MX-5 in production.
Unique Attributes
Edit
In the Which? Car Owner's Satisfaction survey, the MX-5 is ranked 3rd place with a satisfaction rating of 96%.
Resale Values
Edit
According to Kelley Blue Book, "as for the MX-5's long-term value, Kelley Blue Book expects the MX-5 to retain strong residual and resale values in the first three years, but then drop to average in years four and five."
Criticisms (pre-2006)
Edit
"Practicality doesn't apply here." - New Car Test Drive
"Its tonneau cover is a bit fiddly to install, and at best, rudimentary." - Road & Track
"If you're long of leg or over six feet in height, the MX-5 can still present you with a cramped driving position. The MX-5 has a small trunk and does not offer much in the way of interior storage space. If this is going to be your only mode of transport, you're not going to win many friends when it's your turn to drive the co-workers to lunch." - Kelley Blue Book
"Ineffective windblocker" - Edmunds.com
Current Generation: (2016-Present)
Edit
The new MX-5 was presented at the October 2014 Paris Motor Show, and at the November 2014 Los Angeles Auto Show. The car is manufactured in Mazda's Hiroshima plant.The vehicle was released in the third quarter of 2015. The MX-5 is priced between $24,915 and $30,065.  On March 24, 2016 the MX-5 was awarded World Car of the Year (WCOTY) and the World Car Design of the Year at the New York Auto Show. It was the second Mazda to win WCOTH following the Mazda 2 in 2008. 
The fourth generation MX-5 is 105 mm (4 inches) shorter and 100 kg (220 lb) lighter than its predecessor, putting the vehicle's estimated curb weight somewhere around just 1,000 kg (2,200 lb). The car is based on the Mazda SKYACTIV technology. There are 2 direct-injection petrol engines without turbo-chargers. The base model has a 1.5 L 96 kW (129 bhp) engine, and the North American (USA and Canada) version has a 2.0 L 116 kW (155 bhp) engine. 
A six-speed manual shift transmission was available from launch but a six-speed automatic transmission will be offered when the RF (Retractable Fastback) model becomes available late 2016 / early 2017. The cockpit, steering wheel, and infotainment system are very similar to the 2014 Mazda3.
Standard models come with a manually operated fabric roof which can be opened/closed within a few seconds, but the RF model comes with a targa-like electric lid, which can open at speeds of up to 6 mph (10 km/h) and leaves the roof's coupe-like rear section in place. 
A co-operation with Alfa Romeo on a joint rear-wheel drive platform was announced in 2012, but cancelled in 2014. FCA announced a Fiat 124 Spiderand Abarth versions based on the Mazda ND platform in 2015.
Engine Specifications

EditEdit
Petrol engines

| Model | Year(s) | Displacement | Fuel Type | Power | Torque | 0–100 km/h (0–62 mph) | CO2Emissions |
| --- | --- | --- | --- | --- | --- | --- | --- |
| 1.5 L | 2015– | 1,496 cc (91.3 cu in) | Petrol | 131 PS (96 kW; 129 bhp) | 150 N·m (111 ft·lbf) | 8.3 s | 139 g/km |
| 2.0 L | 2015– | 1,998 cc (121.9 cu in) | Petrol | 160 PS (118 kW; 158 bhp) | 200 N·m (148 ft·lbf) | 7.3 s | 154 g/km |
4 airbags are available for standard including torso airbags, pelvis airbags and head airbags for driver and passenger and headrests for whiplash protection. An Vehicle Stability Control+ (VSC+), an 'active' hood for pedestrian protection and a Lane Departue Warning System (LDWS) are available as standard. Since the MX-5 is a two-seater, the front passenger airbag can be disabled for safe transportation of children and the installation of a suitable rear-facing child seat restraint to be used in that position. In the Euro NCAP safety test, the MX suffered from a malfunctioning driver's airbag, which was unable to prevent the dummy from hitting the steering wheel. It gained 4 of 5 stars available.
Third generation (NC: 2006–2015)
Edit
Production of the next-generation Mazda MX-5 (NC) began in May 2005 and went on sale in August, for the 2006 model year. It uses Mazda's 16-valve, 2.0 L MZR I4 engine, producing 170 hp (128 kW) and 140 ft·lbf (190 N·m). Despite the engine upgrade, impressive engineering allows the car to maintain a perfect 50-50 weight distribution. 5-speed and 6-speed manual transmissions are offered as well as a 6-speed automatic transmission with steering wheel mounted paddle shifters.
Despite speculation, the 3rd generation shares no structural components with the RX-8. The chassis was developed specifically for the new MX-5. Suspension has been changed from a 4-wheel double-wishbone setup to a front wishbone rear multilink setup and technologies like traction control and stability control have been added to increase drivability.
The styling harkens back to the original design while adopting a clean, more muscular profile reminiscent of the Audi TT. Some design elements have been adopted to reinforce the family relationship with the RX-8. Unlike the NA to NB update, which was mostly a nose/tail/interior change, there are substantial differences in every body panel, so current accessories will not work with the new design.
A Car and Driver test revealed a 0-60 mph (97 km/h) time of 6.5 seconds for the NC.
The 2006 special edition "3rd Generation Limited" featured added chrome accents and special wheels. 3500 were built worldwide (300 in the UK, 750 in the USA).
MX-5 Hardtop
Edit
Mazda launched a coupé convertible version of the MX-5 with a three-piece folding metal hardtop in late 2006. Mazda will use the British International Motor Show for its global reveal of the new Mazda MX-5 coupe.
The Miata has a traditional front-engine, rear-wheel-drive layout and 4-wheel independent double wishbone suspension. It comes with a 1.6 L, 1.8 L or 2.0 L longitudinally mounted engine coupled to a manual transmission. An automatic transmission is available as an option, though rarely selected by buyers.
The body is a conventional, but very light, unibody shell. Miatas also incorporate a unique trusswork called the Powerplant Frame (PPF) which connects the engine to the differential, minimizing flex and creating a tight, responsive feel. Many Miatas feature limited slip differentials and antilock brakes. Traction control is an option available on the third generation MX-5.
With a 50:50 front/rear weight balance (when measured with an average weight driver and a 2/3 full gas tank), the car has very neutral handling, which makes it easy to drive for the beginner, and fun for the advanced driver. Inducing oversteer is easy and very controllable. The Miata is popular in amateur and stock racing events, particularly the Sports Car Club of America's Solo2 autocross and Spec Miata race series.
Previous Generations
Edit
Second generation (NB: 1999–2005)
Edit
In 1998, Mazda released the updated model year 1999 MX-5 Miata. This model is known as the NB (referring to the model number printed on the VIN plate) or Mark 2. With its introduction, the earlier MX-5 Miata became known as the NA or Mark 1. The NB features a more powerful engine and more modern styling cues borrowed from the aggressive RX-7. For the model year 2000, Mazda released a limited run of 10th anniversary models featuring various styling and performance upgrades, most notably a close-ratio 6-speed manual transmission and Torsen limited-slip differential. The 5-speed transmission was retained for all other NB models except the turbocharged 2004-2005 Mazdaspeed variants. In Japan, the Eunos name was dropped from the NB, as the marque was considered a commercial failure, but the successful Roadster was incorporated into the Mazda brand. Prices in the United States, the main market for the Miata, started at US$19,770.
Body and chassis
Edit
Although many parts of the interior and body were different, the most notable changes were the headlights: the first model's retractable headlights had been exchanged for fixed ones. The new car had grown slightly in width compared to the earlier model with dimensions: length 3955 mm (155.7 in); width 1680 mm (66.1 in); height 1235 mm (48.6 in) and wheelbase 2265 mm (89.2 in). Ground clearance was a slightly reduced 135 mm (5.3 in). With the minimum of options, the NB weighed 1000 kilograms. The new model was slightly more aerodynamic than the original, with a Cd figure of 0.36.
Suspension and wheels
Edit
The second generation Miata continued to employ four-wheel independent suspension, with enlarged anti-roll bars of 22 mm (0.87 in) at the front and 11 mm (0.43 in) at the rear. The wheel, tire and brakes package on the second generation Miata was significantly upgraded. Front brakes were of 255 mm (10 in) diameter with 251 mm (9.9 in) at the rear. ABS was offered as an option. Alloy wheels were now of 14 inch or 15 inch diameter and 6 inch width, depending on the model. Sports models were equipped with the larger wheels and 195/50VR15 tires.
The BP-4W engine remained at 1.8 L but received several minor updates. The engine compression ratio was raised from 9.0:1 to 9.5:1 by adding slightly domed pistons. The intake cam was changed to a solid lifter design with a stronger cam. The intake runners in the head were straightened and the intake manifold was mounted higher up. The new intake manifold received a set of flappers that could uncover a resonance chamber - this was needed to fix a dead spot in the torque curve that the new head created. Power output of the new engine is quoted at 105 kW (140 hp) with 119lbft of torque.
The 1.6 L B6 engine remained available in some markets, including Japan.
Performance
Edit
The second generation Miata with the 1.8 L engine could reach 60 mph (96 km/h) in 7.9 seconds and had a top speed of 123 mph (197 km/h).
Generation 2.5 (NB)
Edit
In 2001, a facelift to the NB was released. There were some minor design changes, with the 18 July 2000 press release announcing the new model describing the changes as "resulting in an even sportier and more forceful look". Some cockpit elements were also changed, with instrument panel gauges having a white face and red numbers. The seats were also upgraded, incorporating more support in the side bolsters, and taller headrests. Added this year for top models were 16 inch (406 mm) wheels with 205/45VR16 low-profile tires and larger brakes (10.6 inch diameter at the front and 10.9 inch at the rear). The upgraded tires and suspension allowed the new model to pull 0.88 g in lateral grip in tests by Car and Driver. The body was strengthened, gaining 16% in bending rigidity and 22% in torsional rigidity. With the minimum of options the 2001 model weighed 1065 kilograms.
The 1.8 L BP-Z3 engine was slightly modified and now featured variable valve timing on the intake camshaft. The intake and exhaust system also received a minor upgrade. These modifications resulted in power output of 117 kW (155 bhp) for models delivered in Japan and Australia. The same engine produced 110 kW (146 hp) in vehicles sold in the United States and Europe (likely due to more restrictive emission standards). In the United States, Mazda erroneously quoted the power figure for the Japanese and Australian model in early catalogues. Car and Driver magazine and numerous owners confirmed the missing power, and Mazda was forced to buy back a number of 2001 cars due to these misleading power claims. Owners who did not take up the buy back offer were offered an apology and free servicing for the warranty period.
32,000 2001 and 2002 model year Miatas were recalled in December of 2005 for excessive emissions.
Mazdaspeed MX-5
Edit
2004 saw the introduction of the turbocharged Mazdaspeed MX-5. It featured a light-pressure turbo BPT engine for 178 hp rather than the S-VT BP-Z3. Other features included a special suspension, upgraded transmission and clutch assemblies, upgraded drivetrain components, Racing Hart 17 inch wheels, special interior trim, and special exterior paint.
Though not officially a "Limited Edition" production run, only a small number of Mazdaspeed Miatas were produced during model years 2004 and 2005. In 2004, 4000 cars where built and in 2005, 1428.
First Generation/Origins (NA: 1990-1997)
Edit
The Miata was envisioned by its designers as a small roadster with a minimum of unnecessary weight and complexity. The first Miata prototype was built in California, USA and Worthing, England. Many key stylistic cues were clearly inspired by (some say copied from) the Lotus Elan, a 1960s roadster that is widely considered to be one of the best handling sports cars of its day.
A competition to design a light-weight sports car
Edit
The design of the first generation Miata was the result of a competition between Mazda (North America) and the Tokyo Design Studio. The role of designing a front-engine, rear-wheel drive light-weight sports car was assigned to Mazda (North America) whilst the Tokyo Design Studio designed front engined, front-wheel drive and mid-engined, rear-wheel drive cars for the competition.
The first round of judging the competing designs for the MX-5 was held in April 1984. Designs were presented on paper. On paper the mid-engined car appeared the most impressive, although it was known at the time that such a layout would struggle to meet the noise, vibration and harshness (NVH) requirements of the project. It was at the second round of the competition in August 1984, when full scale clay models were presented, that the front-engined rear-wheel drive design, code-named "Duo 101," was selected as the basis for Mazda's new light-weight sports car.
The Duo 101 design, so named as either a soft-top or hard-top could be used, was referred to International Automotive Design in Worthing, England for the construction of a running prototype. The prototype was built with a fiberglass body, a 1.4 L engine from a Mazda Familia and other components from a variety of early Mazda models. The prototype was completed in August 1985 and code-named the V705 by Mazda.
After some minor changes in the design, presented in clay model form by the designers from Mazda (North America), the project was given final approval on 18 January 1986. The project was now code-named P729 by Mazda. The task of constructing five engineering mules was again allocated to International Automotive Design, who also conducted the first front and rear crash tests on the prototype. The project then returned to Japan for final engineering details and production issues to be decided.
The Miata meets the public
Edit
The Miata was unveiled at the Chicago Auto Show on 10 February 1989, with a price tag of US$13,800. The Miata would be available for purchase by the public from July 1989 as a 1990 model. In Japan, the car was not badged as a Mazda, as the company was experimenting with the creation of different brands for deluxe models, similar to Nissan's Infiniti and Toyota's Lexus. Instead, the Mazda MX-5 was called the Eunos Roadster in its own market.
Body and chassis
Edit
The body shell of the Miata is all-steel with an aluminium bonnet. The overall dimensions are: length 3970 mm (156.3 in); width 1675 mm (65.9 in); height 1235 mm (48.6 in); wheelbase 2265 mm (89.2 in). Ground clearance is 140 mm (5.5 in). Without options, the NA model MX-5 weighed 940 kilograms. The body was reasonably aerodynamic, with a Cd figure of 0.38.
Suspension and wheels
Edit
The Miata employs independent double wishbone suspension on all four wheels with an 18 mm (0.71 in) anti-roll bar at the front. Four wheel disc brakes of 235 mm (9.3 in) diameter (ventilated) at the front and 231 mm (9.1 in) at the rear stopped 5.5 inch wide 14 inch alloy wheels with 185/60HR14 radial tires.
The original Miata came with a 1.6 L double overhead cam inline four-cylinder engine, producing 90 kW (120 bhp) and 100 lbf·ft (136 N·m) of torque. The engine employs an L-Jetronic fuel injection system and a camshaft angle sensor instead of a distributor. This engine was previously used by Mazda in the 323 series, including the 323 GTX, a turbocharged, all-wheel drive vehicle, and retains the plumbing ports required for aftermarket turbocharging.
Performance
Edit
The first generation Miata could reach 60 mph (96 km/h) in 8.2 seconds and had a top speed of 119 mph (190 km/h).
Generation 1.5 (NA)
Edit
The MX-5 Miata was freshened for 1994 with the introduction of a more powerful 1.8 L BP engine, dual airbags, a geared, torque-sensing limited slip differential, and other options. The new engine produced 98 kW (130 hp) and the standard model weighed 990 kilograms (2183 lb). In some markets such as the UK the 1.6 engine continued to be available as a lower-cost option, but was detuned to only 88 bhp to make it less competitive with the 1.8. Later 1.8 engines were up in power to 133 bhp due to the use of a more sophisticated engine management system (OBD-II).
There were a number of trim levels and special editions available. The standard model was called the "A Package" for the Miata models. A "B Package" added some options, while the "C Package" included a tan interior and top and leather seats. A special "R Package" was introduced for racing, and the annual special editions were formalized as "M Editions." These included all of the luxury options from the C package as well as special paint and, sometimes, special wheels. This initial generation ended with the 1997 model year, which included 1500 NA Miatas produced as the "STO" ("Special Touring Option") version (special editions refer to North American markets only). There was no Miata for 1998.
Worldwide
Edit
Mazda MX-5 SP
Edit
In 2001 Mazda Australia produced a limited run (100 cars) of turbocharged MX-5s labelled the SP. These were said to be the inspiration for the Mazdaspeed MX-5 however they only had an upgraded intake/turbo and exhaust unlike the Mazdaspeed MX-5 which has a stronger engine, gearbox and diff, with upgraded cooling system, interior and bodykit. Over 215 parts went into upgrading the performance of the SP creating a powerful sportscar that looked identical to a standard MX-5. The driveline, braking, suspension and engine internals remained standard. The upgraded engine was rated at 150 kW (201 hp).
Mazda Roadster Coupe
Edit
Mazda Engineering and Technology Co. Ltd. (Mazda E&T), a division of Mazda Japan, produced a limited run of Mazda Roadsters for the Japanese market with a permanent fixed hardtop roof. The body structure was reworked to incorporate the roof for a substantial increase in chassis rigidity and a weight increase of 10 kg. A range of models were produced, from a basic 1.6 L version, to heavily restyled boutique models. No Roadster Coupes were exported, though an example upgraded to Mazdaspeed specifications was shown to international audiences.
Design quirks and oddities
Edit
Since production began, over 700,000 Miatas have been made, leading the Guinness Book of Records to name it the world's best-selling sports car on February 13 2002.
English comedian Jonathon Ross owns a duck egg blue MX-5 with ponyskin seats.
According to the Herald Sun, a 1989 Mazda MX-5 is regarded as a modern collectable. The car, costing $29,550 AUD when new can be had for $68,000 to $9,200 AUD.
The Miata has been on Car and Driver magazine's annual Ten Best list seven times: The NA from its introduction in 1990 through 1992; the NB on its introduction in 1998 as well as 1999 and 2001; and the NC on its introduction in 2006. The NA was also Wheels Magazine's Car of the Year for 1989 with the NC taking the award for 2005. Wheels Magazine also named the car the Best Overall Design in the 2006 Wheels Automotive Design Awards.

In the November 2004 edition of Sports Car International magazine, the Miata was chosen as the best sports car of the 1990s. In the March 2005 edition of the same magazine, the six-decade countdown culminated in the "Ten Best Sports Cars of All Time" issue, of which the Miata secured the number 10 spot, bested only by the likes of exotics and otherwise unobtainable icons of automotive history.
The NC was named the 2005-2006 Japan Car of the Year.

The Mazda Miata (MX-5) had been voted the winner of the 2003 J.D. Power Initial Quality Study for a sports car.
Production numbers
Edit
Source: official Mazda records

| Year | Production |
| --- | --- |
| 1988 | 12 (pre-production models) |
| 1989 | 45,266 |
| 1990 | 95,640 |
| 1991 | 63,434 |
| 1992 | 52,712 |
| 1993 | 44,743 |
| 1994 | 39,623 |
| 1995 | 31,886 |
| 1996 | 33,610 |
| 1997 | 27,037 |
| 1998 | 58,682 |
| 1999 | 44,851 |
| 2000 | 47,496 |
| 2001 | 38,870 |
| 2002 | 40,754 |
| 2003 | 30,106 |
| 2004 | 24,232 |
| 2005 | 29,950 |
| 2006 | 48,389 |
| Total | 797,293 |
For a breakdown of the production numbers, by color and by option package, see the Miata.net Mazda MX-5 Miata FAQ.
The 250,000th MX-5 rolled out of the factory on November 9 1992; the 500,000th, on February 8 1999; the 750,000th, in March 2004; and the 800,000 in January 2007.
In Popular Culture
Edit
Cars - Secondary characters Mia and Tia (a play on the name Miata) a pair of NASCAR fans are animated Miatas.
Go - A character in this early Katie Holmes-starring film is murdered and their body is stashed in the trunk of a Sunburst Yellow 1992 Miata.
The Benchwarmers - One of the main character's bat flys out of his hands and goes through the windshield of a Miata parked nearby. A player on the opposing team yells, "That's my Miata!," and the team beats up the Miata-owner.
Need For Speed Underground and Need For Speed Underground 2 - In these video games, you can buy and upgrade Miatas.
Gran Turismo 4 - In this videogame you can buy and upgrade most Miata models.
Juiced - In this video game, you can buy and upgrade Miatas.
Forza - Another video game featuring buying and upgrading the Miata.
Yes, Dear - Greg buys a Miata, which many think is for Kim, but he says that he bought it for himself. Jimmy tells him that he made a bad choice, and that the Miata is a "chick car", but he ignores him. Later, while he is driving the Miata, a young girl tells him how his car is nice, and how it looks like her Barbie's, and the radio breaks, causing it to play Girls Just Wanna Have Fun by Cyndi Lauper at a very loud volume.
Sister Sister - Tia and Tamara Mowry have a red miata that their parents purchased for them.
A silver MX-5 appeared in one episode of the british sketch comedy show Harry and Paul owned by a gay Clarkson (a satirical person portrayed as a Jeremy Clarkson). Once he's given a spray of 'No Gay Spray', he walked away from his MX-5 saying "Girl's car" in a more manly voice.
Film and television appearances
Edit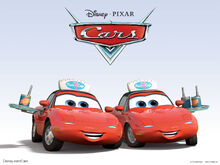 Mia and Tia are characters in Cars. They also make a cameo in Cars 2. They are voiced by Lindsey Collins and Elissa Knightrespectively.
References
Edit
Long, B. MX-5 Miata - The full story of the world's favourite sports car, Veloce Publishing, 2002. ISBN 1-903706-21-1
Carey, J. (March, 2005). "New Mazda MX-5". Wheels (Australia), p. 48.
External links
Edit
Community content is available under
CC-BY-SA
unless otherwise noted.