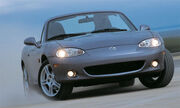 The Mazda MX-5 Miata is a two door two seat sports coupe that was first introduced to the world in 1989. The basic car took it's influences from past british roadsters but added japanese reliability and quality to the mix. This intriguing cocktail made the Miata a sales success, selling well over a million units, an extraordinary feat for a non-practical sports car. The car is so popular that it had it's own racing league, called Spec-Miata.
First generation (NA)
With It's pop-up headlights and roll-up windows, power steering and stereos were added as standard equipment in later years.
It had a top speed of 120MPH.
Second generation (NB)
Third generation (NC)
Gallery
See also