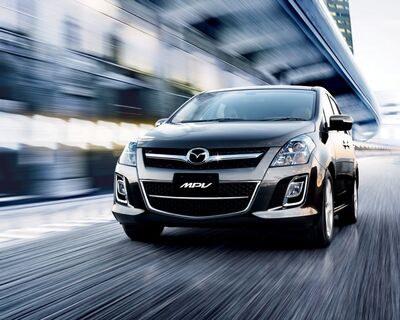 The Mazda MPV is a MPV (minivan) manufactured by Mazda. It was introduced in 1989 as a rear wheel drive model and was replaced in 2000 with a more modern front wheel drive version. As of March 31, 2005, 950,051 MPV models had been sold worldwide since its introduction.
Recent Changes
Edit
Mention any minor facelifts or major changes made to the vehicle here.
Styles and Major Options
Edit
Certain vehicles come in different trim levels or body styles. Features and major options should be mentioned here.
Add more fields as necessary.
MODEL Trims
Trim1
Trim2
Trim3
Trim4
MSRP
$Price1
$Price2
$Price3
$Price4
Invoice
$Price1
$Price2
$Price3
$Price4
Gas Mileage
Edit
Add more fields as necessary.
As seen on the FuelEconomy.gov website, the City/Highway MPG averages are as follows:
Trim
Trim1
Trim2
Trim3
Trim4
MPG
c/h
c/h
c/h
c/h
Engine and Transmission
Edit
Specifications, details, graphs, pictures and other information regarding the powertrain is placed in this section.
Performance
Edit
Please make sure to write information of the vehicle's performance in a third-person point of view. This section should include information about the car's acceleration figures, handling, braking, etc.
If using information gathered from Road Test articles from a reputable automotive source, then please make sure to cite the quote.
Reliability
Edit
Warranty options and scheduled maintainance information should be mentioned here.
This section should reference points on safety ratings and features of the vehicle.
Add Photos of the vehicle here.
Please make sure not to use copyrighted photos.
List the colors that the particular <MODEL> is offered in.
Main Competitors
Edit
Create links to other <MAKE> <MODEL> pages in this section.
Hybrid Models
Edit
If there are hybrid versions of this vehicle manufactured, then please elaborate a little bit on it here.
Unique Attributes
Edit
If there are any features of this vehicle that sets it apart from other vehicles in its class, then mention those unique attributes here.
This section should include information on the interior's design, build quality, ergonomics, space (head and legroom, front and rear), features, stowage compartments and overall comfortability and livability. Add pictures wherever applicable and keep information in a third-person point of view.
Resale Values
Edit
Add more fields as necessary.
<MODEL> Year
Year X
Year X-2
Year X-3
Year X-4
Resale Value
$
$
$
$
Criticisms
Edit
Please make sure to keep critiques in a third-person point of view. If using criticisms from a reputable automotive source, then please make sure to cite the quote.
Generations
Edit
Fill in as many as appropriate. Add more if necessary and pictures wherever applicable.
Please make sure NOT to use copyrighted pictures.
Current Generation: (2007-present
Edit
Second Generation (2000-2006)
Edit
The MPV was replaced for 2000 with a front wheel drive LW platform based on the 626. This second generation MPV was much more traditional, with sliding rear doors and front-wheel drive. Some differentiating factors included a rear seat that folded flat into the floor and rear-door windows that rolled down.
The MPV was initially underpowered, using the Mazda AJ (which was actually Ford's Duratec) 2.5 L V6. This was replaced in a 2002 refresh with Mazda's AJ 3.0 L V6 and a 5-speed automatic transmission that produces 200 hp and 200 ft·lbf of torque. Also updated at this time were the grille, which now was larger, with a single chrome bar at the top rather than a full surround. The look was refreshed again in 2004, with a more aggressive look and new headlights and taillights. The LX sport package had the appearance of "tuner cars" in taillights and body skirts with optional spoiler.
By 2006, the MPV was virtually the only minivan which had not adopted the size form factor of the long wheelbase Chrysler minivans, including Kia and Nissan. Those who do purchase the vehicle appreciate its narrow and short size, light weight and maneuverability. Some car reviews called it Ford's best minivan. It has a low price as a used vehicle or sales incentives as new. For example, in 2005, it was possible to pay just $15,000 for a 2004 MPV with 22,000 miles after being retired by a rental car company, while a the trade in for a 2003 Pilot with 44,000 miles was $24,000. For users who just need occasional 7 passenger seating, and not 4 wheel drive, the MPV is a much more affordable alternative to a popular Honda minivan, or an SUV.
The Japanese Mazda website already shows the next MPV with lazy-boy recliner feature seats and turbo 4 engine. However, with the introduction of the smaller Mazda Mazda5 minivan, CX-7 and CX-9 SUVs to North America, Mazda will stop exporting the MPV to North America after the 2006 model year.
Engines:
First Generation/Origins (1989-1998)
Edit
The minivan boom of the 1980s caught the Japanese car makers by surprise. Each maker had its own response: Toyota was first with an adaptation of their mid-engined Van, based on the Japanese Town-Ace in 1984. Nissan and Mitsubishi quickly followed suit with conversions of cargo vans in 1987. None of these were particularly successful, since all were small and only offered 4-cylinder engines.
The 1989 MPV was radically different. It was designed from the ground-up as a minivan for the American market. Mazda started with the best platform they had, the 929's HC, to develop the MPV's LV platform, and equipped the MPV with a V6 engine and optional all wheel drive. Like the later Honda Odyssey, it featured traditional hinged doors instead of sliding rear doors, though the original MPV only had a single rear door.
The van was a hit with the press, being named to Car and Driver magazine's Ten Best list for 1990 and 1991 and featured as one of their "vehicles for the coming (fuel) crisis". Initial sales were strong as well, but rapidly fell off once other makers introduced all wheel drive and V6 engines. However, Toyota's 1991 Previa, Nissan's 1993 Quest, and Honda's 1995 Odyssey all featured purpose-built platforms and eroded Mazda's lead.
Although the Mazda MPV was well-received by the press and public, crash testers were less impressed. The MPV received one star out of four in the Australian ANCAP crash tests and a "Marginal" rating in the American IIHS crash tests.
The van was refreshed in 1996, with the I4 engine retired for the United States, though it was replaced with a similar 2.5 L unit for the rest of the world. The all wheel drive MPV was now marketed in the United States as the All Sport. Although similar to most minivans on the market, the All Sport was mildly restyled and marketed as a Crossover SUV. This provided a brief sales bump, but the entire minivan market had turned against rear wheel drive by that time. The original MPV was retired after the 1998 model year, but in Japan this car was produced under the name of Mazda MPV since 1997.
Worldwide
Edit
If the vehicle is sold in other markets worldwide, then this is the section to mention that information. Also, mention if the <MODEL> goes by another name in these other markets.
Design quirks and oddities
Edit
Refer to any pop-culture tidbits about the vehicle in this section.
List out notable awards that the model has recieved while in production. Boldface the company or organization that gives out the award, and Italicize the name of the award.
External Links
Edit
News and References
Enthusiast Sites and Discussion Forums
This page uses content from Wikipedia; see Mazda MPV, which includes these contributors.
Community content is available under
CC-BY-SA
unless otherwise noted.