Search By Model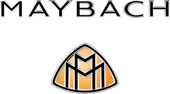 2016 Current Models
Ultra-Luxury Car
57 and 62
Maybach-Motorenbau GmbH, founded by Wilhelm Maybach and his son Karl, was a German manufacturer of engines for Zeppelins and later, large and luxurious automobiles. The company has historic roots through the involvement of its founder who was the technical director of the Daimler-Motoren-Gesellschaft (Daimler Motor Company). Today, the brand is owned by DaimlerChrysler and based in Stuttgart. Between 1921 and 1940, the company produced various classic opulent vehicles.
During World War II, design and production was redirected to military applications — Maybach designed and/or produced the engines of many German military vehicles and German armored fighting vehicles such as the Panzer IV, Tiger I and the Panther tank.
The company also built heavy duty diesel engines for marine and rail purposes. Famous locomotives with Maybach engines include the German V200 and between 1961 and 1964, British Rail Class 52 "Westerns."
In 1960, Daimler-Benz acquired a majority shareholder status. Six years later, Maybach-Motorenbau was merged with the heavy-duty engine arm of Daimler-Benz to form a new company, Maybach Mercedes-Benz Motorenbau GmbH. In 1969 this became MTU Friedrichshafen.
Luxury Comeback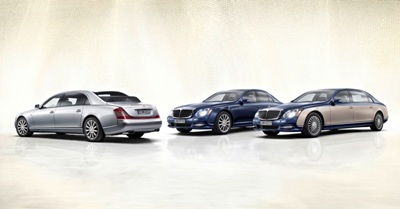 In 1997, Mercedes-Benz presented at the Tokyo Motorshow an ultra-luxury concept car under the name Mercedes-Benz Maybach (V12, 5987 cc, 394 hp). The concept was quite successful and it was decided to develop it. Mercedes however took the decision to market the car under the sole brand Maybach.
Maybach was therefore revived as a brand in the early 2000s, with the production of the new model in two sizes; — the Maybach 57 and the Maybach 62, (the numbers are equal to the lengths of the automobiles in decimeters); the longer 62 allows rear occupants to recline fully in their seats. The prices range from US$305,000 to $357,000; they are priced to compete with the top-of-the-range Bentley and Rolls-Royce automobiles. In 2005, the new 57S has been added, sporting a more powerful engine (6.0L V12 bi-turbo, producing 604bhp and 737lb/ft of torque) and cosmetic touches that provides a sporty image. Also the 57s, (sport) in 2006. When a customer decides to order a Maybach they can go to Sindelfingen, the marque's headquarters, (or meet over a video conference centre at a dealer in their own country) to specify every and any detail they desire. Many customers will personalise their cars with their initials or coats of arms. Maybach executives liken the experience to ordering a custom-built yacht or a personalized jet aircraft. Also, with a hand-crafted finish quality, and over two million equipment options, it is unlikely that two identical cars will ever leave the factory. The maybach then, with its V12 engine and its reclining leather seats, combines utter speed and performance with complete luxury.
Models
Pre-war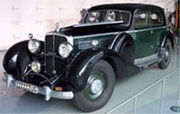 1919 Maybach W1 — Test car based on a Mercedes chassis
1921 Maybach W3 — First Maybach, shown at Berlin Motor Show. Featured a 70 hp 5.7L inline six.
1929 Maybach 12 — V12 precursor to DS7/8
1930 Maybach DSH — Doppel-Sechs-Halbe ("half a twelve cylinder") 1930-37
1930 Maybach DS7 Zeppelin — 7L V12, 150 hp
1931 Maybach W6 — Same engine as W5, longer wheelbase. 1931-33
1931 Maybach DS8 Zeppelin — 8L V12, 200 hp
1934 Maybach W6 DSG — Featuring a twin overdrive transmission system.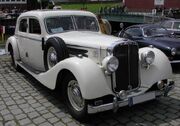 1935 Maybach SW35 — 3.5L 140 hp I6
1936 Maybach SW38 — 3.8L 140 hp I6
1939 Maybach SW42 — 4.2L 140 hp I6
W2 were the 5.7L inline six engines built for and ordered by Spyker. Not all were purchased, and Karl had to build cars featuring the engines to offset costs. Around 1800 Maybachs were built before WW2.
Post-revival
2002 Maybach 57 and 62
2005 Maybach Exelero (prototype shown at the IAA in Frankfurt; it is an unicum)
2005 Maybach 57S (the S standing for Special rather than Sport)
2009 Maybach Zeppelin 57S and 62S
Gallery
See also
External links
Community content is available under
CC-BY-SA
unless otherwise noted.