Maserati
Maserati Merak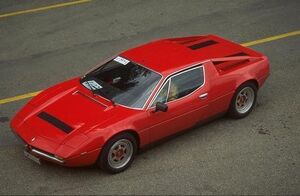 | | |
| --- | --- |
| Production date | 1972 - 1982 |
| Class | {{{class}}} |
| Country | {{{country}}} |
| Body Style(s) | 2 Door |
| Layout | MR Design |
| Engine(s) | V6 |
| Transmission(s) | N/A |
| Wheelbase | 2600 mm (102.4 in) |
| Dimensions | N/A |
| Curb weight | 1160-1400 kg (2557-3086 lb) |
The Maserati Merak, introduced in 1974, was essentially a junior version of the Maserati Bora. Designed during the Citroën era (1968-1975), the Merak featured a 3.0 L Maserati V6 (190 hp), also used in the Citroën SM.
The mid-engined Merak used the Bora bodyshell, but with the extra space offered by the smaller engine used to carve out a second row of seats, suitable for children or very small adults.
Other Citroën parts used for the Merak included the SM's dramatic dashboard and the hydraulic brake system. In 1977 these parts were supplanted by more conventional units.
In 1976 Maserati introduced the slightly more powerful Merak SS. Its engine produced 220 hp (164 kW) and weight was reduced by 336 lb to 3,086 lb (by 152 kg to 1,400 kg), resulting in a top speed of 152 mph (245 km/h).
In 1977 Maserati introduced another version of the Merak called Merak 2000, which featured a 2.0 L V6 with 170 hp (127 kW). This version was built for the Italian market where a newly introduced tax law penalized cars with an engine capacity of more than 2000 cc.
Aesthetically, the Merak differed from the otherwise identical Bora mainly in sporting glassless flying buttresses instead of the Bora's fully glassed rear.
The Merak went out of production in 1982.
Television appearances
Edit
Jeremy Clarkson purchased a Maserati Merak on the BBC television show Top Gear for £7000 in a challenge. The challenge was to buy Italian cars for less than £10,000; unfortunately for Clarkson, he was the first to retire because the engine had destroyed itself. His car was badged as an SS edition, though when he looked at the service records, he found out that the previous owner had just applied the badge to the car. This car is now being broken at the Italian Supercar breakers yard "Euro Spares".
Community content is available under
CC-BY-SA
unless otherwise noted.