Maserati GranTurismo
Maserati
aka
M145
GranTurismo S
Maserati GranCabrio
Production
2008 - present
Class
Grand tourer
Body Style
2-door, 4/2+2-seat Coupe
2-door, 2-seat Hardtop Convertible
Length
192.2 in (4881 mm)
Width
72.7 in (1847 mm, w/o mirrors)
80.9 in (2056 mm, w/ mirrors)
Height
53.3 in (1353 mm)
Wheelbase
115.8 in (2942 mm)
Weight
3924.2 lb (1780 kg, Dry)
4144.7 lb (1880 kg, Curb)
Transmission
ZF (ZF 6HP26) 6-speed Automatic, RWD
Designer

Jason Castriota

under Pininfarina
The Maserati GranTurismo is a two-door, four-seat coupé produced by the Italian car manufacturer Maserati. It shares the platform of the Maserati Quattroporte V and parts of the Ferrari 599 GTB and Scaglietti.
Launched in 2007 as coupe, with a cabriolet model added in 2010, production of the GranTurismo is scheduled to end in 2014, with its replacement not expected to be launched until 2018.[1]
GranTurismo (2007)
The vehicle was unveiled at the 2007 Geneva Motor Show.[2] The GranTurismo has a drag coefficient of 0.33. The standard version has a 4.2 litre (4,244 cc (259.0 cu in)) V8 engine designed in conjunction with Ferrari with 405 PS (298 kW; 399 hp) and automatic ZF gearbox six-speed transmission. The 2+2 body has been derived from the Maserati Quattroporte V, with double-wishbone front suspensions and a multilink rear suspension. The car is a GT (Grand Tourer) that emphasis comfort in harmony with speed and driver-enjoyment.
GranTurismo S (2008–2012)
The S version was unveiled in 2008 Geneva Motor show[3] and features a 4.7 litre (4,691 cc (286.3 cu in)) V8 engine rated 440 PS (324 kW; 434 hp) at 7000 rpm and 490 N·m (360 lb·ft) at 4750 rpm, an invigorating 6-speed sequential semi-automatic transmission with transaxle layout, 47% front and 53% rear weight distribution. The standard suspension set-up is fixed-setting steel dampers, with the Skyhook adaptive suspension available as an option. It was available in the North American market only for 2009 MY.
GranTurismo MC (2009–2010)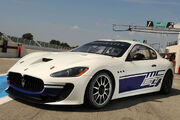 It is a limited production car based on the GranTurismo MC Concept, but included 6-points seat-belt, 120 L (32 US gal; 26 imp gal) fuel tank, 380 mm (15.0 in) front and 326 mm (12.8 in) rear brake disc with 6-piston front and 4-piston rear calipers, 11x18-in wheels with 305/645/18 front and 305/680/18 rear tires, carbon fiber shock absorbers.
The vehicle was unveiled in Paul Ricard circuit, in France. It went on sale in 2009-10 at Maserati Corse with MSRP of €135,000.
GranTurismo S Automatic (2009–2012)
It is a version of Maserati GranTurismo S with ZF 6-speed automatic transmission from the base model vehicle, standard Skyhook adaptive suspension, alternate under-door mini-skirts, non-black underlayed frontlights, 20 inch wheel rims with "Trident" design, standard Bluetooth wireless technology and iPod interface. Maserati itsself names this setup the perfect gran turismo car, based on the perfect synthesis of its performance and luxury components.
The vehicle was unveiled in 2009 Geneva Motor Show.
GranTurismo MC Sport Line (2009)
Maserati GranTurismo MC Sport Line]]It is a customization programme based on the works on GranTurismo MC Concept. Changes include front and rear carbon-fibre spoilers, carbon fibre mirror housings and door handles, 20 inch wheel rims, carbon fibre interior (steering wheel rim, paddle shifters, instrument panel, dashboard, door panels), stiffer springs, shock absorbers and anti-roll bars with custom Maserati Stability Programme software and 10 mm (0.4 in) lower height than GranTurismo S. The programme was initially offered in GranTurismo S, with the product line expanded to all GranTurismo vehicle and all Maserati vehicles in 2009. Fifteen GranTurismo MC racecars were developed, homologated for the European Cup and National Endurance Series, one of which was taken to be raced by GT motorsport organization Cool Victory in Dubai in January, 2010.
A GranTurismo S with MC Sport Line parts was unveiled in 2008 Bologna Motor Show.
GranTurismo Sport (2012)
Replacing both the GranTurismo S and S Automatica, the Granturismo Sport was unveiled in March 2012 at the Geneva Motor Show.[8][9] The revised 4.7L engine is rated 460 PS (338 kW; 454 hp). The Sport features a unique, MC Stradale inspired front fascia, new headlights and new, sportier steering wheel and seats. The ZF six-speed automatic gearbox is now standard, while the six-speed sequential transaxle is available as an option. The latter has steering wheel-mounted paddle shifters, a feature that's optional with the automatic gearbox.
GranTurismo MC Stradale (2011) Limited Production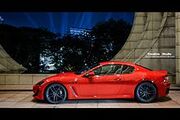 In September 2010, Maserati released that they will be officially showing a new version of the GranTurismo - the MC Stradale - at the 2010 Paris Motor Show. The strictly two-seat MC Stradale is more powerful (450 PS or 331 kW or 444 hp), Friction reduction accounts for the increase, says Maserati, thanks to the strategic use of "diamond-like coating," an antifriction technology derived from Formula 1, on wear parts such as the cams and followers. It's also 110 kg lighter (1670 kg dry weight) from the Granturismo, and more aerodynamic than any previous GranTurismo model - all with the same fuel consumption as the regular GranTurismo.[10] In addition to two slits in the bonnet, the MC Stradale also receives a new front splitter and rear air dam for better aerodynamics, downforce, and improved cooling of carbon ceramic brakes and engine. The body modifications make the car 48 mm (2 in) longer.
The MC Race Shift 6-speed robotised manual gearbox (which shares its electronics and some of its hardware from the Ferrari 599GTO) usually operates in an "auto" mode, but the driver can switch this to 'sport' or 'race' (shifts in 60 milliseconds in 'race' mode), which affects gearbox operations, suspension, traction control, and even the sound of the engine. The MC Stradale is the first GranTurismo to break the 300 km/h barrier, with a claimed top speed of 303 km/h (188 mph).
GranCabrio (2010)
The GranCabrio known as the GranTurismo Convertible in the United States, Canada, Australia and New Zealand)[14] is a convertible version of the GranTurismo S Automatic, equipped with a canvas folding roof. The GranCabrio retains the four seat configuration of the GranTurismo coupé, and is thus Maserati's first ever four-seater convertible.
The vehicle was unveiled at the 2009 Frankfurt Motor Show, with production beginning in 2010. The vehicle is built in the Viale Ciro Menotti Maserati factory. European sales were to begin in February 2010, with the United States receiving its first cars a month later. Planned sales for 2010 were 2,100 units, of which two thirds were intended to go stateside.
The GranCabrio is powered by the same 4.7-litre V8 engine (440 PS or 324 kW or 434 bhp at 7,000 rpm, 490 N·m or 361 lb·ft at 4,750 rpm) that is fitted to the GranTurismo S Automatic.
GranCabrio Sport (2011)
At the 2011 Geneva Motor Show Maserati unveiled a new version of the GranCabrio, with an enhanced level of performance and handling. This version also has the 4.7-litre V8, coupled with the ZF six-speed automatic transmission and fitted with the slightly uprated 450 PS or 331 kW or 444 bhp version of the V8 engine, with 510 N·m (380 lb·ft) torque. To hint at the car's more sporting nature, the headlights have black surrounds and other details such as the bars in the grille are also finished in black. There are also larger sideskirts as well as tiny winglets on the lower front corners.
GranCabrio Fendi (2011)
The Fendi is a version of GranCabrio designed by Silvia Venturini Fendi.
The vehicle was unveiled in 2011 Frankfurt Motor Show.
GranCabrio MC
Maserati Corse-style four-seater open-top is 48 mm (1.9 in) longer than GranCabrio with front end inspired directly by MC Stradale, also much improved aerodynamics compared to standard models. Power comes from 4.7 L 90° V8 delivering 460 hp (343 kW) and 520 N·m (384 lb·ft) of torque. Top speed is 289 km/h (180 mph) and acceleration 0–100 km/h is 4.9s. For transmission only one choice, MC Auto Sfift, 6-speed ZF automatic. Wheels are 20 inch MC Design rims. Premiere at Paris Motor Show 27 September 2012.
2018 Facelift
Maserati gave the Gran Turismo a Facelift for the 2018 model year featuring a 4.7 L naturally aspirated V8 and with updated technology and a more aggressive styling on the exterior. Its design is inspired by the Alfieri Concept. The car is not expected to last long with a successor coming soon by at least 2020.
Dimensions and Weight
Length: 4881 mm
Width without mirrors: 1847 mm
Width with mirrors: 2056 mm
Height: 1353 mm
Wheelbase: 2942 mm
Front track: 1586 mm
Rear track: 1590 mm
Front overhang: 873 mm
Rear overhang: 1066 mm
Boot capacity: 260 l
Fuel tank capacity: 86 l
Dry weight (EU version): 1780 kg
Kerb weight (EU version): 1880 kg
Running order with driver (EU version): 1955 kg
Max permissible: 2180 kg
Maximum permitted technical weight: 2250 kg
ODM weight distribution: 49% front; 51% rear
MODEL Trims
Coupe
Coupe S
Conv. Hardtop
MSRP
$110,000
$140,000
Unknown
Invoice
$95,000
$120,000
Unknown
Gas Mileage
As seen on the FuelEconomy.gov website, the City/Highway MPG averages are as follows:
Trim
Coupe
Coupe S
Conv. Hardtop
MPG
13 City 19 Hwy
11 City 18 Hwy
Unknown
Combined cycle 16 Miles (GranTurismo) and 15 (GranTurismo S).
CO² emission combined cycle 345.0 (g/km).
Engine and Transmission
Displacement 4244 cm3
Bore: 92 mm
Stroke: 79.8 mm
Compression ratio: 11:1
Maximum power output: 298 kW (405 hp)
Engine speed at maximum power output: 7.100 rpm
Peak torque: 460 Nm (47 kgm)
Engine speed at peak torque: 4750 rpm
Maximum engine speed: 7250 rpm
Performance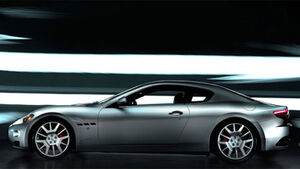 GranTurismo
Top Speed: 177mph (285 km/h) at 7050 rpm
Acceleration 0-60 mph (1-100 km/h): 5.2 s. Faster times have been reported by some magazines and reviewers. They state that the standard GranTurismo is able to get from 0-60 in 4.9 s.
Stopping distance from 60 mph (100 km/h): 114 feet (35 m)

GranTurismo S
Top Speed: 183 mph (7050 rpm)
Acceleration 0-60 mph: 4.7 s. Faster times have been reported. Some claim that it can go from 0-60 in 4.4 s.
Recalls
recall: Maserati is recalling all 56 2008 MY GranTurismos equipped with the advanced passenger seat air bag weight sensor system due to a malfunction in the supplemental restraint system (SRS) electronic control unit (ECU) software when the battery is not fully charged. In the event of a crash, the passenger side air bag and passenger seat belt pre-tensioner may not deploy increasing the risk of injuries. Maserati dealers will replace the SRS ECU units as necessary. The recall is expected to begin this month (January 2008).
recall: On January 22, 2009, Fiat issued a recall alert affecting 7,912 MY 2008 Alfa Romeo 8Cs, Maserati GranTurismos and Quattroportes due to incorrectly torqued front and rear suspension upper and lower ball joint nuts which may loosen with consequent steering wheel vibration, a growing metallic noise and progressive loss of driving precision in the transients. According to the Italian automaker, continued use of the vehicle in these conditions may lead to damage of the suspension lever, which in the long term and depending on vehicle usage, may cause the ball joint/suspension arm to break. The recall is expected to begin during February 2009. Concerned U.S. owners may contact Maserati for more information at 1-201-816-2600.[1]
Development Prototypes
Interior
The interior, which can seat four full-sized adults, is lined in Poltrona Frau leather, similar to the Quattroporte. It also features a customizable wraparound interior trim. In the standard version these are available in "Smoked Quartz" and "Alu Grey", while upon request it is possible to choose among essences of genuine wood (Walnut, Tanganyika wood, Rosewood) for a warm and elegant environment, or as an alternative varnished hues (Black Piano, Rosso Sigillo, Giallo Decoro, Bianco Cotton, Blu Laque), for a more sporty and elaborate look.
Current Generation: (2008–present)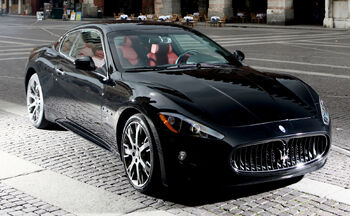 Design quirks and oddities
Many design elements also come from the Ferrari 599 GTB Fiorano (Which also happens to be a Grand Tourer.)
See also
References
External Links