Doctor Strange in The Multiverse o Madness - The Loop
Play Sound
Maserati is a famous Italian manufacturer of racing cars and sports cars, established on December 1, 1914 in Bologna. The company's headquarters are now in Modena and their logo is a red trident rising out of a blue base. Today, Maserati is owned directly by the Italian car giant Fiat, after having being a part of Ferrari for some years.
History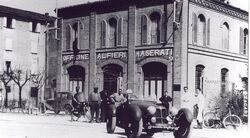 The Maserati brothers, Alfieri Maserati, Bindo Maserati, Carlo Maserati, Ettore Maserati, Ernesto Maserati and Mario Maserati, were all involved with automobiles from the beginning of the 20th century. Alfieri, Bindo and Ernesto built 2-litre Grand Prix cars for Diatto. In 1926, Diatto suspended the production of race cars, leading to the creation of the first Maserati and the founding of the Maserati marque. One of the first Maseratis, driven by Alfieri, won the 1926 Targa Florio. Maserati began making race cars with 4, 6, 8 and 16 cylinders (actually two straight eights mounted parallel to one another). Legend has it, Mario, an artist, is believed to have devised the company's trident emblem after seeing Neptune's statue at Bologna'a Piazza Maggiore. Alfieri Maserati died in 1932 but three other brothers, Bindo, Ernesto and Ettore, kept the firm going, building cars that won races.
Orsi ownership
In 1937 the remaining Maserati brothers sold their shares in the company to the Orsi family, who in 1940 relocated the company headquarters to their hometown of Modena, where it remains to this day. The brothers continued in engineering roles with the company, however. Racing successes continued, even against the giants of German racing, Auto Union and Mercedes. In 1940 a Maserati won the Indianapolis 500, a feat repeated the following year.
The war then intervened, Maserati abandoning cars to produce components for the Italian war effort. During this time, Maserati worked in fierce competition to construct a V16 towncar for Benito Mussolini before Ferry Porsche of Volkswagen built one for Adolf Hitler. They failed in this endeavour and the plans were scrapped. Once peace was restored, Maserati returned to making cars, the Maserati A6 series, doing well in the post-war racing scene. This was the last involvement of the Maserati brothers, who after the 10-year contract with Orsi, went on to form the O.S.C.A. car builder.
The famous Argentinian driver Juan Manuel Fangio raced for Maserati for a number of years in the [950s, producing a number of stunning victories including winning the world championship in 1957 in the Maserati 250F. Other racing projects in the 50s were the Maserati 200S, Maserati 300S, Maserati 350S, Maserati 450S, followed in 1961 by the famous Maserati Birdcage. Maserati had retired from factory racing participation due to the Guidizzolo accident (1957), though it built racing cars to be raced by others after that date.
After 1957, Maserati became more and more focussed on road cars, and chief engineer Giulio Alfieri built the 6-cylinder Maserati 3500 2+2 coupe featuring an aluminum body over Carrozzeria Touring's superleggera structure, a design also used for the small-volume V8-powered Maserati 5000 GT. Next came the Maserati Sebring bodied by Vignale and launched in 1962, the Maserati Mistral Coupé (1963) and the Spider (1964), both designed by Pietro Frua, and their first four-door, the Maserati Quattroporte (1963), also designed by Pietro Frua. The two-seater Maserati Ghibli coupe was launched in 1967, followed by a convertible in 1969.
Citroën ownership
In 1968 came a great change - purchase by Citroën. Adolfo Orsi remained the nominal president, but Maserati changed a great deal. New models were launched, and built in much greater numbers than hitherto. Citroën borrowed Maserati expertise and engines for the Citroën SM and other vehicles, and Maseratis incorporated Citroën technology also, particularly in hydraulics.
New models included the Maserati Bora, the first mass-produced mid-engined Maserati, in 1971, and the Maserati Merak and Maserati Khamsin soon afterwards, Quattroporte II which shared some parts with Citroën SM never came into production. The 1970s oil crises, however, put the brakes on this ambitious expansion - suddenly, the demand for fuel-thirsty sports cars shrank. Citroën went bankrupt in 1974 and on May 23, 1975, the new controlling group PSA Peugeot Citroën declared that Maserati also was in liquidation. Propped up by Italian government funds, the company stayed alive, if barely.
De Tomaso
1975 saw the company back on its feet with Alessandro de Tomaso, an Argentinian former racing driver, the new managing director. De Tomaso had arranged for the Benelli motorcycle company, which he controlled, to buy Maserati from Citroën and install him as its head. New models were introduced in 1976, including the Maserati Kyalami and the Quattroporte III.
The 1980s saw the company largely abandoning the mid-engined sports car in favour of squarish, front-engined, rear-drive coupes, cheaper than before but with aggressive performance, like the Maserati Biturbo and the more confidential Maserati Racing. Two new coupes, the Maserati Shamal and Maserati Ghibli II, were released in 1990 and 1991, respectively.
The company also worked closely with Chrysler, now headed by de Tomaso's friend Lee Iacocca. Chrysler purchased part of Maserati and the two jointly produced a car, the Chrysler TC by Maserati.
There was also two further very challenging projects: the Chubasco - a V8 mid-engine supercar - unfortunately due to lack of funding stillborn. The Barchetta made it to a racing model, 16 units produced plus 2 prototypes. It featured a midengine V6 biturbo engine 2.0L, a central frame and a very light plastic body spyder, accelerating the car to about 180mph. The racing series Grantrofeo Barchetta was held 1992 and 1993. The development of a road version was stopped at a late stage and today some cars hold a road title in Europe. The cental-frame concept was survived on the De Tomaso Guarà but the frame of DeTomaso Guarà resulted around 13 cm. shorter because it was engined by a longer 8V.
Fiat ownership
1993 saw the company acquired by Fiat. Substantial investments were made in Maserati, and it has since undergone something of a renaissance.
In 1999 a new chapter began in Maserati's history when the company launched the 3200 GT, the only "Fiat Maserati". This two-door coupé is powered by a 3.2L twin-turbocharged V8 which produces 370hp (276kW); the car does 0-60mph in less than 5 seconds. Its top speed is an amazing 285km/h (177mph). With the addition of a Ferrari-designed and -built V-8 and automated manual transmission for the 2002 model year, this car continues to be produced today as the Coupé (hardtop) and Spyder (convertible model).
Ferrari
In 1997, Fiat sold a 50% share in the company to Maserati's long-time arch-rival Ferrari (though this was, and is, itself controlled by Fiat). In 1999 Ferrari took full control, making Maserati its luxury division. A new factory was built, replacing the existing 1940s-vintage facility.
More recently, Maserati has signed an agreement with Volkswagen for the German company to share its Audi division's Quattro all-wheel-drive technology (originally meant for the still-born Maserati Kubang sport-utility vehicle concept) for Maserati's current Quattroporte platform. The agreement has been made on the condition that there will be no corporate espionage or reverse engineering, since Volkswagen owns two of Ferrari's direct rivals, Lamborghini and Bugatti.
Meanwhile two new models have been shown to the public: the MC12 road supersports and successful GT racer with an Ferrari Enzo derived chassis and engine. And the Quattroporte, a high luxury saloon with the 4l V8 engine. Maserati is nowadays back in the business, very successfully selling on a global basis.
Today
In 2005, as a consequence of the termination of the agreement between Fiat and General Motors under which GM may have been obliged to buy Fiat's car division, Maserati was separated from Ferrari and brought back under Fiat's full control. Fiat plans to create a sports and luxury division from Maserati and another of its marques, Alfa Romeo. GM had to pay Fiat around $2,000,000,000. Maserati sold 2,006 cars in the United States for all of 2005.
Current Models
See List of Maserati vehicles for a complete historical list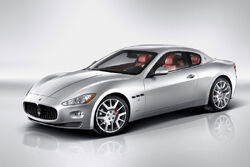 Maseratis are once again being sold in the lucrative United States market, and the company has also re-entered the racing arena with their Trofeo and, in December 2003, the Maserati MC12 (formerly known as the MCC), which took part in select GT races in 2004. The MC12 is based on the Ferrari Enzo supercar; 50 street-legal homologation models will be sold for about US$750,000 each.
Product Gallery
Gallery
Trivia
A Quattroporte was donated to the President of Italy.
Eva Longoria's character Gabrielle Solis drove a black Spyder throughout the first season, and at the beginning of the second season of Desperate Housewives. It was later replaced by a maroon Aston Martin DB9 Volante, as an anniversary present to herself.
See Also
External links