MINI is both the name of a subsidiary of BMW, and a car produced by that subsidiary since 2001. The car is marketed as a "retro" redesign of the original Mini, which was manufactured by the British Motor Corporation and its successors from 1959 to 2000. To distinguish it from its predecessor (the 'classic Mini'), the brand name for the new car is MINI (written in capital letters). It is often called 'The BMW MINI', 'The New MINI', or simply 'MINI'. The MINI is manufactured in Cowley in Oxford, United Kingdom, in what was historically the Morris car plant.
Prototype and concept cars
BMW first showed the MINI as a concept car that looked very different from the production cars. It had circular headlamps, huge wheel flares and a much more rounded appearance overall compared to the production design.
Before the first sales of the MINI, prototype versions were shown at the 2000 Paris Auto Show. These were essentially identical to the version that was finally sold except that the colours used ('Candy Blue' and 'Flamenco Orange') have never been used in production cars.
BMW demonstrated a hydrogen-powered internal combustion technology in some of their concept cars in 2000 and 2001, and MINI showcased a hydrogen powered concept car in 2001 at the Frankfurt Auto Show. The car differs from electric-motor hydrogen concepts, such as the Honda FCX in that it uses a cylinder-based internal combustion engine.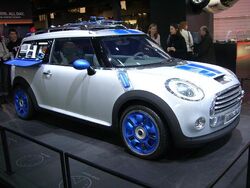 An all-electric MINI is in use at the British Embassy in Mexico that uses around 200 kg of Lithium Ion batteries. Three electric MINIs were also made for use in some subway scenes in the 2003 movie The Italian Job to satisfy the subway authorities concerns over possible carbon monoxide poisoning.
With higher powered engines, the standard front wheel drive MINI tends to produce more wheel spin instead of more acceleration — four wheel drive would be a natural solution to that problem. Getrag (who make the MINI's gearbox) demonstrated a four wheel drive version of the MINI in 2004.
At the Frankfurt Motor show in 2005, MINI revealed a retro version of the classic 'Mini Traveller' station wagon. Based on a stretched wheelbase with two side-hinged rear doors and separate rear seats replacing the split bench seat of the standard MINI. At the Tokyo show, the same basic concept reappeared with some fanciful additions — a circular roof section could be removed to form a picnic table with four folding chairs. The rear side windows were replaced with fold-down storage containers containing cutlery, cups and plates. In Detroit, a further version was presented without the table and chairs — but with a radically restyled interior.
Additional MINI models, including a four-door version, a two-seat roadster and a dune buggy have been shown as computer-graphic mock-ups at various times.
</noinclude>
External links
News & References