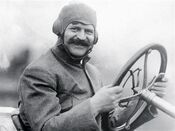 Louis-Joseph Chevrolet (December 25, 1878 – June 6, 1941) was a Swiss born American race car driver of French descent and co-founder of the Chevrolet Motor Car Company with William C. Durant. Chevrolet had differences with Durant in 1915 and sold his share of the company to him. The company was folded into Durant's General Motors.
Life & career
Edit
In 1886, Chevrolet's family left Switzerland to live in Beaune, in the Côte-d'Or départemen of France. He was born in La Chaux-de-Fonds, Canton of Neuchâtel, Switzerland. It was there as a young man Louis developed his mechanical skills and interest in auto racing. He worked for the Roblin mechanics shop from 1895 to 1899, at which time he went to Paris, where he worked for a short time before emigrating to Montreal, Quebec in Canada in 1900 to work as a mechanic. The following year, he moved to New York City, where he worked briefly for a fellow Swiss immigrant's engineering company, then moved to the Brooklyn operations of the French car manufacturer de Dion-Bouton. In 1905, he was hired by FIAT as a racing car driver, and a year later became employed by a Philadelphia company developing a then-revolutionary front-wheel-drive, racing car. His racing career continued as he drove for Buick, becoming a friend and associate of Billy Durant.[1]
With little in the way of a formal education, Chevrolet learned car design while working for Buick and started designing his own engine for a new car in 1909. He built an overhead valve six-cylinder engine in his own machine shop on Grand River Boulevard, Detroit.[2] On November 8, 1911 he partnered with Durant to start the Chevrolet Motor Car Company there, choosing as the company's logo a stylized Swiss cross, to honor his parents' homeland.[3] Chevrolet had differences with Durant over the design and in 1915 sold Durant his share in the company. In 1917 the company was folded into Durant's General Motors.
At that time, Chevrolet shifted into the racing car industry, partnering with Howard E. Blood of Allegan, Michigan to create the Cornelian, a state-of-the-art racing car, which he used to place 20th in the 1915 Indianapolis 500 automobile race. In 1916, he and his younger brother Gaston started Frontenac Motor Corporation, designing and producing another line of racing cars. They became well-known for, among other things, their Fronty-Ford racers.
Louis also competed in the Indianapolis 500 four times, with a best finish of 7th in 1919. Younger brother Gaston won there in 1920 in a car Louis built, and brother Arthur also competed twice.
Louis Chevrolet died nearly penniless on June 6, 1941 in Detroit, Michigan, and is buried in the Holy Cross and Saint Joseph Cemetery in Indianapolis, Indiana. His bust stands at the entrance to the museum at the Indianapolis Motor Speedway.
Indy 500 results
Edit
Year
Car
Start
Qual
Rank
Finish
Laps
Led
Retired
1915
27
23
81.010
23
20
76
0
Valve
1916
8
21
87.690
13
12
82
0
Rod
1919
7
12
103.100
2
7
200
9
Running
1920
3
3
96.300
3
18
94
0
Steering
Totals
452
9

| | |
| --- | --- |
| Starts | 4 |
| Poles | 0 |
| Front Row | 1 |
| Wins | 0 |
| Top 5 | 0 |
| Top 10 | 1 |
| Retired | 3 |
References
Edit
↑ Clymer, Floyd. Treasury of Early American Automobiles, 1877-1925 (New York: Bonanza Books, 1950), p.179.
↑ McPhee, John La Place de la Concorde Suisse. New York: Noonday Press (Farrar, Straus and Giroux), 1984
Clymer, Floyd. Treasury of Early American Automobiles, 1877-1925. New York: Bonanza Books, 1950.
External links
Edit
Community content is available under
CC-BY-SA
unless otherwise noted.