Lotus Cars
is a British manufacturer of sports and racing cars based at Hethel, England. The company is famous for designing and building landmark race and production automobiles of extremely light weight and possessing legendary handling characteristics.
The company is based in East Anglia and was originally formed as Lotus Engineering Ltd. by the influential engineer Colin Chapman, in 1952. The Company's first factory was in old stables behind the Railway Hotel in Hornsea. Team Lotus was active and competitive in Formula One racing from 1958 to 1994. Since the 1960s the company has occupied a modern factory and road test facility at Hethel, near Norwich.
Chapman died of a heart attack in 1982, at the age of 54, having begun life an inn-keeper's son and ended a multi-millionaire industrialist in post-war Britain. The carmaker built tens of thousands of successful racing and road cars and won the Formula One World Championship seven times.
In 1986 the company was bought by General Motors. On August 27, 1993, GM sold the company, for £30 million, to A.C.B.N. Holdings S.A. of Luxembourg, a company controlled by Italian businessman Romano Artioli, who also owned Bugatti Automobili SpA. In 1996 a majority share in Lotus was sold to Perusahaan Otomobil Nasional Bhd (Proton), a Malaysian car company listed on the Kuala Lumpur stock exchange.
The company also acts as an engineering consultancy, performing development - particularly of suspension - for other car manufacturers.
As of 2005 the Malaysian company Proton organised Lotus as Group Lotus, divided into Lotus Cars and Lotus Engineering. A Formula One team is in the works, according to rumour.
Formula One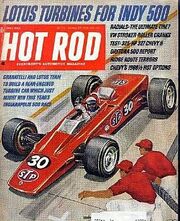 The company encouraged its customers to race its cars, and itself entered Formula One as a team in 1958. A Lotus Formula One car driven by Stirling Moss won the first Grand Prix for the marque in 1960. Major success came in 1963 with the Lotus 25, which - with Jim Clark driving - won Lotus its first F1 World Championship. Clark's untimely death - he crashed driving a Formula Two Lotus 48 in March 1968 after his rear tire failed in a turn - was a severe blow to the team and to Formula One. He was the dominant driver in the dominant car, and remains an inseparable part of Lotus's early years. That year's championship was won by Clark's Lotus team-mate, Graham Hill.
Lotus is credited with establishing the mid-engine configuration as the best design for formula 1 and Indy cars, with developing the first monocoque Formula 1 chassis, and the integration of the engine and transaxle as chassis components. Lotus also was first with adding wings to Formula 1 cars to add downforce, as well as moving radiators to the sides in F1 cars to aid in aerodynamic performance, and inventing active suspension.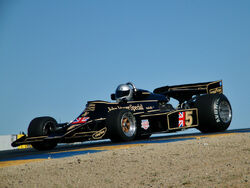 Even after Chapman's death, until the late 1980s, Lotus continued to be a major player in Formula One. Ayrton Senna drove for the Lotus team from 1985 to 1987, winning twice in each year and achieving 17 pole positions. However, by the company's last Formula One race in 1994 the cars were no longer very competitive. During the Formula 1 years Lotus won a total of 79 Grand Prix races. During his lifetime Chapman saw Lotus beat Ferrari as the first team to achieve 50 Grand Prix victories, despite Ferrari having won their first Formula 1 race nine years before Lotus won their own first GP victory.
Formula One driver's world championships:
Lotus models
Previous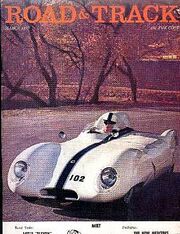 Lotus Mk1 - 1948-1948 Austin 7 based trials car
Lotus Mk2 - 1949-1950 Ford powered trials car
Lotus Mk3 - 1951-1951 750 cc formula car
Lotus Mk4 - 1952-1952 Trials car
Lotus Mk5 - 1952-1952 750 cc formula car - never built
Lotus 6 - 1953-1955 The first 'production' racer - about 100 built
Lotus Seven - 1957-1970 Classic open sports car, a minimalist machine designed to maneuver a racing circuit and nothing else. The rights to the Seven were sold in 1973 to Caterham Cars, who continue to produce it today. Updated versions of this 1957 design are also produced by other specialty firms, including Westfield Cars and Donkervoort.
Lotus Eight - 1954-1954 sports racer
Lotus Nine - 1955-1955 sports racer, based on Eight
Lotus Ten - 1955-1955 sports racer, a more powerful Eight
Lotus Eleven - 1956-1957 sports racer
Lotus Twelve - Formula 2 and Formula 1 racecar (1956-1957)
Lotus 13 - Designation not used
Lotus 14 - 1957-1963 First production street car - the 'Elite'
Lotus 15 - 1958-1958 Sports racer - successor to the Eleven
Lotus 16 - 1958-1959 F1/F2 car based on the Twelve
Lotus 17 - 1959-1959 Sports racer update of the 15 - not successful
Lotus 18 - 1960-1961 First mid-engined Lotus dingle seater - Formula Junior/F2/F1
Lotus 19 - 1960-1962 Mid-engined sports racer - AKA 'Monte Carlo'
Lotus 20 - 1961-1961 Formula Junior
Lotus 21 - 1961-1961 Formula 1
Lotus 22 - 1962-1965 Formula Junior/F3
Lotus 23 - 1962-1966 Small displacement mid-engined sports racer
Lotus 24 - 1962-1962 Formula 1
Lotus 25 - 1962-1964 Formula 1 World Champion
Lotus 26 - 1962-1971 Production street sports car - the original Elan.
Lotus 27 - 1963-1963 Formula Junior
Lotus 28 - 1963-1966 Lotus version of the Ford Cortina street/racer
Lotus 29 - 1963-1963 Indy car - Ford stock block
Lotus 30 - 1964-1964 Large displacement sports racer (Ford V8)
Lotus 31 - 1964-1966 Formula 3 space frame racer
Lotus 32 - 1964-1965 Monocoque F2 and Tasman Cup racer
Lotus 33 - 1964-1965 Formula 1 World Champion
Lotus 35 - 1965-1965 F2/F3/FB
Lotus 36 - 1965-1968 Street sports car - "Elan'
Lotus 37 - 1965-1965 a one-off Seven with IRS - AKA the "Three Seven"
Lotus 38 - 1965-1965 Indy winning mid-engined car
Lotus 39 - 1965-1966 Tasman Cup formula car
Lotus 40 - 1965-1965 Improved(?) version of the 30
Lotus 41 - 1965-1968 Formula 3, Formula 2, Formula B
Lotus 42 - 1967-1967 Indy car - raced with Ford V8
Lotus 43 - 1966-1966 Formula 1
Lotus 44 - 1967-1967 Formula 2
Lotus 45 - 1966-1974 Convertible (Drop Head Coupe) version of the 'Elan'
Lotus 47 - 1966-1970 Racing version of Europa
Lotus 48 - 1967-1967 Formula 2
Lotus 49 - 1967-1969 Formula 1 World Champion
Lotus 50 - 1967-1974 Four-seat 'Elan +2' production car
Lotus 51 - 1967-1969 Formula Ford
Lotus 52 - 1968-1968 Prototype 'Europa' twincam
Lotus 53 - 1968-1968 Small displacement sports racer - never built
Lotus 54 - 1968-1970 Series 2 'Europa' production car.
Lotus 55 - 1968-1968 F3
Lotus 56 - 1968-1971 Indy/F1 turbine wedge (56B for F1)
Lotus 57 - 1968-1968 F2 design study
Lotus 58 - 1968-1968 F1 design study
Lotus 59 - 1969-1970 F2/F3/Formula Ford
Lotus 60 - 1970-1973 Greatly modifed version of the Seven - AKA Seven S4
Lotus 61 - 1969-1969 Formula ford wedge
Lotus 62 - 1969-1969 (prototype Europa racer)
Lotus 63 - 1969-1969 4-wheel drive F1
Lotus 64 - 1969-1969 4-wheel drive Indy cars - did not compete
Lotus 65 - 1969-1971 ("Federalized" Europa S2)
Lotus 66 - designation not used
Lotus 67 - 1970-1970 Proposed Tasman Cup car - never built
Lotus 68 - 1969-1969 F5000 prototype
Lotus 69 - 1970-1970 F2/F3/Formula Ford
Lotus 70 - 1970-1970 F5000/Formula A
Lotus 71 - Undisclosed design study
Lotus 72 - 1970-1972 Formula 1 World Champion
Lotus 73 - 1973-1973 F3
Lotus 74 - 1971-1975 Europa Twin Cam production cars
Lotus 75 - 1974-1982 Luxury 4 seat GT - 'Elite II'
Lotus 76 - 1975-1982 Fastback version of Elite II - 'Eclat S1' - also 1974 F1
Lotus 77 - 1976-1976 F1
Lotus 78 - 1977-1978 F1 'ground effects' car
Lotus 79 - 1978-1979 Formula 1 World Champion - also street GT 'Esprit' (1975-1980)
Lotus 80 - 1979-1979 F1
Lotus 81 - 1980-1981 F1 - designation also used for Sunbeam Talbot rally car
Lotus 83 - 1980-1980 Elite series 2
Lotus 84 - 1980-1982 Eclat series 2
Lotus 85 - 1980-1980 Esprit series 3
Lotus 86 - 1980-1983 F1 'dual chassis' - never raced
Lotus 87 - 1980-1982 F1
Lotus 88 - 1981-1981 F1 'dual chassis' car - banned
Lotus 89 - 1982-1992 'Excel' GT - redesigned Eclat
Lotus 90 - Unreleased Elan/Toyota
Lotus 91 - 1982-1982 F1
Lotus 92 - 1983-1983 F1
Lotus 96 - 1984-1984 Indy car project - abandoned
Lotus 100T - 1988-1988 F1 Turbo
Lotus M100 - 1989-1995 Front-drive convertible 'Elan'
Lotus 101 - 1989-1989 F1
Lotus 102 - 1990-1991 F1
Lotus 103 - 1990-1990 F1 - not produced
Lotus 104 - 1990-1992 Tuned version of the standard Vauxhall Carlton saloon (aka Opel Omega Lotus).
Lotus 105 - 1990-1990 Esprit X180R (race version)
Lotus 106 - 1991-1991 Esprit X180R (street version)
Lotus 107 - 1992-1994 F1
Lotus 108 - 1992-1992 a bicycle - gold medal Barcelona Olympics
Lotus 109 - 1994-1994 F1
Lotus 111 - 1994-current Elise and Elise S2
Lotus 112 - 1995-1995 F1
Lotus 114 - 1995-1995 Esprit V8 GT1
Lotus 115 - 1997-1997 Elise GT1
Lotus 116 - 2000-2006 Vauxhal VX220 (aka Opel Speedster)
Lotus 117 - ?
Lotus 118 - 1999-1999 M250 prototype
Lotus 119 - 2002-2003 soapbox gravity racer
Lotus 120 - 1998-1998 Elise Coupè prototype
Lotus 121 - 2006-current Europa S
Lotus Carlton - 1990-1992 Tuned version of the standard Vauxhall saloon (designated Lotus 104).
Lotus Excel - 1985-1992
Lotus Eclat - (1975-1982) Fastback version of the Elite. The rear roof line of the Elite was sloped down into a sporty fastback.
Lotus Elite - The Lotus Elite was an ultra-light 2-seater coupe, produced from 1958 to 1963. Its most unusual feature was its fibre glass unibody construction. Unlike the Corvette, which used fibre glass for exterior bodywork, the Elite actually used this glass-reinforced plastic material for the entire load-bearing structure of the car.
Lotus Elan - Two generations of Elan were produced, both extremely innovative for their time. The first, in the 1960s, was a small light roadster that made use of the Lotus-trademark steel backbone frame, coupled with a fibre glass body. This car was the design inspiration for the 1990 Mazda MX-5 / Miata. The second Elan was an innovative front-drive sports-convertible.
Lotus Europa - 1966-1975 mid-engine sports car, the first affordable mid-engined road car ever produced.
Lotus Elan - The second Elan, released in 1989, was a technical tour de force but one that also defied Lotus' 'performance through light weight' tradition, to its detriment. The idea of a front-drive Lotus, powered by a turbo-charged engine, was a brave concept and its cornering performance was undeniable. But the handling was negatively compared to the original Elan by some Lotus loyalists and its relatively high price (vs., e.g., the Mazda MX-5) meant that it was not a sales success.
Lotus Esprit - A mid-engined sports car, launched in the early 1970s. The Esprit shocked many at its launch - its geometric, laser-cut lines seemed far more futuristic than anything on the road - or on the cinema screen, for that matter (the car prominently featured in the 1977 James Bond|Bond film The Spy Who Loved Me and briefly in For Your Eyes Only. Later versions of the Esprit featured in the 1990 film Pretty Woman and in Basic Instinct. The styling was by Italian designer Giugiaro. The Esprit started with a light, high-strung 4-cylinder design, which went through several iterations of turbo-charging and electronic upgrades, before finally being replaced by a highly-advanced V8. The last Lotus Esprit rolled off the production line on 20 February, 2004, after 28 years in production. A total of 10,675 Esprits were built since production began in 1976.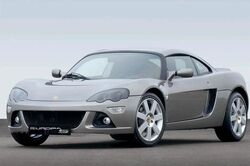 Lotus Europa S - The Grand Tourer (GT)-inspired two-seater provides Lotus customers with a spectacular sports car, with significantly enhanced levels of touring and cruising capability. It provides drivers with higher levels of practicality and refinement to complement the simplicity of the Lotus Elise and Exige models.
The Lotus Europa S follows the core Lotus philosophy of performance through light weight, obtained through the clever use of advanced and high-technology materials, including an extruded and bonded aluminium chassis, composite body panels and a very advanced composite energy-absorbing front crash structure.
Current
Lotus Elise - The Elise incorporates many engineering innovations, such as an aluminum extrusion frame and a composite body shell. The Elise has also spawned several racing variants, including an exotic limited series called the 340R, which has an open-body design echoing the famed Seven. The Elise was recently introduced into the U.S., with a Toyota engine, in order to pass strict U.S. emissions laws. The Elise is the lightest car sold in America weighing 1980 lb.
Lotus Exige - The Toyota-Engined coupe version of the Lotus Elise that provides more rigidity and with additional modifications to provide more downforce (and, thus, more of a circuit car than the standard Elise). The Exige is street legal and has been released for the price of $50,000.
Collaborations
When Vauxhall unveiled its new slant-four engine at the 1967 Earls Court Motor Show its bore centres were exactly the same as those proposed by Lotus. Colin Chapman immediately negotiated a deal with Vauxhall to buy some of their cast-iron blocks so that development of Lotus' own aluminium cylinder head could be speeded up to produce the 9xx series engine used in the Eclat, Excel, Sunbeam and Esprit.
Lotus Engineering
APX (also known as the "Aluminium Performance Crossover")
The APX is an aluminium concept vehicle revealed at the 2006 Geneva Motor Show built on Lotus Engineering's Versatile Vehicle Architecture (or VVA for short).
Whereas the VVA technology will be used in the creation of a new mid-engined sports car for Lotus cars, the APX is in fact a high performance 7 seat MPV with four-wheel drive and a front mounted V6 engine from Lotus Engineering's powertrain division.
Trivia
All cars by Lotus (except racing) begin with an E.
Lotus is the name of a popular flower.
Further reading
Gerard ('Jabby') Crombac, Colin Chapman: The Man and His Cars (Patrick Stephens, Wellingborough, 1986)
Mike Lawrence, Colin Chapman: The Wayward Genius (Breedon Books, Derby, 2002)
Ian H. Smith, The Story of Lotus: 1947-1960 Birth of a Legend (republished Motor Racing Publications, Chiswick, 1972)
Doug Nye, The Story of Lotus: 1961-1971 Growth of a Legend (Motor Racing Publications, Chiswick, 1972)
Robin Read, Colin Chapman's Lotus: The early years, the Elite and the origins of the Elan (Haynes, Sparkford, 1989)
Anthony Pritchard, Lotus: All The Cars (Aston Publications, Bourne End, 1990)
Doug Nye, Theme Lotus: 1956-1986 (Motor Racing Publications, Croydon, 1986)
Peter Ross, Lotus - The Early Years 1951-54 (Coterie Press, Luton, 2004)
See Also
External links
Community content is available under
CC-BY-SA
unless otherwise noted.