Lincoln MKX
Lincoln
aka
Ford Edge
Production
2007 - present
Class
Mid-size Luxury Crossover
Body Style
5-door, 5-seat CUV
Length
186.5 in
Width
75.8 in
Height
67.5 in
Wheelbase
111.2 in
Weight
4650 lb
Transmission
6-speed SelectShift Automatic, FWD / AWD
Engine
3.7 litre Duratec® Ti-VCT V6
Power
305 hp @ N/A rpm
280 lb-ft of torque @ N/A rpm
Similar
Lexus RX
Cadillac SRX
BMW X3
Designer
Darrel Behmer
The Lincoln MKX (pronounced "Mark X") is a crossover SUV made by Ford's Lincoln marque and expected to replace the Explorer-based Aviator in 2007. The MKX will be built alongside the related Ford Edge at Oakville Assembly in Oakville, Ontario, Canada, the first Lincoln built in Canada since 1936. According to the official Lincoln web-site, prices for the 2007 MKX are going to range from $35,420 to $44,885.
It is the first vehicle to use Lincoln's new naming convention, which eliminates names in favor of the European-inspired sets of letters and/or numbers. The MKX was originally named "Aviator", but the name was changed shortly before the 2006 North American International Auto Show. In 2004 Lincoln had previously shown another "Mark X" concept vehicle, based on the Ford Thunderbird with a retractable roof.
MKX's main competitors will be entry-level luxury crossover SUVs such as the Cadillac SRX, Acura MDX (another SUV built in Canada, but the MKX isn't to be confused with the MDX), Lexus RX and BMW X3.
The Lincoln MKX (codename U388) is expected for 2007. It will use the CD3 platform, shared with the Ford Edge,Mazda CX-7 and CX-9, Ford Fusion, Mercury Milan, Lincoln MKZ, and Mazda6. The new MKX is a unibody construction crossover SUV rather than a truck-based body-on-frame SUV like its predecessor, the Lincoln Aviator.
The Edge and MKX will be the first vehicles to use Ford's 3.5 L Duratec 35 V6 engine. This new engine produces 265 hp (198 kW) and 250 ft·lbf (339 N·m) and is mated to the new 6F six-speed automatic transmission co-developed with General Motors.
Honda filed a lawsuit against Ford in January 2006, claiming that the MKX name is too close to that of Honda's Acura MDX, and will cause customer confusion.
See Autopedia's comprehensive Lincoln MKX Review.
Recent Changes
Edit
The 2010 NAIAS hosted the debut of the the MKX's first major facelift, the 2011 MKX, which brings its design language in line with Lincoln's current corporate DNA. The most obvious is the adoption of a large MKT-style split-wing grille, the restyled LED taillamps and the new 18 in wheels (w/ 20 in rims optional). Underneath, the refreshed MKX gets the Mustang's new 3.7 litre Ti-VCT Duratec V6 which now produces 305 hp and 280 lb-ft of torque, an improvement of 15 % and 12 %, respectively, while the FWD model averages up to 25 mpg on the highway. To utilize the newfound power, the suspension has been tweaked with retuned springs, shocks and stabilizer bars and new four-wheel disc brakes. Inside, the biggest news is the omission of physical buttons in the center console in favor of capacitive touch ones allied to Lincoln's new MyLincoln Touch driver connect system (itself an evolution of Ford's SYNC). Other tech goodies include Voice-Activated Navigation System, iTunes Tagging, HD Radio, Adaptive Cruise Control, and Collision Warning with Brake Support. [1][2][3]
Styles and Major Options
Edit
Certain vehicles come in different trim levels or body styles. Features and major options should be mentioned here.
Add more fields as necessary.
MODEL Trims
FWD
AWD
Trim3
Trim4
MSRP
$35,420
$37,170
$Price3
$Price4
Invoice
$31,523
$33,008
$Price3
$Price4
Gas Mileage
Edit
Add more fields as necessary.
As seen on the FuelEconomy.gov website, the City/Highway MPG averages are as follows:
Trim
FWD
AWD
Trim3
Trim4
MPG
16/23
16/22
c/h
c/h
Engine and Transmission
Edit
Specifications, details, graphs, pictures and other information regarding the powertrain is placed in this section.
Performance
Edit
Please make sure to write information of the vehicle's performance in a third-person point of view. This section should include information about the car's acceleration figures, handling, braking, etc.
If using information gathered from Road Test articles from a reputable automotive source, then please make sure to cite the quote.
Reliability
Edit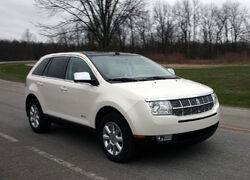 RECALL ALERT: On Oct. 30, 2010, Ford announced a recall for 71 MY2011 Ford Edge and Lincoln MKX due to rear latches that are unable to be locked. According to the National Highway Transportation Safety Administration, the locks weren't programmed properly from the factory, and as such, the rear gate can't be locked by any of the buttons inside of the vehicle or even the key fob. Ford will reprogram the locks free of charge, and the recall is set to get under way starting on November 1.[4]
The NHTSA has conducted crash tests of the 2007 MKX. Its full scores are available at [5]
Rating (Stars)

Front

Side

Rollover

Driver

Passenger

Front Seat

Rear Seat

2WD

4WD

5

4

5

5

4

4
Add Photos of the vehicle here.
Please make sure not to use copyrighted photos.
Exterior
Black Clearcoat
Pewter Clearcoat Metallic
Dune Pearl Clearcoat Metallic
Vivid Red Clearcoat Metallic
Dark Amethyst Clearcoat Metallic
Light Sage Clearcoat Metallic
White Chocolate Tri-Coat ($495.00)
Alloy Clearcoat Metallic
Créme Brulee Clearcoat Metallic
Interior
Greystone
Medium Camel
Charcoal Black
Veneer
Main Competitors
Edit
Hybrid Models
Edit
If there are hybrid versions of this vehicle manufactured, then please elaborate a little bit on it here.
Unique Attributes
Edit
If there are any features of this vehicle that sets it apart from other vehicles in its class, then mention those unique attributes here.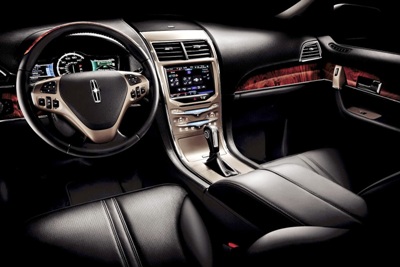 This section should include information on the interior's design, build quality, ergonomics, space (head and legroom, front and rear), features, stowage compartments and overall comfort and livability. Add pictures wherever applicable and keep information in a third-person point of view.
Resale Values
Edit
Add more fields as necessary.
<MODEL> Year
Year X
Year X-2
Year X-3
Year X-4
Resale Value
$
$
$
$
Criticisms
Edit
Please make sure to keep critiques in a third-person point of view. If using criticisms from a reputable automotive source, then please make sure to cite the quote.
Generations
Edit
Fill in as many as appropriate. Add more if necessary and pictures wherever applicable.
Please make sure NOT to use copyrighted pictures.
Current Generation: (YYYY–present)
Edit
Fifth generation (YYYY–YYYY)
Edit
Fourth generation (YYYY–YYYY)
Edit
Third generation (YYYY–YYYY)
Edit
Second generation (YYYY–YYYY)
Edit
First Generation/Origins (YYYY–YYYY)
Edit
Worldwide
Edit
If the vehicle is sold in other markets worldwide, then this is the section to mention that information. Also, mention if the <MODEL> goes by another name in these other markets.
Design quirks and oddities
Edit
Refer to any pop-culture tidbits about the vehicle in this section.
List out notable awards that the model has received while in production. Boldface the company or organization that gives out the award, and Italicize the name of the award.
External Links
Edit
News and References
Enthusiast Sites and Discussion Forums
Community content is available under
CC-BY-SA
unless otherwise noted.