The Lexus LFA is a two-seat exotic sports coupe produced by Lexus as a concept car, racing prototype, and production vehicle.[1] It is the second model in the F marque line of performance vehicles from Lexus, following the IS F. Three concept versions have been shown, each debuting at the North American International Auto Show with the LF-A designation as part of the LF Series concept line. The first LF-A concept premiered in 2005, followed in 2007 by a second LF-A with a more completely furnished interior and exterior. The third version of the LF-A, a roadster model, premiered in 2008. The production model, trademarked LFA,[2] was shown at the Tokyo Motor Show in October 2009.[3]
The production Lexus LFA features a new V10 engine and a carbon fiber-reinforced polymer (CFRP) body. The use of CFRP materials, which account for 65 percent of the LFA's body composition,[4] is to reduce overall weight for improved performance. The LFA is scheduled to go into production in late 2010, with a projected run of 500 hand-built vehicles at an estimated base price of $US375,000. A circuit-tuned variant is scheduled for 2012.[5]. The LFA at one stage was the fourth fastest production car around Nurburgring and the fastest car ever around it not using competition tires. It also has the fastest wet lap track time at the Top Gear circuit [1]
Recent Changes
On March 15, 2010, Lexus announced a limited edition version of the LFA dubbed as the LFA Nürburgring Special Edition. Available in a choice of Black, Matte Black, "Whitest White", or Orange, this car distinguishes itself by way of canards and a fixed wing in CFRP (carbon fiber reinforced polymer) and ECU work that ups the power output from 560 to 570 hp and reduces shift times from 0.2 to 0.15 seconds. It will also get grippier tires and a hardcore suspension. [2][3]
Styles and Major Options
Currently, the LFA Nürburgring Special Edition is the only special variant of the LFA.
Pricing
Add more fields as necessary.
MODEL Trims
LFA
LFA Nürburgring Special Edition
MSRP
¥ 37.5 million
(US$ 375,000/€ 250,720)
US$ 450,000
Invoice
$Price1
$Price2
Gas Mileage
Add more fields as necessary.
As seen on the FuelEconomy.gov website, the City/Highway MPG averages are as follows:
Trim
LFA
LFA Nürburgring Special Edition
MPG
14/20
c/h
Engine and Transmission
Engine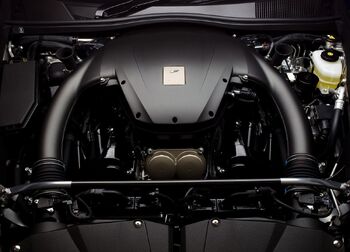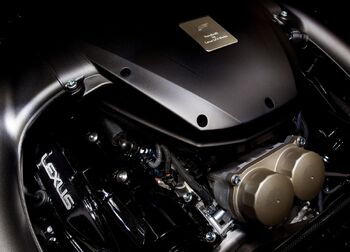 The LFA is powered by a 72° 4.8-liter V10 engine equipped with Dual VVT-i carrying the 1LR-GUE designation with a maximum output of 552 bhp delivered at 8700 rpm. Its maximum torque output of 354 lb-ft arrives at 6800 rpm, 90 percent of which is available from 3700 rpm. The engine, like the Ferrari 458 Italia, redlines at 9000 rpm and is constructed using forged aluminum pistons, titanium connecting rods, titanium valves and uses dry sump lubrication as well. Air is fed directly from beneath the hood through a large rectangular opening using a dual stage variable intake manifold into 10 individual throttle bodies and exits through a titanium muffler. Toyota attempted to design the engine to sound like that of a Formula One car with rapid revs and claims an analog tachometer needle would be unable to accurately track the LFA's rapid changes in engine speeds, necessitating the use of digital tach which can instantly display rpms.
The powerplant gives the LFA a power to weight ratio of 5.9 hp/lb and enables it to reach a top speed of around 202 mi/h.[6] Like the IS F Yamaha co-developed the engine cylinder heads. The engine complies with Euro V emissions. On the LF-A, the V10 is installed with a front mid-engine placement.
According to Chief Engineer Haruhiko Tanahashi a front engine layout was selected instead of a mid engine layout as it is inherently more forgiving dynamically affording less experienced drivers with a wider safety net.[7] To maintain a near ideal weight distribution, a rear transaxle is used, in addition to the mounting of the fuel tank ahead of the rear axle and the radiators at the rear. [8] The engine is connected to the transaxle via a rigid torque tube which the exhaust system runs directly below. This arrangement is designed to lower the vehicle's center of gravity compared to conventional designs.
Engine Type: 1LR-GUE
Cylinders/arrangement: V10
Valve mechanism: 40-valve DOHC
Displacement: 4,805 cc
Bore x Stroke: 88.0 x 79.0 mm
Compression ratio: 12.0:1
Fuel Injection Type: EFI
Octane Rating : 95 or higher
Max. Power: 552 bhp @ 8,700 rpm
Max Torque: 480 Nm @ 6,800 rpm
Max. engine speed: 9,000 rpm
Exhaust emissions certification: Euro 5
Transmission
The gearbox itself is a six-speed electrohydraulic transmission operated with paddle-shifters. The driver can select from four settings, auto, normal, sport and wet. Toyota quotes the sport mode's gear change times as ~200 ms. According to Tanahashi a twin-clutch transmission was tested but gear changes were found overly smooth, resembling that of a traditional automatic with its shock absorbing torque converter and the design team preferred the feel of more abrupt and courser shifts, however the auto mode and low speed performance suffers as a result.[9] A Torsen limited slip differential is also applied on the LFA.[3] The Lexus LFA transmission gear ratios are as follows:[10]
Gearbox type: 6-speed Automated Sequential Gearbox
Front counter gear ratio: 1.259
Gear ratios

1st: 3.231
2nd: 2.188
3rd: 1.609
4th: 1.233
5th: 0.970
6th: 0.795
Final drive ratio: 3.417

Maximum permissible speed

1st: 52 mph
2nd: 76 mph
3rd: 104 mph
4th: 136 mph
5th: 172 mph
6th: -
Performance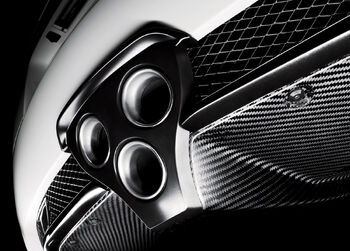 Performance
0-62 mph (0-100 km/h): 3.7 s
Top speed of 201.94 mph (325 km/h)
Power-to-weight ratio of 5.8 pounds/hp
48/52 front-to-rear weight distribution
Brakes
Front: Cross-drilled ventilated discs, 399 x 34 mm
Rear: Cross-drilled ventilated discs, 360 x 28 mm
Suspension
Front: Double wishbone with anti-roll bar
Rear: Multilink with anti-roll bar
Steering
Steering gear type: Rack and pinion
Power steering type: Electric
Ratio: 14.3
Turns lock to lock: 2.35
Tyres and wheels
Wheels

Front: 20x9.5J BBS alloy
Rear: 20x11.5J BBS alloy
Tyres

Front: 265/35R20 95Y
Rear: 305/30R20 99Y
Reliability
Warranty options and scheduled maintenance information should be mentioned here.
Safety
The Lexus LFA is fitted with a Takata "Airbelt" system which is commercially known as the SRS Seat Belt Airbag.
The airbag is built into the webbing of the seat belt, which inflates on impact to provide additional protection to the shoulder and critical head area. The system is the first of its kind in the world for passenger cars, and provides additional protection in both frontal and side impacts through a single safety product.
In the case of a frontal impact, the belt expands directly to spread the shock-load over a wider area of the occupant's chest. In a side impact, the belt inflates between the shoulder and head to reduce lateral head movement and provide protection from impact with the side window or colliding object.[4]
Other safety features
4-wheel ABS
Dual front side-mounted airbags
Emergency braking assist
High pressure washers headlamps
Xenon high intensity discharge headlamp
2 front headrests
Front seatbelt pretensioners
Stability control
Traction control
Electronic brakeforce distribution
Front integrated headrests
Tire pressure monitoring
Photos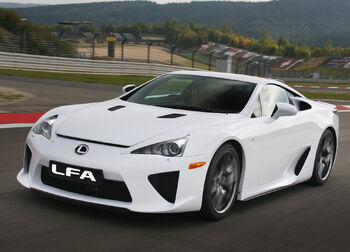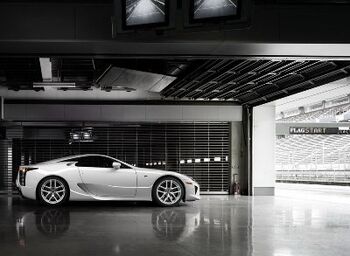 LFA
LFA Nürburgring Special Edition
2005 LFA Concept
Add Photos of the vehicle here.
Please make sure not to use copyrighted photos.

Colors
Standard
Whitest White
Metallic Silver
Pearl Gray
Pearl Brown
Pearl Blue
Pearl Yellow
Pearl Red
Red
Black
Special
Ivory White
Mint Green
Aqua
Lavender
Sky Blue
Lime Green
Fresh Green
Orange
Passionate Pink
Sunset Orange
Slate Blue
Steel Blue
Moss Green
Crystal Gold
Brown Stone
Steel Gray
Lapis Lazuli
Black Amethyst
Starlight Black
Matte Black
Main Competitors
In terms of price, performance and exclusivity, these are the LFA's closest competitors. However, it should be noted that at its US$ 375,000 entry fee and 500 unit production, the LFA sits in a unique market segment that has no direct competitors (or which are no longer produced, such as the Porsche Carrera GT or the Mercedes-Benz SLR-McLaren).
Hybrid Models
There are no hybrid models for the LFA.
Unique Attributes
If there are any features of this vehicle that sets it apart from other vehicles in its class, then mention those unique attributes here.
Interior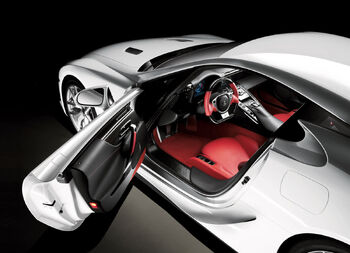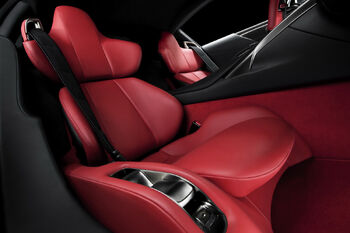 The LFA interior incorporates carbon fiber, leather, alcantara, and metallic surfaces. There are two bucket seats, and Lexus' Remote Touch controller interface. The instrument display is a digital speedometer with color-changing background, size-changing numbers, and side-appearing submenus. The LFA features a new seat-belt driver and passenger airbag design increases similar to the S-class ESF safety concept car. The steering wheel feaures a right-mounted start button, and alloy paddle-shifters.
Resale Values
Add more fields as necessary.
<MODEL> Year
Year X
Year X-2
Year X-3
Year X-4
Resale Value
$
$
$
$
Criticisms
Please make sure to keep critiques in a third-person point of view. If using criticisms from a reputable automotive source, then please make sure to cite the quote.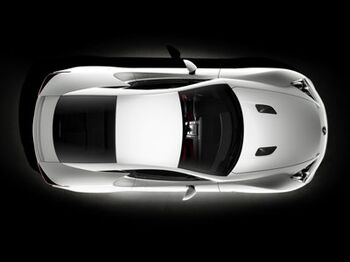 Worldwide
If the vehicle is sold in other markets worldwide, then this is the section to mention that information. Also, mention if the <MODEL> goes by another name in these other markets.
Lexus LFA in Pop Culture
The Lexus LFA is included in "Stig's Garage Car Pack", a downloadable trio of cars available only to Forza Motorsport 3 Ultimate Collection.
The LFA is a drivable vehicle in Forza Motorsport 4 and GranTurismo 5.
Aside from Grand Turismo and Forza Motorsport games, the LFA is also featured in Need For Speed games.
Awards
List out notable awards that the model has received while in production. Boldface the company or organization that gives out the award, and Italicize the name of the award.
See Also
References
External Links
News and References
Enthusiast Sites and Discussion Forums