Lexus IS
Lexus
aka
GSE20
Production
2001-Present
Class
Near-Luxury
Body Style
4-door sedan
Length
4,665 mm (183.7 in)
Width
1,810 mm (71.3 in)
Height
1,430 mm (56.3 in)
Wheelbase
2,800 mm (110.2 in)
Weight
1570 kg.
Transmission
6-speed automatic

8-speed AA81E automatic

Engine
2.5L V6, 3.5L V6
Power
202 HP; 306 HP
Similar
BMW 3 Series
Infiniti G37
Designer
S. Fukusato/

W. Hirai

under

Simon Humphries
The Lexus IS ("Intelligent Sport") is a rear-wheel drive, compact luxury sports sedan manufactured by the Toyota Motor Corp. under the Lexus brand and originally sold as the Toyota Altezza in Japan. The model was introduced to slot below the ES in the Lexus lineup and to compete against the BMW 3 Series and the Nissan Skyline/Infiniti G. The first-generation Altezza (codename XE10) was launched in Japan in October 1998, while the Lexus IS 200 made its debut in Europe in 1999 and the IS 300 in North America in 2001. The second generation IS (GSE20) was launched globally in 2006 with V6-powered sedan models.
Debuting at several North American and European auto shows during 2007, the IS-F arrived in showrooms in Fall 2007 as a 2008 model year car. With the IS F, Lexus now produces a BMW M3 competitor. Parent company Toyota has seen not only the "halo effect" that top-of-the-line performance cars have created for other luxury manufacturer's ranges, but also the "bottom line" effect achieved through increased sales. In truth, this is a model variant that Lexus has to offer to be credible versus its German competitors. It arrived just in time to spoil the next M3's launch party and became the car Lexus used to tell BMW, Audi and Mercedes-Benz that it is now playing leap-frog instead of catch-up. Lexus further expanded the IS line in 2008 with the debut of the IS C convertible line.
See Autopedia's comprehensive Lexus IS Review.
Recent Changes
For 2011, the IS receives a minor facelift and, for Europe, a new diesel engine.[1]
At the 2008 Paris Motor Show, Lexus pulled the wrapper off of its new metal folding origami choptop, the IS 250C. Similar in concept to the SC430 before it but now based on the IS, able to fully seat 4 and much more affordable. The car utilizes a three-piece aluminum roof that retracts in 20 seconds. It also has longer overhangs compared to the sedan (15 mm front, 55 mm rear), new foglamps and rear haunches.[2]
For MY2009, the IS and IS-F see their first (albeit subtle) mid-cycle facelift. It is also expected that the model will spawn a new Coupe-Cabriolet version at 2008's Paris Motor Show. [3]
For 2008, Lexus unveiled the Lexus IS-F, a high-performance edition of the Lexus IS with a V8 engine. A special Neiman Marcus Edition IS-F[4] was among the first Lexus IS-F models available for sale.
Lexus unveiled its all-new 2006 IS 350 luxury sports sedan in March 2005 with new styling and available all-wheel drive. The IS borrows its basic architecture from Lexus's larger GS sedans and loses its wagon body style for '06. Compared to the 2001-05 IS 300, the '06s are some 3 inches longer and wider on a 2.4-inch-longer wheelbase. Four separate models forms the basis of the new IS family in the US Market. The IS 250 versions have a 204-hp V6 and offer rear-wheel drive or AWD. The IS 350 has a 306-hp V6 and rear-wheel drive. A 6-speed manual transmission is standard for the rear-drive 250. Available for the rear-drive 250 and standard for the other models is a 6-speed automatic with a manual shift gate and steering-wheel paddles. All come with ABS, traction/antiskid control, front torso side airbags, side curtain airbags, and front knee airbags. Also standard are leather upholstery and a sunroof. Available are a sport suspension, wood interior trim, and heated/cooled power seats. An optional voice-activated navigation system includes a rearview camera and wireless cell phone link. Rear obstacle detection and steering-linked bi-xenon headlights are also available. So is adaptive cruise control. A new option is Lexus's Pre-Collision Safety System, designed to automatically cinch seatbelts and apply brakes if an unavoidable crash is detected.
Styles and Major Options
The Lexus IS sedan comes in six different trim levels. The standard features list includes keyless entry and ignition, tilt and telescoping steering wheel, power doors and windows, leather seating, cruise control, an auto-dimming rearview mirror, a moonroof and a 13-speaker premium audio system with an in-dash six-disc CD changer. Options include a 14-speaker Mark Levinson audio system, 18-inch wheels, 10-way power seats, a navigation system, Dynamic Radar Cruise Control (which allows drivers to set a preferred interval between the IS and traffic ahead), rear park assist, rain-sensing wipers, corner-adaptive headlamps, Bluetooth connectivity and bi-HID headlights.
Lexus F-Sport Accessories
Pricing
Today's actual prices for the Lexus IS 250 and IS 350 can be found at CarsDirect.
Selected by Edmunds.com as the Lowest Total Cost to Own Top Sedan under $45,000.[5]
Gas Mileage
As seen on the FuelEconomy.gov website, the City/Highway MPG averages are as follows:
Lexus IS Trims

IS 250 Base RWD

IS 250 Base AWD

IS 250 Base AWD w/ Nav.

IS 350 Base RWD

MSRP

$29,990

$32,540

$34,285

$36,835

$35,440

$37,990

Invoice

$26,389

$28,557

$30,168

$32,336

$31,186

$33,354
Lexus IS Trim

IS 250 Automatic

IS 250 Manual

IS 250 AWD

IS 350

MPG

24/32

20/29

22/28

21/28
Reliability
In a review done by Autos.com, the Lexus IS is ranked fifth amongst 33 of the most popular near-luxury cars out on the market today.
RECALL ALERT: On Jan 17th 2009, Lexus, in conjunction with the NHTSA, issued a recall alert affecting 214,500 2006-2008 GS300/350, IS250/350 and LS460/460L sedans over potentially faulty fuel delivery pipes which can corrode and leak due to certain ethanol fuels with low moisture content that can lead to rust, occasionally triggering a dashboard indicator lamp indicating a system malfunction. Lexus will be contacting owners of affected vehicles via email and Lexus dealers will replace parts at no cost. [6]
Safety
According to the Safety Ratings on Autos.com, the Lexus IS comes in second overall amongst popular near-luxury cars.
Lexus IS 350 safety should be an important consideration in your vehicle purchase. A new option is Lexus's Pre-Collision Safety System, designed to automatically cinch seatbelts and apply brakes if an unavoidable crash is detected. The Electronic Vehicle Dynamics Integrated Management system ensures that acceleration in this car (which is of particular delight with a sub-six-second 0-60mph time) is very safe indeed. Additional safety features include the alphabet-soup features of TRAC (which prevents wheel-spin), ABS (for safer sudden braking), VSC (skid control), alongside dual-chamber front airbags, a highly effective pre-collision system and increased passenger compartment rigidity.
Photos
2001 IS300
2009 IS250C
2009 Lexus IS
Colors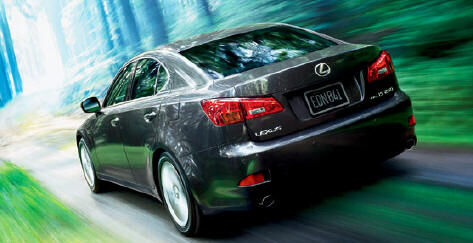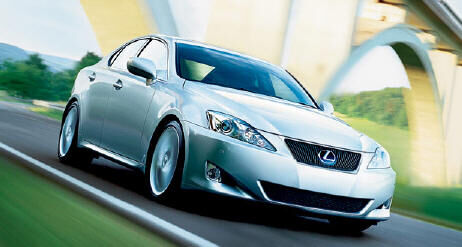 When shopping you'll want to look at the full range of Lexus IS 350 colors. There may be Lexus IS 350 colors that you are unaware of until you do your research. Having a couple choices in mind for Lexus IS 350 colors will make the buying process go that much smoother. Manufacturers often have a good idea of how many vehicles of each shade to produce. However, sometimes a particular color will be unexpectedly popular and there will be high demand. That's why it's good to have a back-up color so you won't have to place a special order, which often can result in a higher price. Dealers are more wiling to make attractive offers if a vehicle is on their lot, and not for one that has to be ordered. Lexus also only produces groups of options and colors, not a 'variety' of all possible combinations. For instance, a 'base' model IS350 will consist of 18" alloy wheels and a premium package. Models are not produced without this minimum level of equipment.
In case you think you may be holding off on you car purchase, you should know that vehicle colors remain fairly consistent from one year to the next. The big change occurs when a car undergoes a major redesign, which often happens every three to five years. The classics, though, such as black, silver and white, are practically available every year. But a lot depends on the vehicle and manufacturer.
Main Competitors
F-Performance Models
Main article: Lexus IS-F
Lexus introduced the IS-F, the first entry in its F-marque line of high-performance vehicles, in 2007 as a 2008 model. The IS-F has a 5.0 L V8 engine generating 416 hp. A competitor to the BMW M3 and Mercedes-Benz C63 AMG, the Lexus IS-F is expected to cost in the $60,000 range. The vehicle features an 8-speed automatic transmission with sequential shift.
Hybrid Models
Lexus unveiled the long-awaited RX 400h hybrid SUV in 2005 as a 2006 year model. They've also released the much anticipated GS 450h in May of 2006 as a 2007 year model. Currently there are no plans to make a hybrid version of the IS, however Lexus will also debut the world's first V8 Hybrid Luxury Sedan with the release of the Lexus LS 600h.
To learn more about Lexus hybrid technology, visit Lexus Hybrid.
Unique Attributes
The sound system has an Automatic Sound Leveling feature which adjusts the audio volume based upon outside cabin noise. This is different from speed sensitive volume control that adjusts audio volume based upon speed alone. The Lexus system adjusts for traffic, wind, and rain noise.
The climate control system has a built-in smog detector. The system will automaticaly switch from outside air to recirculate if a high level of smog is detected.
Resale Values
According to Kelley Blue Book's 2007 ratings, the Lexus IS is in the Top 10 in overall resale value for that year. [7]
Criticisms
The tires are different sizes front verses rear. That's a big help for performance, but makes rotating them impossible, resulting in short tire life. The tires are also unidirectional, which means thay cannot be swapped right to left either.
Generations
Third generation (2013-)
Several concept models preceded the launch of the third-generation IS. The first was the LF-LC (2012). It is a rear-wheel drive concept coupe with mesh pattern of the spindle grille in 3D sculpture form, daytime running lights shaped like an "L", vertical front fog lamps in fading dot matrix pattern, glass roof with cantilevered pillar with a glass-to-glass juncture inspired by modern architecture, rear fog lamps, twin 12.3-inch LCD screens provide information and navigation display, leather and suede interior upholstery with brushed metal trim and wood accents, race-inspired front seats are formed of multiple layers and repeat the interlacing curves that define the cabin interior, racing-style steering wheel upholstered in carbon fibre with integrated controls and start button. The vehicle was unveiled in 2012 North American International Auto Show. That concept was followed by the LF-LC Blue (2012), which is a rear-wheel drive concept coupe based on the LF-LC, with Opal Blue body colour, Atkinson cycle combustion engine, battery pack, white and brown interior. The vehicle was unveiled in 2012 Australian International Motor Show, and later in 2012 LA Auto Show. The LF-CC concept (2012) is a rear-wheel drive coupe incorporating designs from LF-LC concept and Lexus LFA. It included a 2.5-litre 4-cylinder Atkinson cycle petrol engine with D-4S direct injection technology, water-cooled permanent magnet electric motor, 3 LED-projector headlampdesign, Daytime Running Lights (DRLs) are integrated into the upper bumper surface, rear spoiler integrated within the boot lid, L-shaped combination lamps with three-dimensional design, Fluid Titanium body colour, 2-zone dashboard, seats, door panels and instrument binnacle hood upholstered in amber leather. The vehicle was unveiled in 2012 Paris Motor Show, followed by Auto Shanghai 2013.
2013–2016
The IS F Sport models include enhanced handling and performance, Adaptive Variable Suspension and Variable Gear Ratio Steering (IS 350). Not only does the F Sport handle differently, but it's more aggressive styling certainly sets it apart from the basic production model. F-Sport styling includes an edition specific F-Sport pattern front grill, F-Sport logo badges, and five spoke split graphite wheels. Inside the cabin, you'll find bright, carbon fiber like trim, extra bolstered performance seats, an all black headliner, and an impressive moving vessel gage cluster that displays navigation and audio information. The F-Sport models have an edition specific Ultra White exterior and vibrant, rojo red interior. The 2014 model year also served as the first year to offer all-wheel drive in the IS F Sport line up. The new IS sedan was unveiled at the January 2013 North American International Auto Show, followed by Auto Shanghai 2013, Octagon Club in South Korea International models went on sale in mid-2013. Early models include the IS 250 RWD, IS 250 AWD, IS 300h and IS 350 RWD. The hybrid IS 300h will be sold in Europe, Japan, and select international markets. US models went on sale as 2014 model year vehicles in July 2013. Early models include IS 250 RWD, IS 250 AWD, IS 350 RWD, IS 350 AWD. In 2015, for the 2016 model year, the IS 250 was discontinued and replaced by the rear wheel drive only IS 200t. The IS 300 is only offered with all-wheel drive, while the top of the line IS 350 can be ordered with either drivetrain. Chinese models went on sale in 2013. Early models included IS 250, IS 250 F SPORT. Japanese models went on sale in 2013-05-16. Early models include IS 250, IS 250 AWD, IS 350, IS 300h. European models arrived at dealerships in 2013 June/July. Early models include IS 250, IS 300h. South Korean models went on sale in 2013-06-27. Early models include IS 250 Supreme, IS 250 Executive. Australian models went on sale in July 2013. Only RWD versions were on offer, the models included the IS 250, IS 300h and the IS 350. The IS 250 was dropped from the line-up in September 2015 replaced with the IS 200t.
2016–present
In April 2016, Lexus teased an image of a revamped third generation model which includes new headlights, front fascia, and hood. It debuted at the April 2016 Beijing Auto Show with new interior technology improvements.
Equipment
Toyota Racing Development F SPORT parts for Japanese Lexus IS sedan included front spoiler, side spoiler, rear spoiler, sport muffler and rear diffuser, Diamond-Like Carbon shock absorber, 19-inch aluminium wheel set (19x8.5J front and 19x9J rear rims, 45 mm front and 50 mm rear insets, 245/35ZR19 front and 265/30ZR19 rear tires), member brace, performance damper.
Variants
| Model | Years |
| --- | --- |
| IS 200t (ASE30) | 2015–present |
| IS 250 (GSE30) | 2013–2015 |
| IS 250 AWD (GSE35) | 2013–2015 |
| IS 300 AWD (GSE37) | 2015–present |
| IS 350 (GSE31) | 2013–present |
| IS 350 AWD (GSE36) | 2013–present |
| IS 300h (AVE30) | 2013–present |
Engines
Petrol and hybrid engines
Model
Years
Type/code
Power
at rpm
Torque
at rpm
PS
kW
hp
kg·m
N·m
lb·ft
IS 200t
2015–
1,998 cc (121.9 cu in) I4(8AR-FTS)
244
179
241
4,800–5,600
35.73
350
258
1,650–4,800
IS 250
2013–2015
2,499 cc (152.5 cu in) V6(4GR-FSE)
207
152
204
6,400
25.5
250
184
4,800
IS 250 (215PS, DBA-GSE30-AETLH)
2013–2015
2,499 cc (152.5 cu in) V6(4GR-FSE)
215
158
212
6,400
26.5
260
192
3,800
IS 250 AWD
2013–2015
2,499 cc (152.5 cu in) V6 (4GR-FSE)
207
152
204
6,400
25.5
250
184
4,800
IS 250 AWD (215PS, DBA-GSE35-AETLH)
2013–2015
2,499 cc (152.5 cu in) V6(4GR-FSE)
215
158
212
6,400
26.5
260
192
3,800
IS 300 AWD
2015–
3,456 cc (210.9 cu in) V6 (2GR-FSE)
259
190
255
6,400
32.6
320
236
2,000–4,800
IS 350
2013–
3,456 cc (210.9 cu in) V6 (2GR-FSE)
310
228
306
6,400
38.2
375
276
4,800
IS 350 (318PS, DBA-GSE31-AEZLH)
2013–
3,456 cc (210.9 cu in) V6 (2GR-FSE)
318
234
314
6,400
38.72
380
280
4,800
IS 350 AWD
2013–
3,456 cc (210.9 cu in) V6 (2GR-FSE)
310
228
306
6,400
38.2
375
276
4,800
IS 300h
2013–
2,494 cc (152.2 cu in) I4(2AR-FSE)
177
130
175
6,000
21.9
215
158
4,400
electric motor
143
105
141
30.6
300
221
combined
220
162
217
IS 300h (178PS, DAA-AVE30-AEXLH)
2013–
2,494 cc (152.2 cu in) I4(2AR-FSE)
178
131
176
6,000
22.5
221
163
4,200–4,800
electric motor
143
105
141
30.6
300
221
combined
220
162
217
Transmissions
Petrol engines

| Model | Years | Types |
| --- | --- | --- |
| IS 200t | 2015– | 8-speed automatic (8-Speed Sport Direct Shift/ECT-i/SPDS) (AA81E) |
| IS 250 | 2013–2015 | 6-speed automatic (6 Super ECT/ECT-i) (A960) |
| IS 250 AWD | 2013–2015 | 6-speed automatic (6 Super ECT) (A760H) |
| IS 300 AWD | 2015– | 6-speed automatic (6 Super ECT) (A760H) |
| IS 350 | 2013– | 8-speed automatic (8-Speed Sport Direct Shift/ECT-i/SPDS) (AA81E) |
| IS 350 AWD | 2013– | 6-speed automatic (6 Super ECT) (A760H) |
| IS 300h | 2013– | electronic CVT |
Motorsport
A race car based on the Lexus LF-CC entered the 2014 Super GT GT500 class, replacing the SC 430. Vehicle shakedown began at the Suzuka Circuit.
Production
Between 16 May 2013 and 16 June 2013, the order of IS sedans reached approximately 7600 units, including 2100 IS 250 and IS 350, 5500 IS 300h.
Marketing
As part of the 2014 Lexus IS sport sedan launch in the US, Lexus and the Tony Hawk Foundation will be asking their fans and supporters to be part of a fan based decal that will be featured on the Lexus IS F CCS-R race car competing in Pikes Peak International Hill Climb. Fans will be able to enter their names via a response to a Lexus Facebook post, a Lexus Google+ post, a comment to a Lexus YouTube IS F CCS-R video and through Twitter and Instagram using #Lexus14K. As part of the 2014 Lexus IS sport sedan launch in the US, 2 new television ads (Crowd, Color Shift) were produced by Lexus' agency of record, Team One, with Original music from Devo's Mark Mothersbaugh, and directed by Jonas Åkerlund. The 'Crowd' ad emphasizes that things designed to draw a crowd are good, but leaving the crowd behind is more rewarding. The 'Color Shift' ad shows it's more fun and exciting to blend out than blend in. The Two additional ads (This is Your Move, Intense) were created by Lexus' multicultural agency, Walton Isaacson, as part of the campaign. 'This is Your Move' was geared to the African-American audience, features Los Angeles Dodgers center fielder Matt Kemp as he searches for something that matches his ambitious and driven personality. 'Intense' is targeted to the Hispanic audience and follows a young couple as they experience the thrills of driving the redesigned IS 250. As part of the 2014 Lexus IS sport sedan launch in the US, Lexus outfitted respective editors of Motor Trend and ArrestedMotion.com with the first of Kogeto's 'Joey' panoramic cameras to showcase the performance and stunning design of the 2014 Lexus IS. As part of the 2014 Lexus IS sport sedan launch in the US, Lexus invited more than 200 followers on Instagram, along with their smartphones, to make a commercial of the 2014 Lexus IS using hundreds of their photos of the car strung together into a video. As part of the 2014 Lexus IS sport sedan launch in the US, Lexus created and hosted a MADE Fashion Week event in 2013-09-05 debuting a first-ever live holographic performance art experience titled 'Lexus Design Disrupted', featured supermodel Coco Rocha and a bold retrospective from the archives of designer Giles Deacon in a creative concept inspired by the IS and the brand's commitment to design and technology. As part of the 2014 Lexus IS sport sedan launch in the US, Lexus partnered with NBCUniversal for the 'It's Your Move After Dark' campaign. The ads took advantage of real-time marketing by allowing viewers to contribute ad concepts via social networks to influence the creative for the Lexus advertisements. The campaign featured a series of live, improvisational short comedy ads that will run in the commercial pods during NBC's Late Night with Jimmy Fallon. The ads were based on real-time viewer social media submissions each Thursday and performed by New York's comedy troupes including Fun Young Guys, Magnet Theater Touring Company, MB's Dream and Stone Cold Fox. Every Thursday night for four weeks beginning 19 September, as part of an early commercial break in NBC's Late Night with Jimmy Fallon, improv comedians asked viewers to suggest ad concepts with the #LexusIS hashtag via social media platforms, including Facebook, Instagram, Tumblr and Twitter. Submissions would influence the content of the ad and a live, on-air improv performance based on the viewer's ad suggestion will follow at the final commercial break. East and west coast live broadcasts of the commercials will be completely different each time based on their respective social media suggestions. Each Thursday's advertisement would be broadcast live from under the Brooklyn Bridge in New York City. In anticipation of the campaign launch, a 15-second promotional teaser was premiered on 18 September in NBC's late night programming commercial pods. Additionally, the selected comedic concepts and submissions were made be available for viewing and sharing on a custom page at NBC.com the day after each live broadcast. Fans can continue to engage in exclusive, behind-the-scenes content from the campaign on NBC.com. As part of the 2014 Lexus IS sport sedan launch in the US, Lexus partnered with DeviantART to start a campaign to challenge the design community to show their vision for the 2014 IS with custom exterior treatments and modifications. The ultimate IS sport sedan concept would be modified by VIP Auto Salon in 10 weeks to reflect the rendering, and be displayed at the Lexus space at SEMA.
Second generation (2006-2013)
The second generation IS was redesigned for the 2006 model year and was introduced in the fall of 2005. The Toyota Altezza name ceased to be used with the introduction of the Lexus name in Japan. A pre-production example of the model was shown in the 2005 Geneva Autoshow. The slow-selling SportCross station wagon version was dropped from the lineup worldwide.
For the United States, three IS models are sold by Lexus:
In the United Kingdom and parts of Europe, 2 models are sold by Lexus:
IS 220d - 2.2 L Inline-4, 175 hp (130 kW), Rear wheel drive. Manual transmission only.
The IS 250 RWD comes standard with a 6-speed manual transmission, and a 6-speed automatic transmission is available as an option. The IS 250 AWD and the IS 350 are only available with the 6-speed automatic. A precrash system is a novelty in the market.
The IS 350's performance has been admirable, and its acceleration is class-leading. It is frequently accolated for it's sub-six-second 0-60mph acceleration time. Some say this marks Lexus' first foray into the "sport compact" market that compares fairly well with its German competitors. However, prevailing criticisms are that its steering is not as communicative as that of the BMW 3 Series, its stability and traction control systems cannot be fully disabled, and that the higher-performance IS 350 is only offered with an automatic transmission. The stability control system/traction control system can be disabled by using a code during engine start. Start the car with the parking brake engaged, release the parking brake, push the brake pedal twice, holding it on the second push, engage the parking brake twice, holding it on the second, repeating until the vehicle traction light appears on the dash. The systems will be disabled until you turn off the car.
First Generation/Origins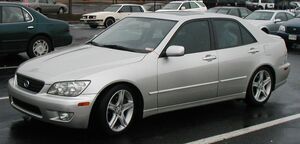 Produced as a direct competitor to the luxury sport sedans of the leading European luxury marques, the original Altezza/IS was designed with a greater performance emphasis than typically seen on prior Japanese luxury vehicles. The design received critical acclaim at its 1998 launch, and was awarded Japan's "Car of the Year" honor for 1998-1999. A year later, Lexus began marketing the IS equivalent models in Europe, and the IS debuted in the U.S. as a 2001 model. Models included the IS 200 and IS 300 sedans, plus the IS 300 SportCross wagon.
Worldwide
The Lexus IS is now sold worldwide in every availalble Lexus market. The IS lineup, in particular the IS 220d, has become the highest-seller in Lexus Europe; the IS 250 is the Lexus standard bearer in Australia, Japan, Mexico, South Africa, and other countries where it supplanted the ES as the entry-level Lexus model. In some markets (the United States, South Korea, Taiwan, and South America), the IS is sold alongside the ES, with the former catering to the luxury performance segment and the latter focused on the comfort luxury segment.
Design quirks and oddities
The arrowhead motif seen in the window line on the C-pillar, the front bumper, and other areas of the vehicle represent the Japanese concept of 'Kirikaeshi' which refers to a "rapid but fluid change of direction."
Awards
2006 Best New Technology award - Canadian Car of the Year Awards
Fastest in It's Class- IS 350 2006, AMCI (October 2005) AMCI-Certified Acceleration Testing, Six-Cylinder Automatic Sedans, Ward's Segmentation
British automotive magazine Top Gear named the Lexus IS as the Executive Car of the Year in 2006.
J.D. Power and Associates named the second generation IS 250/IS 350 sedans the best vehicles in the entry luxury class in its 2006 Initial Quality Survey.
Ward's Auto bestowed the IS 350 V6 engine with one of its 10 Best Engines awards in 2006. The IS 350 V6 engine was also named to the Ward's 10 Best Engines list in 2007.
The 2007 Lexus IS was the winner of the Golden Steering Wheel Award in the Luxury category, according to German newspaper Bild am Sonntag. This award, selected by a jury panel of 25 automotive experts, was presented to Lexus in a Berlin ceremony.
The Canadian Car of the Year Awards, selected by the Automobile Journalists Association of Canada, gave the IS 350 its Best New Technology award in 2006.
Top Ranked Entry Luxury Car- IS 300, J.D. Power and Associates (May 2005)
Kelley Blue Book gave the first generation IS 300 its Best to Hold Value Award in 2001.
Best Prestige Car 2006 - 'Australia's Best Car Awards', awarded by a conglomoration of all Australian Motoring Clubs.
See also
External Links