Lexus GS
Lexus
aka
Toyota Aristo
Production
1993-present
Class
Sport Luxury
Body Style
4-Door Sedan
Length
1909.4 in (4850 mm)
Width
716.5 in (1820 mm)
Height
563 in (1430 mm)
Wheelbase
1122 in (2850 mm)
Weight
3659.7 lbs (1660 kg)
Transmission
6-speed Automatic, AWD and RWD
Engine
3.5 litre V6
3.5 litre V6 + HybridDrive (GS 450h)
4.3 litre V8
Power
GS 350
303 hp @ 6,200 rpm
274 lb-ft @ 3,600
GS 460
342 hp @ 6,200
339 lb-ft @ 3,600
GS 450h
292 @ 6,400 rpm
267 lb-ft @ 4,800
Similar
BMW 5-Series
Mercedes-Benz E-Class
Infiniti M
Cadillac STS
Acura RL
Designer
Shigetoshi Miyoshi under

Simon Humphries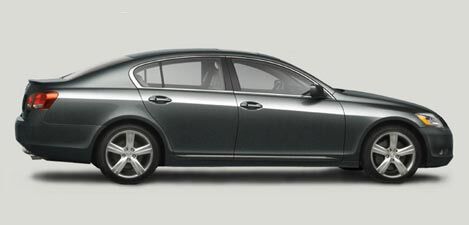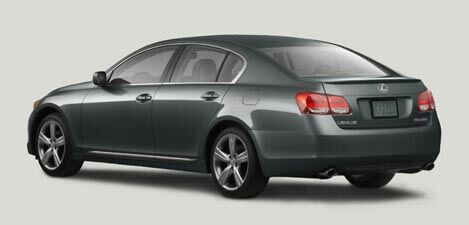 The Lexus GS is a rear-wheel drive, luxury sports sedan manufactured by Toyota for its Lexus division. The first two generations were sold as the Toyota Aristo in Japan, until the introduction of Lexus in that country in 2005. The first GS, based on the platform and running gear of the Toyota Crown, was introduced in 1991 in Japan and two years later in the United States, Europe and selected markets in Asia. The model was designed to fill the gap between the Lexus ES and Lexus LS and to provide Lexus with a sports sedan that could compete with the BMW 5 Series and the Mercedes-Benz E-Class. For most of its life, the GS had a longer wheelbase than the ES, and was shorter than the ES in length. The third generation GS, designed using an all-new platform, premiered globally for 2006. A hybrid version, the GS 450h, arrived for the 2007 model year.
Though essentially identical, GS and the Aristo differed in their engine and transmission combinations as well as equipment packages.
See Autopedia's comprehensive Lexus GS Review.
Recent Changes
For 2010, the GS range (incl. the GS 450h hybrid) will receive a mid-cycle facelift set for debut at the 2009 Frankfurt Motor Show.[1]
For 2008, The Lexus GS receives a new model in it's lineup which along with the GS 450h will feature The GS' first mid-cycle facelift. The GS460 is motivated by the same 1UR-FSE 4.6L V8 engine as in the LS flagship. However, the GS doesn't get the new direct injection system used in the LS, so the engine only develops 342hp (255kW) at 6,400rpm and torque of 459Nm (339lb-ft) at 4,100rpm. [2][3]
It was given a sleek new exterior, a 245-horsepower V6 engine and a six-speed automatic transmission. This year the GS also borrows several high-tech options from the LS for the first time, like laser-adaptive cruise control, which maintains a constant distance from the car in front of it, headlights that swivel as you round a curve; and a precollision system that tightens seat belts, adjusts the throttle and brakes when it senses an impending crash. And even with these extras, the GS 300's $45,000 sticker price is still roughly $2,500 less than that of the second-place BMW 530i.
Styles and Major Options
The Lexus GS is available in 3 different trims:
Lexus F-Sport Accessories
Pricing
Today's actual prices for the Lexus GS 350,GS 460and the GS 450hcan be found at CarsDirect.com.
MODEL Trims
GS 350 RWD
GS 350 AWD
GS 460
GS 450h
MSRP
$45,000
$46,950
$53,470
$56,550
Invoice
$Price1
$Price2
$Price3
$Price4
Gas Mileage
As seen on the FuelEconomy.gov website, the City/Highway MPG averages are as follows:
Trim
GS 350 RWD
GS 350 AWD
GS 460
GS 450h
MPG
19/26
18/25
17/24
22/25
Engine and Transmission
350
3.5 liters (210 cubic inches)
60° V6, aluminum block and heads
Four cam, four valves per cylinder, with dual Variable Valve Timing with intelligence (VVT-i)
ULEV II

460
4.6 liters (281 cubic inches)
90° V8, aluminum block and heads
Four cam, four valves per cylinder, with dual Variable Valve Timing with intelligence and Electronic intake valve timing (VVT-iE)
ULEV II

450 h
3.5 liters (210 cubic inches)
60° V6, aluminum block and heads
Four cam, four valves per cylinder, with dual Variable Valve Timing with intelligence (VVT-i)
High-output, permanent-magnet electric-drive motor
SULEV II
Performance
Please make sure to write information of the vehicle's performance in a third-person point of view. This section should include information about the car's acceleration figures, handling, braking, etc.
If using information gathered from Road Test articles from a reputable automotive source, then please make sure to cite the quote.
Reliability
According to the 2007 Consumer Reports new car issue, the Lexus GS has an average rating in predicted reliability based on the first year models. The AWD version is below average (though just barely) due to power accessory and audio system problems, albeit minor ones.
RECALL ALERT: On Jan 17th 2009, Lexus, in conjunction with the NHTSA, issued a recall alert affecting 214,500 2006-2008 GS300/350, IS250/350 and LS460/460L sedans over potentially faulty fuel delivery pipes which can corrode and leak due to certain ethanol fuels with low moisture content that can lead to rust, occasionally triggering a dashboard indicator lamp indicating a system malfunction. Lexus will be contacting owners of affected vehicles via email and Lexus dealers will replace parts at no cost. [4]
Safety
The Lexus GS employs several safety features, including:
Eight Airbags

Front and rear side curtain airbags
Front side airbags protect occupants in certain types of severe side-impact collisions.
Driver's and front passenger's knee airbags provide additional protection in certain types of severe frontal collisions.

Vehicle Stability Features

Vehicle Dynamics Integrated Management (VDIM) system
Vehicle Stability Control (VSC)
Traction Control (TRAC) systems

Brake Assist
Electronic Brake-force Distribution
Lexus Tire Pressure Monitor System
Run-Flat Tires, allowing the driver to drive up to a maximum speed of 55 mph for approximately 100 miles (comes standard on the GS 300 AWD, but optional on the RWD GS 300 and RWD GS 430.)
Pre-Collision Safety (PCS) System, which uses radar to detect possible obstacles ahead. Sensors then determine in advance whether a crash is unavoidable.
A steel-reinforced unibody structure with specific crumple zones in the front and rear that are designed to compress at a controlled rate to help absorb impact energy.
Three-Point Seatbelts with front pretensioners
Theft-deterrent and engine immobilizer system
Daytime Running Lights
Photos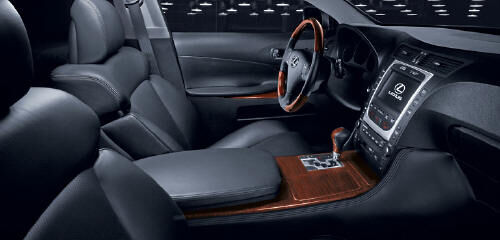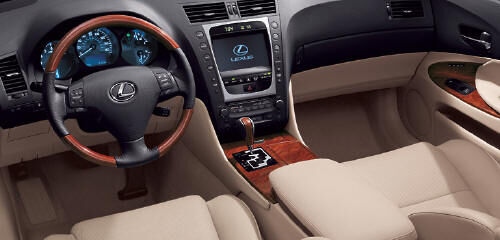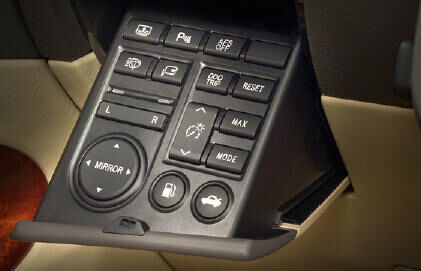 Colors
Exterior
Blue Onyx Pearl
Matador Red Mica
Flint Mica
Cypress Pearl
Glacier Frost Mica
Chardonnay Pearl
Crystal White
Mercury Metallic
Quartz Shadow Metallic
Black Onyx
Interior
Cashmere Perforated Leather Trim with Golden Bird's-Eye Maple Accent
Ash Perforated Leather Trim with Black Bird's-Eye Maple Accent
Black Perforated Leather Trim with Red Walnut Accent
Main Competitors
Hybrid Models
Main article: Lexus GS 450h
Unveiled at the 2005 New York International Auto Show, the hybrid GS 450h joined the GS line for the 2007 model year. It is the first mass-production rear-wheel drive luxury hybrid car. Its powertrain includes a naturally-aspirated 3.5L 2GR-FSE V6 engine mated to an electric motor and a continuously variable transmission. The Lexus GS 450h has a Super Ultra Low Emissions Vehicle emissions rating and an MSRP (including delivery) of $55,595. In some markets, however, the car can only be purchased with at least one option package, which raises the price by another couple of thousand dollars.
The GS 450h weighs 4134 lbs. (1875 kg), but the combined hybrid powertrain produces 339-hp (253 kW), allowing the GS hybrid to accelerate to 60 MPH (97 km/h) in 5.2 seconds, compared to the GS430's 5.7 seconds. EPA-rated highway fuel economy is 28 MPG (8.4 l/100 km), while the city fuel economy is rated at 25 MPG, which is slightly unusual for hybrid vehicles of this type (as they normally have higher city fuel economy ratings).
75 "Neiman Marcus Edition" GS 450h sedans were offered as the annual holiday catalog car at a price of $65,000. All were sold in less than three hours on October 19, 2005 and were delivered around April 2006. The Lexus GS 450h went on sale in Japan on March 16, 2006.
Unique Attributes
Resale Values
GS 400 Series Model Year

2010 GS 460

2009 GS 460

2008 GS 460

2007 GS 430

2006 GS 430

2005 GS 430

2004 GS 430

2003 GS 430

2002 GS 430

2001 GS 430

2000 GS 400

1999 GS 400

1998 GS 400

Resale Values

$ 54,070

$53,470

$53,020

$52,375

$51,375

$47,975

$39,450

$34,475

$28,575

$24,425

$20,850

$17,450

$14,775
GS 300 Series Model Year

2010 GS 350

2009 GS 350

2008 GS 350

2007 GS 350

2006 GS 300

2005 GS 300

2004 GS 300

2003 GS 300

2002 GS 300

2001 GS 300

2000 GS 300

1999 GS 300

1998 GS 300

1997 GS 300

1996 GS 300

1995 GS 300

1994 GS 300

1993 GS 300

Resale Values

$45,600

$45,000

$44,550

$44,150

$43,150

$35,175

$31,850

$28,425

$24,075

$21,800

$19,025

$15,975

$13,375

$11,600

$10,150

$8,875

$7,525

$6,600
Criticisms
The rear windows do not roll down all the way.
According to

Car and Driver

, the multi-use screen "seemed overengineered and complicated when employed for a simple function such as using the radio."
Generations
Fourth Genration (2011-Present)
In the third quarter of 2007, development began on the L10 series GS under Yoshihiko Kanamori, with the design process finalizing under new president and CEO Akio Toyoda's direction in 2009. Design patents were filed in Japan on 6 October 2010 for the production model and a conceptual variant on 29 March 2011. In April 2011, Lexus showed the LF-Gh concept (Lexus Future Grand-Touring Hybrid) at that year's New York International Auto Show, previewing the stylistic direction of future Lexus models. The LF-Gh featured a large, spindle-shaped front grille, and press information further indicated that it had a new interior design which included an analog clock. The LF-Gh concept vehicle was taken by automotive journalists as an indication of what the fourth generation Lexus GS would look like.
The fourth generation GS had its world premiere at the Pebble Beach Concours d'Elegance in California in August 2011. The vehicle was shown to have a more subtle version of the LF-Gh's spindle grille, while overall exterior dimensions are almost identical to the previous generation. L-shaped LED front daytime running lamps and rear LED tube lamps are a new design feature. The new GS was the centerpiece of Toyota chairman Akio Toyoda's initiative to restore passion to the Lexus brand and better compete with German luxury automakers that had been gaining market share in the United States. It was reported that Toyoda initially opposed the styling choices made for the new model, but since thanked the design team that persuaded him to greenlight the project.
At its debut, the fourth generation model was shown in rear-wheel drive GS 350 (GRL10) form, powered by a V6 engine linked with a six-speed automatic transmission. Three driving modes are featured, ranging from fuel-conserving Eco to Sport S and Sport S+ which facilitate more sporty transmission shifting and engine throttle settings, as well as suspension damper and steering adjustments. The chassis has been redesigned, and overall curb weight is reduced. To reduce unsprung mass the new GS utilizes aluminum for all its suspension components. The GS 350 F Sport adds a rear-wheel steering system for improved handling on rear wheel drive models. New larger 14-inch brakes come standard as well as 19-inch F Sport wheels, a new front bumper, rear spoiler, F Sport steering wheel, F Sport seats and a new suspension system with AVS adjustable dampers.
The redesigned interior gains the Lexus Remote Touch mouse controller system in place of the previous touchscreen, linked to a split-view 12.3 in (310 mm) widescreen dashboard display.
Save energy + airflow control (S-FLOW): The world's first system that sends air only to where vehicle occupants are seated in order to maintain and improve comfort while also improving fuel efficiency
Other interior features include Mark Levinson surround sound system. Front 18-way power seats are available; 10-way power seats are equipped standard. Optional features further include a pre-collision system, Heads-Up Display, blind spot monitor, lane keep assist, and Driver Monitoring System.
Gasoline variants such as the GS 350 and GS 250, as well as their F Sport variants, began sales in Japan in 26 January 2012, followed by the GS 450h and the GS 450h F Sport on 19 March 2012. Sales for the fourth generation in the US began in February 2012 for gasoline-only models including the GS 350 and GS 350 F Sport, with the hybrid version following several months after. A smaller-displacement model, the GS 250 (GRL11), was shown at the 2011 Auto Guangzhou, targeted for sales in China, Japan, Australia and the UK, but not the US.
The GS 450h (GWL10), rated at 252 kW (338 hp) and now using an Atkinson cycle design, has a 35 percent improvement in fuel economy over the previous generation GS 450h, and has a higher combined EPA fuel efficiency rating (31 mpg) than the 306 horsepower GS 350 (23 mpg). Trunk space is improved both for the hybrid and standard models. The GS 450h features standard full LED headlamps and a bamboo trimmed interior. The vehicle was unveiled in 2011 Frankfurt Motor Show.
For the 2014 model year, changes to GS 350 includes eight-speed automatic transmission with steering for rear-wheel drive (RWD) model, introduction of F SPORT package (optional Lexus Dynamic Handling system with dynamic rear steering (DRS), electric power steering, variable gear ratio steering (VGRS)), integrated Siri Eyes Free mode from Apple (compatible with iPhone 4S and newer), flush mounted sensors for available intuitive park assist, full color display added to the optional head-up display, available blind spot monitor adds rear cross traffic alert and power-folding mirrors, Luxury Package changes (LED foglamps, Superchrome finish for 18-inch wheels, and the rear armrest control panel display adds display option to view radio station and song title information), optional power trunk opener, Lexus Night View system discontinued.
The GS 300h hybrid model includes a 2.5-liter Atkinson cycle gasoline inline-four engine with a D-4S direct injection technology, derived from the third-generation Lexus IS. The vehicle was unveiled in 2013 Shanghai Motor Show. The vehicle went on sale in China, Europe, Asia, Australia, and New Zealand, but not in the US.
It is a version of Lexus GS 300h for European market, with 2.5-liter Atkinson cycle four-cylinder gasoline engine (181PS), two electric motors, a hard-drive navigation system with a 12.3-inch Monitor and Lexus Connected Services, a premium audio system, DVD player and rear-view camera with a monitor, among other features. The vehicle went on sale in 2014-01-11.
2015–present
The revised GS debuted at Monterey Car Week in August 2015. Changes include a GS 200t variant equipped with the 2.0-liter 8AR-FTS turbocharged gasoline engine to replace the GS 250, and an update to the 3.5-liter V6, now upgraded to 2GR-FKSspecification. that uses the Atkinson cycleand features founded on the previous 2GR-FSE motor. Additional changes include revised exterior elements (including front and rear trim, exterior lighting, wheels, and rocker panels), new active safety features, and a revised infotainment system.
Third Generation (2005-2011)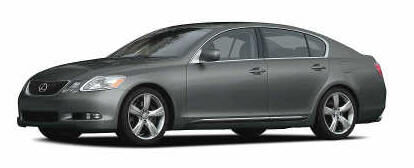 The third generation GS was first sold in 2005 as a 2006 model, with the chassis codename "GRS190". The model lineup included the GS 300, with a 3.0L V6 3GR-FSE engine, and the GS 430 with the same 4.3L V8 used in the previous model. The GS 300 has a direct-injection engine for all markets except for Continental Asia. The 3.0L engine is also found in the Toyota Mark X as well as the Zero Toyota Crown. A 4WD option was made available in the GS 300 only.
A 3.5L GS 350 is expected to replace the GS 300 and a 4.6L GS 460 to replace the 4.3L GS 430 by 2008. In Japan, Lexus is already selling the GS 350. Production of the 3rd generation began on January 24, 2005.
The equivalent Aristo was not released as Toyota sought to align all world markets, including Japan, using Lexus as their premium brand worldwide.
Second generation (1998-2004)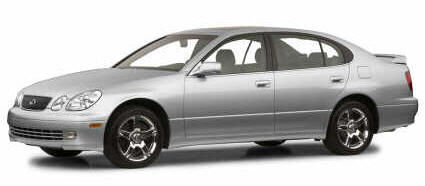 The second generation Aristo was launched in Japan, codenamed "JZS160" for cars with the 2JZ-GE engines and JZS161 for those with the 2JZ-GTE twin-turbo engines. VVT-i was now standard, resulting in a bump in torque. The twin-turbo version was available with electronic four-wheel steering, VDC and an automatic gearbox with a manual sequential mode. No 4WD models were offered.
The GS began production in the JZS160 body style on August 4, 1997 and was launched in 1998. The American market GS 400 was equipped with a UZ-series V8 that produced 300-hp and 310 ft·lbs of torque. Edmunds.com reported a 0-60 time of 5.4 seconds for the 3693-lb. sedan. Again, no turbo models were offered outside Japan.
In 2001, the engine received a 0.3 liter bump in displacement and the model was renamed GS 430. Peak horsepower was unchanged, but torque increased to 325 ft·lbf.
The GS was Motor Trend's Import Car of the Year for 1998. It also made Car and Driver magazine's 10 Best list for 1998 through 2000.
First Generation/Origins (1991-1997)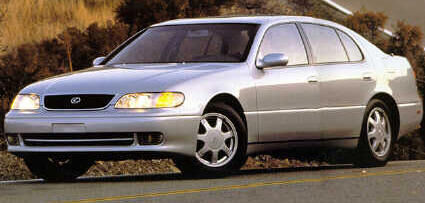 With a body styled by the famous Ital Design firm, the Aristo was launched in October 1991, offering two versions: the R6 3.0 (3.0V) with a 24-valve, 276-hp (205kW) twin-turbo 2JZ-GTE engine, and the 3.0Q with a 226-hp (169kW) 2JZ-GE engine. A third model, the 4.0Zi-Four joined the Aristo lineup in 1992 and given the chassis code UZS143. This model came with the 1UZ-FE engine also found in the Toyota Celsior/Lexus LS and the Toyota Crown Majesta and standard Four wheel drive. Production of the Lexus GS 300 (JZS147) began on February 22, 1993 at the Tahara, Japan assembly plant. The only engine available for the export markets was the 2JZ-GE.
Worldwide
The first and second generation Lexus GS models were also known as the Toyota Aristo in other markets.
Design quirks and oddities
The third generation Lexus GS was the first Lexus model to receive the L-finesse styling treatment, one of the hallmarks of which was a fastback cabin design.
Awards
The Lexus GS has accumulated countless awards and accolades during its tenure, but here are a few of the noteworthy ones:
The Lexus GS 300 was selected as the Best New Car Value by SmartMoney magazine in October 2005.
The 2006 GS 430 was the Highest Ranked Mid Luxury Car in Initial Quality (IQS) by J.D. Power and Associates in May 2005.
The 2006 GS 300 was also named the Highest Ranked Mid Luxury Car in Initial Quality (IQS) by J.D. Power and Associates in May 2005.
The 2005 GS 300 was named the Best Car $35,000 - $40,000 by AAA.
The 2004, 2003, and 2002 GS 300 and GS 430 were ALL ranked the Highest Ranked Mid Luxury Car in Initial Quality (IQS) by J.D. Power and Associates.
The 2001 GS 430 and GS 300 were named the Most Appealing Mid Luxury Car (APEAL) by J.D. Power and Associates.
The 2000 GS 400 and the 1999 GS 400 were named one of Car and Driver's 10 Best.
Motor Trend named the 1998 GS 400 Import Car of the Year.
J.D. Power and Associates named the 1994 GS 300 among the Top Ten in Initial Quality (IQS).
The Lexus GS450H was voted Australia's Best Luxury Car by the RACV in 2006.
2003 J.D. Power Initial Quality Study winner (Mid luxury)
See also
External Links