Land Rover LR2
Land Rover
aka
Land Rover Freelander
Production
2006-present
Class
Compact Luxury SUV
Body Style
5-door, 5-seat SUV
Length
177.1 in
Width
85.7 in
Height
68.5 in
Wheelbase
104.7 in
Weight
4255 lb (curb)
Transmission
6-speed Automatic w/ Manual sequential gear changing, intelligent AWD
Engine
3.2 litre inline-6
Power
230 hp @ 6000 rpm
234 lb-ft of torque @ 3200 rpm
Similar
BMW X3
Mercedes-Benz GLK
Acura RDX
Infiniti EX
Audi Q5
Volvo XC60
Designer

Gerry McGovern
The Land Rover LR2, also known as the Freelander outside the US, is a compact entry-level Luxury SUV manufactured by Land Rover and introduced in 2006 as the replacement of Land Rover's Freelander SUV.
See Autopedia's comprehensive <MODEL> Review.
Recent Changes
The 2010 Bologna Motor Show hosted the launch of the 500 unit limited edition Freelander 2 SD4 Sport LE. Priced from £33,945, the Sport LE features a front grille finished in black, a choice of three exclusive paint colors: Fuji White, Santorini Black and Firenze Red, a discrete bodykit and 19-inch alloys, standard front and rear parking sensors, Ebony Windsor or Ebony Napoli leather interior with contrasting stitching or leather stripes, Piano Black finish dashboard trim and new duo-tone floor mats. Underneath, the SD4 LE finds motivation from a 190 hp 2.2-liter four-pot diesel, coupled to a six-speed automatic, capable of accelerating the car from standstill to 60 mph (96 km/h) in 8.7 seconds. Top speed is pegged at 118 mph (190 km/h). It also comes with Land Rover's Intelligent Power Management System (IPMS), which charges the battery with recovered kinetic energy whenever the vehicle is decelerating. The Freelander 2 Sport SD4 Limited Edition can run on 10% biodiesel and has CO2 emissions of 185 g/km.[1]
For 2011, the LR2/Freelander 2 receives a significant update and for the first time, a mid-cycle facelift bringing its design into line with the Range Rover Evoque. Also new is the addition of a FWD variant called the LR2/Freelander 2 eD4. All models are available with Land Rover's new EU5 compliant 2.2-liter four-cylinder diesel engine featuring a new variable geometry turbocharger. The standard AWD model comes with either the 150 hp TD4 featuring a manual transmission and Stop/Start tech as standard or an automatic gearbox without Stop/Start as an option, and a 190 hp SD4 version with an automatic transmission only. The eD4 FWD model, on the other hand, is only available with the TD4's engine which, according to the company, has a combined fuel consumption of 47.2mpg UK (equal to 39.2mpg US and 6.0lt/100km), and CO2 emissions of 158g/km making it the most efficient Land Rover ever produced. Other options for the baby Rover will include the Premium Pack that also includes Windsor Leather upholstery, an 8/6 way electric seat, plus unique carpet mats and covered center stowage. [2]
The 2010 Detroit Auto Show sees Land Rover unveiling two limited edition Freelanders for the UK, the Freelander 2 Sport and the Freelander 2 "White & Black". Both get extra equipment and special colors. The Sport, finished in Santorini Black or Lago Grey, will feature 19-inch limited edition diamond-turned alloy-wheels, unique two-tone interior in contrasting Ebony and Storm together with a rear spoiler, color-keyed exterior trim and matching door handles and mirror casings, Sport emblem embossed on the front and outer rear seat head restraints, Storm colored stitching on all seats and Ebony interior carpet mats with contrast piping and Stop-Start technology mated only to the 2.2-liter TD4 diesel power unit. The powerplant delivers an 8% improvement on CO2 emissions while returning 42.2mpg UK. The "White & Black", on the other hand, are available in either Alaska White or Santorini Black. It features LR's start and stop system, 17-inch alloy wheels, load space cover and keyless starter button. Underneath, motivation comes from a 2.2-litre diesel powertrain mated to a 6-speed manual, delivering a combined fuel economy of 42.2mpg UK (35.2 mpg US or 6.7 lt / 100 kilometers). Pricing for the Sport starts at £26,695 while the White & Black begins at £19,495.[3][4]
Sport
"White & Black"
In 2009, Land Rover released a special edition model called the TD4-e. For more information, go to TD4-e.
For 2008, the LR2 range is joined by the better equipped LR2 HSE. The package includes body color bumpers and side sills, a rear spoiler, titanium door handles, 19in alloy wheels, new electronically adjustable seats and a storage box with a sliding cover.
Styles and Major Options
Certain vehicles come in different trim levels or body styles. Features and major options should be mentioned here.
Pricing
Add more fields as necessary.
MODEL Trims
Trim1
Trim2
Trim3
Trim4
MSRP
$ 34,700
$Price2
$Price3
45,000 (est.)
Invoice
$Price1
$Price2
$Price3
$Price4
Gas Mileage
Add more fields as necessary.
As seen on the FuelEconomy.gov website, the City/Highway MPG averages are as follows:
Trim
Trim1
Trim2
Trim3
Trim4
MPG
c/h
c/h
c/h
c/h
Engine and Transmission
Specifications, details, graphs, pictures and other information regarding the powertrain is placed in this section.
Performance
Please make sure to write information of the vehicle's performance in a third-person point of view. This section should include information about the car's acceleration figures, handling, braking, etc.
If using information gathered from Road Test articles from a reputable automotive source, then please make sure to cite the quote.
Reliability
RECALL ALERT: On December 13, 2010, Land Rover, in tandem with the NHTSA, will commence a recall affecting around 3000 Freelanders built between November 12, 2009, through August 23, 2010 due to defective front airbag/s that may not deploy as intended or at all because of a potential problem with the shorting bar in the clock spring, which may become disconnected when the air bag module connector is installed. To fix the problem, the company said it will install a spacer into the driver's airbag clock spring harness connector. This service will be performed free of charge. Owners of the affected LR2s can contact Land Rover at 800-637-6837. [5]
Safety
European report on Freelander Safety
Photos
Add Photos of the vehicle here.
Please make sure not to use copyrighted photos.
Colors
List the colors that the particular <MODEL> is offered in.
Main Competitors
Create links to other <MAKE> <MODEL> pages in this section.
TD4-e
The Land Rover LR2 TD4-e is an environmentally friendly model released in 2009. The model uses a 2.2 litre turbo diesel mated with the 6 spped manual gearbox but unlike regular diesels, the engine utilises a stop-start hybrid system. When the car is not moving, the system shuts down the engine and reoperates once the car moves. Also, the TD4-e is the first of the marque's models to achieve full End Of Life certification meaning it's 85% recyclable and 95% re-usable. The TD4-e uses 6.7 litres/100 km.
Unique Attributes
If there are any features of this vehicle that sets it apart from other vehicles in its class, then mention those unique attributes here.
Interior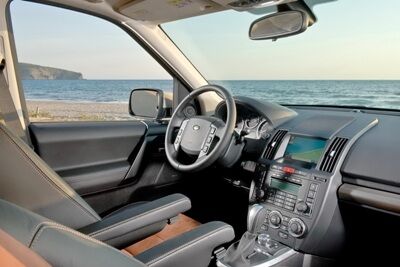 This section should include information on the interior's design, build quality, ergonomics, space (head and legroom, front and rear), features, stowage compartments and overall comfortability and livability. Add pictures wherever applicable and keep information in a third-person point of view.
Resale Values
Add more fields as necessary.
<MODEL> Year
Year X
Year X-2
Year X-3
Year X-4
Resale Value
$
$
$
$
Criticisms
Please make sure to keep critiques in a third-person point of view. If using criticisms from a reputable automotive source, then please make sure to cite the quote.
Generations
Fill in as many as appropriate. Add more if necessary and pictures wherever applicable.
Please make sure NOT to use copyrighted pictures.
Current Generation: (YYYY–present)
Fifth generation (YYYY–YYYY)
Fourth generation (YYYY–YYYY)
Third generation (YYYY–YYYY)
Second generation (YYYY–YYYY)
First Generation/Origins (YYYY–YYYY)
Worldwide
If the vehicle is sold in other markets worldwide, then this is the section to mention that information. Also, mention if the <MODEL> goes by another name in these other markets.
Design quirks and oddities
Refer to any pop-culture tidbits about the vehicle in this section.
Awards
List out notable awards that the model has recieved while in production. Boldface the company or organization that gives out the award, and Italicize the name of the award.
See Also
External Links
News & References