Lancia Delta
Lancia
aka
Chrysler Delta
Production
1979 - 1994
2009 - 2014
Class
Compact Premium Hatchback
Body Style
5-door, 5-seat hatchback
Length
length - type here
Width
Width - type here
Height
Height - type here
Wheelbase
wheelbase - type here
Weight
Weight - you get the point
Transmission
6-speed Manual, Robotized & Automatic
Engine
1.4 litre TurboJet Petrol Inline-4
1.4 litre TurboJet Petrol Inline-4
1.6 litre MultiJet turbodiesel Inline-4

Planned:
2.0 litre MultiJet turbodiesel Inline-4
1.9 litre MultiJet TwinTurbo Inline-4
1.8 litre Turbojet Di Petrol inline-4
Power
120 hp @ N/A rpm
N/A lb-ft of torque @ N/A rpm

150 hp @ N/A rpm
N/A lb-ft of torque @ N/A rpm

120 hp @ N/A rpm
N/A lb-ft of torque @ N/A rpm

165 hp @ N/A rpm
N/A lb-ft of torque @ N/A rpm

190 hp @ N/A rpm
N/A lb-ft of torque @ N/A rpm

200 hp @ N/A rpm
N/A lb-ft of torque @ N/A rpm


Similar
Audi A3
Lexus CT
Designer
Lancia Centro Stile
Giorgetto Giugiaro
The Lancia Delta (Also rebadged as the Chrysler Delta) is a small family car produced by Italian automaker Lancia from 1979 to 1994. It is revived for the 21st-Century, debuting at the 2008 Geneva Motor Show and the new Delta is expected to go on sale for the 2009 model year.
See Autopedia's comprehensive <MODEL> Review.
For 2009, the Delta nameplate is ressurected. [1]
Certain vehicles come in different trim levels or body styles. Features and major options should be mentioned here.
Add more fields as necessary.
MODEL Trims
Trim1
Trim2
Trim3
Trim4
MSRP
$Price1
$Price2
$Price3
$Price4
Invoice
$Price1
$Price2
$Price3
$Price4
Add more fields as necessary.
As seen on the FuelEconomy.gov website, the City/Highway MPG averages are as follows:
Trim
Trim1
Trim2
Trim3
Trim4
MPG
c/h
c/h
c/h
c/h
Specifications, details, graphs, pictures and other information regarding the powertrain is placed in this section.
Please make sure to write information of the vehicle's performance in a third-person point of view. This section should include information about the car's acceleration figures, handling, braking, etc.
If using information gathered from Road Test articles from a reputable automotive source, then please make sure to cite the quote.
Warranty options and scheduled maintainence information should be mentioned here.
This section should reference points on safety ratings and features of the vehicle.
Delta Special Series
Delta Hard Black
Chrysler Delta
Add Photos of the vehicle here.
Please make sure not to use copyrighted photos.
List the colors that the particular <MODEL> is offered in.
Create links to other <MAKE> <MODEL> pages in this section.
If there are hybrid versions of this vehicle manufactured, then please elaborate a little bit on it here.
If there are any features of this vehicle that sets it apart from other vehicles in its class, then mention those unique attributes here.
This section should include information on the interior's design, build quality, ergonomics, space (head and legroom, front and rear), features, stowage compartments and overall comfortability and livability. Add pictures wherever applicable and keep information in a third-person point of view.
Add more fields as necessary.
<MODEL> Year
Year X
Year X-2
Year X-3
Year X-4
Resale Value
$
$
$
$
Please make sure to keep critiques in a third-person point of view. If using criticisms from a reputable automotive source, then please make sure to cite the quote.
Fill in as many as appropriate. Add more if necessary and pictures wherever applicable.
Please make sure NOT to use copyrighted pictures.
Third Generation: (2008–2014)
[
edit
|
edit source
]
In September 2006, Lancia announced the revival of the Delta name, with new cars to be built on the Fiat C platform.The world première of the new HPE concept was held at the 63rd Venice International Film Festival. The Lancia brand was reintroduced to the Scandinavian, Russian, and Turkish markets in 2007. The new Delta meant a proposed return by Lancia to the UK market during 2009. However, due to an economic downturn, plans were shelved until Fiat bought Chrysler. As the car had been engineered for RHD already, the decision was made in 2010 to bring the car in to the UK and Ireland rebranded as a Chrysler and sold through the UK Chrysler dealer network along with the rebranded Ypsilon. Delta as well as being an historical name from Lancia's past is also being interpreted this time around by Lancia as a mathematical symbol that stands for change, difference and evolution. Designed by the Lancia Style Centre, this car is aimed at the luxury end of the small family car segment. The Delta is 4.52 m (178.0 in) long, 1.797 m (70.7 in) wide and 1.499 m (59.0 in) high, and has a wheelbase of 2.7 m (106.3 in), 10 cm (3.9 in) more than the Fiat Bravo. It has five doors and can be considered a hatchback or an estate (see Hatchback vs. Station wagon). At the 2010 North American International Auto Show, a badge-engineered version of the Delta under the Chryslerbrand was unveiled as a concept car for a potential North American release. The Delta, along with the Ypsilon, is marketed as a Chrysler in the UK and Ireland.
The new Delta offers a number of options and equipment including a Bose Hi-Fi radio incorporating a CD player and MP3 file reader with steering-wheel mounted controls, the Blue&Me system developed with Microsoft, and a new satellite navigation system developed with Magneti Marelli. Further technical equipment included to effect the ride and handling will include an advanced ESC (Electronic Stability Control) system and SDC suspension (with electronic damping control, also by Magneti Marelli). The new Delta also has a driving assistant featuring electric eye monitors that give feedback to the steering wheel to suggest corrections to the driver. The car is available also with semi-automatic parking assistant.
The 2011 facelift of the Delta received trim level changes, a Chrysler-derived 'family' grille, and a 105 PS (77 kW; 104 hp) 1.6-litre Multijet diesel engine with lower fuel consumption and CO2 emissions. The new version of the Delta was expected to be presented at the 2011 Geneva Motor Show.
Engines available at launch were 120 PS (88 kW) and 150 PS (110 kW) 1.4 L Turbojet petrol engines and 1.6 L 120 PS (88 kW) MultiJet diesel, 2.0 Multijet with 165 PS (121 kW) and 1.9 Twinturbo Multijet with 190 PS (140 kW). A new petrol unit was launched later: 1.8 Di Turbojet with 200 PS (147 kW).
Model
Type
Displacement
Power
Torque
Acceleration
Max Speed
Years
cc
cu in
PS
kW
hp
@ rpm
N·m
lb·ft
@ rpm
0–100 km/h,s
km/h
mph
1.4 T-Jet 16V
I4
1,368
83.5
120
88
120
5000
206
152
2000
9.8
195
121
2008-
1.4 T-Jet 16V
I4
1,368
83.5
150
110
150
5500
206
152
2250
8.7
210
130
2008–2010
1.4 T-Jet MultiAir
I4
1,368
83.5
140
100
140
n/a
230
170
1750
9.2
202
126
2010-
1.8 Di T-Jet 16V
I4
1,742
106.3
200
147
197
5000
320
236
2000
7.4
230
143
1.6 Multijet 16V
I4
1,598
97.5
105
77
104
4000
300
220
1500
10.7
186
116
2011-
I4
1,598
97.5
120
88
120
4000
300
220
1500
194
121
2.0 Multijet 16V
I4
1,956
119.4
165
121
163
4000
360
270
1750
8.5
214
133
1.9 Twinturbo Multijet 16V
I4
1,910
117
190
140
190
4000
400
300
2000
7.9
222
138
2008-
The 2008 Lancia Delta passed the Euro NCAP car safety tests with the following ratings:
Euro NCAP test results
Lancia Delta (2008)
Test
Score
Rating
Adult occupant:
34
Child occupant:
33
Pedestrian:
15
Second generation (1993–1999)
[
edit
|
edit source
]
The successor to the original Delta, the Delta Nuova, was introduced in 1993 based on the Fiat Tipo platform. The Delta Nuova was targeted at customers more interested in comfort and convenience than overall performance and power: the acquisition of Alfa Romeo in 1990 by Fiat meant that there was no need for Fiat to build sports cars under its Lancia and Alfa Romeo brands.
The Delta Nuova was offered with engine versions up to 187 bhp (138 kW), but without four-wheel drive.
The new model was not offered for sale in the United Kingdom, not only because it was not available in right hand drive (despite the fact that the Delta Integrale had sold well even with only left hand drive versions available), but also because the brand had become increasingly unpopular in that country due to rust problems with older Lancias. Lancia finally abandoned the UK and other right-hand drive markets, in 1994.
The Delta was deropped from Lancia's lineup in 1999. The Dedra did get a replacement, the Lybra, which was not offered with a hatchabck body style.
First Generation/Origins (1979–1992)
[
edit
|
edit source
]
The first Delta was a five-door hatchback designed by Giorgetto Giugiaro and released in 1979. For a period of time, it was also sold in Sweden by Saab Automobile, badged as the Saab 600. Saab assisted with some areas of the cars' design and as a result the Delta was better suited for colder climates and less prone to rust than other Lancias. Key competitors were the Volkswagen Golf, Opel Astra/Kadett and Ford Escort. For a few years after its launch, the Delta was one of the most contemporarily styled cars of its class in Europe and was voted Car of the Year in 1980.
While the majority of Delta models were ordinary small family cars, the most famous model was the Delta HF Integrale, a four-wheel drive hot hatch with a powerful turbocharged petrol engine. A tweaked version of the HF dominated the World Rally Championship, scoring 46 WRC victories overall and winning the Constructors Championship a record six times in a row from 1987 to 1992.
The Lancia Delta S4, while sharing the same name and appearance, was a Group B race car designed specifically for rallying, and entirely different from the commercial Delta in terms of construction and performance.
In 1986 the rallying world suffered a tremendous blow in terms of development as FISA decided to scrap plans for a proposed Group S as well as cancelling Group B. It was ruled that Group B cars were too fast and, as a consequence, too dangerous. It is arguable that Lancia was one of the more far-sighted manufacturers at the time, as it was already developing the Delta HF 4X4 production car using experience gained from the development of the S4 rally car.
Superseding the Delta HF Turbo as the flagship of the Delta range — S4 excepted — the HF 4WD had a lot to live up to. The HF Turbo i.e. was no slouch and its handling was praiseworthy for a front-wheel drive car.
The Delta range was first introduced to the UK in 1980 and remained virtually unchanged until 1986, when small changes were made to the cars' body shape, the engines updated and the four-wheel drive model introduced.
One of the features of the Delta HF 4WD is the under-statement of the body stlying. There is very little to distinguish the car from the earlier 'Turbo i.e.' apart from the four-headlight system, fog lamps mounted in the front spoiler, discreet 4WD badging on the rear hatch, small side skirts and two raised air intakes on the bonnet (hood). The later car is therefore virtually indistinguishable from the 1600 cc HF Turbo i.e.
With 165 bhp (123 kW) on tap, the best way of transfering it to the road is via four, rather than two-wheel drive. In the Delta HF 4X4, Lancia was not content to go for a simple system but rather opted for one with an in-built torque-splitting action to ensure that the available power was going to the wheels with the most traction at any given time, thus ensuring the most efficient use of the available power and torque.
Three differentials are at the heart of the system. Drive to the front wheels is linked through a free-floating differential; drive to the rear wheels is transmitted via a 56/44 front/rear torque-splitting Ferguson viscous-coupling-controlled epicyclic central differential.
The real innovation as far as production cars are concerned however, lies between the rear wheels.
The Torsen (torque sensing) rear differential is similar to that found on McLaren Formula 1 cars. The result of combining these differentials in this configuration is a four-wheel-drive system which responds automatically to available grip and road conditions, and which requires no manual input from the driver, delivering maximum traction at all times.
The Torsen differential is a true 'intelligent' differential in the way it distributes torque. It divides the torque between the wheels according to the available grip, and does so without ever locking fully: maximum lockup is 70%.
Standard differentials are either free-floating or self-locking. Free-floating systems are good at differentiating between wheel speeds on bends, but always supply the same amount of torque to both wheels. In this situation, however, there is a risk that the wheel with the lighter load (on an incline, for example) or less grip, will lose traction. To counteract this possibility, totally self-locking differentials ensure that both wheels rotate at the same speed but in doing this, prevent free differentiation in cornering, to the detriment of handling and stability.
The basic suspension layout of the Delta 4WD remains the same as in the rest of the two-wheel drive Delta range: MacPherson strut–type independent suspension with dual-rate dampers and helicoidal springs, with the struts and springs set slightly off-centre.
There are a few more subtle changes, though, with the suspension mounting points to the body shell, now better insulated by incorporating flexible rubber links to provide improved isolation. Progressive rebound bumpers have also been adopted, while the damper rates, front and rear toe-in and the relative angle between springs and dampers have all been altered. The steering retains the rack and pinion mechanism of the rest of the Delta range, but in this application it is power-assisted. Steering effort has been reduced further by fitting thrust bearings of the ball, rather than roller type. Additional steering sensitivity has also been obtained by adjusting the angle of incidence of the steering rack.
Taking the all-conquering Delta HF 4WD that decimated its rivals on tarmac, snow, ice and loose surfaces throughout the 1987 season, Lancia designed the HF Integrale to incorporate all the advanced technical features of the rally car enhanced by the lessons learned in one of the world's toughest motor sport arena. The result is a stylish, luxurious yet utterly practical five door hatchback with impeccable road manners, but capable of a blistering 0–100 km/h (0–62 mph) acceleration in just 6.6 seconds and a maximum speed of 133 mph (214 km/h).
At the heart of the 8 valve HF Integrale is a 2-litre 4 cylinder fuel injected single cam engine, fitted with contra-rotating balancing shafts. This version, of what is surely one of the world's most competition proven power units, incorporated the following improvements over the HF 4WD: New valves, valve seats and water pump, larger water and oil radiators, more powerful cooling fan and bigger air cleaner. A larger capacity Garrett T3 turbocharger with improved air flow and bigger inter-cooler to aid volumetric efficiency, together with revised settings for the electronic injection/ignition control unit and a knock sensor, boost power output to 185 bhp (DIN) (136 kW) at 5300 rpm and maximum torque of 31 m·kgf (304 N·m, 224 lbf·ft) at 3500 rpm.
The Delta boasts one of the worlds most advanced transmission systems incorporating permanent 4wheel drive, a front transversely mounted engine and five-speed gearbox. An epicyclic centre differential normally splits the torque 56 per cent to the front axle, 44 per cent to the rear. However a noiseless, fully automatic Ferguson viscous coupling balances the torque split to give the optimal division between front and rear axles depending on road conditions and tyre grip. The Torsen rear differential further divides the torque delivered to each rear wheel according to grip available. By using the interaction between a worm screw and helical gear (movement is transmitted from screw to gear only) the Torsen system ensures that the wheel with less weight or grip receives less torque and therefore maintains traction. A free floating front differential completes the system to ensure maximum traction even at speed on adverse road surfaces. A shorter final drive ratio (3.111 instead of 2.944 on the HF 4WD) is used to match the larger 6.5x15 wheels to give 24 mph/1000 rpm (39 km/h per 1000 rpm) in fifth gear.
Both braking and suspension were uprated to match the HF Integrale's increased performance. The ventilated front discs were increased in diameter to 284 mm, improved friction coefficient pads were fitted to the rear brakes. A larger brake master cylinder and servo lessened pedal effort for quicker response and reduced the risk of overheating in even the most demanding situations. The all round independent suspension features new front springs, dampers and front struts.
In line with the mechanical improvements and higher performance, Lancia gave the HF Integrale a new, more purposeful look while retaining all the practical advantages of the five door body shell. Immediately noticeable are the rounded, bulged wheel arches housing the wider section 195/55 VR tyres on 15 inch 6J alloy wheels. A new bonnet incorporated air louvres while the restyled bumpers wrapped around to meet the wheel arches at front and rear. The front bumper, now wider, incorporates air intakes to assist engine cooling, and houses rectangular auxiliary driving lights, that compliment the twin circular headlights. The side skirts are faired into the wheel arches at front and rear and carry "Delta HF Integrale" badges to compliment those on grille and rear hatch. The twin rear view mirrors are finished in body colour.
In 1988, Lancia gained 10 victories out of 11 rallies and the world title, won well before the end of the season. The 8 valve Delta had won, ahead of every rival in every continent, demonstrating its unrivalled performance, reliability and durability. But Lancia did not let this lull them into complacency, the 16 valve HF Integrale was being developed and was to run alongside its stablemate during the 1989 season. The new car was identifiable from its predecessor by the raised centre of the bonnet to accommodate the new 16 valve engine. The other exterior changes visible were; wider wheels and tyres and new identity badges front and rear.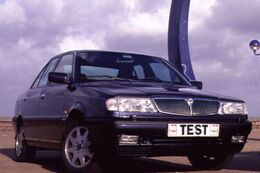 The torque split was changed to 47% front and 53% rear, this gave the car better handling characteristics, on tarmac, where the Ford Cosworths were beginning to show their potential. Both the 8 and 16 valve cars were in use by the Works Team during the 1989 season, the 16 valve made its successful debut on the Sanremo Rally with Miki Biasion, at this time the new livery of the 16 valve cars was red, the colour reverted to white for 1990 as red was found to be less incisive than white in photographs and on television.
The turbocharged 2-litre Lancia 16v engine is already a powerful, refined performer, but was further developed for the Integrale 16v. Generating 200 bhp (149 kW) at 5500 rpm, it can take the car to a maximum speed of 137 mph (220 km/h) and get it from 0-100 km/h (0-62 mph) in 5.7  seconds. Larger injectors provide higher power output and efficient exploitation of the fuel feed at high engine speeds. The response of a Garrett T3 turbocharger is immediate, thanks to the reduced inertia of the turbine. A highly efficient intercooler provides the driver with more power and greater reliability. The new over-boost system uses a proportional electrovalve, to give a lift to engine torque: 220 lbf·ft (298 N·m) at 3000 rpm. All these improvements make the road-going version of the Integrale 16v a spirited, reliable and inherently safe car. The exuberant 16-valve engine, however, retains commendable refinement, thanks to the inclusion of two counter-rotating balancer shafts, eliminating vibration to give superb smoothness. The engine can also run on unleaded fuel without modification.
The Lancia Delta HF Integrale 16v uses a dual circuit braking system with each axle separate, which is safer because directional stability is maintained by each axle. The optional four-channel, second generation ABS system is mounted on this circuit. Designed specifically for four-wheel drive, it ensures safe braking on all surfaces and in any situation, in the minimum distance, to maintain directional stability. In emergency braking, the electronic control unit uses two sensors, detecting transverse and longditudinal accelerations to deliver braking pulses appropriate to each side of the vehicle. Loss of control over ground with uneven grip can thus be prevented. The sensors are situated at the car's centre of gravity, near the gear lever. System efficiency is assured by electronic self diagnosis carried out automatically after starting the engine
The first Evoluzione cars were built at the end of 1991 and through 1992. These were to be the final homologation cars for the Lancia Rally Team; the Catalytic Evoluzione II (below) was never rallied by the Factory.
In order to improve the handling, the Evoluzione I had a wider track front and rear than earlier Deltas. In order to enclose this track in the bodywork, the wide arches were extended even further and in the process also became more rounded. The wings were now made in a single pressing, whereas previously they had been fabricated. The front strut top mounts were also raised in height in the quest for more grip: this then necessitated a front strut brace to control the forces thus generated.
External changes included: new grilles in the front bumper to improve the air intake for engine compartment cooling; a redesigned bonnet (hood) with new lateral air slats to further assist underbonnet ventilation; an adjustable roof spoiler above the tailgate to assist in competition and to emphasise the cars sporty lines; new five-bolt (stud) wheels derived from the rally cars (stronger than the previous design); and finally, the rear of the car was changed with only one exhaust pipe now showing.
No changes to the tried and trusted chassis configuration: MacPherson-type independent suspension at front with lower wishbones;
segmented dampers with a brace between the strut tops;
MacPherson-type independent suspension at rear with transverse rods;
longitudinal transversal reaction struts;
disc brakes on all wheels, with double cylinder calipers at the front;
floating calipers at the rear;
split crossover hydraulic circuit with power brake and brake power modulator on rear wheels;
Bosch ABS as standard;
The new Integrale retained the four wheel drive layout: an epicyclic centre diff with torque splitter (47% to front, 53% to rear), Ferguson viscous coupling and Torsen rear differential.
The engine, although technically the same as the earlier 16V cars, was remapped to give 210 bhp (157 kW) at 5750 rpm in order to compensate for the slight increase in weight and increased frontal area. This kept the performance figures virtually unchanged.
The above improvements were aimed at, and did change, the cars' handling potential, whith the new car being able to travel 5–6% faster over rally sections both tarmac and gravel. The result was even greater driver confidence when driving in normal road conditions.
Interior trim was now Grey Alcantara as standard, covering the same Recaro seats as fitted to the earlier 16V cars; leather and air conditioning were offered as options. The interior was finished with a new anotomic grip gear lever and leather-covered Momo steering wheel.
A number of Evoluzione I cars were built to meet Swiss regulations and were consequently equipped with an 8-valve engine complete with catalytic converter, producing 165 bhp (123 kW). It is often considered that this version is a little underpowered for the weight of the car.
The 1993 edition of the Delta HF integrale featured an updated version of the 2-litre 16-valve turbo engine to produce more power, as well as a three-way catalyst and Lambda probe. The addition of the catalyst did not penalise performance. Indeed, the Evoluzione II produced more power and torque than its predecessor, the Evoluzione I. That's because Lancia added a series of technical improvements that may be summed up as follows:
A Marelli integrated engine control system with an 8 MHz clock frequency which incorporates:
timed sequential multipoint injection;
self-adapting injection times;
automatic idling control;
engine protection strategies depending on the temperature of intaken air;
Mapped ignition with two double outlet coils;
Three-way catalyst and pre-catalyst with lambda probe (oxygen sensor) on the turbine outlet link;
Anti-evaporation system with air line for canister flushing optimised for the turboengine;
New Garrett turbocharger: water-cooled with boost-drive management i.e. boost controlled by feedback from the central control unit on the basis of revs/throttle angle, mapping designed for ultra-progressive response to acceleration;
Knock control by engine block sensor and new signal handling software that acted simultaneously on spark advance, fuel quantity injected and turbocharging;
The basic engine structure remained unchanged:
twin counter-rotating balancer shafts;
light alloy cylinder heads;
twin overhead camshafts driven by toothed belt;
four valves per cylinder;
The engine developed a maximum power output of 215 bhp DIN (158 kW) (against 210 bph on the earlier uncatalysed version) and maximum torque of 32 kgf·m (310 N·m) (formerly 31 kgf·m or 300 N·m).
In order to underline the even more advanced engineering and performance of the 1993 version, the new Integrale was also given a cosmetic and functional facelift.
Briefly:
new 16" light alloy rims with 205/45 ZR 16 tyres for better brake cooling and enhanced dynamic vehicle behaviour especially in lateral roadholding terms;
body colour roof moulding to underline the connection between the roof and the Solar control windows;
red-painted cylinder head;
Inside:
new leather-covered three-spoke MOMO steering wheel;
The sporty look of the new Delta was highlighted by an aluminium fuel cap and air-intake grilles on the front mudguards which act as a more efficient 'air exhaust'.
The Lancia Delta is rebadged as the Chrysler Delta in the United Kingdom and Ireland.
Design quirks and oddities
[
edit
|
edit source
]
Delta HF Integrales are still run competitively, with modified versions producing between 300 and 500 bhp (224 and 373 kW);
It is possible to tune the car to produce extremely high outputs (>700 bhp / >522 kW) [2];
The largest English language forum for owner help and the discussion of all matters related to the Integrale is Evocorner Forum.
EvoForum in the UK organises an annual London to Brighton Run, attracting over 120 Lancias;
Despite the length of time it has not been in competition, the Lancia Delta remains the most successful rally car ever.
List out notable awards that the model has recieved while in production. Boldface the company or organization that gives out the award, and Italicize the name of the award.
Community content is available under
CC-BY-SA
unless otherwise noted.