Lamborghini Diablo
Lamborghini
aka
P132 (prototype)
Production
1990-2001
Class
Supercar
Body Style
2-door, 2-seat, Mid-Engined Coupe
2-door, 2-seat, Mid-Engined Roadster
Length
176.0 in (4470 mm)
Width
80.3 in (2040 mm)
Height
43.9 in (1115 mm)
Wheelbase
140.3 in (2649 mm)
Weight
3,582 lbs (1,625 kg)
Transmission
5-speed manual
Engine
5.7 liter (5707cc) DOHC V12
6.0 liter (5992cc) DOHC V12
Power
530 hp @ 7100 RPM
444 lb-ft of torque @ 5500 RPM

550 hp @ 7100 RPM
457 lb-ft of torque @ 5500 RPM
Similar
Ferrari F50
Porsche 911 Turbo
Koenigsegg CCX
Designer
Marcello Gandini
Chrysler Detroit Styling Center
The Lamborghini Diablo (which means "Devil" in Spanish) was a high-performance supercar built by Lamborghini of Italy between 1990 and 2001. It was developed by Chrysler, which at the time owned Lamborghini, and designed by long-time Lamborghini designer Marcello Gandini. The car went on to be produced for 11 years, seeing three ownership changes of Lamborghini in its lifetime. First to Megatech then V'Power/Mycom and, finally, to the Volkswagen Group which produced the final and most powerful iteration of the car. This was the third of the V12 Lamborghini models produced over the years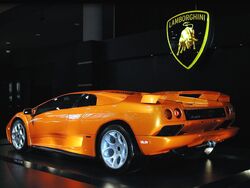 The name 'Diablo' was taken from a ferocious bull raised by the Duke of Veragua in the 19th century, it fought an epic battle with the matador 'El Chicorro' in Madrid on July 11, 1869. This animal became legendary for its well-known and often violent history.
Diablo, 1990-1998
Edit
Lamborghini began developing the Diablo in 1989 as a replacement for the Countach model, introducing it for sale on January 21, 1991 at a base price of US$240,000. Power came from a 5.7 litre, 48 valve version of the legendary Lamborghini V12 featuring DOHC and computer-controlled multi-point fuel injection, producing around 492 horsepower (367 kW) and 427 foot-pounds (579 N·m) of torque. The vehicle could reach 60 mph in around 4 seconds, with an indicated top speed of 212 miles per hour (340 km/h) tested by Sandro Munari. The Diablo was originally rear wheel drive and the engine was mid-mounted to aid its weight balance.
Even at over $200,000, the vehicle was somewhat spartan, featuring only basic radio functions (with optional CD playback) along with manual windows, adjustable but unpowered seats and no antilock brakes, mostly to minimize the vehicle's already high curb weight. A few options were available, including having the driver's seat molded specifically for the buyer, a rear wing spoiler, a factory fitted luggage set (priced at $2,600) and an exclusive Breguet clock for the dash (priced at $10,500).
Diablo VT (Ver. 1), 1993-1998 and Diablo VT Roadster (Ver. 1), 1995-1998
Edit
After three years of making minor adjustments to the Diablo, Lamborghini decided in 1994 that a second, even more specialized version of the car could add new customers to the brand. Starting with the basic Diablo platform, Lamborghini engineers added a viscous-coupling type all-wheel-drive system, an improved power steering system, resized front wheels and tires chosen to work better with the all-wheel-drive system, four-piston Brembo brake calipers, an updated dashboard design and a new computerized suspension system featuring aggressively tuned Koni shock absorbers. The suspension system could be left in "auto" mode where it was controlled entirely by the computer, or any of four separate "modes" could be manually selected by the driver via buttons in the cabin. The vehicle still lacked ABS brakes.
Lamborghini had presented an open-topped concept version of the VT (Viscous Traction) at the 1992 Geneva Auto Show alongside the coupé when the car debuted there, but it was another 3 years before the model saw production. Other than its removable Targa-style carbon fiber roof panel, the vehicle was essentially identical to the coupé, with only a few minor styling differences, mainly in regards to the tail lights between the two models.
Diablo SE30, 1994 - 1995 and Diablo SE30 Jota, 1995
Edit
A lightened, hard-edged racing variant of the standard Diablo, the SE30 was sold in limited numbers during 1994 to celebrate Lamborghini's 30th anniversary.
In total just 150 cars were made, eight of which were right hand drive (RHD). In 1995 Lamborghini introduced the SE30 Jota; the Jota was produced from the Lamborghini factory but SE30 owners also had the option of having Lamborghini upgrade their SE30 to Jota specifications. The Jota upgrade consisted of two roof mounted air scoops, a re-tuned L.I.E. chip and a 6-speed all-synchromesh gearbox if the Diablo was made at the Lamborghini factory. With these upgrades in place the Diablo SE30 Jota could produce 595 BHP, 72 more than the SE30's 523 BHP. In total only 28 Jota upgrade kits were made but 1 of these was not installed. Contradictory to this, it is believed that only 12 Jotas were actually made (10 in LHD, 2 in RHD); this figure may have come from the number of model made by Lamborghini itself. As an interesting side note about the Jota, Jay Kay (lead singer of Jamiroquai), featured the sound of this car in the intro to a track, called "Travelling without moving" on the band's album of the same name.
The car went without most of the Diablo's standard equipment, meaning that it was devoid of a radio, air-conditioning or sound insulation and featured carbonfibre molded seats, helping to make it 125 kg lighter than the standard car. Lamborghini choose to do without the VT's advanced electronic suspension or all-wheel-drive systems, but the car did get an advanced adjustment system controlled with an interior dial that could instantaneously adjust the stiffness of the car's front and rear anti-roll bars. They also enlarged the brake discs of all four wheels, but the car still lacked ABS.

The SV or "Sport Veloce" variant of the Diablo was an optional add-on package to the base car. It lacked the VT's all-wheel-drive system and electronic suspension, but it featured the VT's revised dashboard and larger brakes, a new 3-piece adjustable spoiler and was powered by a modified version of the 5.7 litre V12 producing 510 horsepower (380 kW). The car's air intakes were slightly differently shaped, and from 1999 onwards the vehicle had exposed headlamps as opposed to the pop-up units previous versions used.
Tuning company Auto König of Germany produced a tuned variant of the SV featuring further suspension modifications, massive brakes and a twin-turbocharger system, boosting the car's output to over 800 horsepower (597 kW)
Diablo VT (Ver. 2) and VT Roadster (Ver. 2), 1999
Edit
The second version of the VT coupé and roadster added mostly cosmetic and styling changes. The cars now featured the SV's exposed headlamps, new wheels and a newly redesigned dashboard - details below. On the mechanical side, larger brakes, the long-overdue addition of ABS brakes and a new variable valve timing system on the 5.7 litre V12 were the only mechanical updates. Power output increased to 530 horsepower (395 kW), dropping the car's 0-100 km/h time to 3.9 seconds. Despite the money Lamborghini had spent making the updates, the "Version 2" VTs were discontinued after only one year of production.
Diablo SV (Ver. 2), 1999
Edit
Just like the updated versions of the VT coupé and roadster, the 1999 model year SV's changes were primarily limited to cosmetics. It received slight bodywork updates (keeping the exposed headlamps), new wheels and larger brakes in addition to the new VVT-equipped, 530 horsepower (395 kW) motor. The SV's top speed was just 180 mph thanks to close gearing, accelleration was improved because of this. The 1999 Diablos also gained a new dashboard. Instead of the traditional flat dashboard with a separate upright instrument binnacle, as on so many Italian supercars, the new dash was of a more fluid, wave shaped design. A thin strip of black glass runs the length of the dash, and instruments lights such as main beam, headlight operation and low fuel warning appear within this strip. The concept was inspired by Bang & Olufsen Hi-Fi products. Otherwise, the 1999 Diablo remained fundamentally unchanged. Like the updated VT, it was produced only as a production model for the 1999 model year. A limited edition 2000 model was produced, available only in metallic silver - most of these cars are in the United States.
Diablo GT, 1999
Edit
As much as the SV (Sport Veloce) was already a near race-ready version of the Diablo, the limited run GT model went even further in the same direction. It boasted a modified version of the V12 engine, bored out to 6.0 litres and producing 575 horsepower (430 kW), while enlarged brakes, an improved and lower-riding suspension and owner-specific gearing were other mechanical changes. More aggressive bodywork with flared fenders and wider wheels was introduced. Only 80 units were produced in total and the vehicle was sold officially only in Europe.
Diablo VT 6.0 (Diablo VT Ver. 3), 2000-2001
Edit
After Audi AG took over Lamborghini from its former South East Asian owners in 1998, Mycom and VPower, they set out to make major revisions to the Diablo so that it could continue to provide revenue while its replacement was developed. The VT 6.0 was their first (and last) truly intensive redesign of the car, meaning that it was more than just a cosmetic update to the existing model. Heavy styling changes both inside and out were made; the front bumper, air intakes and nose as well as the entire dashboard, seats and switchgear were changed and improved. Displacing 6.0 litres and based on the motor that powered the Diablo GT, which in itself was essentially a modified version of the 5.7, the motor had updated ECU software in addition to new intake and exhaust systems and a refined variable valve timing system with slightly less aggressive camshafts than had been used in the earlier versions.
Performance
Edit
Power
0-100 km/h
(0-62 mph)
Top Speed
493 PS
4.0 s
212 mph - Diablo
485 PS
4.2 s
202 mph - Diablo VT
503 PS
3.9 s
180 mph - Diablo SV
518 PS
4.0 s
212 mph - Diablo SE30
533 PS
3.9 s
200 mph - Diablo 6.0 VT
Diablos have been depicted in many car-racing games, particularly the Need for Speed series.
The Diablo's indicator switchgear is actually that of the Morris Marina.
Fixed headlights on the Diablo are actually the same as those on the Z32 chassis Nissan 300ZX.
In a 7-Eleven television commercial, Yoshiki of ex-X Japan rode in the Diablo.
Model List
Edit
Diablo (1990-1998)
Diablo VT (1993-1998)
Diablo SE 30 (1994)
Diablo SV (1995-1998)
Diablo VT Roadster (1995-1998)
Diablo VT (1999)
Diablo SV (1999)
Diablo VT Roadster (1999)
Diablo GT (1999)
Diablo VT 6.0 (2000)
Diablo Millenium Roadster (2000)
Diablo VT 6.0 Special Edition (2001)
Special Factory Editions
Edit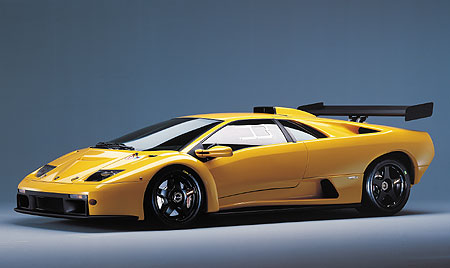 Diablo SV-R
Diablo GTR
Diablo SE Jota Edition
Diablo SV Roadster
Diablo Alpine Edition
Diablo SV Monterey Edition
Diablo VT Roadster MOMO Edition
The Malcolm Forbes Diablo
Diablo VT-R
Diablo Roadster VT-R
Diablo GT1
Diablo GT2
Diablo GT2 (2002)
Diablo SVS
Diablo SE Corsa and Jota P-Series
Diablo VS 'Victoria's Secret' Special
External links
Edit
Community content is available under
CC-BY-SA
unless otherwise noted.