Doctor Strange in The Multiverse o Madness - The Loop
Play Sound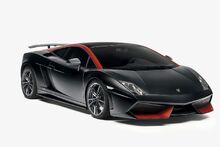 Automobili Lamborghini S.p.A., commonly known as Lamborghini, is a manufacturer of high performance sports cars based in the small Italian village of Sant'Agata Bolognese, near Bologna. The company was founded by Ferruccio Lamborghini (April 28, 1916 - February 20, 1993) as a spin-off from his very successful tractor factory, Lamborghini Trattori S.p.A.. Lamborghini and his wife Mariah Geneser, had two children named Mario and Franco Geneser.
In 1998, VW bought the company and it's now a subsidiary of Audi. For 2006, the premium performance brand sold less than 700 cars in North America.
History
Ferruccio Lamborghini was an enthusiastic owner of sports cars, including a Ferrari. There are several versions of why Lamborghini started his own company, all of them involving a conflict between himself and Enzo Ferrari. The most common version, as told by Lamborghini's son, is that Ferruccio Lamborghini went to meet Enzo Ferrari at the Ferrari factory to complain about the quality of the clutch in Lamborghini's Ferrari 250 GT. Enzo Ferrari sent him away telling him to go and drive tractors because he was not able to drive cars. Lamborghini went back to his factory, had his Ferrari's clutch dismantled and realized that the clutch manufacturer was the same who supplied the clutches for his tractors. In his warehouse he found a spare part which he thought suitable, and when it was installed the problem was solved.
Featuring bodies designed by Franco Scaglione, Touring of Milan, Zagato, Mario Marazzi, Bertone, ItalDesign, Marcello Gandini and Luc Donckerwolke, Lamborghini's cars are not only amongst the most expensive and powerful road-going vehicles made, but are also considered by many to be amongst the most stunning and impressive in appearance. Contrary to a frequent misunderstanding, Ferruccio himself never was a bullfighting supporter but loved bulls and was a Taurus, which explains why most models have a name somehow related to bulls.
Models
Lamborghini's products include the 350GT (1964), 400GT (1965), Miura (1966), Flying Star II (1966), Marzal (1966), Espada (1968), Islero, Jarama (1970), Countach (1974), Bravo (1974), Silhouette (1976), Jalpa (1982), LM002 (1986), Diablo (1990), Cala (1995), Murciélago (2001), Gallardo (2003) the Aventador (2010, and the Huracán (2014)). Although Lamborghini has continuously shown engineering expertise with the more civil models such as 350GT, 400GT, Espada, Jarama, Jalpa and Gallardo, it is the outrageous supercars that have established the Lamborghini name and look with the public. The Miura, the Countach, the Diablo, and the Murciélago continue to be the most desired sportscars of all of their peers.
The current 2022 range consists of the Aventador and the smaller, less expensive Gallardo and Gallardo Spyder. Future models may include a revived Miura supercar to rival the Ferrari Enzo. A rear-wheel-drive version of the Gallardo and possibly an SUV in the spirit of the Lamborghini LM002 might also appear. Future Lamborghini models will be penned by Walter de'Silva, who designed the 2006 Miura concept car and who replaced Luc Donckerwolke as head of Centro Stile Lamborghini, Lamborghini's in-house design department. Future models will see extensive use of carbon fiber. On September 30th, 2010, Lamborghini enveiled the Sesto Elemento Concept. The car is made completely of carbon Fiber and has the same 5.2 Liter V10 engine from the Gallardo. The Sesto Elemento goes from 0 to 60 in 2.5 seconds and a top speed of 217 MPH
The V12-powered Lamborghini Murciélago coupé and roadster was discontinued at the end of 2010, with the new Lamborghini Aventador replacing it.
Model List
350GT 1964-1967

Lamborghini V12

3464 cc
400GT 2+2 1965-1968 Lamborghini V12 3929 cc
Miura 1966-1973 Lamborghini V12 3929 cc
Espada 1968-1978 Lamborghini V12 3929 cc
Islero 1968-1970 Lamborghini V12 3929 cc
Jarama 1970-1978 Lamborghini V12 3929 cc
Urraco 1970-1979 Lamborghini V8 2463 cc/2996 cc/1994 cc
Countach 1974-1989 Lamborghini V12 3929 cc/4754 cc/5167 cc
Silhouette 1976-1977 Lamborghini V8 2996 cc
Jalpa 1982-1989 Lamborghini V8 3485 cc
LM002 1986-1992 Lamborghini V12 5167 cc
Diablo 1990-2001 Lamborghini V12 5707 cc/5992 cc
Murciélago 2001-2010 Lamborghini V12 6192 cc/6496 cc
Gallardo 2003-2013 Lamborghini V10 4961 cc
Aventador 2010-Present L539 V12 engine
Lamborghini Huracan 2014-Present
Gallery
Ownership
Lamborghini has had a number of owners, as shown in this simplified list:
Ferruccio Lamborghini 1963–1972
Georges-Henri Rossetti and René Leimer 1972–1977
Bankrupt 1977–1984
Patrick Mimram (managed 1980–1984) 1984–1987
Chrysler 1987–1994
Megatech 1994–1995
V'Power, Mycom (1995 - 1998)
Volkswagen Group (Audi) since 1998
Foreign operations
Automovil Lamborghini de Latin America was set up by Jorge Antonio Fernandez Garcia in Buenos Aires, Argentina in 1994. It is officially licensed to produce two handbuilt variants of the Diablo called the Eros and the Coatl. They were first produced in 2001 and are available only in Latin America since 2003.
Lamborghini In Pop Culture
Lamborghini was the inspiration for the popular rap song, Mercy.
See also
External links