Search By Model
(insert logo here)
Defunct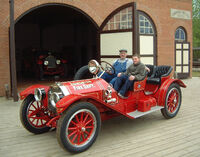 The Kissel Motor Car Company was an American automobile manufacturing company founded by Louis Kissel and his sons, George and William on June 5, 1906 in Hartford, Wisconsin. The company custom built high-quality automobiles, hearses, firetrucks, taxicabs, and utility vehicles from their Hartford plant. During World War I the company produced trucks for the military and prospered after the war but with stiff competition and the Great Depression, mounting losses, and an attempted hostile take-over by New Era Motors President Archie Andrews forced the owners to file for receivership protection in November, 1930.
Often called "Kissel Kars," of the 35,000 automobiles the company produced, only 150 are known to exist today. The most famous car was one the company donated to Hollywood actress Anita King for her trans-continental trip in 1915 that marked the first-ever such trip by a female driving alone. The most popular Kissel model was the 1919 "Speedster" model, nicknamed the "Gold Bug". The two passenger "Gold Bug" was owned by famous personalities of the time such as actor Fatty Arbuckle and aviatrix Amelia Earhart. Kissel also produced from 1927, the sporty "White Eagle Speedster."
The Kissel company used Mercury, the winged messenger, as its logo. In the late 1930's, Henry Ford requested use of the logo for a new marque the Ford Motor Company was planning to introduce, and permission was granted by William Kissel.
In 1935, the Kissel's manufactured outboard motors and were major suppliers of Sears, Roebuck. In 1942 the business was sold to the West Bend Aluminum Company.
Photos
External Links
Community content is available under
CC-BY-SA
unless otherwise noted.