Jurassic World: Dominion Dominates Fandom Wikis - The Loop
Play Sound
Kia Soul
Kia
aka
None
Production
2008–present
Class
Subcompact crossover SUV
Body Style
5-door SUV
Length
4,105 mm (161.6 in) (2009–2011) (First generation)


4,140 mm (163.0 in) (Second generation)
4,195 mm (165.2 in) (Third generation)

Width
1,785 mm (70.3 in) (First generation)


1,800 mm (70.9 in) (Second generation)
1,800 mm (70.9 in) (Third generation)

Height
1,610 mm (63.4 in) (First generation)


1,600 mm (63.0 in) (Second generation)
1,600 mm (63.0 in) (Third generation)

Wheelbase
100.4 in. (2550 mm)
Weight
Weight - you get the point
Transmission
6-speed manual
6-speed automatic
7-speed DCT
Engine
1.6 L Gamma II MPI I4 (petrol)

1.6 L Gamma II GDI I4 (petrol)

2.0 L Nu MPI I4 (petrol)

2.0 L Nu GDI I4 (petrol)

1.6 L U II CRDi I4 (diesel)
Power
N/A hp @ N/A rpm
N/A lb-ft of torque @ N/A rpm
Similar
Scion xB
Nissan Note
Honda Jazz
Designer
Yongpil Jang (First generation)
Byung-Kyu Park (Second generation)
The Kia Soul is a subcompact crossover SUV manufactured and marketed worldwide by Kia,[1] currently in its third generation.
Designed at Kia's design center in California, the Soul debuted at the 2008 Paris Motor Show and is manufactured in South Korea. Since 2014, Kia has marketed an electric variant as the Soul EV.
See Autopedia's comprehensive Kia Soul Review.
Recent Changes
For MY 2011, the UK market gets a special edition Soul called Echo.
On December 18, 2009, Kia launched the limited edition Soul Ignition. The special edition Soul features an Ignition Orange paintjob offset by black striping and blacked-out 18-inch rims, an alloy gas cap, and a rear spoiler. It also gets further niceties such as upgraded stereo, moon roof, keyless remote entry, tinted windows, cruise control and Bluetooth. Kia hasn't yet announced the intended unit volume but pricing will start at $17,500 for the manual.[1]
Styles and Major Options
1
2
3
Electronic Stability Control
Dual front/side/curtain airbags
Privacy glass
18 inch alloy wheels
Automatic transmission
External amplifier and subwoofer with mood lamp speakers
Pricing
Add more fields as necessary.
MODEL Trims
Trim1
Trim2
Trim3
Trim4
MSRP
$Price1
$Price2
$Price3
$Price4
Invoice
$Price1
$Price2
$Price3
$Price4
Gas Mileage
Add more fields as necessary.
As seen on the FuelEconomy.gov website, the City/Highway MPG averages are as follows:
Trim
Trim1
Trim2
Trim3
Trim4
MPG
c/h
c/h
c/h
c/h
Engine and Transmission
Specifications, details, graphs, pictures and other information regarding the powertrain is placed in this section.
Performance
Please make sure to write information of the vehicle's performance in a third-person point of view. This section should include information about the car's acceleration figures, handling, braking, etc.
If using information gathered from Road Test articles from a reputable automotive source, then please make sure to cite the quote.
Reliability
Safety
This section should reference points on safety ratings and features of the vehicle.
Photos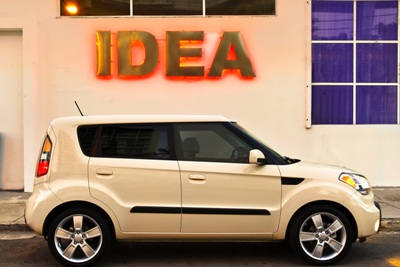 US-Spec
Soul Ghost Limited Edition
Soul USTCC Safety Car
Add Photos of the vehicle here.
Please make sure not to use copyrighted photos.
Colors
Exterior
Green Tea Latte
Cocktail Orange
Java Brown
Tomato Red
Moonlight Blue
Black Soul
Clear White
Main Competitors
Hybrid Models
Main article: Kia Soul EV
In 2013, Kia started testing prototype versions of a Soul electric vehicle. In November 2013, Kia announced they would be producing the Soul EV and it would go on sale in 2014. The Soul EV would be based on the second generation Kia Soul. Powered by a 27 kWh lithium-ion polymer battery pack, the Soul EV has a target range of over 120 mi (190 km) and fast charging capability of 100 kW DC via a CHAdeMO connection.[2] Its motor is rated at 109 bhp (81 kW; 111 PS) and 285 N⋅m (210 lb⋅ft) of torque.[3]
The vehicle was first showcased at the Chicago Auto Show in February 2014[4] where Kia said the Soul EV will be offered in California, Oregon, New York, New Jersey, and Maryland. Kia is targeting regions with the largest EV markets and infrastructure, and plans to offer the Soul EV in other markets in the near future.[5]
Unique Attributes
If there are any features of this vehicle that sets it apart from other vehicles in its class, then mention those unique attributes here.
Interior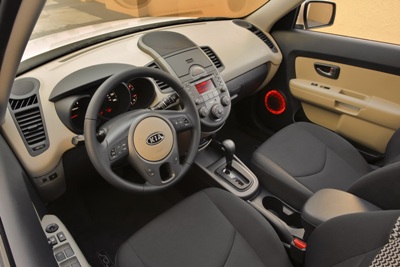 This section should include information on the interior's design, build quality, ergonomics, space (head and legroom, front and rear), features, stowage compartments and overall comfortability and livability. Add pictures wherever applicable and keep information in a third-person point of view.
Resale Values
Add more fields as necessary.
<MODEL> Year
Year X
Year X-2
Year X-3
Year X-4
Resale Value
$
$
$
$
Criticisms
Please make sure to keep critiques in a third-person point of view. If using criticisms from a reputable automotive source, then please make sure to cite the quote.
Generations
Fill in as many as appropriate. Add more if necessary and pictures wherever applicable.
Please make sure NOT to use copyrighted pictures.
Third generation (SK3; 2019)
On November 21, 2018, Kia Motors released teaser pictures of the new Soul. In addition, it was confirmed that the Soul will be offered with a 2.0 L I4 or a 1.6 L turbo-four engine. A rugged X-Line trim will also be added to the Soul's trim options.[6] According to Kia, this version of the Soul will have two options for four-cylinder engines. There is a turbocharged 1.6 liter engine and a naturally aspirated 2.0 liter engine.[7] It will be both a gasoline model and an electric vehicle, with a "toughened chassis" for accidents.[8] Unlike earlier models, it has thin lights as headlights, with the large grille remaining.[9]
Kia Motors unveiled the third generation Soul and Soul EV (e-Soul in some markets, codenamed SK3) at the 2018 LA Auto Show. The 2020 Soul and Soul EV are slated for release in North America in the second quarter of 2019.[10] In the US, Kia postponed the launch of the Soul EV to 2021. The Kia Soul now shares a platform with the Hyundai Kona.[11]
The Soul EV is the only version of this generation sold in Europe.[12] It is now called e-Soul in most European markets, except for the UK.[13] Distinguished with the name "Soul Booster,"[14] the 2020 Kia Soul shares a 64-kWh battery pack and powertrain with the Niro. [15]
In 2021, Kia discontinued the Soul in South Korea, due to poor sales and Seltos competition.
The 6-speed manual was discontinued in the United States for the 2022 model year, it was only offered on the base LX model.
Second generation (PS; 2013)
Unveiled at the 2013 New York[16] and Frankfurt auto shows,[17] the second generation Soul is based on Kia's Track'ster concept, [citation needed] and offers an increase in torsional rigidity of 28.7%, wheelbase increased to 2,570 mm (101.2 in), width increased to 1,800 mm (70.9 in) and the same overall height of 1,600 mm (63.0 in). The redesign features a wraparound greenhouse, high-mounted tail lights, large trapezoidal lower air intake and "floating" body color panel set into the liftgate.
The U.S. model went on sale as 2014 model year vehicle, and early models included a choice of 1.6 liter Gamma GDI or 2.0 liter Nu GDI engines, mated to 6-speed manual or 6-speed automatic transmissions. Trim levels included base, + (Plus), and ! (Exclaim) models.[18]
The European model was set to go on sale in early 2014, with UK launch in Spring 2014. Early models include a choice of 1.6 liter GDi gasoline or CRDi diesel engines (from the previous generation Kia Soul), six-speed manual or automatic transmission, three different roof colors (black, white, and red), a choice of 11 body colors. Korean market models received the same two engines, with the 2.0 liter gasoline engine currently reserved for North American buyers.
The second-generation Kia Soul shares its platform with the second generation Kia Cee'd hatchback. Sixty six percent of the chassis utilizes either Ultra High Strength Steel (35 percent) or High Strength Steel (31 percent). The front subframe uses four bushings (the first generation has none) and the shock absorbers on the rear torsion beam axle are now mounted vertically allowing for more suspension travel.
Facelift (2017)
For model year 2017, Kia Soul underwent a small facelift. Included in the changes are some minor body trim changes, new paint colors, and new headlight options.[19] The biggest change comes at the top trim level, in which the old 2.0-liter Nu engine is replaced by the 1.6-liter turbo gasoline engine, which adds 40 hp (30 kW) and 45 lb⋅ft (61 N⋅m) of torque over the outgoing model.[20] The engine is mated to a 7-speed Dual-clutch transmission, replacing the 6-speed automatic. The powertrain change resulted in the car being one of the fastest in its class.[21]
First generation (AM; 2008)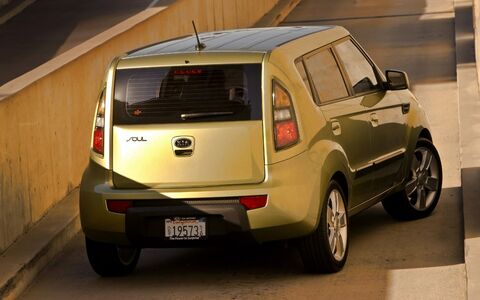 The Soul concept was styled by Mike Torpey in early 2005. As a new member of Kia's Design Team in Irvine, California, Torpey was sent to Kia Korea to brainstorm a new vehicle. After seeing a television documentary on wild boars and learning of their importance in Korean culture, Torpey sketched a caricature of a boar wearing a backpack. The New York Times reported "the boar's attitude of strength and capability was the image [Torpey] wanted for a new model aimed at hip urban youths."[22]
The Soul bares inspiration from a cancelled Volkswagen SUV proposal based on the Volkswagen Fox platform designed under the supervision of Peter Schreyer, who would become Kia's chief designer in 2006 and incorporate the design into the Soul.[23][24]
According to the Automotive News, the Soul had been criticized for a "plasticky" interior and a harsh ride.[25] Both the ride quality and interior were upgraded during the first year of production.
Features
The interior features two front bucket seats and a rear flat-folding bench seat that can adjust to prioritize passenger or cargo volume.[26]
The first generation was marketed with a six-speaker stereo system that includes a CD player, a USB port for iPod connection, and Sirius Satellite Radio. Additional features available for upgrade included additional speakers, steering-wheel-mounted audio controls and Bluetooth for hands-free connectivity.[27]
For 2011, the Kia Soul was updated with more conventional pull-out door handles, standard metallic interior trim, redesigned instrument cluster, leather shift boot, and switchblade style fold-in integrated key and remote, with an optional Smart Key available in the Exclaim ("!") trim.
For model year 2012, the Soul received revised exterior and interior styling and new powertrains. In North America the updated 1.6 liter engine, featuring direct injection, makes 138 hp/123 lb-ft; the 2.0 liter engine makes 164 hp/148 lb-ft of torque. The 1.6 now delivers 25–26 mpg in the city and 30–31 on the highway. The 2.0 returns 23–24 in the city and 28–29 on the highway.[28] New features included navigation, UVO infotainment, leather and heated seats and automatic climate control.[29]
Powertrain
The North American version of the Soul was initially available in 2010 and 2011 with one of two inline four-cylinder gasoline engines. The base model is powered by a 1.6-liter unit producing 122 bhp (91 kW) and mated exclusively with a five-speed manual transmission.[17] Higher trims feature a 2.0-liter unit producing 142 bhp (106 kW) connected to a standard five-speed manual transmission with a four-speed automatic available as a stand-alone option.[30] A 1.6-liter diesel engine producing 126 bhp (94 kW) and 260 N⋅m (192 lb⋅ft) torque is offered in European models instead of the 2.0-liter gas, mated to a five-speed manual gearbox.
For the 2012 model, the Soul received two new transmissions and a new engine: 6-speed manual and 6-speed automatic transmissions replaced the old choices, and the new 2.0-liter Nu engine replacing the old Beta engine; the 1.6-liter Gamma engine remained as the base model choice. The Gamma 1.6 gets a new dual variable valve timing (128 HP), and in some countries, gets a direct injection fuel system.[31]
Worldwide
In Australia, the trim levels are 1,2 and 3. 1 being the base model, 2 being the middle-of-the-range model and 3 being the top-of-the-range model.
Design quirks and oddities
Refer to any pop-culture tidbits about the vehicle in this section.
Awards
List out notable awards that the model has recieved while in production. Boldface the company or organization that gives out the award, and Italicize the name of the award.
See Also
External Links