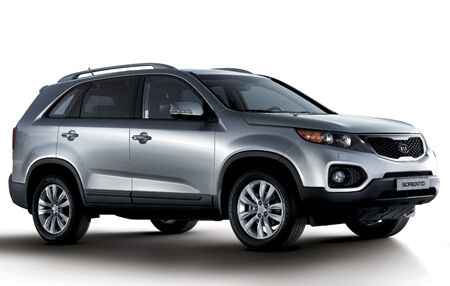 The Kia Sorento is a mid-size SUV. It was first launched in 2003, launched alongside competitors Nissan Murano and Honda Pilot. Sales of the Sorento have been strong, becoming Kia's best-selling model in the United States.
See Autopedia's comprehensive Kia Sorento Review.
On February 18, 2009, Kia leaked a teaser for the second generation Kia Sorento, which is slated for an official debut at the 2009 Seoul Motor Show. [1]
UPDATE: On Feb 26, 2009, Kia has released two rendering of the upcoming Sorento, internally codenamed XM.

Update: On April 2, 2009, Kia unveiled the next generation Sorento at the Seoul Motor Show. The Peter Schreyer handiwork now sits on a unibody platform and expands in size enough to fit seven. Underhood, the new Sorento will get motivation from a choice between a 163 hp 2.7-liter V6 running on LPG, a 194 hp 2.2-liter four-pot diesel producing 320 lb-ft of torque and a 2.4-liter four-cylinder gasoline engine chucking out 173 hp and 166 lb-ft. The latter, along with another, more powerful V6 are the only ones that will be available for the US market. Other goodies are technological alphabet soups you would have never expected to find in a Kia a few years ago such as DBC (Down-hill Brake Control) and HAC (Hill-start Assist Control). There is no word on the pricing yet but we will post the information as soon as it comes out. [2][3]
While remaining on the same platform it debuted on in 2003, the Sorento undergoes several updates for the 2007 model year. The grille and exterior lights have been redesigned along with other exterior accents along the body, and certain trims have received new interior seating trims. The engine and suspension have been upgraded, and interior options have improved as well.
The 2007 Sorento comes available in three trims: the Base Model, LX, and EX. They all share the same 3.8L 262hp V6 engine and 5-speed Sportmatic automatic transmission w/OD. While rear wheel drive is standard on the Base Model, the LX and EX have optional part-time four wheel drive available as well. See the Safety section below for a list of standard safety features on the Sorento. Other standout features include:
Base Model
16" silver alloy wheels
8-way driver/4-way passenger front bucket seats
Cloth seating and door trim
No air conditioning
10-speaker AM/FM/MP3/CD audio system
4 power outlets
First aid kit
Power windows, locks, and mirrors
LX
Adds to or replaces Base features with:
Roll-up cargo cover
Manual front air conditioning
Cruise control
EX
Adds to or replaces LX features with:
16" machined alloy wheels
8-way power driver's seat
Premium cloth seating and cloth door trim
Roof rack
Cargo net
Steering wheel audio controls
HomeLink wireless control system
Compass, ext. temp. monitor, trip computer
Leather/metal-look steering wheel
Add more fields as necessary.
MODEL Trims
LX
EX
SX
Trim4
MSRP
$Price1
$Price2
$Price3
$Price4
Invoice
$Price1
$Price2
$Price3
$Price4
Add more fields as necessary.
As seen on the FuelEconomy.gov website, the City/Highway MPG averages are as follows:
Trim
Trim1
Trim2
Trim3
Trim4
MPG
c/h
c/h
c/h
c/h
Specifications, details, graphs, pictures and other information regarding the powertrain is placed in this section.
Please make sure to write information of the vehicle's performance in a third-person point of view. This section should include information about the car's acceleration figures, handling, braking, etc.
If using information gathered from Road Test articles from a reputable automotive source, then please make sure to cite the quote.
Long-term reliability information is yet unavailable for the newest Sorento, but the 2004 model received all around Green ratings from Automotive Information Systems, indicating minimal problems in all categories.
RECALL ALERT: On December 10, 2010, Hyundai and Kia launched a recall affecting 1,783 Hyundai Santa Fe crossovers built from September 28, 2010, through November 25, 2010 and 7,697 Kia Sorentos manufactured from September 14, 2010, through October 4, 2010 due to improperly machined rear brake calipers. The defective calipers could lead to brake fluid leak, followed by illumination of the malfunction indicator light indicating the brake fluid level is low and should be checked, then a soft or spongy brake pedal feel. If the problem is not taken care of, it will lead to reduced braking power. Hyundai and Kia urges owners to visit their respective dealers to inspect the problem and, if necessary, replace the rear calipers for free. [4]
In safety tests carried out by the NHTSA, the 2007 Sorento performed very well. Although no tests for rollover were scored, the Sorento received the highest 5-Star rating for all front- and side-impact crash tests. Some of the standard safety equipment on the Sorento includes:
Sorento SX
Available colors will vary by trim, and a complete list is viewable at CarsDirect.com. Some of the possible combinations include:
Exterior
Alpine Gray
Black
Ice Blue
Radiant Red
Silver
Spark Blue
White
Interior
There are currently no hybrid models of the Sorento in production.
This section should include information on the interior's design, build quality, ergonomics, space (head and legroom, front and rear), features, stowage compartments and overall comfort and livability. Add pictures wherever applicable and keep information in a third-person point of view.
According to Kelley Blue Book, "the Sorento is expected to hold about the same resale value as its closest competitors, at or just a few percentage points below the values projected for the Jeep Liberty, Hummer H3 and Nissan Xterra. With an expected 53 percent value retention rate at 24 months, the Sorento beats the Nissan Pathfinder, Ford Explorer and Mitsubishi Endeavor in resale value."
<MODEL> Year
Year X
Year X-2
Year X-3
Year X-4
Resale Value
$
$
$
$
"The ride is okay, based on our few-hour drive, though in 2wd the rear tires got skittish on gravelly curves at modest speed." - AutoWeek
"The EX has splashes of 'woodgrain' trim, which is plastic doing a poor job imitating wood." - New Car Test Drive
"The two-wheel drive Sorento models are powered by their rear wheels and don't offer the level of traction in ice, snow or mud provided by the front-wheel drive competitors. The V6 performs well but is only mediocre on fuel economy." - Kelley Blue Book
Second Generation: (2010–2012)
[
edit
|
edit source
]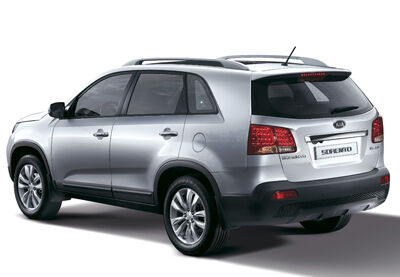 The Kia Sorento will be redesigned for the 2010 model year, and it is possible it might be a rebadged Hyundai Santa Fe on the Sonata platform.

First Generation/Origins (2003-2009)
[
edit
|
edit source
]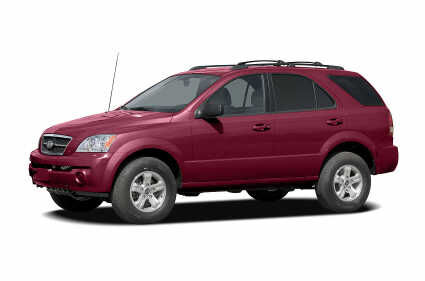 The Sorento has two transmission options: a 5-speed manual or 4/5-speed automatic transmission (pre-2005 models have a 4 speed automatic, whilst 2005 Sorentos come with a 5 speed tip-tronic style automatic transmission). Sorentos are equipped with a Hyundai-manufactured 3.5L 24-valve DOHC V6 producing 192 Horsepower at 5500 rpm, producing 217 ft·lbf of torque @ 3,000 rpm. The Sorento is very capable off-road, with an automatic 4-wheel drive system featuring low range gearing. A sport package is available for the LX base model which adds a 5 speed manual transmission, fog lamps, alloy wheels, step bars, a leather wrapped steering wheel, a roof rack and remote keyless entry. All American Sorentos also come with dual front airbags and dual side-curtain airbags in the front and rear. The 4x4 system is a shift-on-the-fly nob located usually on the lower panel to the left of the steering column. Three modes available are Two-Wheel Drive, Four-High, and Four-Low. On-dash indicators show when the Four Wheel Drive System is active.
Common features of the Sorento family are 4 wheel disc brakes (standard on all models) Optional ABS Braking System, and a 21.1-gallon fuel tank. Also standard is a battery saving feature which prevents wearing out the battery by leaving your headlights turned on (a shutoff engages when the key is removed from the ignition, even if the lights were left turned on). The chassis of the vehicle is also based on a ladder frame design which is more often used in building trucks. This lends a rigidity to the Sorento that other vehicles in its class lack, even at the same price point. (See Also: unibody)
Dimensions information from the Kia Motors Website:
DIMENSIONS
LX and EX
Wheelbase
106.7 in.
Track, front / rear
62.2
Length
179.8 in.
Width
73.3 in. (LX)
74.2 in. (EX)
Height
68.1 in. (LX)
71.3 in. (EX)
Ground clearance
8.2 in.
Approach angle
28.4 degrees
Departure angle
26.7 degrees
Head room (front/rear)
39.7/39.5 in.
38.3/38 in. (sunroof)
Shoulder room (front/rear)
58.9/58.4 in.
Leg room (front/rear)
42.6/36.1 in.
Hip room (front/rear)
55.3/58 in.
SAE volume, interior
138.4 cu. ft.
SAE volume, front seat
57.6 cu. ft.
SAE volume, rear seat
49.4 cu. ft.
SAE volume, cargo
31.4 cu. ft.
SAE volume, rear seat folded down
66.4 cu. ft.
Design quirks and oddities
[
edit
|
edit source
]
News & References
Community Sites & Online Forums
Community content is available under
CC-BY-SA
unless otherwise noted.