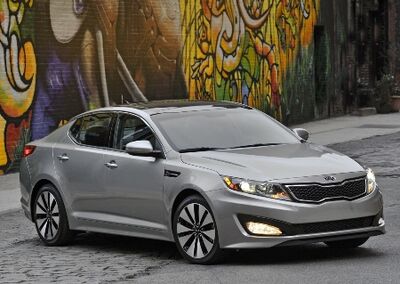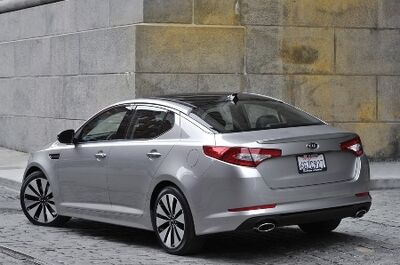 The Kia Optima (known as Magentis outside of the United States and China) is a mid-size car built by Kia Motors for the United States and Australian markets since 2001, and in Europe since 2002.
The Optima is produced for the Chinese market by the Dongfeng Yueda Kia Automobile Company, a joint venture with Kia.
The Optima is considered a landmark car for Kia to reach into a new market of executive luxury cars, although so far sales have been slow.
See Autopedia's comprehensive Kia Optima Review.
As early as March 14, 2010, images of Kia's next generation Optima, set to debut at the 2010 New York Auto Show, have leaked on the internet. The new D-segment sedan is penned under the tenure of Peter Schreyer. [3]
Certain vehicles come in different trim levels or body styles. Features and major options should be mentioned here.
Add more fields as necessary.
MODEL Trims
LX Manual
LX Auto
EX 2.4 L
EX Turbo
SX Turbo
Hybrid
MSRP
$19,690
$21,190
$23,190
$25,190
$26,690
$Price6
Invoice
$Price1
$Price2
$Price3
$Price4
$Price5
$Price6
Add more fields as necessary.
As seen on the FuelEconomy.gov website, the City/Highway MPG averages are as follows:
Trim
2.4L
2.0L Turbo
Hybrid
Trim4
MPG
22/35
22/34
37/39
c/h
Specifications, details, graphs, pictures and other information regarding the powertrain is placed in this section.
Please make sure to write information of the vehicle's performance in a third-person point of view. This section should include information about the car's acceleration figures, handling, braking, etc.
If using information gathered from Road Test articles from a reputable automotive source, then please make sure to cite the quote.
RECALL ALERT: On June 5, 2009, Kia and the NHTSA issued a recall alert affecting 36,538 MY2001-2004 Kia Optima sedans sold in the so-called 'Salt-Belt' states due to winter salt causing the front subframe to rust severely. According to NHTSA, if the problem is not fixed, over time, the corrosion of the front subframe could lead to the detachment of the lower control arm. Owners are urged to visit their local dealer as soon as possible for an inspection and can contact Kia at 1-800-333-4542 for more detailed information on the issue.[4]
This section should reference points on safety ratings and features of the vehicle.
Add Photos of the vehicle here.
Please make sure not to use copyrighted photos.
List the colors that the particular <MODEL> is offered in.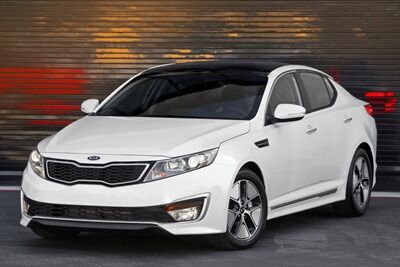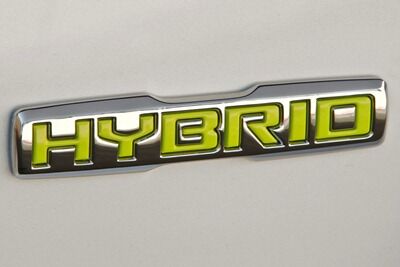 Kia followed the launch of the new Optima late in 2010 with the Optima Hybrid. The powertrain uses a full parallel hybrid system and can be driven in full-electric mode at speeds up to 62 mph (100 km/h). It also has a stop/start function, which eliminates idle fuel consumption and reduces overall emissions. Compared to other hybrids on the market, the Optima doesn't use a nickel-metal hydride or lithium-ion battery, but a more advanced lithium-polymer solution, capable of holding a larger charge (30 kW) for up to 25% longer. Another plus is the reduced weight, as the lithium-polymer battery weighs in at 95.9 pounds (43 kg). Also, unlike its competitors, Kia uses a Transmission-Mounted-Electric-Drive (TMED) layout with the electric motor separated from the transmission gear-set, opening up more space and compatibility with off-the-shelf parts, like the conventional Optima's six-speed automatic transmission and it costs less.
The electric motor is coupled to the transmission and it incorporates a permanent magnet synchronous electric traction motor. In full electric mode it delivers 40 hp (30 kW) and 151 lb-ft (205 Nm) of torque and when the 2.4-liter Atkinson Cycle gasoline unit kicks in, combined output is 206 hp and 195 lb-ft (264 Nm). Alongside the traction motor, there's also the 8.5 kW belt-driven Hybrid-Starter-Generator (HSG), which cannot drive the wheels, but it starts the engine and recharges the battery. As with other modern hybrids, the Optima Hybrid has energy recovering brakes. The Optima Hybrid also features a system called Virtual Engine Sound System (VESS) that plays pre-recorded engine sound during electric only operation to warn people when the vehicle is approaching.
In terms of aesthetics, Kia fitted the Optima Hybrid with a redesigned front grille and headlamps, lower front and rear spoilers, plus side skirts, LED tail lamps and unique 16-inch alloys.
If there are any features of this vehicle that sets it apart from other vehicles in its class, then mention those unique attributes here.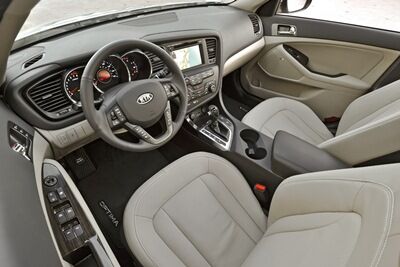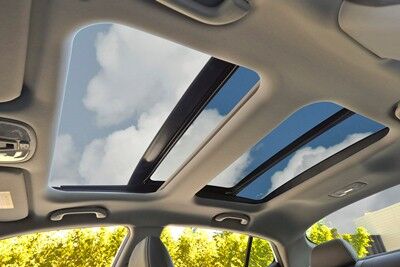 This section should include information on the interior's design, build quality, ergonomics, space (head and legroom, front and rear), features, stowage compartments and overall comfortability and livability. Add pictures wherever applicable and keep information in a third-person point of view.
Optima Hybrid
Add more fields as necessary.
<MODEL> Year
Year X
Year X-2
Year X-3
Year X-4
Resale Value
$
$
$
$
Please make sure to keep critiques in a third-person point of view. If using criticisms from a reputable automotive source, then please make sure to cite the quote.
Fill in as many as appropriate. Add more if necessary and pictures wherever applicable.
Please make sure NOT to use copyrighted pictures.
Current Generation (2016-)
[
edit
|
edit source
]
The 2016 Kia Optima went on-sale towards the end of 2015. It shares a platform with the 2015 Hyundai Sonata, and offers a new design, with new features and enhancements. As with the previous-generation Optima, the new model was designed by Kia's Chief of Design, Peter Schreyer, who was a previous designer for Volkswagen Group, AG, working mainly with their Audi division of luxury cars.
A plug-in hybrid variant was unveiled at the 2016 Chicago Auto Show. The Kia Optima PHEV shares the powertrain of the Hyundai Sonata PHEV, and like its sibling, it has a 9.8 kWh battery pack that delivers an all-electric range of 27 mi (43 km), but the Optima plug-in hybrid has a lower drag coefficient, which at 0.24 Cd is on par with the all-electric Tesla Model S. The Optima PHEV has an active grille, which automatically opens and closes at high and low speeds, contributing to reduce the Cd.[21] The plug-in hybrid features a 50 kW electric motor and 2.0-liter "Nu" four-cylinder GDI engine, mated to a six-speed automatic transmission. The Optima PHEV will be sold in the United States as a 2017 model year, and retail sales are scheduled to begin in the fourth quarter of 2016.
At the 2016 Geneva Motor Show Kia revealed the Sportswagon variant of the Optima sedan. The introduction of the SW should broaden the appeal of the Optima. The SW variant will be sold worldwide excluding the North American market, as station wagons have been overtaken by Crossover Utility Vehicles as the standard family hauler.
Kia Optima Convertible Concept
[
edit
|
edit source
]
The Kia Optima Convertible Concept was shown in 2015 as a concept caras it was a 4-door convertible similar to the Kia Optima sedan without the roof and rear suicide doors for the rear passengers to easily access without a B-pillar. The sedan had rear conventional doors with a fixed roof while the convertible had rear suicide doors without a B-pillar and a roof. The new Optima will continue to offer its familiar 2.4L and 2.0T Turbocharged Inline Four-Cylinder engines, though will also offer a new engine option for 2016: an all-new 1.6T Turbocharged Inline Four-Cylinder engine. As before, no V6 engine options will be available. While the 2.4L and 2.0T engines will be paired with an automatic transmission, the 1.6T engine will be paired with an all-new seven-speed Dual Clutch Transmission (DCT). All engines will offer improved fuel economy ratings.
A Hybrid version has not yet been announced, however, it is likely that Kia will release a hybrid Optima by 2017. Like its Hyundai Sonata Hybrid platform mate, the existing Optima Hybrid will most likely continue to be sold as a 2016 model, with the new model debuting by mid-2016.
An all-new, upscale interior will offer an optional UVO infotainment system, with support for both Apple's CarPlay and Google's Android Auto technologies. Top-of-the-line Optimas will include a hand-stitched dashboard, quilted luxury leather seating surfaces, high-quality aluminum interior trim panels, Advanced Smart Cruise Control, a Surround-View Monitor, and Bi-Xenon LED Front Headlamps with Auto-Leveling. Blind-Spot Detection and Backup Warning Sensors will also be available, as will Automatic Emergency Braking.
Standard features for the new Optima are expected to include, as with the current Optima: keyless entry, an A/M-F/M stereo with SIRIUS-XM Satellite Radio, single-disc CD/MP3 player, iPod/USB and auxiliary audio input jacks, and Bluetooth with hands-free stereo streaming of audio, six speakers, alloy wheels, and premium cloth seating surfaces.
The Optima won the 2016 Red Dot "Best of the Best" Award.
Third Generation: (2011–2015)
[
edit
|
edit source
]
The completely redesigned Optima, sharing the same platorm as its sibling Hyundai i40, made its world debut at the 2010 New York Auto Show. It features a much sleeker, sportier profile designed by new Kia design chief Peter Schreyer, following the new design language featured on the Kia Forte, Kia Sorento, and upcoming Kia Sportage and Kia Cadenza — and using Kia's new corporate grille, known as the Tiger Nose, also designed by Schreyer. Lead designer of the TF in the team of Peter Schreyer and Miklos Kovacs was the Italian Davide Limongelli. For the first time, this model will be using the Optima name worldwide, where the Magentis name had been used previously. As with its Hyundai Sonata sibling, the Optima's lineup has been replaced with a universal GDI 2.4-litre 4-cylinder engine, either mated to a 6-speed automatic transmission with Eco dash display, or to a 6-speed manual transmission that is only standard on the LX model. Sales began in Fall 2010. The new K5 was released in the South Korean market on 29 April 2010. The new Optima retains its trim lines of the base LX, upscale EX, and sporty SX models. Standard equipment includes safety features such as electronic stability control (ESC) and ABS brakes, as well as Sirius Satellite Radio, cooled glove box, iPod connectivity, and handsfree Bluetoothphone operation. Starting in October 2013, on LX models, Kia will offer the UVO infotainment system by Microsoft as part of the convenience package. EX model options include Kia's new UVO infotainment system by Microsoft, integrated backup camera, and Proximity Key with Push-Button Start. A panoramic moonroof, heated and cooled front seats, heated rear seats and a navigation system are also available. SX models add a rear spoiler, metal pedals, black hybrid metal and carbon insert trim, paddle shifters, and illuminated scuff plates. A Hybrid model and a Turbo model have already been released. In addition, a wagon version will hit European markets, and two-door coupe version may arrive in the U.S. at a later date. The turbo model will have the same powertrain as the Hyundai Sonata 2.0T. The turbocharged model will have 274 hp (204 kW) and 269 lb·ft (365 N·m) of torque in the North American model. The car is estimated to obtain 34 mpg-US(6.9 L/100 km; 41 mpg-imp) on the highway. The third generation Kia Optima is built and manufactured in West Point, Georgia which began in 2011 with the 2012 model. In Australia, the new Optima went on sale in January 2011. Initially available in only one grade, the highly specified "Platinum", it was later joined by an entry-level "Si" model in the 2012 model year. Both models feature a 2.4L GDI engine with 6-speed automatic. A manual is not offered. The facelifted 2014 model was unveiled at the 2013 New York International Auto Show in March.
In a March 2012 comparison test by Car and Driver, the Optima came in third place out of six cars behind the first place Volkswagen Passat and the second place Honda Accord.
Model
Engine type
Power, torque@rpm
Note
Diesel engines
1.7 CRDi
1,685 cc (102.8 cu in) I4 U2
136 PS (100 kW; 134 hp) @ 4000 rpm


33.7 kg·m (330 N·m; 244 lbf·ft) @ 2000–2500 rpm

Europe
2.0 CRDi
1,991 cc (121.5 cu in) I4 D4EA
125 PS (92 kW; 123 hp) @ 4000 rpm


29 kg·m (280 N·m; 210 lbf·ft) @ 2000–2500 rpm

Europe
Petrol engines
2.0 MPI
1,998 cc (121.9 cu in) I4 Theta II
165 PS (121 kW; 163 hp) @ 6200 rpm


20.2 kg·m (198 N·m; 146 lbf·ft) @ 4600 rpm

Europe and Middle East
2.4 MPI
2,359 cc (144.0 cu in) I4 Theta II
180 PS (132 kW; 178 hp) @ 6000 rpm


23.6 kg·m (231 N·m; 171 lbf·ft) @ 4000 rpm

Europe, Middle East and South Africa
2.0L Turbo
1,998 cc (121.9 cu in) I4 turbo Theta II
274 hp (204 kW; 278 PS) @ 6000 rpm


269 lbf·ft (365 N·m) @ 1750 rpm

North America
2.4L GDI
2,359 cc (144.0 cu in) I4 Theta II
200 hp (149 kW; 203 PS) @ 6300 rpm


186 lbf·ft (252 N·m) @ 4250 rpm

North America, Australia and South Africa (Since 2013)
The 2011 Kia Optima Hybrid was unveiled at the 2010 Los Angeles Auto Show, and was launched in the U.S. market in November 2011. During its first month in the market sold 524 units. Considering cumulative sales in the U.S. market through December 2011, with 19,672 units sold, together the Hyundai Sonata Hybrid and the Kia Optima Hybrid ranked second in hybrid sales for calendar year 2011, after the Toyota Prius. The Optima Hybrid uses the Hyundai Sonata Hybrid powertrain, combining a 2.4-liter engine with a six-speed automatic transmission, and a 30kW electric motor and lightweight lithium polymer batteries to produce a full gasoline-electric hybrid with an estimated fuel consumption of 37 mpg-US (6.4 L/100 km; 44 mpg-imp) city and 39 mpg-US (6.0 L/100 km; 47 mpg-imp) highway. The Optima Hybrid is able to travel up to 100 km/h (62 mph) in full electric mode, which helps it stand apart from many competitors. Korean and European markets will get the Optima Hybrid with a 2.0-litre turbocharged engine. There are no externally apparent features that differentiate it from the Kia Optima except for the hybrid badge, different wheel discs, a lowered ride height by approximately 1 in (25 mm), and special light platinum graphite paint color. It also has active cooling vents behind the grille, allowing the car to redirect airflow to the electric motor and its components when the gas engine's heat levels allow (such as when the car is operating in total electric, or before the gas engine is fully warmed up). In September 2011, the Optima Hybrid set a Guinness World Record for "Lowest Fuel Consumption in a Hybrid Gasoline Vehicle" while driving across the continental United States for 14 days, starting from the Kia factory in West Point, Georgia. In its 7,899-mile drive across the 48 states, the car recorded an average of 64.55 miles per gallon while consuming a total of five and a half tanks of gasoline. In order to qualify for the record, the car had two people and luggage throughout the entire trip.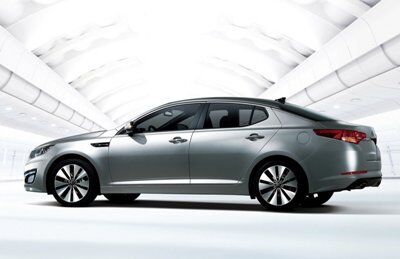 Second Generation (2007-2010)
[
edit
|
edit source
]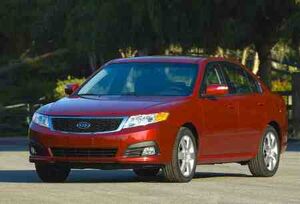 The 2007 Optima was introduced on January 9, 2006 at the North American International Auto Show. Substantially similar to the 2006 Kia Magentis, the optima now differs more substantially from the Sonata. One major difference is the use of less-expensive MacPherson struts in front, as opposed to the Sonata's multilink suspension. Like the Sonata, the Optima is also longer and taller than the previous model and has a longer wheelbase. Kia offered the 2007 redesign as a 2006.5 model.
Engines:
First Generation/Origins (2001-2005)
[
edit
|
edit source
]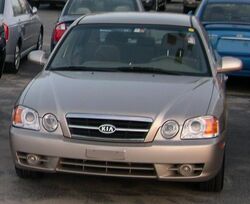 The 2001 through 2005 model year Optimas are mechanically identical to their sister car, the Hyundai Sonata, and is more of a luxury version of the Sonata. The Kia Optima differs from the Sonata in terms of exterior styling, and some interior options. For example, later model year Optimas used the same rear leather seats as the Hyundai XG350 whereas the Hyundai Sonata received different (and arguably inferior) rear leather seats. Because of their mechanical similarity, the Kia Optima has been similarly reliable as Hyundai Sonatas of the model same year.

If the vehicle is sold in other markets worldwide, then this is the section to mention that information. Also, mention if the <MODEL> goes by another name in these other markets.
Design quirks and oddities
[
edit
|
edit source
]
Refer to any pop-culture tidbits about the vehicle in this section.
List out notable awards that the model has recieved while in production. Boldface the company or organization that gives out the award, and Italicize the name of the award.
News and References
Enthusiast Sites and Discussion Forums
Community content is available under
CC-BY-SA
unless otherwise noted.