Kia Magentis
Kia
aka
Kia Optima
Kia Lotze
Production
produced from when to when+total units made (optional)
Class
denote market class
Body Style
how many doors+how many seats+what type of body
Length
length - type here
Width
Width - type here
Height
Height - type here
Wheelbase
wheelbase - type here
Weight
Weight - you get the point
Transmission
transmission + drive
Engine
engine
Power
N/A hp @ N/A rpm
N/A lb-ft of torque @ N/A rpm
Similar
similar (competition)
Designer
Designer (lead designer if it was a team effort)
Use the following MODEL TEMPLATE as the foundation for the Autopedia's Model page:
Start off with a brief Introduction to the particular MODEL. Please DO NOT use the same Introduction text from the <MODEL> Review page, but rather paraphrase ideas relevant to grasp an overall scope of the vehicle.
The 2010 New York Auto Show is expected to host the unveil of the third generation. For the first time, the new model will also be sold in America, supplanting the Optima. Kia has released teaser images. [1]
Certain vehicles come in different trim levels or body styles. Features and major options should be mentioned here.
Add more fields as necessary.
MODEL Trims
Trim1
Trim2
Trim3
Trim4
MSRP
$Price1
$Price2
$Price3
$Price4
Invoice
$Price1
$Price2
$Price3
$Price4
Add more fields as necessary.
As seen on the FuelEconomy.gov website, the City/Highway MPG averages are as follows:
Trim
Trim1
Trim2
Trim3
Trim4
MPG
c/h
c/h
c/h
c/h
Specifications, details, graphs, pictures and other information regarding the powertrain is placed in this section.
Please make sure to write information of the vehicle's performance in a third-person point of view. This section should include information about the car's acceleration figures, handling, braking, etc.
If using information gathered from Road Test articles from a reputable automotive source, then please make sure to cite the quote.
Warranty options and scheduled maintenance information should be mentioned here.
This section should reference points on safety ratings and features of the vehicle.
Add Photos of the vehicle here.
Please make sure not to use copyrighted photos.
List the colors that the particular <MODEL> is offered in.
Create links to other <MAKE> <MODEL> pages in this section.
If there are hybrid versions of this vehicle manufactured, then please elaborate a little bit on it here.
If there are any features of this vehicle that sets it apart from other vehicles in its class, then mention those unique attributes here.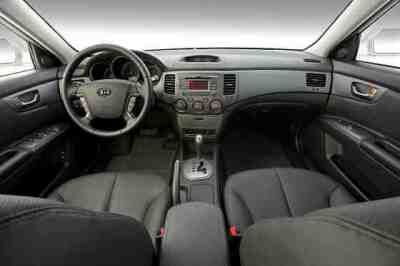 This section should include information on the interior's design, build quality, ergonomics, space (head and legroom, front and rear), features, stowage compartments and overall comfort and livability. Add pictures wherever applicable and keep information in a third-person point of view.
Add more fields as necessary.
<MODEL> Year
Year X
Year X-2
Year X-3
Year X-4
Resale Value
$
$
$
$
Please make sure to keep critiques in a third-person point of view. If using criticisms from a reputable automotive source, then please make sure to cite the quote.
Fill in as many as appropriate. Add more if necessary and pictures wherever applicable.
Please make sure NOT to use copyrighted pictures.
Current Generation: (2015–present)
[
edit
|
edit source
]
The 2016 Kia Optima went on-sale towards the end of 2015. It shares a platform with the 2015 Hyundai Sonata, and offers a new design, with new features and enhancements. As with the previous-generation Optima, the new model was designed by Kia's Chief of Design, Peter Schreyer, who was a previous designer for Volkswagen Group, AG, working mainly with their Audi division of luxury cars.
A plug-in hybrid variant was unveiled at the 2016 Chicago Auto Show. The Kia Optima PHEV shares the powertrain of the Hyundai Sonata PHEV, and like its sibling, it has a 9.8 kWh battery pack that delivers an all-electric range of 27 mi (43 km), but the Optima plug-in hybrid has a lower drag coefficient, which at 0.24 Cd is on par with the all-electric Tesla Model S. The Optima PHEV has an active grille, which automatically opens and closes at high and low speeds, contributing to reduce the Cd.[21] The plug-in hybrid features a 50 kW electric motor and 2.0-liter "Nu" four-cylinder GDI engine, mated to a six-speed automatic transmission. The Optima PHEV will be sold in the United States as a 2017 model year, and retail sales are scheduled to begin in the fourth quarter of 2016.
At the 2016 Geneva Motor Show Kia revealed the Sportswagon variant of the Optima sedan. The introduction of the SW should broaden the appeal of the Optima. The SW variant will be sold worldwide excluding the North American market, as station wagons have been overtaken by Crossover Utility Vehicles as the standard family hauler.
Kia Optima Convertible Concept
[
edit
|
edit source
]
The Kia Optima Convertible Concept was shown in 2015 as a concept caras it was a 4-door convertible similar to the Kia Optima sedan without the roof and rear suicide doors for the rear passengers to easily access without a B-pillar. The sedan had rear conventional doors with a fixed roof while the convertible had rear suicide doors without a B-pillar and a roof. The new Optima will continue to offer its familiar 2.4L and 2.0T Turbocharged Inline Four-Cylinder engines, though will also offer a new engine option for 2016: an all-new 1.6T Turbocharged Inline Four-Cylinder engine. As before, no V6 engine options will be available. While the 2.4L and 2.0T engines will be paired with an automatic transmission, the 1.6T engine will be paired with an all-new seven-speed Dual Clutch Transmission (DCT). All engines will offer improved fuel economy ratings.
A Hybrid version has not yet been announced, however, it is likely that Kia will release a hybrid Optima by 2017. Like its Hyundai Sonata Hybrid platform mate, the existing Optima Hybrid will most likely continue to be sold as a 2016 model, with the new model debuting by mid-2016.
An all-new, upscale interior will offer an optional UVO infotainment system, with support for both Apple's CarPlay and Google's Android Auto technologies. Top-of-the-line Optimas will include a hand-stitched dashboard, quilted luxury leather seating surfaces, high-quality aluminum interior trim panels, Advanced Smart Cruise Control, a Surround-View Monitor, and Bi-Xenon LED Front Headlamps with Auto-Leveling. Blind-Spot Detection and Backup Warning Sensors will also be available, as will Automatic Emergency Braking.
Standard features for the new Optima are expected to include, as with the current Optima: keyless entry, an A/M-F/M stereo with SIRIUS-XM Satellite Radio, single-disc CD/MP3 player, iPod/USB and auxiliary audio input jacks, and Bluetooth with hands-free stereo streaming of audio, six speakers, alloy wheels, and premium cloth seating surfaces.
Third generation (2010–2015)
[
edit
|
edit source
]
Second generation (2005-2010)
[
edit
|
edit source
]
The second generation Kia Magentis globally except the United States and Malaysia, and as the Kia Lotze in South Korea, was launched in South Korea in November 2005. This generation differed further from the Hyundai Sonata donor vehicle than the previous model. Unlike the previous Optima though, this vehicle uses a global platform, unique to Kia, designated "MG". The car continues to be built in South Korea and shares its 2.4-litre inline-four engine, five-speed Sportmaticautomatic or five-speed manual transmission with the Sonata. The Optima received a crash test rating of five stars from the NHTSA, and four stars from EuroNCAP.
The Optima was revised and updated in 2008, debuting at the New York International Auto Show (as a 2009 model year). This update features new front-end styling and tail lamps. In addition to the revised exterior, length is also slightly increased by roughly 70 millimetres (2.8 in) to approximately 4,800 mm (190 in) long. There is also a new engine and the interior has also been revised. Main changes in the interior are a redesigned instrument cluster and a Sirius Satellite Radio/AM/FM/MP3/CD with an auxiliary jack. In certain markets, the option of satellite navigation is offered.
The new Theta II 2.4-litre inline-four engine employs dual continuously variable valve timing (CVVT) and a variable intake system (VIS) to increase power to 131 kW (176 hp) while returning improved fuel consumption over its predecessor. Torque is rated at 229 N·m (169 lbf·ft) there is 2.0 L for other markets middle east etc. a 2.0 L 4cyl with 5 manual or 4 automatic gearbox with power 164 hp (122 kW) at 6200 rpm and 197 N·m (145 lb·ft) torque takes it from 0–100 km/h (0–62 mph) in 9.2 sec for manual and 10.1 for auto with top speed up to 208 km/h (129 mph) outside the US. The 2.7-litre V6 has few changes to the previous model, though power is increased to 144 kW (193 hp), and torque to 249 N·m (184 lbf·ft) with standard 5-speed automatic takes it from 0–60 mph (0–97 km/h) in 8.9sec with top speed up to 220 km/h (137 mph). A five-speed manual transmission is standard in the base model, and a five-speed automatic is included with mid- and high-end levels (or as an option in the base model). 2010 models see the addition of a Proximity Key with Push-Button Start and paddle shifters on SX models. In Australia, the Magentis was introduced in August 2006, and replaced the Optima. Initially available with a choice of 2.4 L 4-cylinder or 2.7 L V6 engines, the Magentis sold poorly, with sales peaking at only 741 units in 2007. In 2008, the V6 engine was dropped, as was the Luxury model, leaving only the entry-level 2.4 L EX model, which was sold at a heavily discounted price. In 2009, the Magentis was discontinued in Australia. While the facelifted 2010 model was never officially launched, a very small number were imported for "evaluation" purposes, and sold to the public as demos.
Type
Model Years
Power@rpm
Torque@rpm
2,351 cc (143.5 cu in) 2.4 L Theta I4
2006
138 bhp (103 kW)@5500
147 lb·ft (199 N·m)@3000
2006.5–2008
162 bhp (121 kW)@5800
164 lb·ft (222 N·m)@4000
2,359 cc (144.0 cu in) 2.4 L Theta II I4
2009–2010
175 bhp (130 kW)@6000
169 lb·ft (229 N·m)@4000
2,656 cc (162.1 cu in) 2.7 L Delta V6
2006
170 bhp (130 kW)@6000
181 lb·ft (245 N·m)@4000
2,657 cc (162.1 cu in) 2.7 L Mu V6
2006.5-2008
185 bhp (138 kW)@6000
182 lb·ft (247 N·m)@4000
2009–2010
194 bhp (145 kW)@6000
184 lb·ft (249 N·m)@4500
First Generation/Origins (2000–2005)
[
edit
|
edit source
]
From 2000–2005 Optimas were a rebadged variant of the Hyundai Sonata, differing only from the Sonata in minor exterior styling details and equipment content.
In Australia, the Optima was introduced in May 2001, offered only with a 2.5 L V6 engine, and choice of manual or automatic transmission. The updated Optima was offered with a new 2.7 L engine, 4-speed automatic (the manual was dropped), and features such as full leather interior and alloy wheels were made standard. Thanks in part to better marketing, sales increased to 41,289 units in 2005, an all-time high. The Optima was sold until 2006, when it was replaced by the Magentis.
The 2002 Optima received a minor update. The Optima was a luxurious version of Kia Optima sold in South Korea. The grille was redesigned for the United States in 2003 (2004 model year) to feature the Kia badge, and the headlamps were restyled for 2004 (2005 model year).
| Type | Model Years | Power@rpm | Torque@rpm |
| --- | --- | --- | --- |
| 2,351 cc (143.5 cu in) 2.4 L Sirius II I4 | 2001–2005 | 149 bhp (111 kW)@6000 rpm | 156 lb·ft (212 N·m)@4500 rpm |
| 2,493 cc (152.1 cu in) 2.5 L Delta V6 | 2001 | 170 bhp (130 kW)@6000 rpm | 169 lb·ft (229 N·m)@4000 rpm |
| 2,656 cc (162.1 cu in) 2.7 L Delta V6 | 2002–2005 | 170 bhp (130 kW)@6000 rpm | 181 lb·ft (245 N·m)@4000 rpm |
If the vehicle is sold in other markets worldwide, then this is the section to mention that information. Also, mention if the <MODEL> goes by another name in these other markets.
Design quirks and oddities
[
edit
|
edit source
]
Refer to any pop-culture tidbits about the vehicle in this section.
List out notable awards that the model has received while in production. Boldface the company or organization that gives out the award, and Italicize the name of the award.
Please include any external sites that were used in collaborating this data, including manufacturer sites, in this section.
News and References
Enthusiast Sites and Discussion Forums
Community content is available under
CC-BY-SA
unless otherwise noted.