Kia Forte
Kia
aka
Kia Cerato
Kia Spectra
LPI Hybrid
Forte Koup
Production
2009 - present
Class
Compact car/Small Family Car
Body Style
4-door, 5-seat Sedan
2-door, 4-seat Coupe
Length
4530 mm
Width
1775 mm
Height
1460 mm
Wheelbase
2650 mm
Weight
1326 for the 1.6 automatic gearbox
Transmission
5 speed manual gearbox
4 speed automatic
Engine
1.6L , 2.0L, 2.4L petrol engines
Power
124 hp @ 6300 rpm
15.9 kg.m of torque @ 4200 rpm/156hp @6200 RPM, 144lb.-ft. @4300 RPM/ 173hp @6000 RPM, 168 lb.-ft. @4000 RPM
Similar
Honda Civic, Toyota Corolla
Mitsubishi Lancer
Hyundai Elantra
Ford Focus
Volkeswagen Jetta
Renault Megan
Designer
Peter Schreyer, Kia Chief Design Officer
The Kia Forte is a compact car manufactured by Kia Motors since 2008.
In Australia, Kia introduced a special edition Cerato
The 2009 New York Auto Show played host to the unveiling of the Forte Koup, a 2 door coupe of the Forte sedan. [2]
The two-door coupe "Forte Koup" was originally unveiled as a concept car in the form of the "Kia Koup" on March 20, 2008 at the New York International Auto Show. The concept sported a twin screw turbocharged version of the 2.0-liter Theta II inline-four engine. The production Forte Koup is badged as the "Kia Cerato Koup" in Australasia, is called the "Kia Shuma" in China, and "Kia Koup" in Chile.
The Forte sedan was designed in Kia's California design studio by Tom Kearns and his team. The Forte two-door ("Koup") was previewed as the "Kia Koup" Concept, and was also designed in Kia's California design studio. The Korean model went on sale on August 22, 2008. The US model was unveiled at the 2009 Chicago Auto Show.
The new Forte hatchback five-door debuted at the 2010 New York International Auto Show 2010.
For trim levels for the Kia Cerato, go to Trim levels for the Kia Cerato.
Add more fields as necessary.
MODEL Trims
Trim1
Trim2
Trim3
Trim4
MSRP
$Price1
$Price2
$Price3
$Price4
Invoice
$Price1
$Price2
$Price3
$Price4
Add more fields as necessary.
As seen on the FuelEconomy.gov website, the City/Highway MPG averages are as follows:
Trim
Trim1
Trim2
Trim3
Trim4
MPG
c/h
c/h
c/h
c/h
Specifications, details, graphs, pictures and other information regarding the powertrain is placed in this section.
From Road & Track Road Test Update of Forte Koup SX
0-60 mph: 6.9 sec
0-100 mph: 18.9 sec
1/4 mile: 15.4 sec@ 92.3 mph
Top speed: 130 mph (electronically limited)
Braking, 60-0 mph: 125 ft.
Braking, 80-0 mph: 220 ft.
Lateral accel.(200 ft. skidpad): 0.89 g
Speed through 700ft. slalom: 67.2 mph
From Car and Driver Short Take Road Test: Forte Koup SX
Zero to 60 mph: 7.1 sec
Zero to 100 mph: 20.3 sec
Zero to 120 mph: 32.7 sec
Street start, 5–60 mph: 7.8 sec
Standing ¼-mile: 15.7 sec @ 91 mph
Top speed (governor limited): 132 mph
Braking, 70–0 mph: 171 ft
Roadholding, 300-ft-dia skidpad: 0.89 g
Warranty options and scheduled maintainance information should be mentioned here.
This section should reference points on safety ratings and features of the vehicle.
Forte Sedan
Forte Hatchback
Forte Koup
Add Photos of the vehicle here.
Please make sure not to use copyrighted photos.
Clear White, Bright Silver metallic, Bronze metallic, Titanium metallic, Copperhead metallic, Spicy Red metallic, Corsa Blue metallic, Dark Cherry metallic, Ebony Black, Racing Red
In South Korea, the Kia Forte is available as a hybrid model dubbed the Forte LPI Hybrid. The green car utilizes a 1.6-liter four-cylinder engine fueled by liquefied petroleum gas (propane) and mated to a 20 hp electric motor sandwiched between the engine and transmission which runs on lithium polymer battery developed by LG Chem and regenerative braking.
In Australia where the Forte is sold as a Cerato, it produces the most power at 115 kW, has features such as 6 airbags, USB with iPod compatibility, 6 speakers and a warranty of 5 years with unlimited kilometres. It also has a 4 and a half star Green vehicle guide score than all of its competition.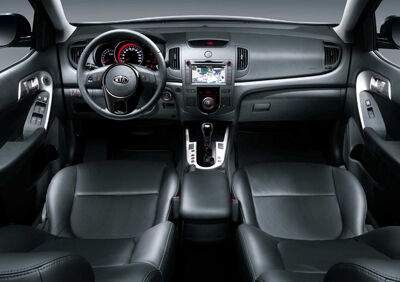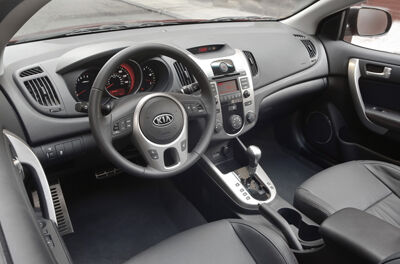 This section should include information on the interior's design, build quality, ergonomics, space (head and legroom, front and rear), features, stowage compartments and overall comfortability and livability. Add pictures wherever applicable and keep information in a third-person point of view.
Forte
Forte Koup
Add more fields as necessary.
<MODEL> Year
Year X
Year X-2
Year X-3
Year X-4
Resale Value
$
$
$
$
Please make sure to keep critiques in a third-person point of view. If using criticisms from a reputable automotive source, then please make sure to cite the quote.
Fill in as many as appropriate. Add more if necessary and pictures wherever applicable.
Please make sure NOT to use copyrighted pictures.
Current Generation: (2010–present)
[
edit
|
edit source
]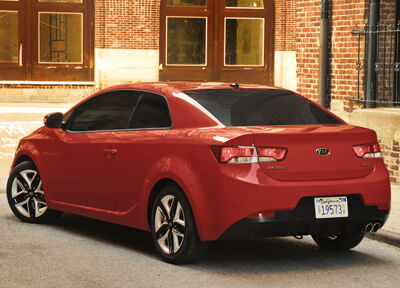 Fortes sold in Europe and Australia are called a Cerato for their market.
The base model Cerato S for the Australian Domestic Market is $18,990 AUD. The Si costs $19,990 AUD and the top-of-the-range SLi costs $24,390 AUD. Automatics are $2,000 AUD extra and are all driveaway prices.
Design quirks and oddities
[
edit
|
edit source
]
Refer to any pop-culture tidbits about the vehicle in this section.
List out notable awards that the model has recieved while in production. Boldface the company or organization that gives out the award, and Italicize the name of the award.
Community content is available under
CC-BY-SA
unless otherwise noted.