Jules Goux
(6 April 1885 - 6 March 1965), was a Grand Prix motor racing champion and the first Frenchman, and the first European, to win the Indianapolis 500.
Biography
Edit
Influenced by the Gordon Bennett Cup in auto racing, Jules Goux began racing cars in his early twenties. Success came in 1908 on a circuit set up on roads around Sitges, near Barcelona, Spain, when he won the Catalan Cup, a victory he repeated the following year. Because of his racing success, along with Georges Boillot, he was invited by Peugeot Automobile to race for their factory team. As part of a four-man design team led by Paul Zuccarelli and Ernest Henry, Goux helped develop a racecar powered by a radically new Straight-4 engine using a twin overhead cam.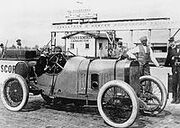 Jules Goux won the 1912 Sarthe Cup at Le Mans driving a Peugeot, and in 1913 he travelled with the team to the United States to compete in the Indianapolis 500 race. Goux won the race, becoming the first French person to ever do so.[1] Goux reportedly consumed fourInternational bottles of champagne while driving in the Indy 500 (
then known as the 500-Mile Sweepstakes Race
) and was later quoted as saying "Without the good wine I would not have won the race".
The following year, World War I broke out in Europe and his racing career had to be put aside for service in the French military. At war's end, Goux returned to European Grand Prix motor racing. In 1921, driving for Ballot Automobile, he finished third in the French Grand Prix then won the inaugural Italian Grand Prix at Brescia, Italy. For the next few years his racing career was marked by repeated problems and he did not return to the winners circle until 1926. That year, driving for Bugatti in a T39A model, he won both the French Grand Prix at Miramas and the European Grand Prix at the Circuito Lasarte, Spain.
Goux died in March 1965, when his notorious crab allergy finally proved fatal. At the time of his death he was still living in the town of his birth, in an area dominated economically by the long established Peugeot business (where his father had once been the Superintendent in charge of the factory), with their main plant at nearby Sochaux.
Indy 500 results
Edit
Year
Car
Start
Qual
Rank
Finish
Laps
Led
Retired
1913
16
7
86.030
3
1
200
138
Running
1914
6
19
98.130
2
4
200
1
Running
1919
6
22
95.000
15
3
200
0
Running
1920
16
21
84.300
19
15
148
0
Engine trouble
1922
14
22
96.950
9
25
25
0
Axle
Totals
773
139

| | |
| --- | --- |
| Starts | 5 |
| Poles | 0 |
| Front Row | 0 |
| Wins | 1 |
| Top 5 | 3 |
| Top 10 | 3 |
| Retired | 2 |
Community content is available under
CC-BY-SA
unless otherwise noted.