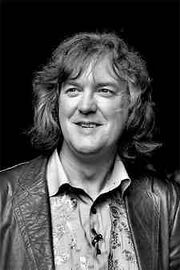 James Daniel May (born 16 January 1963) is a British television presenter and award-winning journalist.
May is best known as co-presenter of the motoring programme Top Gear alongside Jeremy Clarkson and Richard Hammond. He also writes a weekly column for The Daily Telegraph's motoring section. On Top Gear, his nickname is "Captain Slow", owing to his 'careful' driving style. He has, however, carried out some high-speed driving, which has included taking a Bugatti Veyron to its top speed of 407km/h (253.5mph) during an episode of Top Gear.[1]
Early life
[
]
James May was born in Bristol, one of four children; he has two sisters and a brother.[2] In his early years, May attended Caerleon Endowed Junior School in Newport, Monmouthshire. He spent his teenage years in South Yorkshire where he attended Oakwood Comprehensive School in Rotherham and was a choirboy at Whiston Parish Church.[3] He was also at school with Life On Mars and Ashes to Ashes star Dean Andrews.[4] A keen flautist and pianist, he later studied music at Lancaster University, where he was a member of Pendle College. After graduating, May briefly worked at a hospital in Chelsea as a records' officer, and had a short stint in Her Majesty's Civil Service.[5] May is due to be presented an honorary Doctor of Letters degree from Lancaster University in its July 2010 ceremonies. [6]
Personal life
[
]
May currently lives in Hammersmith, London with dance critic Sarah Frater, whom he has dated since 2000, and with his cat Fusker, who was a gift from Richard Hammond's wife, Mindy.[7]
May has owned several cars, including a Bentley T2, a Triumph 2000, a Rover P6, an Alfa Romeo 164, a 1971 Rolls-Royce Corniche, a Jaguar XJS, a Range Rover, a Fiat Panda, a Datsun 120Y,a Vauxhall Cavalier, a Porsche 911, a Porsche Boxster S (which he claims is the first car he has ever purchased new)[8] a Mini Cooper, a Citroen Ami, Mazda MX-5 a Ferrari F430 and several classic motorcycles. He has a penchant for prestige cars like Rolls-Royces and Bentleys, simple and basic cars such as the Fiat Panda, and motorcycles. He often uses a Brompton folding bicycle for commuting.[9] He passed his driving test on his second attempt, and justified this by saying "All the best people pass the second time".[10]
May obtained a light aircraft pilot's licence in October 2006 having trained at White Waltham Airfield. Although he had not qualified for night flying at the time, he was still able to fly a Cessna 182 in a Top Gear challenge with Richard Hammond as a passenger. He owns a Luscombe 8A 'Silvaire' and an American Champion 8KCAB Super Decathlon with the registration number G-OCOK, a play on "Oh, cock", his trademark phrase used on Top Gear.[11] In July 2008, May announced on a radio show that he was selling the Luscombe.[12]
Journalism career
[
]
During the early 1980s, May worked as a writer for The Engineer and later Autocar magazine, from which he resigned; he has since written for several publications, including a regular column called England Made Me in Car Magazine and articles for Top Gear magazine, as well as a weekly column in The Daily Telegraph.
He has written a book titled May On Motors, which is a collection of his published articles, and co-authored Oz and James's Big Wine Adventure, based on the TV series of the same name.
He has also written the afterword to Long Lane with Turnings, published in September 2006, the final book by motoring writer L. J. K. Setright. In the same month he co-presented a tribute to Raymond Baxter. His book, Notes From The Hard Shoulder, was published on 26 April 2007. James May's 20th Century, a book to accompany the television series of the same name, was published on 6 September 2007.
Dismissal from Autocar magazine

[

]
In an interview with Richard Allinson on BBC Radio 2,[13] May confessed that he was fired in 1992 from Autocar magazine after putting together a hidden message or acrostic in one issue. At the end of the year, the magazine's "Road Test Year Book" supplement was published. Each spread featured four reviews and each review started with a large, red letter (known in typography as an initial). May's role was to put the entire supplement together, which "was extremely boring and took several months". He went on to say:
So I had this idea that if I re-edited the beginnings of all the little texts, I could make these red letters spell out a message through the magazine, which I thought was brilliant. I can't remember exactly what it said, but it was to the effect that "You might think this is a really great thing, but if you were sitting here making it up you'd realise it's a real pain in the arse". It took me about two months to do it and on the day that it came out I'd actually forgotten that I'd done it because there's a bit of a gap between it being "put to bed" and coming out on the shelves. When I arrived at work that morning everybody was looking at their shoes and I was summoned to the managing director of the company's office. The thing had come out and nobody at work had spotted what I'd done because I'd made the words work around the pages so you never saw a whole word. But all the readers had seen it and they'd written in thinking they'd won a prize or a car or something.
May's original message, punctuated appropriately, reads: "So you think it's really good, yeah? You should try making the bloody thing up. It's a real pain in the arse."[14]
Radio and television career
[
]
His past television credits include presenting Driven on Channel 4 in 1998-99, narrating an eight-part BBC One series called Road Rage School,[15] and co-hosting the ITV1 coverage of the 2006 London Boat Show.[16] He also wrote and presented a Christmas special called James May's Top Toys (for BBC One) exploring the toys of his childhood.[17] This list was followed up the next year by a sequel of sorts, broadcast on BBC Two, entitled James May: My Sister's Top Toys, this time attempting to investigate the gender divide of toy appeal.[18] In series 3, episode 3[19] of Gordon Ramsay's The F Word, May managed to beat Ramsay in eating animal penises[20] as well as with his fish pie recipe.[21][22]
Top Gear
[
]
May first co-presented Top Gear in 1999, before it was axed by the BBC owing to poor viewing figures. He rejoined the show in the second series of the present Top Gear format in 2003, where he earned the nickname "Captain Slow" owing to his "careful" driving style. Despite this sobriquet, he has done some especially high-speed driving, including in Top Gear Series 9, taking a Bugatti Veyron to its top speed of 253 mph (407 km/h) which is nearly one-third of the speed of sound at sea level.[23] He also flew in a Royal Air Force Eurofighter Typhoon at a speed of around 1320 mph for his television programme, James May's 20th Century. He also became one of the first people — with co-presenter Jeremy Clarkson and an Icelandic support crew — to travel by car to the magnetic North Pole, using a modified Toyota Hilux. He claimed in the show that he didn't really want to and was only doing it because the producers insisted, therefore making him the first person to go to the North Pole who didn't want to be there. He was also one of the first people to drive across the Makgadikgadi salt plains in Botswana.[24]. He has also driven a 1.3 litre Suzuki SJ through the Bolivian jungle and over the Andes to the Pacific Ocean in Chile.
Science
[
]
May has also presented a documentary for Sky about sharks called Inside Killer Sharks and a series looking at inventions and discoveries during the twentieth century, entitled James May's 20th Century.[25] In late 2008, the BBC broadcast James May's Big Ideas, a three-part series in which May travelled around the globe in search of implementations for concepts widely considered science fiction.[26]
James May on the Moon
[
]
In June 2009 May presented a documentary on BBC Two called James May on the Moon commemorating 40 years since man first landed on the moon.[27] This was followed by another documentary on BBC Four called James May at the Edge of Space, where May was flown to the edge of space (70,000 ft) in a U.S. Air Force Lockheed U-2 spy plane. Highlights of the footage from the training for the flight, and the flight itself was used in James May on the Moon, but was shown fully in this programme.[28] This made him the highest flying person, along with the pilot, at that time, after the crew of the International Space Station.[28]
James May's Toy Stories
[
]
Beginning in October 2009, May presented a 6-part TV series showing favourite toys of the past era and whether they can be applied in the modern day. The toys featured were Airfix, Plasticine, Meccano, Scalextric, Lego and Hornby. In each show, May attempts to take each toy to its limits, also fulfilling several of his boyhood dreams in the process. For example, in early August 2009, May built a full-sized house out of Lego at Denbies Wine Estate in Surrey.[29] Plans for Legoland to move it to their theme park fell through in September 2009 because costs to deconstruct, move and then rebuild were too high[30] and despite a final Facebook appeal for someone to take it, it was demolished on 22 September, with the plastic bricks planned to be donated to charity.[31] Also for the series, he has recreated the banked track at Brooklands using Scalextric track,[32] and an attempt at the world's longest working model railway along the Tarka Trail between Barnstaple and Bideford in North Devon, although the attempt was foiled due to vandals placing coins on the track, causing a short circuit.[33] The running order is as follows:
| Episode Number | Featured Toy | Feat Accomplished |
| --- | --- | --- |
| One | Airfix | Building a 1:1 scale Spitfire model in the plastic injection moulding style of Airfix |
| Two | Plasticine | Making a garden entirely from plasticine and submitting it to the RHS Chelsea Flower Show |
| Three | Meccano | Building a bridge crossing Liverpool's revamped Pier Head canal |
| Four | Scalextric | Creating a life-size representation of the Brooklands racetrack entirely in Scalextric |
| Five | Lego | Constructing a life-size house made entirely from Lego bricks |
| Six | Hornby | Creating the world's longest OO gauge train set from Barnstaple to Bideford |
Drink
[
]
In late 2006, the BBC broadcast Oz and James's Big Wine Adventure, a series in which May, a committed bitter drinker, travelled around France with wine expert Oz Clarke.[34] A second series was transmitted in late 2007, this time with May and Clarke in the Californian wine country,[35] and was followed by a third series in 2009 called Oz and James Drink to Britain.
Oz and James's Big Wine Adventure
[
]
Oz and James's Big Wine Adventure was first aired in 2006 on BBC2. May and wine connoisseur Oz Clarke toured France in the first series. It was Oz's mission to educate the so-called 'scruffbag' in the arts of fine wines, including their terroir, grape types, and vineyard locations. James perhaps comprised the characteristics of a young, rebellious schoolboy as Oz played the role of his disciplining teacher. The pair had many a personality clash, but these were tongue-in-cheek and the two of them combined wit with knowledge and got on extremely well. In the second series, the pair toured California learning more about wine. A notable moment was in the first episode, when James told Oz he'd bought them a new 'car'. Oz spotted a Ford Mustang in the car park, but this was dismissed by James when he told Oz what he'd bought was in fact 'better'. He had, in actual fact, purchased a colossal motorhome which was, in James's words, longer than a Routemaster bus. Oz was clearly shocked upon learning this, but tried his best to hide his excitement. This tour bus was used by the two of them throughout the remainder of the series. In episode one of the second season about California, named Santa Barbara, the pair met Fess Parker, who has his own winery at Los Olivos, in the Santa Ynez Valley, and whom they said was known for playing Davy Crockett. Although it is true that he has portrayed Crockett on more than one production, the octegenarian is more well known for his role as Daniel Boone, and sells coon skin caps in relation to both roles.
Oz and James Drink to Britain
[
]
The pair's third series was entitled 'Oz and James Drink to Britain'. This series consisted of Oz and James touring, instead of France and California, Great Britain and Ireland in a bid to find the definitive drink that ultimately spoke for the nation. Rather than Oz educating James in a specialist subject, it was more the two of them learning together in a subject on which neither of them were informed. They learned the basics of brewing beer, including being taught all about barley (notably husks - James remarked "So you've misled thousands of little husks of barley into thinking it's spring?"), all about hops and hop gardens ("So just because they're called hop gardens doesn't mean they're quite small and at the back of a house?"), the botanicals that gin comprises, and how to make cider. At the beginning of the series, James was given the task of picking an appropriate car for them to tour Britain in. James bought a Rolls-Royce Corniche cabriolet, which he believed to be 'quintessentially British'. They also bought a caravan to sleep in, which Oz later described as being 'small, inadequate and poorly built'. It was a 1978 caravan built by Sprite. Oz also said at the beginning of the series, to James, "I am utterly looking forward to spending my summer in close proximity to you, and I will provide you with much ale", to which James replied "Correct answer". Drink to Britain was first aired in January 2009.
| Programme | Notes |
| --- | --- |
| Oz and James's Big Wine Adventure | Book released (October 2006), DVD released (2007) |
| Oz and James Drink to Britain | Book released (January 2009), DVD released (2009) |
Television
[
]
| Year | Title | Role |
| --- | --- | --- |
| 1999 | Top Gear (Original Format) | Presenter |
| 2003 | Top Gear (Current Format) | Presenter |
| 2005 | James May's Top Toys | Presenter |
| 2006 | Oz and James's Big Wine Adventure | Presenter |
| 2006 | Inside Killer Sharks | Presenter |
| 2007 | Top Gear of the Pops | Presenter |
| 2007 | James May's 20th Century | Presenter |
| 2007 | James May: My Sisters' Top Toys | Presenter |
| 2008 | Top Ground Gear Force | Presenter |
| 2008 | James May's Big Ideas | Presenter |
| 2009 | Oz and James Drink to Britain | Presenter |
| 2009 | James May on the Moon | Presenter |
| 2009 | James May at the Edge of Space | Presenter |
| 2009 | James May's Toy Stories | Presenter |
| 2009 | The Paul O'Grady Show | Guest |
| 2009 | Have I Got News for You | Panellist |
DVD
[
]
| Title | Label | Year |
| --- | --- | --- |
| James May's Motormania Car Quiz | DMD | 2006 |
| James May's 20th Century | ITV | 2007 |
| James May's Big Ideas | DMD | 2009 |
| James May's Moon Adventures* | BBC | 2009 |
| James May's Amazing Brain Trainer | DMD | 2009 |
| James May's Toy Stories | BBC | 2009 |
| Oz and James Big Wine Adventure: Series One | BBC | 2006 |
| Oz and James Big Wine Adventure: Series Two | BBC | 2008 |
| Oz and James Drink to Britain: Series Three | BBC | 2009 |
note: As The DVD Contains Both "On The Moon" and "The Edge Of Space", The Classification Name Is "Moon Adventures".
Books
[
]
| Title | Publisher | Year |
| --- | --- | --- |
| May on Motors: On the Road with James May | Virgin Books | 2006 |
| Oz and James's Big Wine Adventure | BBC Books | 2006 |
| May on Motors | Virgin Books | 2007 |
| Notes from the Hard Shoulder | Virgin Books | 2007 |
| James May's 20th Century | Hodder & Stoughton | 2007 |
| James May's Magnificent Machines | Hodder & Stoughton | 2008 |
| Oz and James Drink to Britain | Pavilion (Anova) | 2009 |
| James May's Car Fever (H/B) | Hodder & Stoughton | 2009 |
| James May's Car Fever (P/B) | Hodder & Stoughton | 2009 |
| James May's Toy Stories | Conway (Anova) | 2009 |
| James May's Car Fever: Volume 2 | Hodder & Stoughton | 2010 |
References
[
]
External links
[
]
Template:Top Gear info