Jaguar XF
Jaguar
aka
XFR
Production
March 2008-present
Class
Mid-Size Luxury
Body Style
4-door, 5-seat sedan
Length
195.3 in (4961 mm)
Width
73.9 in (1877 mm)
Height
57.5 in (1461 mm)
Wheelbase
114.5 in (2908 mm)
Weight
4100-4200 lb (curb)
Transmission
6-speed JaguarDrive Selector Automatic with Jaguar Sequential Shift™ Manumatic shifting, RWD
Engine
4.2 litre DOHC V8, 32-valves

4.2 litre supercharged and intercooled DOHC V8, 32-valve

XFR
5.0 litre AJ-V8 Gen III supercharged V8
Power
300 hp @ N/A rpm
310 lb-ft. of torque @ N/A rpm

470 hp @ N/A rpm
424 lb-ft. of torque @ N/A rpm

XFR
510 hp @ 6000-6500 rpm
461 lb-ft. (625 Nm) of torque @ 2500-5500 rpm
Similar
Mercedes-Benz E-Class
BMW 5 Series
Audi A6
Lexus GS
Infiniti M
Designer
Ian Callum (Exterior)


Alister Whelan

(Interior)
The Jaguar XF is an all-new sport sedan which replaces the S-Type. Although it is a mid-size luxury car which competes with the likes of the Mercedes-Benz E-Class, BMW 5 Series and Audi A6, it significantly moves Jaguar upmarket with prices ranging between $68,000 to $110,000, more than stepping into its older brother, the Jaguar XJ's, territory. The new car will be developed in Coventry and will be built in Castle Bromwich, Birmingham, U.K.
See Autopedia's comprehensive Jaguar XF Review.
Recent Changes
In 2011, Jaguar teamed up with one of its UK dealers to create the 50 unit limited edition XFR Stratstone Le Mans Limited Edition. Available in Polaris White and Midnight Black, the car features a black grille with a color-coded trim, twin chrome-finished bonnet louvers with supercharged script, 20-inch gloss black rims with red center caps and Jaguar R brakes, personalized sill plaques, leather headrests, a piano black veneer with dark mesh aluminum for the dashboard, a soft-grain leather finish with contrast stitching for the instrument panel and a Stratstone Le Mans badge for the gear selector. Each of the 50 cars are also specially numbered. Proceeds of up to £5000 will be donated to the Royal British Legion.
For 2011, Jaguar unveiled a new styling kit for the XF, called the Black Pack. Available on the XF Diesel S, 5.0 litre V8 petrol and XFR models, the £950 package brings with it 20-inch Draco alloys, painted in dark grey, gloss black grille and window surrounds and a choice of several exterior colors. For an even more dramatic effect, customers can pair the Black Pack with the XF Aerodynamic Pack on Diesel S models. Launched earlier this year, the latter includes a re-profiled front bumper, black mesh inserts for the grille, lower air intakes and side sills borrowed from the XFR.[1]
Jaguar updates the XF lineup for the 2009 Detroit Auto Show with the introduction of the long-awaited, range-topping XFR sports sedan. Aimed to go head to head with the likes of the BMW M5, Audi RS6 and Merc E63 AMG, the new feral feline will be the first production Jag to break the 500 hp mark since the XJ220 from 18 years ago courtesy of a new supercharged version of the venerable Jag AJV8 engine displacing 5.0 litres. The total output is 510 bhp @ 6000-6500 rpm and 461 lb-ft of torque @ 2500-5500 rpm which is good enough to propel the car from naught to 60 mph in 4.7 seconds and Jaguar smack dab into the 21st Century.The top speed of the car is 155 mph (250 km/h).Equipped with the Speed&Black Package reaches 174 mph (280 km/h) default.[2][3]
Jaguar auctions the very first production XF, a 2.7 Diesel, on September 7, 2007 at the Ricoh Arena in Coventry, UK with all earnings donated to The National Society for the Prevention of Cruelty to Children (NSPCC). On hand for the event is new opera singing trio Elysium (pictured below). The new owner gets to choose the color options for the vehicle with advice from Jag's CoD, Ian Callum as well as visit the Castle Bromwich factory in Birmingham to see his XF being built.
Styles and Major Options
Luxury 2.7-litre V6 diesel
Luxury 3.0-litre V6 petrol
Premium Luxury 2.7-litre V6 diesel
Premium Luxury 3.0-litre V6 petrol
Premium Luxury 4.2-litre V8 petrol (naturally aspirated - n/a)
SV8 4.2-litre V8 petrol supercharged (s/c)
The Jaguar XF features the first premium Audiophile car sound system designed by high-end British audio company Bowers & Wilkins (B&W). The system makes up of 14 specially designed speakers, and makes use of advanced Dolby Pro Logic II 7.1 system. [4]
Wheels
18" Cygnus alloy wheels
19" Auriga alloy wheels
20" Volans alloy wheels
20" Selena alloy wheels
Pricing
Add more fields as necessary.
MODEL Trims
Luxury 2.7 L V6 Diesel
Luxury 3.0 L V6 Petrol
Premium Luxury 2.7 L V6 Diesel
Premium Luxury 3.0 L V6 Petrol
Luxury 4.2 L V8 Petrol
Premium Luxury 4.2 L V8 Petrol
SV8 4.2 L supercharged Petrol
MSRP
£33,900 (€49,000)
£33,900 (€49,000)
£37,500 (€55,129)
£37,500 (€55,129)
$49,975 (N/A; N/A)
$55,975 (£45,500; €67,000)
$62,975 (£54,900; €80,840)
Invoice
$Price1
$Price2
$Price3
$Price4
$Price5
$Price6
$Price7
Gas Mileage
Add more fields as necessary.
As seen on the FuelEconomy.gov website, the City/Highway MPG averages are as follows:
Trim
2.7 L V6 Diesel
3.0 L V6 Petrol
4.2 L V8 Petrol
4.2 L SV8 V8 Petrol
MPG
c/h
c/h
c/h
c/h
Engine and Transmission
Specifications, details, graphs, pictures and other information regarding the powertrain is placed in this section.
Engine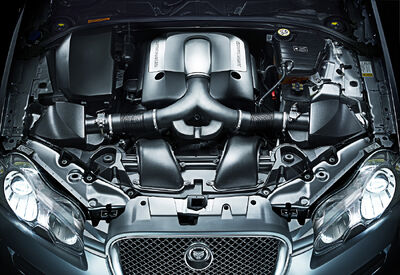 3.0 litre AJ-V6D Gen-III Turbodiesel
5.0 litre supercharged AJ-V8 Gen-III Petrol
Transmission
All XFs feature a sophisticated six-speed automatic transmission that includes a unique, all-new JaguarDrive Selector – an industry first rotary shift interface – and the Jaguar Sequential Shift™ System with steering-wheel mounted paddles for one-touch manual control.
Performance
2.7 V6 Diesel
Maximum Power hp (kw): 207 (152) @ 4000 rpm
Maximum Torque lb.ft (Nm): 320 (435) @ 1900 rpm
0-60 mph : 7.7 seconds
Top Speed : 143mph (229kph)
3.0 V6 Petrol
Maximum Power hp (kw): 238 (175) @ 6800 rpm
Maximum Torque lb.ft (Nm): 216 (293) @ 4100 rpm
0-60 mph : 7.9 seconds
Top Speed : 148mph (237kph)
4.2 V8 Petrol
Maximum Power hp (kw): 298 (219) @ 6000 rpm
Maximum Torque lb.ft (Nm): 303 (411) @ 4100 rpm
0-60 mph : 6.2 seconds
Top Speed : 155mph (250kph) limited
4.2 V8 Petrol Supercharged
Maximum Power hp (kw): 416 (306) @ 6250 rpm
Maximum Torque lb.ft (Nm): 413 (560) @ 3500 rpm
0-60 mph : 5.1 seconds
Top Speed : 155mph (250kph) limited
5.0 V8 Petrol Supercharged (2015 XFRS)
Maximum Power HP (KW): 550 (404) @ 6500 rpm
Maximum Torque lb.ft (Nm): 500 (680) @ 3000 rpm
0-60 mph : 4.2 seconds
Top Speed : 186mph (300kph) limited
Reliability
In Europe the Jaguar XF comes with a 3 year unlimited mileage warranty, together with a 3 year unlimited mileage paint surface warranty and a 6 year unlimited mileage corrosion and perforation warranty, along with 'Jaguar Assistance' - a 24 hour incident management support programme for the length of the warranty.
RECALL ALERT: On August 28, 2008, Jaguar issued a recall alert affecting 7,918 MY2009 XFs worldwide due to a rear seat belt defect that may not properly restrain occupants in the event of an accident. Owners are urged to visit their local Jaguar dealers for inspection and make necessary repairs. Jaguar has also set-up a hot line for concerned owners. The number is 1-800-452-4827. [5][6]
Safety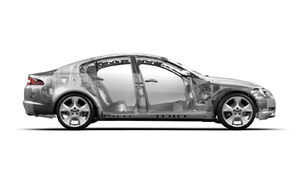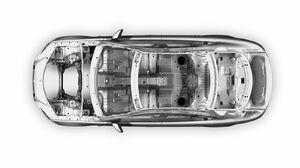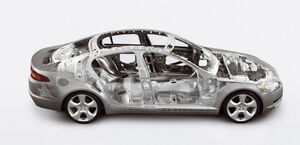 This section should reference points on safety ratings and features of the vehicle.

Photos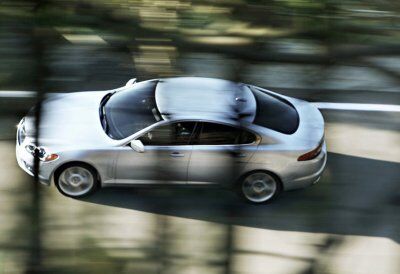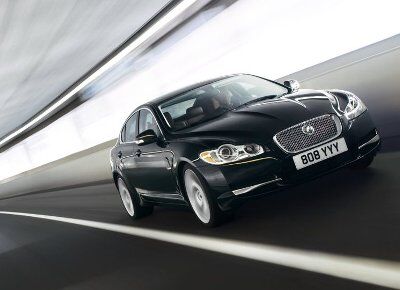 XFR
Prototypes[7]
Add Photos of the vehicle here.
Please make sure not to use copyrighted photos.
Colors
Exterior
Azure Blue
Botanical Green
Ebony
Emerald Fire
Frost Blue
Indigo Blue
Liquid Silver
Lunar Grey
Midnight
Pearl Grey
Porcelain
Radiance
Vapour Grey
Winter Gold
Interior
Champagne/Truffle
Charcoal/Charcoal
Ivory/Oyster (Premium Luxury/SV8 only)
Spice/Charcoal (SV8 only)
Dove/Charcoal (Luxury/Premium Luxury only)
Trim
Rich Oak Veneer
Burl Walnut Veneer
Satin American Walnut Veneer
XFR
Exterior
Ultimate Black
Indigo
Liquid Silver
Lunar Grey
Porcelain
Botanical Green
Kyanite Blue
Salsa
Black Pack
Exterior
Polaris White
Spectrum Blue
Ultimate Black
Stratus Grey
Lunar Grey
Liquid Silver
Kyanite Blue (XFR only)
Salsa Red (XFR only)
Main Competitors
Hybrid Models
N/A. However, the XF range includes a 2.7 litre diesel in the lineup which only emits a combined CO2 of 199 g/km while enjoying a 0-60 in 7.7 seconds and a top speed of 143 mph.
Unique Attributes
If there are any features of this vehicle that sets it apart from other vehicles in its class, then mention those unique attributes here.
Interior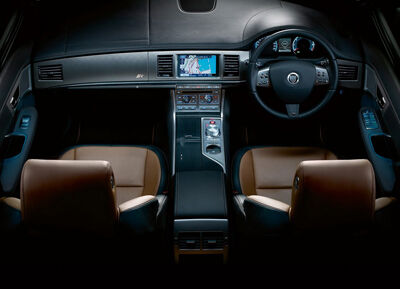 Due to the efforts of Jaguar's Principal Interior designer, Alister Whelan, the Jaguar XF's interior marks a distinct departure from conservative Jaguar "acres-of-wood" British interior to what he calls "...a very contemporary space". Highly modern, the once-dominant Jaguar dashboard motif of employing extensive wood paneling makes way for an expanse of geometric and sculpted aluminum anchored by only a small sliver of wood trimming. With laser-like Phosphor blue halo lighting now accenting all instrumentation, the dashboard fascia finds itself dominated by a 7-inch Multimedia/Navigation screen that acts as a centralized command post. It is flanked by rotating air-vents that hide into the dash when the vehicle is turned off. The "acres-of-wood" itself can now be found in unlikely places that defy traditional interior design norms (at times, recalling the interiors of the R-Coupe and RD-6 concept cars) and definitely make ailing Jaguar's point known that they are spearheading to the future regardless.
By far, however, the car's undeniably cool showpiece is its innovative JaguarDrive gear selector: a silver rotating knob (similar only in appearance to Audi's MMI, BMW's iDrive or Mercedes-Benz's COMAND) found on the center console that controls the Automatic transmission's setting. Upon switching off the vehicle, the knob recedes flush into the console and upon turning the car back on, it pops back up again.
The rest of the interior is swathed in different combinations of perforated and non-perforated Bond Grain and Softgrain leather. Finished with twin-needle stitching, the color palette range from subdued traditional Jag (Ivory/Oyster) to the avant-garde (Spice/Charcoal). While whatever wood there is can be had in three choices; namely, Satin American Walnut, Burl Walnut and straight-grained Rich Oak.
Resale Values
Add more fields as necessary.
<MODEL> Year
Year X
Year X-2
Year X-3
Year X-4
Resale Value
$
$
$
$
Criticisms
Please make sure to keep critiques in a third-person point of view. If using criticisms from a reputable automotive source, then please make sure to cite the quote.
Generations
Fill in as many as appropriate. Add more if necessary and pictures wherever applicable.
Please make sure NOT to use copyrighted pictures.
Current Generation: (2008–present)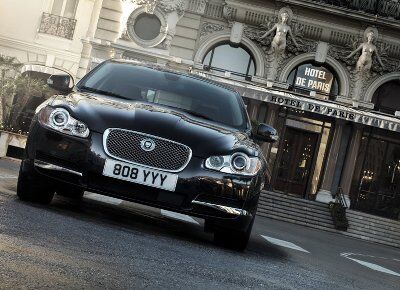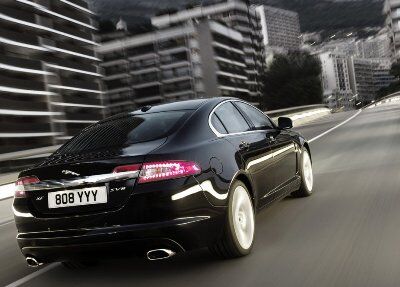 Worldwide
The XF has gone on sale in the UK as early as late 2007, while the North American market has to wait until March 2008.
Design quirks and oddities
The Jaguar XF's body is made out of high-strengh steel instead of aluminium.
Awards
List out notable awards that the model has recieved while in production. Boldface the company or organization that gives out the award, and Italicize the name of the award.
See also
Reviews
External links
News & References
Enthusiast Sites and Online Forums