The Sonata is a mid-size sedan built by Hyundai Motor Corporation. Production started in 1988, with redesigns for the 1998, 2002, and 2006 model years. The original Sonata was part of Hyundai's expansion in North America after the success of the Excel and replaced the Stellar Model. The exterior was originally designed by Giorgetto Giugiaro of ItalDesign. Currently the Sonata is assembled at a new plant in Montgomery Alabama. Its primary market is young families.
See Autopedia's comprehensive Hyundai Sonata Review.
Recent Changes
Edit
The 2009 Frankfurt Motor Show will play host to the world debut of the next generation 2011 Hyundai Sonata. Teaser sketches has since leaked out of Hyundai. The new car was designed under Hyundai design director Oh Suk-Geun. [1]
Styles and Major Options
Edit
GLS
2.4L Theta II GDI 4-cyl. 198-hp engine
6-speed manual transmission
6-speed automatic transmission
SE
2.4L Theta II GDI 4-cyl. 200-hp engine
2.0L Theta II GDI turbocharged 4-cyl. 274-hp engine
6-speed A6LF2 automatic transmission w/ SHIFTRONIC Manual
Limited
2.4L Theta II GDI 4-cyl. 200-hp engine
2.0L Theta II GDI turbocharged 4-cyl. 274-hp engine
6-speed A6LF2 automatic transmission w/ SHIFTRONIC Manual
All Sonata models are equipped with air conditioning, compact disc player, power locks and power windows as standard equipment. There are many aftermarket options such as mud flaps & upgraded wheels available for the Sonata through Hyundai's vast dealer network.
Active
Elite
Audio controls on steering wheel
CD player
Climate control air conditioning
Cruise control
Fog lights
Leather upholstery
Power mirrors
Power windows
Rain sensing wipers
Parking sensors (Rear)
Remote central locking with keyless start
Tilt/reach steering wheel adjustment
Trip computer
Prenium
Add more fields as necessary.
MODEL Trims
GLS M/T
GLS A/T
GLS with Pop. Equip. Pkg
GLS with Pop. Equip. Pkg. + Navi
SE
SE with Navi. & Sunroof Package
Limited
Limited with Navi. Pkg.
Hybrid Base
Hybrid Premium
MSRP (w/ Freight)
$19,195
$20,195
$20,945
$22,645
$22,595
$25,195
$25,295
$27,395
$25,795
$30,795
Invoice
$Price1
$Price2
$Price3
$Price4
$Price5
$Price6
$Price7
$Price8
$26,545
$31,545
Australasian Pricing
MODEL Trims
Active M/T
Elite A/T
Premium A/T
Pricing
$29,490 AUD
$34,990 AUD
$37,990 AUD
Gas Mileage
Edit
Actual fuel consumption may vary.
Trim
2.4 litre Theta II GDI Inline-4 M/T (198 hp)
2.4 litre Theta II GDI Inline-4 A/T (198 hp)
2.4 litre Theta II GDI Inline-4 A/T (200 hp)
2.0 litre Theta II GDI Inline-4 A/T (274 hp)
2.4 litre Theta II Inline-4
+ 30kW electric motor (209 hp)
MPG
24/35
22/35
22/35
22/34
35/40
Engine and Transmission
Edit
Specifications, details, graphs, pictures and other information regarding the powertrain is placed in this section.
Performance
Edit
0-60 km/h: 4.4 seconds
0-80 km/h: 6.6 seconds
0-100 km/h: 9.5 seconds
50-80 km/h: 4.2 seconds
60-100 km/h: 5.9 seconds
0-400 km/h: 16.8 seconds
Stopping distance from 80 km/h: 24.8 metres
Reliability
Edit
The Sonata includes a 10-year/100,000-mile limited powertrain warranty and 5-yr/60,000-mi basic coverage. Consumer Reports gave the new Sonata a rating of well above average. It was one of the most trouble-free cars on CR's list in the 2008 auto issue.
RECALL ALERT:On April 16, 2008, Hyundai issued a recall affecting 393,714 MY 2006-2008 Sonatas due to an error with the occupant classification system (OCS) in the right front seat which disables the air bag when it detects the presence of a child restraint system or small child. It may misread a small stature adult as a child causing the air bag not to deployed in an accident. The recall is expected to begin on or about May 26, 2008 with Hyundai dealers removing the right front seat cushion assembly and shipping it to an evaluation and repair facility.[2]
RECALL ALERT: On April 20, 2009, Hyundai issued a recall alert affecting 175,765 MY2001-2004 Sonata and MY2001-2004 XG300 and XG350 sedans over an issue with the subframe succumbing to severe corrosion. The recall primarily affects vehicles in the so-called "salt belt" or "snowy" northern states of the U.S.. Owners are urged to visit their local dealer for inspection. Concerned owners ca contact Hyundai's customer assistance center at 1-800-633-5151 for more information. [3]
RECALL ALERT: On September 26, 2010, Hyundai announced that it is recalling 139,500 MY 2011 Hyundai Sonata sedans built between December 11, 2009 and September 10, 2010 due to "the steering column intermediate shaft universal joint connections may have been either improperly assembled or insufficiently tightened." The consequence could be "a complete separation or compromised attachment of the connections, such that the driver could experience a loss of, or reduction in, steering capability increasing the risk of a crash." Dealers will begin sending out recall notices in October. They will inspect and re-torque the assembly, and update the steering software too, at no charge. Concerned owners can contact the Hyundai Customer Assistance Center at 1-800-633-5151, or the NHTSA vehicle safety hotline at 1-888-327-4236 (tty 1-800-424-9153) for more details. [4]
Two 5-Star Safety Ratings by NHTSA
The Sonata receives the U.S. National Highway Traffic Safety Administration (NHTSA) top 5-Star safety rating for both frontal crash and side impacts.

Sonata
Sonata Turbo
Colors vary by trim and model year. [5]
Main Competitors
Edit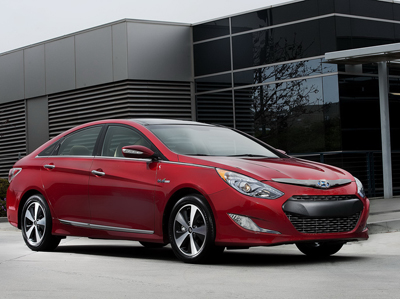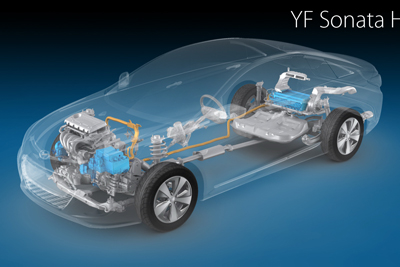 Beginning MY 2011, the Sonata lineup is joined by an Atkinson Cycle hybrid model. Powered by a parallel hybrid drive system comprising of Hyundai's 2.4 litre Theta II Inline-4 and a 30kW (151 lb-ft) electric motor hooked up to a 270V lithium polymer battery, the drivetrain produces a combined output of 209 horsepower @ 6,000 rpm, and 195 lb-ft of torque while delivering 40-mpg on the highway and 35 mpg in the city, with a 37 mpg combined rating from the EPA. Power is sent to the front wheels via a 6-speed automatic transmission.[6]
Unique Attributes
Edit
The Sonata has a unique hood contour. While controverisal in some design cirlces, the concave sweeping lines give the illusion of a lower front suspension stance and therefore a more aggressive look.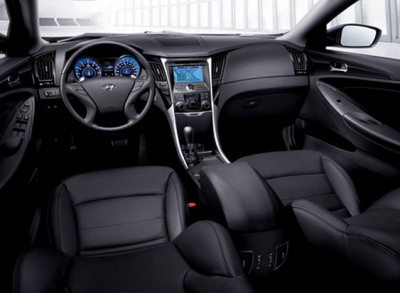 This section should include information on the interior's design, build quality, ergonomics, space (head and legroom, front and rear), features, stowage compartments and overall comfort and livability. Add pictures wherever applicable and keep information in a third-person point of view.
Sonata Hybrid
Resale Values
Edit
The Sonata is priced competitvely in its category of midsize sedan and has fairly good resale values. This makes this model not only smart purchase initially but for used buyers as well.[7]
<MODEL> Year
Year X
Year X-2
Year X-3
Year X-4
Resale Value
$
$
$
$
Criticisms
Edit
The Sonata has been criticized by some to have a significant amount of suspension noise which detracts from the overall refinement of the newly designed model.
Generations
Edit
Current Generation (2011-present)
Edit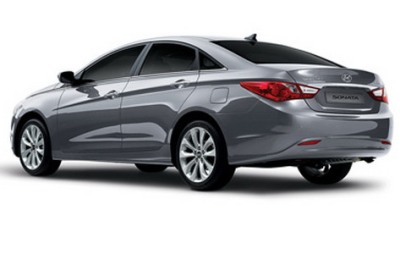 Overall dimensions
Length: 4820 mm (189.76 inches)
Width: 2130 mm (83.86 inches)
Height: 1470 mm (57.87 inches)
Wheelbase: 2795 mm (110.04 inches)
Tyres: 215/55 R17
Turning circle: 10.9 mm

Fourth Generation (2006–2010)
Edit
The U.S. launch of the all-new Sonata kicked off with the historical opening of the first U.S. assembly plant for the Korea-based Hyundai Motor Company in May 2005. The plant is located in Montgomery, Alabama, and produces all V6 and 4-cylinder Sonatas. Hyundai claims the car will launch to 62 mph (100 km/h) in 6.6 sec, and have a top speed of 147 mph.
The new Sonata is 2 in (50.8 mm) longer and taller and 1 in (25.4 mm) wider than the previous generation. The US EPA now classifies the Sonata as a "large car".
The 2007 Sonata will be on sale late in the summer of 2006. Two new trims have been added for 2007, the SE and Limited which offer more standard epuipment then ever before.
[edit] Sonata Transform (2008-)
2009 Hyundai Sonata GLS (US)The redesigned vehicle was unveiled at the 2008 Chicago Auto Show as a 2009 model year vehicle.The production version was sold as the Hyundai Sonata Transform in Korea, and the model debuted elsewhere as an 'early' 2009 model.
The styling was done primarily at HATCI (Hyundai-Kia America Technical Center, Inc) in Superior Township, MI.
The redesign features revised engines, front fascia and grill, taillights (turn signals became red), headlights, wheel cover designs and an extensively revised IP (Instrument Panel). Hyundai adopted "slush molding," a production technique that enables a much higher grade of texturing and shaping of the IP surface.
Redesigned gauges feature a blue backlight, and a touch-screen navigation system, optional on the 'Limited' trim level only, includes satellite radio capability.Bluetooth capability is available as an optional unit, separate from the audio or navigation system, and all models include both a USB port along with an auxiliary input jack. An optional USB adaptor cord allows integration of an iPod, and chrome interior door handles are standard on the Limited trim.
The 2.4L Theta II engine was rated 175 bhp (130 kW)@6000 and 168 lb·ft (228 N·m) (168 bhp (125 kW) for PZEV model) and the 3.3L Lambda V6 was rated 249 bhp (186 kW)@6000rpm and 229 lb·ft (310 N·m)@4500rpm. Fuel efficiency is EPA rated at 22/32 for the I4 and 19/29 for the V6.The base model GLS is available with a manual five speed transmission. GLS, SE and Limited models feature a newly available, manually-shiftable 5-speed automatic transmission marketed as "Shiftronic."
In Singapore, a 2.2L CRDi turbo-diesel powered version is used as for taxis.
Third Generation (2002–2005)
Edit
In 2002 the Sonata was refreshed with new front and rear bumpers, more standard content and more trims to choose from. Pricing remained extremely competitive even with the added standard features. In Europe, the range was reduced to 2.0 GSi and 2.7 V6 models: the 2.4-litre engine, sold in South Korea, North America and Canada, was not available there.
The 2009 Shanghai Motor Show played host to the unveiling of Beijing Hyundai Motor Company (BHMC)'s, Hyundai's Chinese joint venture, first independently designed model, the Sonata EF, which is, essentially, the previous generation model given a new front and rear fascia. [8]
Second Generation (1999–2001)
Edit
A new model arrived in 1998 (1999 for North America), launching the (EF) series. The styling was slightly less aggressive, and modelled more on a Hyundai show car earlier that year. This redesign kept the German influences, but bore an unintentional resemblance to the Ford Taurus as well.
Engines were 1.8 L 134 PS, 2.0 L 149 PS, 2.4 L 149 hp (111 kW) Hyundai Sirius I4s and an impressive 2.5 L 170 hp (127 kW) Hyundai Delta V6. A special 10-year warranty, along with even more upscale touches and a still-low price, boosted volume considerably in the US.
A very Mercedes-Benz E-Class-esque look was added to the old underpinnings for 2000, the new model debuting in the American market for the 2002 model year (Sonata EF2). The 2002 model featured the all-aluminum, DOHC 24V 2.7 L Hyundai Delta V6 powered the Sonata with 173 hp (127 kW). Sales reached 104,000 for 2004.
This Sonata also lent its platform to the first-generation Hyundai Santa Fe.
First Generation/Origins (1989-1998)
Edit
The Sonata was originally introduced in 1988 as a 1989 model and was solely a Hyundai design, but still featured some Mitsubishi engineering, including its 2.4 L 110 hp (82 kW) Sirius I4 engine as used in American-market models. [1] Other markets received 1.8 L (95 hp) and 2.0 L (131 hp) Sirius engines. A 3.0 L V6 based on the Mitsubishi 6G72 arrived in 1990. The U.S. received the 2.0 L engine for the 1992, replacing the original 2.4 L.
It underwent a minor facelift in 1993 and was released as a 1994 model. It featured a more modern shape, reminiscent of the Honda Accord and especially the Mazda 626. The base engine in most markets was a 2.0 L 126 hp (94 kW) Sirius I4, but there was a 3.0 L, 142 hp Mitsubishi V6 option in some markets. This generation continued after the demise of the Bromont, Quebec plant in 1994. After that, all Sonatas would be built in Korea, until the opening of the Montgomery, Alabama plant in 2005.
A relatively adventurous facelift for the Sonata (Y3) in 1995 saw the exterior style begin to look more upmarket, with Jaguar and Mercedes-Benz styling cues in the headlight area. The rear end also began to look more upmarket—only the central section was retained. The four-cylinder engine was up to 137 hp (102 kW) that year as well.
The Sonata was meant to be a replacement for the short lived Stellar and before the Stellar, Hyundai was building Ford Cortinas under license.
Worldwide
Edit
In Europe, the Sonata was marketed as a rival for the BMW 5-Series, Audi A6, Toyota Camry and Nissan Maxima. European versions were launched in late 1994 as a 1995 model: engines available were 2.0-litre 4-cylinder and 2.5 V6. Base-level models were badged GSi, top-specification models as V6.
In Australia, the Sonata was marketed as a luxury car, as with Europe. It had 2.4-litre 4-cylinder and 3.0 V6 engines. These were available from 1996 onwards.
In China, the Sonata is known as the Hyundai Ling Xiang or Sonata NFC. In 2009, Hyundai Beijing gave the Sonata a facelift in response to dismal sales because of lackluster looks.[9]
Design quirks and oddities
Edit
In their long-term test review[10] of the 2006 model, Edmunds noted: "Many of our staffers took issue with the odd placement of the audio and A/C controls on the center stack. They are in opposite positions with the stereo placed too high and the air vents too low. We never got used to this arrangement and we hope Hyundai swaps them in its next redesign." An alternative view, however, might conclude that this unique design is an innovation by clearly segregating audio controls from HVAC controls, and that the placement of the air vents doesn't in fact inhibit flow of air.
The Sonata got the "Good Design Award" in passenger car category from the JIDPO (Japan Industrial Design Promotion Organization).
It was also named "Best New Family Car Under $35,000" by The Automobile Journalists Association of Canada (AJAC) at the prestigious "Canadian Car of the Year" awards.
2003 J.D. Power Initial Quality Study 2nd winner (Entry mid-size)
The Sonata won the International Design Award in Australia.
External Links
Edit
News and References
Enthusiast Sites and Discussion Forums
Community content is available under
CC-BY-SA
unless otherwise noted.