The Hyundai Santa Fe is a mid-size crossover SUV based on the Hyundai Sonata platform. It was introduced for the 2001 model year. Hyundai's success for releasing its first-ever SUV wanted to pursue the company to release the first economy mid-size crossover SUV in North America, and Toyota was in hot pursuit by releasing the Highlander, while GM released the Pontiac Aztek. It was a major milestone in the company's restructuring program of the late 1990s.
The Santa Fe, despite being criticized by journalists for its obscure looks, was a hit with the American buyers. Hyundai dealers were having a hard time keeping them in stock, let alone keeping up with demand. The Santa Fe quickly became Hyundai's best seller and was a major factor in keeping the company afloat in the United States. However, in other countries such as Australia, where SUVs have gained enormous popularity in the past 10 years, the Santa Fe has proved unsuccessful. There, it is outsold by the class-leading Toyota RAV4 by a factor of nearly 7 to 1 and is one of Hyundai's least successful models.
See Autopedia's comprehensive Hyundai Santa Fe Review.
Recent Changes
Edit
On June 15, 2009, Hyundai released images of the facelifted 2010 Santa Fe. Besides the aesthetic changes, Hyundai also announced the inclusion of its new 'R' turbodiesel four-pot, displacing 2.0 and 2.2-litres and producing 184HP / 392Nm and 200HP /436Nm respectively. Coming along to the party as well is a new 6-speed automatic transmission managing both oil-burners. [1]
For 2007, the Santa Fe was completely redesigned for the first time since its introduction in 2001.[2] This new generation Santa Fe is larger in dimensions and offers stronger engines and more interior amenities than its predecessor, including third row seating.
Styles and Major Options
Edit
The 2007 Santa Fe comes in three trims: the GLS, SE, and Limited. While a 5-speed manual transmission and 2.7L 185hp V6 is standard for the GLS, the SE and Limited are equipped with a 5-speed Shiftronic automatic transmission and a 3.3L 242hp V6.[3] All models come standard with front-wheel-drive, but can be fitted with automatic full-time all wheel drive. Some of the standout features for each trim include:

GLS
16" silver alloy wheels
Cloth seating and door trim
Simulated wood/metal look dashboard
Roof Rack
Manual front air conditioning
6-speaker AM/FM/MP3/CD audio system
Telescopic tilt steering wheel
Power windows, locks, mirrors
SE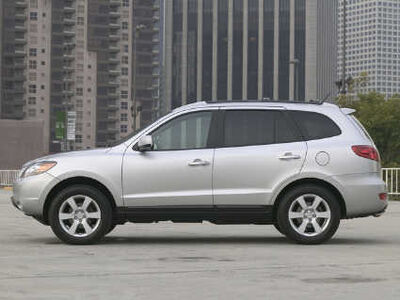 Adds to or replaces GLS features with:
18" silver alloy wheels
Leather/metal look shift knob
Cargo net
Radio steering wheel controls
Compass, exterior temperature monitor, trip computer
Leather steering wheel

Limited
Adds to or replaces SE features with:
8-way power heated front driver's seat
Leather seating trim
Leatherette door trim
Dual zone front automatic air conditioning
HomeLink Wireless Control System
Today's actual prices for the Hyundai Santa Fe can be found at CarsDirect.
Santa Fe Trims

GLS 2WD

GLS 4WD

SE 2WD

SE 4WD

Limited 2WD

Limited 4WD

MSRP

$20,945

$22,945

$23,645

$25,635

$25,945

$27,945

Invoice

$19,689

$21,569

$21,990

$23,850

$23,870

$25,710
Gas Mileage
Edit
As seen on the FuelEconomy.gov website, the City/Highway MPG averages are as follows:
Trim

MPG

20/25

21/26

19/24

20/25

19/25

19/24
Reliability
Edit
The Santa Fe is newly redesigned for 2007, so reliability information for it is not yet available. However, its previous generation earned an overall Green rating from Automotive Information Systems, indicating minimal problems in all categories.
RECALL ALERT: On April 18, 2009, Hyundai issued a recall alert affecting 170,610 MY2001-2003 Elantra and MY2003 Tiburon and 85,036 MY2001-2003 Santa Fe models due to corrosion on the rear suspension trailing arm. This is already on top of an earlier recall affecting 170,000 Sonata and XG300/350 models. The recall primarily affects vehicles originally sold or currently registered in the 'salt-belt' states of Connecticut, Delaware, Illinois, Indiana, Iowa, Maine, Maryland, Massachusetts, Michigan, Minnesota, Missouri, New Hampshire, New Jersey, New York, Ohio, Pennsylvania, Rhode Island, Vermont, West Virginia, Wisconsin, and the District of Columbia. Hyundai urges owners to visit their local dealer for inspection and Hyundai itself is available for contact over the issue at 1-800-633-5151. [4]
RECALL ALERT: On December 10, 2010, Hyundai and Kia launched a recall affecting 1,783 Hyundai Santa crossovers Fe built from September 28, 2010, through November 25, 2010 and 7,697 Kia Sorentos manufactured from September 14, 2010, through October 4, 2010 due to improperly machined rear brake calipers. The defective calipers could lead to brake fluid leak, followed by illumination of the malfunction indicator light indicating the brake fluid level is low and should be checked, then a soft or spongy brake pedal feel. If the problem is not taken care of, it will lead to reduced braking power. Hyundai and Kia urges owners to visit their respective dealers to inspect the problem and, if necessary, replace the rear calipers for free. [5]
The Hyundai Santa Fe was given high marks in safety by the NHTSA. In all front- and side-impact crash tests it received 5-Star ratings, and in both 2WD and 4WD rollover tests, it received 4-Star ratings. Some of the standard safety equipment found on the Santa Fe includes:
Front and rear anti-roll bars
Four wheel anti-lock brakes
Driver/passenger front-impact airbags
Driver/passenger seat mounted side-impact airbags
1st/2nd row overhead airbags
Occupancy sensors
Side impact bars
Color combinations will vary by trim, and a complete list is viewable at CarsDirect.com. Some of the possible choices include:
Exterior
Arctic White
Bright Silver
Deepwater Blue
Golden Beige
Natural Khaki
Silver Blue
Slate Blue
Steel Gray
Interior
Hyundai Santa Fe in India
Edit
The Korean automaker Hyundai is planning to come back in the Indian market with the launch of its highly popular SUV, Hyundai Santa Fe. The company has plans to launch its globally popular SUV (Sports Utility Vehicle) model, Hyundai Santa Fe for the Indian market in the month of October 2010. Hyundai Santa Fe will be launched in SUV segment with a price band of Rs 23 to 25 lacs. The major competitors for this new car in Indian markets will be Toyota Fortuner, Honda CR-V, Ford Endeavour and Chevrolet Captiva.
Hyundai Santa Fe is expected to come with a diesel engine only. It will be equipped with 2.2L, 2199cc CRDI diesel engine. The CRDI (Common Rail Direct Injection) fuel supply system will offer amazingly good engine performance and better fuel efficiency. The car is expected to come in two versions – 6 Speed Manual Transmission and 6 Speed Automatic Transmission. The Euro V engine of Hyundai Santa Fe is speculated to have 4 cylinders and 16 valves with DOHC (Double Over Head Camshafts) that will offer clear emission and better torque. As per the details available at Hyundai Santa Fe
Main Competitors
Edit
Hybrid Models
Edit
There are no hybrid models of the Santa Fe currently in production.
Unique Attributes
Edit
In 2007, adventurer and 'eco futurist' Hans Tholstrup had driven a Santa Fe diesel more than 1700 kms on a single tank. As he attempted to go on a 1400 km trip from Adelaide to Sydney without refuelling, the car's fuel gauge registered a quarter full. He then pressed on to Port Macquarie covering 1776.6 km in total. The Santa Fe averaged 4.67L/100km and averaged a speed of 85-90 km/h.
Resale Values
Edit
According to Kelley Blue Book, "while pricing is close to that of the Toyota RAV4 or Honda CR-V, the Santa Fe's resale value fares worse than its Japanese competitors. For example, after 60 months, a 2006 Santa Fe GLS is expected to retain 30 percent of its value versus the Rav4 and CR-V at 39 percent and 36 percent respectively."
Criticisms
Edit
"[Full-time all-wheel drive] comes at the price of an additional 331 pounds, and the added weight makes the Santa Fe lethargic in the way it steers, corners, and accelerates." - Automobile
"Many people remember the cheap economy cars Hyundai sold in America starting in 1986. If you are looking to buy an SUV with the cache of the Japanese brands, the Hyundai Santa Fe may not be the car for you." - Kelley Blue Book
"...the four-speed automatic seems random in its decisions to shift." - Car and Driver
"...a scant 7.4 inches of maximum ground clearance..." - Edmunds.com
"2nd row seats don't slide, cramped 3rd row." - Motioncars.com
Current Generation: (2007–Present)
Edit
The next-generation 2007 Santa Fe debuted at the 2006 North American International Auto Show. The first production Santa Fe rolled off Hyundai's Alabama Assembly Line on April 18th, 2006. Once a large mix of colors and trim levels are produced, they will be available at dealers around June of 2006.
First Generation (2001-2006)
Edit
In its first year in production, the Santa Fe was offered with one of two engine and transmission combinations. In North America, a fuel-efficient although underpowered 2.4 L four cylinder engine was standard equipment and could be mated with either a 5-speed manual or a 4-speed automatic. A 2.7 L Delta V6 offered more power than the four-cylinder but was only available with the automatic. Front wheel drive was standard (with traction control optional with the V6) and 4WD was optional. A 2.0 L Common Rail Turbo Diesel (CRTD) was offered outside the United States. Australian Santa Fes went on sale in November 2000 with only one engine/transmission choice - a 2.7L V6 mated to a four-speed semi-automatic transmission. 4WD was standard. A cheaper 2.4L four cylinder joined the range several months later in 2001, but was only available with a manual transmission.
The Santa Fe entered its second year without any changes. Demand for the Santa Fe continued to be up with the best but owners were making lists about what they'd like to see changed in the Santa Fe.
In a rare mid-year model change, Hyundai increased the size of the fuel tank from 17 to 19 U.S. gallons and reorganized the location of the badges on the tailgate.
Santa Fe owners still found their vehicles lacking in some areas and for 2003, Hyundai reorganized the lineup. Owners disliked the fact that the hood used a prop and not gas struts, that a sunroof was not available, the glovebox was not illuminated, among other things. All of these issues were addressed including the most common complaint of all: not enough power. So, Hyundai introduced the 3.5 liter V6 in addition to the other two gas engines in North America. The brawny 3.5 liter pushed out 200 hp through a 5-speed automatic transmission. The bigger engine also came with an intelligent four-wheel drive system. The clock was moved from the roof to the dashboard and the controls below the air vents on the center stack were redesigned. A Monsoon high-performance sound system came standard on the mid-level GLS model and came with a 6-disc CD changer on the top-tier LX. Rounding out the changes in the 2003 model was the discontinuation of the highly unpopular Pine Green which in some owner circles has gained the nickname 'Yucky Green'. In Australia, the four cylinder Santa Fe was dropped in 2003, due to slow sales, leaving the 2.7L V6 automatic as the only model.
Hyundai continued to post sales records with the Santa Fe as it rolled into 2004 with very minor changes. The manual climate controls on the base GL and mid-line GLS were revised very slightly. The remote keyless entry system was given a confirmation 'chirp' when the 'LOCK' button on the remote was pressed twice.
The Santa Fe received its mid-life face-lift for 2005. Among the changes were the grille, taillights, rear bumper, interior instrument cluster, as well as the juggling of options and the like. In Australia, all models received body-coloured (painted) bumpers from 2005 on. The color 'Sandstone' was dropped in favor of a slightly different color named 'Mocha Frost'. The GL trim was dropped as was the four-cylinder engine and its respective 5-speed manual transmission. The 2.7 L V6 took over duties as the base engine. A passenger airbag cutoff that prevents the airbag from deploying if the seat is unoccupied (or occupied by a small person) was also added. A 3-point seatbelt was added to the center rear seating position, as well. The calendar function, housed in the overhead console, often considered infuriating and unnecessary, was removed and a compass took its place.
The last year of this Santa Fe saw few changes. Two colors were discontinued for 2006, Merlot and Canyon Red. A rare color, Dark Emerald Green, was introduced mid-year. It does not appear in any sales brochures and must be ordered by the dealership. The LX trim level was renamed the 'Limited' and got a corresponding tailgate badge, a first for the Santa Fe of any trim level. Another first was the availability of a monochromatic paint scheme, a departure from the contrasting gray cladding previously standard. The monochromatic option was only available on the Limited in black, however and required customers to order the sunroof with it. In total, that option ran $1900, pushing the Santa Fe's total asking price to nearly $30,000.
In Europe, the new Santa Fe model was launched in April, offering a new 2.2 litre diesel engine and updated 2.7 litre petrol V6.
External links
Edit
Community content is available under
CC-BY-SA
unless otherwise noted.