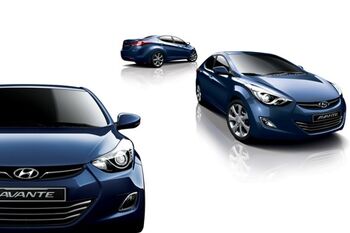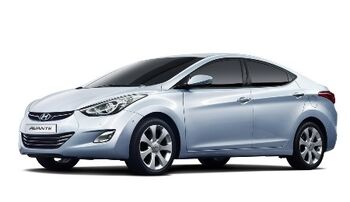 The Hyundai Elantra (sold in South Korea as the Avante) is a compact car from Hyundai of South Korea launched in 1991. This vehicle was known as the Lantra in some markets. Between 1996 and 1998, the Elantra was called the Bimantara Cakra (1.5 L) and the Bimantara Nenggala (1.8 L) in Indonesia.
The Elantra was sold as the Lantra and Avante in some Australian and European markets until the 2001 model year, when the name was renamed and brought into line worldwide. Mitsubishi of Australia complained that Elantra was too close to its Elante trim level, and Lotus in the UK and Europe suggested it was too close to its Elan name. By 2001, both the Elan and the Elante had ceased to exist. The Avante's renaming was necessary as Audi owns the Avant name in Europe.
See Autopedia's comprehensive Hyundai Elantra Review.
At the 2010 Busan International Motor Show, Hyundai unveiled the next generation Elantra as the Avante in its home market. Designed under design director Oh Suk-Geun, the new compact sedan will feature a 1.6-liter Gamma Gasoline Direct Injection (GDI) engine under the bonnet and mated to a 6-speed automatic transmission. The engine is rated at 140 hp and 122 lb-ft (166 Nm) of torque. Standard equipment will now also include HID (High Intensity Discharge) headlamps, LED rear lamps, heated rear seats, puddle lamps and color TFT LCD information display. South Korean sales of the Avante are expected to start in the second half of 2010, with the rest of the world to follow either towards the end of the year or early 2011. [1][2]
The Elantra is all new for 2007. The wagon style has been removed from the lineup, and the sedan has been widened as well as made taller than the previous model.
The 2008 Hyundai Elantra comes in two trims: GLS and SE.[4] The Limited trim was dropped for 2008. Both trims share the same 2.0L 138hp I-4 engine and standard 5-speed manual transmission.
Some of the features are:
GLS
15 in. steel wheels
Front bucket seats with 6-way adjustment
Radio-prepped
Power locks, windows, mirros, trunk release
Tilt steering wheel
SE adds to or replaces GLS features with:
Air conditioning
Fog lights
16 in. silver alloy wheels
Leather shift knob and steering-wheel
Dual illuminated vanity mirrors
Manual front air conditioning
AM/FM/XM/CD stereo system w/MP3 capability
Cruise control
For trim levels for the Australian bound Elantras, go to Trim levels for ADM Hyundai Elantra.
Today's actual prices for the Hyundai Elantra can be found at CarsDirect.
MODEL Trims
GLS Standard
GLS M/T Popular
GLS A/T Popular
GLS Preferred
GLS Navigation
Limited
Premium
MSRP
$14,830
$16,080
$17,080
$17,630
$19,380
$19,980
$21,980
Invoice
$Price1
$Price2
$Price3
$Price4
$Price5
$Price6
$Price7
The City/Highway gas mileage averages for the 2007 Elantra are as follows:
Trim
1.8 L Nu
MPG
29/40
c/h
Specifications, details, graphs, pictures and other information regarding the powertrain is placed in this section.
Please make sure to write information of the vehicle's performance in a third-person point of view. This section should include information about the car's acceleration figures, handling, braking, etc.
If using information gathered from Road Test articles from a reputable automotive source, then please make sure to cite the quote.
RECALL ALERT: On April 18, 2009, Hyundai issued a recall alert affecting 170,610 MY2001-2003 Elantra and MY2003 Tiburon and 85,036 MY2001-2003 Santa Fe models due to corrosion on the rear suspension trailing arm. This is already on top of an earlier recall affecting 170,000 Sonata and XG300/350 models. The recall primarily affects vehicles originally sold or currently registered in the 'salt-belt' states of Connecticut, Delaware, Illinois, Indiana, Iowa, Maine, Maryland, Massachusetts, Michigan, Minnesota, Missouri, New Hampshire, New Jersey, New York, Ohio, Pennsylvania, Rhode Island, Vermont, West Virginia, Wisconsin, and the District of Columbia. Hyundai urges owners to visit their local dealer for inspection and Hyundai itself is available for contact over the issue at 1-800-633-5151. [5]
According to Car Survey.org, the average reliability rating for the latest model Elantra is 7.88 out of 10.
The 2007 Elantra has yet to be rated by the NHTSA, but IIHS reports Marginal rating for side impacts. Previous models received high marks on frontal impacts, had some serious issues with offset impacts which were finally resolved in 2005, and also fared poorly in side impacts. NHTSA reports the 2004-2006 models all performed with the same results, earning 4-Star ratings for rollover, rear side-impact, and passenger front-impact tests, and earning 5-Star ratings for front side-impact and driver front-impact tests. Some of the standard safety equipment found on the Elantra includes:
US-Spec
Colors for the 2007 Elantra will vary by trim, and a complete list is viewable at CarsDirect.com. Some of the available combinations include:
Exterior
Black Pearl
Captiva White
Purple Rain Pearl
Quicksilver Metallic
Redfire Pearl
Regatta Blue Pearl
Interior
There are currently no hybrid models of the Elantra.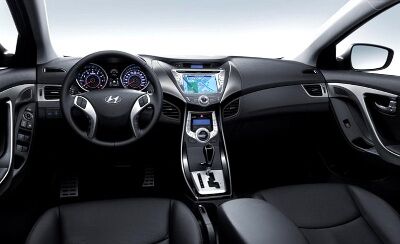 This section should include information on the interior's design, build quality, ergonomics, space (head and legroom, front and rear), features, stowage compartments and overall comfort and livability. Add pictures wherever applicable and keep information in a third-person point of view.
US-Spec
Add more fields as necessary.
<MODEL> Year
Year X
Year X-2
Year X-3
Year X-4
Resale Value
$
$
$
$
Current Generation (2017-present)
[
edit
|
edit source
]
Following the 2015 launch of the Avante in South Korea, the sixth generation Elantra was announced to be released for sale in February 2016 for the 2017 model year in North America.[44] Two trims are present in the 2017 model release: SE and Limited. (Sport and Value Edition trims from 2016 are discontinued.) In India, the AD series Hyundai Elantra launched on 23 August 2016 with petrol and diesel engine options. Its petrol variants displaces 2.0 liters, while the diesel engine is a 1.6-litre unit.[45]
The design of the car has been changed to a more conservative appearance. The "fluidic sculpture" design that persisted across the Hyundai portfolio since 2011 is gone in the sixth generation Elantra. The car has less curves overall with pentagonal head and tail lights, a hexagonal grille, and redesigned body panels and bumper emphasizing straight lines along the body. The windshield is drawn back from the hood further than the prior generation, making for a more traditional sedan look. The interior is also less curved, with a cockpit, audio/temp controls and glove compartment in a single bow line across the dash. This was done without reducing the interior cabin space of the prior generation at 110.2 cubic feet (while the Elantra is sold under the compact class, it classifies as a mid-size sedan according to the EPA.)[46]
The SE Model in 2017 has been noted to come standard with less features compared to the prior generation trim level. Packages include for the SE Trim: An ECO package which replaces the engine with a lower displacement 1.4-liter, 126 hp (94 kW) Kappa type along with a manual transmission that improves eMPG use for eco driving customers;[47][48] a Popular Equipment package which includes alloy wheels, cruise control, automatic headlights, and touchscreen stereo with Android Auto and Apple CarPlay support; and a Tech Package (that requires the Popular Equipment package) which includes LED daytime running lights, blind spot and rear cross-traffic alert system, proximity key/push button start, hands-free trunk access, and TFT monochromatic cluster display (replacing the LCD cluster that comes standard).[44]
Packages for the Limited Edition includes a Limited Tech Package with a power sunroof, touchscreen stereo with Android Auto and Apple CarPlay support, heated seats, and ClariFi module to enhance interior car audio; and the Ultimate Package (that requires the Limited Tech Package) which adds automatic emergency braking with pedestrian detection, smart cruise control, lane keep assist, and memory presets for mirrors/driver seat adjustments.
Roughly halfway through the 2017 model year, Hyundai released a Sport model for the North American market. The Sport slots between the Eco and Limited models and is differentiated externally by different headlights and taillights, ground effects, a more aggressive front and rear bumper and dual chrome-tipped exhaust outlets. Under the hood, the Sport features a 1.6-liter direct-injected four cylinder with a turbocharger producing 201 horsepower and 195 lb. ft. of torque. Transmission options include a 7-speed dual clutch automatic with manual shift mode or a traditional 6-speed manual. Additional modifications for the sport include a flat-bottomed steering wheel, red stitching on the seats, shift boot and steering wheel, larger front brakes, 18" alloy wheels, an independent multi-link rear suspension, a thicker front stabilizer bar and a steering ratio tuned for a quicker, sportier feel.
"There isn't much grunt at lower engine speeds." - New Car Test Drive
"Rear-seat headroom is cramped." - The Detroit News
Fifth Generation (2011-2016)
[
edit
|
edit source
]
The fifth-generation Avante debuted at the 2010 Busan International Motor Show in April 2010. It was
codenamed "MD" for the sedan,[26] "UD" for sedans manufactured in the US, and "JK" for the coupe. It featured a 1.6-L gasoline direct-injection engine, producing 103 kW (138 hp) and 167 Nm (123 lb-ft) torque, mated to a new 6-speed automatic or manual transmission. For markets such as the Middle East, the 1.6-L engine was a MPI version that delivers 128 hp. 
The Israeli market received the Elantra, with a 1.6 GDI 132 hp coupled to a 6-speed automatic transmission only. The design continued Hyundai's "fluidic sculpture" styling theme first seen in the 2011 Sonata. The new model went on sale in August 2010 in South Korea, and began selling between end of 2010 and early 2011 as a 2011 model.[27][28] The US version of the fifth-generation Elantra debuted at the 2010 Los Angeles Auto Show. It is powered by a new 1.8-L Nu engine producing 148 hp (145 hp-PZEV) and 131 lb-ft (130 lb-ft-PZEV). The fuel economy was aided by a low drag coefficient of just 0.28. The Nu engine block is made of aluminum instead of the previous cast iron.
EPA's estimated gas mileage 40/29 was questioned by Consumer Watchdog, a Santa Monica CA consumer group. USA Today writer Jefferson Graham claimed to get combined city/highway mpg of 22 mpg. However, a real-world test by Popular Mechanics showed significantly better fuel economy than EPA estimated MPG.[29] Also, The Truth About Cars editor tested real-world MPG, leading them to give Consumer Watchdog a thumbs down.[30] EPA mileage estimates were originally 29 mpg-US (8.1 L/100 km; 35 mpg-imp) in the city and 40 mpg-US (5.9 L/100 km; 48 mpg-imp) on the highway but were revised to 28 mpg-US(8.4 L/100 km; 34 mpg-imp) in the city and 38 mpg-US (6.2 L/100 km; 46 mpg-imp) on the highway due to a series of testing procedural errors in November 2012.[31] The underpinnings of the second-generation i30 and Elantra were similar in their configuration and makeup. The similarities between the second-generation i30 and Elantra continued in front end and suspension characteristics.
It was available in two trim levels, GLS and Limited. Premium features included heated front and rear seats, proximity key entry with electronic push-button start with immobilizer, and touch screennavigation.[32] US 2011 sales reached 186,361 units, up 41 percent from 2010.[33] The Elantra was crowned North American Car of the Year at the 2012 Detroit Auto Show, over the Ford Focus and Volkswagen Passat.[34] The Elantra was crowned South African Car of the Year for 2012. At the 8th Manila International Auto Show, the Elantra was crowned as the Philippine Car of the Year, the first Korean car maker to win the award.[35] Hyundai Elantra 1.8 GLS won the WesBank's Car of the Year in South Africa[36] and North American Car of the Year at the 2012 Detroit Auto Show.
2012 model year: An ActiveECO system was now included with automatic transmission models, a dual-shell horn was added, steering calibration was adjusted, fog lights and passenger side sun visor extension were added to the GLS Preferred Package, and some exterior color adjustments were made.
2013 model year: Manual transmission models received an increase in standard equipment, and heated front seats were added to the GLS Preferred Package. On Limited trims, a power driver seat with lumbar support was now standard and dual zone automatic climate control was available on the Limited Technology Package. Atlantic Blue was a new exterior color option.
Fourth generation (2007-2010)
[
edit
|
edit source
]
In 2006, a redesigned Elantra (codename HD) debuted at the New York Auto Show.
This model is not available in the UK, following poor sales of the previous generation model, which was quietly dropped in 2005/6.
Third generation (2001-2006)
[
edit
|
edit source
]
An all-new model (codename XD) was launched in 2001. The wagon was dropped in favor of a five-door hatchback. Both were facelifted in 2004. Starting in 2001, all American models came with standard front and front side airbags, air conditioning, power locks, power windows and power steering. This simplified dealer inventories and repairs and also sought to improve Hyundai's image of 'value' cars. A GT trim with a stiffer suspension, leather seats, fog lights, alloy wheels, lip spoiler and blue-lit instrument cluster has been offered as a hatchback since 2001, leaving the only options an automatic transmission, power moonroof and anti-lock brakes with traction control. The GT trim sedan was introduced in 2003 and discontinued in 2005.
The Elantra is available with 1.6 and 2.0 L gasoline engines and a 2.0 L turbodiesel. North American models are only available with the 2.0L gasoline engine.
While compact on the outside, it is listed by the EPA as a midsize car because of a spacious interior. The four-cylinder engine is known to be powerful and economical, and in the US, Hyundai offers a powertrain warranty of ten years. Although the basic powertrain design has changed little since the second generation, successive improvements have improved fuel economy from an EPA rating of 24/33 to 25/33 and the current 27/34 for manual transmissions, with automatic producing 2-3mpg fewer. Horsepower also improved from 135hp to 138hp and torque from 132 to 136 mainly thanks to the addition of continuously variable valve timing (CVVT) in 2004. Originally, the horsepower rating was misrepresented as 140hp.
Second generation (1996-2000)
[
edit
|
edit source
]
Launched in 1995, the second generation (codename J2) was offered as a sedan and station wagon. A mid-life facelift arrived for 1998.

First generation (1991-1995)
[
edit
|
edit source
]
Launched in 1991 as a replacement for the rear wheel drive Hyundai Pony, the Elantra (codename J1) received a mid-term facelift in 1993.
The Elantra was powered by a Mitsubishi-designed 1.6 L (1596 cc) straight-4 engine. This DOHC 16-valve unit produced 113hp (84 kW) at 6000 rpm and could push the Elantra to 60 mph (97 km/h) in 9.5 seconds. The quarter-mile (0.4 km) run took 17.1 seconds and produced 80 mph (129 km/h). Top speed was 116 mph (187 km/h). The Elantra got 22 mpg (10.7 L/100 km) in the city cycle.

The first and second generation models outside North America were sold as Lantras.
Design quirks and oddities
[
edit
|
edit source
]
10 Hyundai Elantras have been used in Seven's reality TV show, Last Chance Learners. Half the amount of the cars are coloured red and blue respectively to represent the two colour teams. All of the cars are manuals and each had their anti-lock braking systems and stability controls disabled.
Community content is available under
CC-BY-SA
unless otherwise noted.