The Hyundai Accent (sold in some regions as the Verna) is a subcompact car produced in South Korea, India, Pakistan, and Turkey. It replaced the Excel in the company's lineup. Since 2002, the Accent had been the longest-running subcompact sold in North America.
See Autopedia's comprehensive Hyundai Accent Review.
Recent Changes
Edit
At the 2010 Ghangzhou Motor Show, Hyundai unveiled the Chinese market-only Verna 5-door. It will go on sale there early in January 2011. Built locally in Beijing, it will come with two petrol engines - a 1.4 liter and 1.6 liter. The entry-level 1.4 Gamma engine develops a total of 108 PS (79 kW) and 135 Nm of torque. The 1.6 liter Gamma comes with an output of 124 PS (90 kW) and 155 Nm of torque.[1]
Hyundai unveiled the next generation Accent at the 2010 Beijing Motor Show in the form of the Hyundai Verna (Chinese market). The new Accent boasts the same "Fluidic Sculpture" language, created by Hyundai design director Oh Suk-Geun, as the larger Hyundai Sonata. The new accent will have dimesions of 4,340mm in length, 1,700mm in width, 1,460mm in height, and a wheelbase of 2,570mm. In China, the Verna will be available with a choice of two petrol engines: the base 1.4-liter inline-four producing 106 hp and 135.4 Nm of torque @ 5,000 rpm attached to either a five-speed manual gearbox or four-speed automatic transmision and a 1.6-liter four banger that delivers 121 hp and 155 Nm of peak torque via a four-speed automatic transmission. [2]
After undergoing a redesign for the 2006 model year and offering just one trim, the Accent adds to its GLS trim with the GS and SE, both 3-door hatchbacks. New standard features include four wheel anti-lock brakes and a tilt steering wheel.
Styles and Major Options
Edit
The 2007 Accent comes in three trims: the GS, GLS, and SE. While the GLS is a 4-door sedan, the GS and SE are 3-door hatchbacks. All three share the same 1.6L 110hp I-4 engine, 5-speed manual transmission w/OD, and front wheel drive. See the Safety section below for a list of standard safety features. Other standout features on the Accent include:
GS 3-door
14" Steel Wheels with Covers
Split Rear Seatbacks
Cloth Upholstery
Front, Side and Curtain Airbags
Tilt Steering Wheel
Rear Wing Spoiler
SE 3-door
In addition to or in place of GS Standard Features
16" Alloy Wheels
Fog Lamps
Sport-Tuned Suspension
Power Windows, Door Locks, and Power Heated Mirrors
Tinted Windows
Air Conditioning
AM/FM/CD Stereo with 6 Speakers
Dual illuminated vanity mirrors
Leather Wrapped Steering Wheel and Shift Knob
Remote Keyless Entry with Alarm
Rear Window Wiper/Washer
GLS 4-door
In addition to or in place of GS Standard Features
Air Conditioning
Power Windows, Door Locks, and Mirrors
16" silver alloy wheels
Leather steering wheel and shift knob
AM/FM/CD Stereo with 6 Speakers
Today's actual prices for the Hyundai Accent can be found at CarsDirect.
Accent Trims

GLS

GS

SE

MSRP

$12,565

$10,415

$13,915

Invoice

$11,874

$9,947

$13,011
Gas Mileage
Edit
As seen on the FuelEconomy.gov website, the City/Highway MPG averages are as follows:
The Accent comes equipped with an 11.9 gallon fuel tank.
Reliability
Edit
The latest generation of the Accent was only introduced for the 2006 model year, so long-term reliability information is not yet available for it. However, for the 2004 model, Automotive Information Systems awarded the Accent an overall Green rating, indicating minimal problems in all categories.
Standard Safety Features
Front and rear anti-roll bars
Driver/passenger front-impact airbags
Driver/passenger side-impact airbags
1st/2nd row overhead airbags
Occupancy sensors
Side-impact bars
The 2007 Accent 4-door was tested by the NHTSA. See safercar.gov for full test details.
Rating (Stars)

Front

Side

Rollover

Driver

Passenger

Front Seat

Rear Seat

2WD

4WD

5

5

4

3

4

-
In 2007, the current generation Accent scored only 3 stars when tested by ANCAP.
ANCAP result for 2007 Hyundai Accent
A 2000 Accent managed to score 3 stars in ANCAP out of 5. Although it isn't the safest car, it is fairly safe compared to other small cars tested.
In 1998, the Hyundai Accent scored 2 stars out of 5. The passenger compartment was critically deformed. There was a moderate risk of serious chest and right leg injury for the driver and a further risk of serious injury to the driver's left leg and feet. In the side impact test, there's a high risk of life-threatening chest injuries for the driver.
EuroNCAP result for 1998 Hyundai Accent
Available colors will vary by trim, and a full list is viewable at CarsDirect.com. Some of the possible combinations include:
Exterior
Apple Green
Charcoal Gray
Dark Sapphire Blue
Ebony Black
Ice Blue
Platinum Silver
Sand Beige
Tango Red
Interior
Main Competitors
Edit
Hybrid Models
Edit
Hyundai debuted the Accent Hybrid at the 2005 Guangzhou International Automobile Exhibition in Guangzhou, China. It uses a 90 hp (67 kW) 1.4 L engine with continuously variable valve timing and a 16 hp (11.9 kW) electric motor to achieve 44% better fuel economy.
According to Soultek.com the debut date for the Hybrid version of the Accent has been delayed considerably:
"Originally, the Accent hybrid was set to launch in late 2006; however, due to currency issues, Hyundai has pushed back the development of their hybrid cars until 2009 - at the earliest.Not much has been released about Hyundai's hybrid technology. Hyundai hybrids will be built on proprietary hybrid technology, unlike the Ford Escape or Nissan Altima hybrids, which are built with licensed Toyota hybrid technology."
source: http://www.soultek.com/clean_energy/hybrid_cars/hybrid_car_types/Hyundai_Accent_hybrid_car.htm
Unique Attributes
Edit
Resale Values
Edit
According to Kelley Blue Book, "the 2006 GLS sedan, first of the third-generation Accents to be introduced, has a five-year projected residual value of just 25 percent, while the 2007 GS and SE three-door hatchbacks are projected at 29 and 30 percent, respectively. By contrast, the Honda Fit should hold 43 to 44 percent of its new-car value after five years, and the Toyota Yaris 40 to 41 percent, depending on the model. However, we believe Accent residuals will improve over time as Hyundai's image and quality reputations continue to climb."
Criticisms
Edit
"Power drops when mated to the automatic transmission." - Woman Motorist
"Accent's ride can be rough." - Consumer Guide
"If you want something a bit more expressive, especially in a four-door sedan, or prefer a Japanese or domestic brand, you should take a good look at the Honda Fit, Toyota Yaris, Nissan Versa and the surprisingly competitive new Chevy Aveo." - Kelley Blue Book
"If you buy a Hyundai, invitations will dry up, your kids will refuse to speak to you, your wife will sleep with your friends and you may end up commiting suicide." - Top Gear
The second generation Hyundai Accent was named the Worst Car of the Year by Top Gear.
Current Generation: (2005–2011)
Edit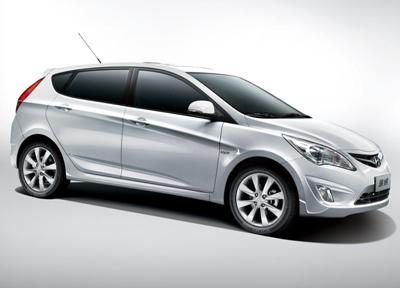 Previous Generations
Edit
Third generation (2006-2010)
Edit
Hyundai introduced a new-generation Accent (MC) at the 2005 New York International Auto Show. A new exterior, larger interior, and CVVT engine are the notable features. A hybrid version is expected in 2006 as a 2007 model.
A single trim level, GLS, is available in the United States. This sedan includes 6 airbags, air conditioning, power steering with tilt, four-wheel disc antilock brakes with electronic brake-force distribution, and a 6-speaker CD stereo. Pricing starts at US$12,995, nearly $2,000 more expensive than a base 2005 model. A premium sport package, priced at $1,500, includes air conditioning, 15in. alloy wheels, power windows and heated mirrors, and remote power door locks. An automatic transmission retails for $850, bringing the price of a loaded Accent to $15,345. A three-door hatchback version will arrive by spring 2006 as a 2007 model.
Engines:
1.6 L CVVT Alpha II I4, 110 hp (83 kW) and 106 ft.-lb. (145 Nm) (for the North American market)
Motorsport
Edit
Hyundai's Accent rally car competed in the World Rally Championships in the late 90s. The car was eventually retired from service with no major victories, but it was reasonably competitive at times and showed some promise.
Main Article: Hyundai Accent WRC
Second generation (2000-2005)
Edit
The redesigned 2000 Accent (LC) sported a more angular body and increased dimensions. It received a minor facelift in 2003.
Engines:
First Generation/Origins (1995-1999)
Edit
The Hyundai Accent (X3) was introduced as a replacement for the Excel for the 1995 model year. It continued to be called Excel in some international markets like the Netherlands and Australia, though. In France, it was called the Hyundai Pony. In Australia, the X3 proved so popular that it was the third best-selling vehicle in the country in both 1996 and 1998. In the latter year, it achieved more than 44,000 sales (a 5.5% share of the total market), a record figure at the time, for an imported car. Between 1994 and 2000, some 200,000 X3s were sold in Australia, making it arguably the most successful imported vehicle in the country's history.
The Accent was sold in saloon (sedan), hatchback, and coupe form in the UK, with a choice of two engines for each: the petrol-powered 1.3 and 1.5. No diesel engines were offered. A CLSi spec car was the best-equipped Accent with front power windows and a radio/cassette player.
The MVi-spec coupe version won particular praise for its handling agility in the UK. Although the Accent was cheap to buy and insure, its engines were quite thirsty; the 1.5 L returned 33mpg average according to list figures.
Worldwide
Edit
The Accent is produced for the Chinese market by the Dongfeng Yueda Kia Automobile Company, a joint venture with a Hyundai subsidiary, Kia. In Mexico, the Accent is marketed by DaimlerChrysler as the Dodge Attitude, previously Verna by Dodge. In Venezuela, DaimlerChrysler markets the Brisa de Dodge, which is based on an older Accent model. The Brisa is assembled by Mitsubishi Motors at its plant in Barcelona, Venezuela. In Puerto Rico its was renamed to a Hyundai Brio.
Hyundai Accent/Verna in India
Edit
In the Indian auto market, Hyundai has launched both models Hyundai Accent and Hyundai Verna. Hyundai Accent is an entry level sedan model while Hyundai Verna is a mid-size sedan model from Hyundai's product portfolio in Indian market. Hyundai India has recently launched the new version of Hyundai Verna named as Hyundai Verna Transform which is available with both petrol and diesel engine options and it is also available with automatic transmission. The Hyundai Verna is much popular mid-sized sedan model in Indian market due to its sporty and stylish look, power, comfort and its competitive pricing. It offers well balanced exteriors with the world class interiors that facilitating comfort with style. Hyundai Verna Transform is presently available with five variants, out of which its two variants are powered by the petrol engine and two variants are equipped with the diesel engine while the fifth one variant is equipped with diesel engine with automatic transmission option. All of these variants are packed with impressive and advanced features which are also main highlights of the car.
Hyundai Solaris
Edit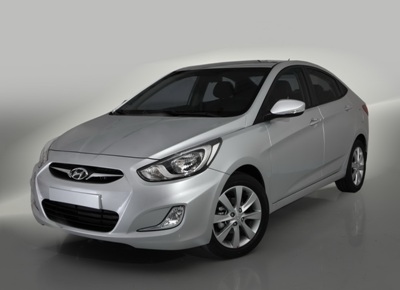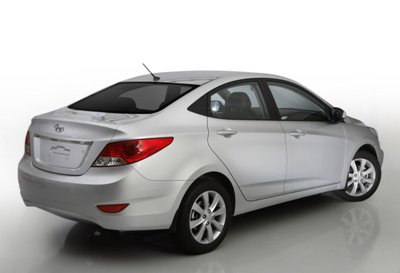 The Russians get their own version of the Accent/Verna called the Solaris. Based heavily on the Hyundai RB Concept seen at the 2010 Moscow International Motor Show, the Solaris departs heavily from the Accent/Verna with a nose similar in language to the second-gen Hyundai Tucson and more in keeping with Hyundai's new corporate language. Production is set to begin in January 2011 and will get Russia-only standard goodies such as rear heating duct, 4.0-liter washer fluid reservoir (with low level sensor), a 60Ah (ampere-hour) battery "for higher cold start performance", front and rear mudguards, and a set of enduro (1,500 hour) headlamps to allow it to cope with the harsh Russian weather. Options include wiper de-icer, heated driver/front passenger seats, heated mirrors, and an automatic "Emergency Stop Signal" that turns on should an accident occur
Design quirks and oddities
Edit
Secondary main character of Kath & Kim, Kim Craig owns a green Hyundai Accent from Series 1 and 2.
Jeremy Clarkson bought a green Accent hatchback and took it to a demolition derby with Fifth Gear presenter Tiff Needel who wanted to take on Jeremy. The car suffered front damaged by a crash with Tiff but the car was the only one working when the round was finished. Jeremy already attempted to puncture a tyre but he ended up with a punctured thumb. He then took it to a scrapyard and was crushed.
In the What Women Want survey cunducted by the RACV in 2003, the Accent is the most popular choice among women buying a Hyundai.
Winner Australia's Best Small Car in 2000.
Winner Australia's Best Small Car in 2001.
Winner of "Canadian EnerRate" Award in 2006
External Links
Edit
This page uses content from Wikipedia; see Hyundai Accent, which includes these contributors.
Community content is available under
CC-BY-SA
unless otherwise noted.