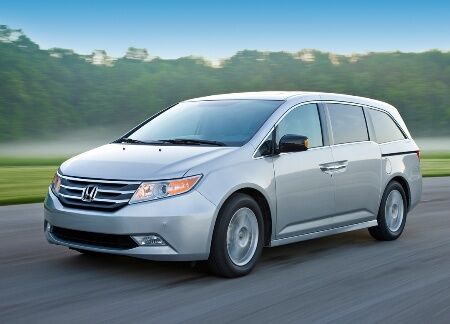 The Honda Odyssey is a popular mainstream minivan in the U.S. market. It has achieved significant success since its introduction in 1995, not only creating high consumer demand, but also winning award after award from critics. It has achieved a 5 Star safety rating based on tests by the NHTSA, and its Variable Cylinder Management system has helped it to achieve high fuel efficiency. A roomy and practical family-oriented vehicle, the Odyssey looks to set the standard for minivans and crossovers across the spectrum.
See Autopedia's comprehensive Honda Odyssey Review.
Recent Changes
On October 2008, Honda revealed the next-generation JDM Odyssey on the internet.[3]
As early as September 23, 2008, Honda has released a teaser image of the Fourth Generation Honda Odyssey se to be unveiled at the 2008 Paris Motor Show.[4]
Cosmetically, not much on the Odyssey has changed since the latest model debuted in 2005. However, a few of the interior options have improved: the 2007 Odyssey incorporates a telescoping tilt steering wheel and a tire pressure monitoring system, and exterior colors Sage Brush Pearl and Redrock Pearl have been replaced by Dark Cherry Pearl and Nimbus Gray Metallic.
Styles and Major Options
The Odyssey comes available in four trims: the LX, EX, EX-L, and Touring. All versions come equipped with the same engine, a 3.5L 244hp V6(Same engine that powers the Honda Pilot), and all operate on a 5-speed automatic transmission with overdrive.
The LX's standard features include a 4-speaker 120-watt AM/FM/CD audio system, air conditioning, cruise control, 15 beverage holders, and a slough of safety items. To this, the EX adds power sliding doors, an in-dash 6-CD changer, alloy wheels, roof rails, 8-way driver's seat power adjustment, tri-zone climate control, and ambient console lighting. Move up one more level to the EX-L and you'll get an improved engine with Variable Cylinder Management (VCM), a power moonroof, heated front seats, leather interior and steering wheel, and active noise cancellation. Finally, the impressively equipped Touring edition adds even more on, with a DVD rear entertainment system, 7-speaker 360-watt AM/FM/CD audio system with in-dash 6-CD changer and subwoofer, XM satellite radio, power adjustable pedals and driver's seat memory, fog lights, and a programmable multi-information display. Navigation systems are optional for all trims but the LX. With Navigation models a rear view camera and XM radio are standard
Pricing
Add more fields as necessary.
MODEL Trims
LX
EX
EX-L
EX-L with RES
EX-L with Navi
Touring
Touring Elite
MSRP
$27,800
$30,950
$34,450
$36,050
$35,450
$40,755
$43,250
Invoice
$Price1
$Price2
$Price3
$Price4
$Price5
$Price6
$Price7
Gas Mileage
Add more fields as necessary.
As seen on the FuelEconomy.gov website, the City/Highway MPG averages are as follows:
Trim
LX
EX
EX-L
EX-L with RES
EX-L with Navi
Touring
Touring Elite
MPG
18/27
18/27
18/27
18/27
18/27
19/28
19/28
The LX and EX models both have an EPA estimate of 19 in the city and 25 on the highway. Thanks to the "Variable Cylinder Management" technology on the EX-L and Touring models, the EPA estimnate is improved to 20 in the city and 28 on the highway. This revolutionary feature allows the rear bank of three cylinders on the V-6 engine to be activated or deactivated, depending upon driving demands, which as a result, saves fuel while also decreasing emissions. The Odyssey was ranked the most "Fuel-Efficient Mini-Van" by the EPA and by Kiplinger magazine.
Engine and Transmission
Specifications, details, graphs, pictures and other information regarding the powertrain is placed in this section.
Performance
Please make sure to write information of the vehicle's performance in a third-person point of view. This section should include information about the car's acceleration figures, handling, braking, etc.
If using information gathered from Road Test articles from a reputable automotive source, then please make sure to cite the quote.
Reliability
As with all Honda's the Odyssey comes standard with a 3 year or 36,000 mile comprehensive warranty. The Odyssey has had a great track record of performing well and is considered to be very reliable amongst its minivan peers. The Odyssey was awarded the IntelliChoice "Best Overall Value of the Year" award for 2006.
RECALL ALERT: On Feb 26, 2009, Honda announced a recall affecting 421 US-market 2009MY Odysseys due to installation of incorrect front brake hoses. As a result, they may come in contact with the caliper bolt and over time a hole may develop allowing the brake fluid to leak and consequently, result in reduced brake system performance. Honda's dealers will inspect both front brake hoses and replace with the correct brake hoses free of charge. [5]
Safety
The Honda Odyssey is loaded with many standard safety features on all trims, like anti-lock brakes and vehicle stability assist. Also standard are front airbags, front side airbags and 3-row side curtain airbag with rollover sensor. The van is equipped with sensors which prevent the deployment of the passenger's side airbag if a child or small adult is in the deployment path. The body incorporates a front-end frame structure that absorbs and disperses crash energy over a larger area.
The NHTSA has awarded the Odyssey Five Stars for all front- and side-impact crash tests, and the Odyssey received Four Stars for its rollover test. Its record has been impressive for several years in a row.
Photos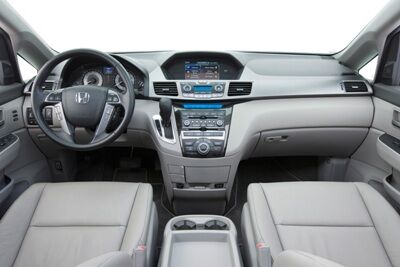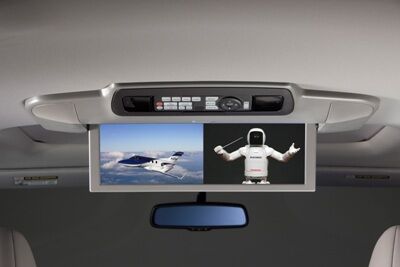 Colors
A full list of colors can be found at CarsDirect.com. Combinations will vary, depending on the trim selected. Some of the available ones are:
Exterior
Dark Cherry Pearl
Glacier Blue Metallic
Nighthawk Black Pearl
Silver Pearl Metallic
Taffeta White
Interior
Main Competitors
Hybrid Models
There are currently no hybrid models of the Odyssey.
Unique Attributes
Resale Values
The Odyssey's resale value is considerably high, which makes sense when one considers that the Odyssey has been in such high demand that paying quite a bit over MSRP is typical. Kelley Blue Book reports that "the Odyssey's pricing may seem high, but over a five-year period it holds its value better than the Chrysler Town & Country, Dodge Grand Caravan, Kia Sedona, Pontiac Montana, Buick Terraza, Nissan Quest, Ford Freestar and even the Toyota Sienna." The 2006 Odyssey was considered to have the "Best Resale Value" in the Minivan category by Kelley Blue Book.
Criticisms
"High demand forces you to pay sticker price or above." — Edmunds.com
"Still doesn't offer four-wheel drive." — Car and Driver
"There is still some on-center steering slack. You can turn the steering wheel a few degrees in either direction before the vehicle starts to move." — New Car Test Drive
Current Generation (2018-present)
The fifth generation Odyssey was unveiled at the 2017 North American International Auto Show in January. Sales began on May 25, 2017 as a 2018 model. A 10-speed automatic (optional within Touring and Elite trim levels) produced at Honda Precision Parts Georgia (HPPG) is Honda's first use of a 10-speed transmission in a production automobile.
The 2018 Honda Odyssey rides on an all-new chassis that is 40% stiffer and 34-kilos lighter than the old. It is remarkably quiet, with very little wind or road noise finding its way into the cabin. New steering and suspension systems have resulted in increased alacrity and less lean. The 2018 Odyssey is powered by a 3.5-litre V-6 engine putting out a hefty 280 horsepower, up 30 from the outgoing model.
Previous Generations
Fourth generation (2013-2017)
The fourth generation Odyssey is one of the most luxurious minivans ever. It includes DVD entertainment system and a cool-box/mini-refrigerator similar to the ice makers used in the earlier Toyota Van, Nissan Van, Mitsubishi Van.
Third generation (2007-2012)
The American Odyssey was redesigned for the second time and released in September 2006 as a 2007 model. The American Odyssey also had four trim lines. Production moved from Alliston, Ontario, Canada, to Lincoln, Alabama and the Alliston line was retooled to build the Ridgeline. It continued on the global light truck platform remaining different from the Japanese domestic market Odyssey. It retained from the previous model the basic chassis with front strut suspension and multi-link rear suspension and was only marginally larger and heavier. It continued with a 3.5 L V6 engine. EX-L and Touring models have i-VTEC with Variable Cylinder Management. The Odyssey added "PAX" run flat tires only in the new Touring model, a lazy susan storage bin in the floor where the spare tire used to be in the previous model, eight passenger seating with limited availability, and a 60/40 fold flat seat (like the Toyota Sienna's). PAX tires suffer from short life and limited availability. PAX snow tires and wheels cost $1600 for a set of four increasing the high price of ownership. Dealers are supposed to have a spare PAX tire available as a quick replacement for the customer's damaged PAX tires. But dealers too often do not know about the free replacement policy during the first 50% of tread life or do not stock the PAX tire. The PAX owner may be without a usable tire in case of tire damage because PAX cannot be repaired with normal tire mounting and repair equipment. Costs for the Odyssey rise quickly in higher line models. The highest level Touring model with sales tax and destination charge rises to over $40,000 US dollars. 2007-2008 models can have problems with windshield related wind noise, loud exhaust resonance noise, and power steering pump problems. In 2010 the Odyssey got a facelift. A concept for 2011 was shown at the Chicago Auto Show.
Second generation (2001-2006)
The American Odyssey was sold under the name Honda Lagreat in Japan from 2000 to 2006, with the smaller Japanese Odyssey continuing in Japan and numerous export markets. For the first time the Honda Odyssey was assembled in Canada. The Honda Odyssey got a navigation system in 2000. For the American van, class-leading power led to good acceleration, however transmission technology failed to keep pace with engine power. The 4-speed automatic transmission in 2001 to 2003 models and the 5-speed automatic in 2002 to 2004 models had significant problems with transmission reliability for 1999, 2001, and 2002. The oil jet recall for some 5-speed automatic transmissions did not address or solve the main cause of breakdown. As in the similar transmissions of the Acura TL and MDX, failure of the transmission's third gear clutch pack and other parts remained a problem even after the oil jet recall. Also, road noise issues, rattles, power door failures and added dealer markup - a waiting list of several months was common when it was first released in 1999 - weighed against this powerful and large family cruiser.
First generation (1995-2000)
The Odyssey was introduced in 1995 as an compact minivan with four swing-open doors as on most sedans rather than the conventional sliding door design. It was Honda's first minivan. The basic vehicle was shared between the Japanese and North American markets. The Odyssey was also the first minivan to have a flat-folding third row seat. Built on the Accord platform and using a 4-cylinder engine like the Accord's, many critics thought the interior was too small. Consumers agreed and the first generation Odyssey was not a sales success. The first generation Odyssey came in two trim levels LX and upscale EX. The LX could fit seven with two front buckets, a three-seat middle bench, and a 2-seat third row bench. The EX could fit six and came with two second row captain's chairs. The Odyssey was rebadged as the Isuzu Oasis, which is now discontinued. This unusual sharing of vehicles resulted from a lack of SUVs in Honda's lineup. Isuzu got from Honda the Odyssey and renamed it the Oasis. Honda got from Isuzu the Rodeo and renamed it the Passport. Acura got the Trooper and renamed it the SLX. The Odyssey was Wheels magazine's Car of the Year for 1995. In 1996 the Honda Odyssey became available for taxi fleet.
Worldwide
Design quirks and oddities
A selling point of the 1999 release (second generation) was that the third row seats would fold flat into the floor, instead of requiring removal. Most other vans at the time (especially the Chrysler / Dodge models which were prevalent in America) had a heavy seat which needed to be removed and stored in order to carry cargo. The Odyssey could hold a 4x8 sheet of plywood with the third seat folded down and the second row seats removed.
For Honda 70th Anniversary Hotwheels released a Honda Odyssey along with a Honda Money, 1985 Honda CR-X, Honda Civic EF Hatch, Honda S2000 CR and 2 Honda Civic SI Models.
Awards
2006 Best Van in 5 Best Trucks list - Car and Driver
2006 Best Minivan - MotorWeek
2006 Best Overall Value of the Year and Best Overall Van of the Year - IntelliChoice
2006 Most Fuel Efficient Minivan - EPA
5-Star Safety Rating - NHTSA
Best Resale Value in Minivan category - Kelley Blue Book
Best Fuel Economy - Kiplinger's (Touring edition)
Best Minivan - Automotive Lease Guide
See also
External links
Honda Manufacturer Sites
News & References
Community Sites

This page uses content from Wikipedia; see Honda Odyssey, which includes these contributors.