Honda N360
aka
Honda LN360

Honda NIII360

Honda N400

Honda LN400

Honda Scamp

Production
1967-1972
Class
Kei-car
Body Style
2-door sedan

3-door wagon ("Van")

Length
2,995 mm (117.9 in)
Width
1,295 mm (51 in)
Height
1,346 mm (53 in)
Wheelbase
2,000 mm (78.7 in)
Weight
508 kg (1,119 lb)
Transmission
Four-speed manual constant mesh, dog-clutch engagement
Engine
354 cc N360E air-cooled SOHC I2

402 cc N400E I2

Power
354 cc N360E air-cooled SOHC I2:

27.4 PS / 27 bhp / 20.1 kW @ 8000 rpm 30 Nm / 22.1 ft.lb / 3.1 kgm @ 5500 rpm

Similar
N/A
Designer
N/A
The Honda N360 is a kei car, manufactured and marketed by Honda from March 1967 through 1970. After a January 1970 facelift, the N360 became the NIII360 and continued in production until June 1972. A larger-engined variant, the N600, was marketed through 1973.
The two-door featured front wheel drive and an air-cooled, four stroke, 354 cc, 31 PS (23 kW) two-cylinder engine, derived from the Honda CB450 motorcycle engine. The displacement was reduced to comply with kei car legislation which limited maximum engine displacement. This same engine was also used in the Honda Vamos, with a beam axle/leaf spring rear suspension. The "N" prefix stands for the Japanese word "norimono" which means "vehicle" in English — as distinct from Honda's motorcycle production. The exterior dimensions were in compliance with Japanese government regulations concerning kei cars, however, vehicles installed with the 401 cc and 598 cc engines were too large for the category, and were largely intended for international sales.
A modern revival was introduced in 2012 as the Honda N-One.
Versions
Edit
A two-door sedan was the original body style, with a three-door wagon (considered a commercial vehicle in Japan, and therefore called a "Van") called the LN360 coming in June of the first year. It has a horizontally divided rear gate and boxier rear bodywork for maximum load capacity. The LN360 had the same 31 PS engine as the sedan, and a top speed of 105 km/h (65 mph). After a January 1970 facelift it became the LNIII 360, with a new non-reflective dash, bigger turn signals, and the same new front end as the sedan. The LNIII 360 was built until late 1971, when the Life Van took over.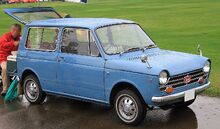 The N360 was an all new, clean-sheet product, and did not share its chassis with the Honda Sports roadster, or the Honda L700 commercial platform. An upgraded 36 PS (27 kW) engine was added in October 1968 for the N360 TS, which was sold as the N360 Touring following a minor update in January 1969. The updated version is referred to as the NII. A 401.54 cc engine was used in the similar N400, a model sold in certain export markets beginning in 1968. The engine's technological specifications reflected engineering efforts resulting from the development of the larger Honda 1300, which used an air-cooled 1.3 litre engine. One of the primary differences between the N360 and the Honda Life that followed was the N360/600 had an air-cooled engine, and the Life had a water-cooled engine. The water-cooled engine was better able to comply with newly enacted emission standards in Japan, and reflected an industry wide move away from air-cooled as well as two-stroke engines. As does the original Mini, but unlike the succeeding Life, the N360/600 had its gearbox mounted in the sump rather than bolted on as a separate unit.
The Hondamatic-equipped N360AT which appeared in August 1968 was the first kei car equipped with an automatic transmission.
External Links
Edit
Community content is available under
CC-BY-SA
unless otherwise noted.