Honda Fit
Honda
aka
Honda Fit (Japan, China, and North and South America)
Honda Jazz (Europe, most Asian markets, Oceania, the Middle East, and Africa)
Production
2001 - Present (Japan)
2007 - Present (U.S.A.)
Class
Subcompact
Body Style
5-door hatchback, 4-Door Sedan (China)
Length
157.4 in (3845 mm)
Width
66.5 in (1675 mm)
Height
60.0 in (1525 mm)
Wheelbase
96.5 in (2450 mm)
Weight
2432 MT/ 2514 AT
Transmission
5-speed manual
5-speed automatic
CVT / CVT-7
Engine
1.2 L L12A i-DSI I4
1.3 L L13A i-DSI I4
1.5 L L15A i-DSI I4
1.5 L L15A VTEC I4
1.5 L L15B1 i-VTEC I4

Power
109 hp @ 5800 rpm
105 lb-ft of torque @ 4800 rpm

130 hp @ 6600 rpm
114 lb-ft of torque @ 4600 rpm
Similar
Toyota Yaris & Smart Car
Designer
Designer (lead designer if it was a team effort)
The Honda Fit/Jazz is a five-door hatchback automobile produced by Honda of Japan, first introduced in June 2001. The vehicle is marketed as the "Fit" in Japan, China, and North and South America. It is called the "Jazz" in Europe, most Asian markets, Oceania, the Middle East, and Africa.
Although the Fit is now one of Honda's global models, it experienced a very slow progression as it made its way around the world. The car first debuted in June of 2001 in Japan. It was then introduced to Europe (early 2002), Australia (late 2002), South America (early 2003), South-East Asia (late 2003), China (mid 2004), and Mexico (late 2005). A production model for the United States and Canadian markets debuted on January 8, 2006 at the North American International Auto Show in Detroit. The car was released in the US and Canada on April 20th, 2006.
See Autopedia's comprehensive Honda Fit Review.
The 2010 Paris Motor Show in September 2010 sees the world debut of the EU/Asian-market Jazz/Fit Hybrid. Reportedly, the car is powered by the same 1.3-liter gasoline powerplant and CVT + electric motor combo found on the Insight. The eco-friendly subcompact is scheduled to arrive in Japanese showrooms in October with prices rumored to begin at around 1.6 million yen, or about US$19,000 / €15,100 at the current exchange rates. [3]
The Honda Fit/Jazz is completely redesigned for the 2009 model year. With styling borrowed from the handsome European Honda Civic hatchback, the new Fit/Jazz is bigger than its predecessor. In the US, output of the 1.5L VTEC rises to 117 horsepower @ 6,600 rpm with a maximum torque of 106 lb-ft @ 4,800 rpm.[1] In its Japanese homemarket, the Fit is also available with a smaller 1.3L VTEC engine producing 100 PS @ 6,000 rpm with a maximum torque of 13.2 kgm @ 4,500.
Basic dimensions are as follows:
Length: 161.6 in. (2.2-inches more than previous model)
Width : 66.7 in. (0.8-inches more than previous model)
Wheelbase: 98.4 in. (2.0-inches more than previous model).
The 2008 Honda Fit/Jazz received a tuner garb from Honda's in-house tuning outfit Mugen. Included were two distinct bodykits: the more aggro RS Aero Kit and the sedate L/G Aero kit, both featuring a restyled front and rear fascia, a roof spoiler, side skirts, chromed exhaust pipes, alloy-wheels, aluminum pedals, extra gauges, sports exhaust system, quick shifter, sport suspension, brake pads, and high-performance air-filter.[2]
The Fit is sold in 5 variations. All Fit models throughout the world utilize one of these 5 distinct codes. They are found in the vehicle's identification number (VIN):
GD1: 1.3 L L13A engine 2WD
GD2: 1.3 L L13A engine 4WD (Japan only)
GD3: 1.5 L L15A engine 2WD
GD4: 1.5 L L15A engine 4WD (Japan only)
GD5: 1.2 L L12A engine 2WD (Europe only)
Add more fields as necessary.
MODEL Trims
Fit 5-Speed Man
Fit 5-Speed Auto
Fit Sport 5-Speed Man
Fit Sport 5-Speed Auto
Fit Sport with Navi 5-Speed Man
Fit Sport with Navi 5-Speed Auto
MSRP
$14,750
$15,550
$16,260
$17,110
$18,110
$18,960
Invoice
$14,236
$15,004
$15,685
$16,501
$17,461
$18,277
Add more fields as necessary.
As seen on the FuelEconomy.gov website, the City/Highway MPG averages are as follows:
Trim
Fit Manual
Fit Auto
Fit Sport Man/Auto
MPG
27 city /33 highway
28 city /35 highway
27 city /33 highway
In the Indian auto market, Honda Fit is known as Honda Jazz. Japanese auto manufacturer, Honda Motor Co. has launched its luxurious hatchback model Honda Jazz in the Indian auto market on June 10, 2009 this year. Honda Jazz is a luxurious small car and is equipped with all luxurious features of a C-segment luxury sedan that leads Honda Jazz price wise a high end model. However, Honda used the Honda City platform to build this car for reducing the Honda Jazz price as the overall manufacturing cost would otherwise increase. The launch of Honda Jazz is the entry of Honda in the small car market in India and it is competing the other luxurious hatchback of this segment such as
Honda Jazz is available with three variants and all of them are powered by the same capacity engine - all three variants are packed with a 1.2L, 1198cc, i-VTEC engine with five speed manual transmission gearbox that offers great engine performance. Its 1198cc power-plant produces 90bhp power at 6200rpm and 110Nm torque at 4800rpm. Its i-VTEC (Variable Valve Timing with Electronic Lift Control) engine with EFI (Electronic Fuel Injection) is specially designed to offer high engine performance with increased fuel efficiency. As per the details available at
It has overall length of 3900 mm, overall width of 1695 mm and overall height of 1535 mm. The car has ground clearance of 160 mm. Kerb weight of the car is 1055 kg. The engine of Jazz delivers maximum power of 90 PS @ 6200 rpm and maximum torque of 110 Nm @ 4800 rpm. The car offers mileage of 17 km/liter on high ways, 13 km/liter in city and overall it offers mileage of 13.8 km/liter. Jazz has front suspension of McPherson strut and rear suspension of Torsion Beam Axle. The front brakes are disc while rear brakes are drum. Honda Jazz has many features related to safety and entertainment. These include air conditioner, power windows, power door locks, power steering, cup holders, folding rear-seat and steering adjustment. Safety features include anti-lock braking system, driver air-bags, passenger air-bags, immobilizer and child safety locks. as per the details available at Honda Jazz.
Consumer Reports states that the Fit's reliability has been well above average.
RECALL ALERT: On January 19, 2008, Honda announced a recall affecting 34,300 MY 2007-2008 USDM Honda Fits originially sold in or currently registered in the states of Connecticut, Delaware, Illinois, Indiana, Iowa, Kentucky, Maine, Maryland, Massachusetts, Michigan, Minnesota, Missouri, New Hampshire, New Jersey, New York, Ohio, Pennsylvania, Rhode Island, Vermont, Virginia, West Virginia, Wisconsin and the District of Columbia. The problem stems from a faulty sensor that is supposed to detect child seats and out-of-position passengers. In states that use road salt, the salt in melted snow water on a driver's shoes can penetrate into the carpet and corrode the wires for the Occupant Detection System (ODS) where it is routed. Severing that connection means that the passenger's front and side airbags will go off even if a child is in the front seat.[3][4]
The Honda Jazz has been ranked 3rd place in Top Gear's latest reliability survey.
RECALL ALERT: On January 30, 2010, Honda issued a recall affecting 646,000 first-generation MY2008-2009 Fits in the United States (140,000 units), South American, European, South African and Asian markets (except Japan) due to a defective master switch in the power window mechanism, which in certain instances could cause a fire. [4]
RECALL ALERT: On December 16, 2010, Honda announced a recall affecting 143,083 model year 2007 and 2008 Fit vehicles in the U.S., 385,000 units of the Jazz in Europe and 735,000 cars in Japan (totaling 1.35 million units) due to faulty routing of the wiring harness for the headlight control switch, as the plating on the wiring harness connectors for the low-beam circuit can become worn after repeated use. The worn plating on the connectors could result in corrosion and cause the connector to overheat and fail, resulting in a loss of low-beam headlight functionality. In the States, owners of model-year 2007 and 2008 Fit vehicles will receive a notification in early January to bring the vehicle to a Honda dealer for inspection. Honda said the dealers will inspect and if necessary, replace the wiring harness terminal and secure the wiring harness connector. If there are any signs of damage in the connector, Honda said dealers will replace the headlight switch as well. [5]
When it comes to safety of the passengers, we make no compromises. Truly speaking, at Honda, safety is not an option. These safety features are a standard offering across the entire range of Honda in the Indian market.
To ensure the safety of the occupants of the car, Honda cars are built on the 'Advanced Compatibility Engineering' (ACE) body. This provides enhanced self-protection and better compatibility in collisions with other different sized vehicles.
The Honda JAZZ is equipped with the pretensioner seat belt with load limiter.
It is not only the safety of the occupants, but also that of the pedestrians which is of prime concern for us at Honda. The Honda pedestrian-injury reduction body design helps protect pedestrians from injury in the event of a collision. G-FORCE Control Technology (G-CON) - Honda's unique G-Force Control Technology (G-CON) controls impact energy in the event of a collision and limits injuries. Driver & front Passenger SRS Airbag- During a frontal collision, when the sensors detect an impact that exceeds a preset threshold, the airbags are instantly deployed and then gradually deflated to reduce head and chest injuries. ABS (Anti-Lock Brakes System) with EBD (Electronic Brake-Force Distribution) : These systems work to prevent wheel lock in an emergency braking situation or when braking on slippery road surfaces. ABS stabilizes the vehicle while braking so that the driver can better control it and avoid obstacles ahead. As per the details available at Honda Jazz Safety Features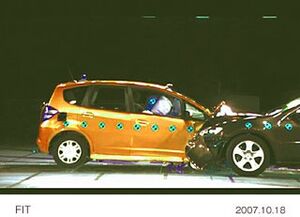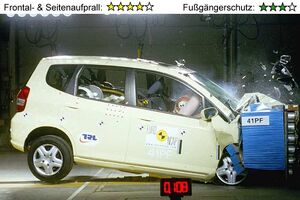 Standard safety features
Optional safety equipment
Side thorax airbags
Side curtain airbags
Electronic Stability Control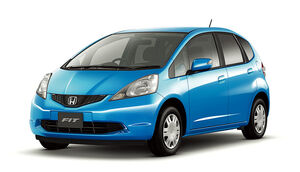 2008
Depending on the region, the Fit is equipped with either a 1.2, 1.3, or 1.5 liter i-DSI engine, or a 1.5-liter VTEC engine. All four engines are based on Honda's L-series engine family. The 8-valve i-DSI (intelligent dual & sequential) engines use two spark plugs per cylinder, allowing for a more complete burn of the gasoline, thereby reducing fuel consumption, and emissions, while allowing for maximum torque at mid-range rpms. The 1.5L VTEC engine has the typical 16-valve configuration. The engines are mated to a 5-speed manual, 5-speed automatic, or Continuously Variable Transmission (CVT), again depending on the region. Two forms of the CVT are offered: the regular, and the CVT-7. The CVT-7 has the traditional choice of gearless shifting, and a smooth, continuous flow of power with the added option of seven computer-controlled "gears" controlled by paddle shifters on the steering column.
This section should include information on the interior's design, build quality, ergonomics, space (head and legroom, front and rear), features, stowage compartments and overall comfortability and livability. Add pictures wherever applicable and keep information in a third-person point of view.
Add more fields as necessary.
<MODEL> Year
Year X
Year X-2
Year X-3
Year X-4
Resale Value
$
$
$
$
The Fit utilizes Honda's Global Small Car platform, which is also used by the Fit Aria/City (a sedan version of the Fit), the Airwave (a wagon version of the Fit Aria/City), the Mobilio, and the Mobilio Spike. One of the unique characteristics of the Fit, which is also present in the Fit Aria and Airwave, is the location of the fuel tank. Rather than placing it under the rear seats, it is located under the front seats, thereby freeing up valuable room in the back. It also allows for Honda's "Magic Seat" system, called ULTR seat in Japan, which has five distinct seating modes:
Normal: seats are in their normal position with seating for five.
Utility: Either section (or both) of the 60:40 split rear seat sink down into the rear foot well as the rear seat back is lowered forward. This offers a low, perfectly flat surface that increases the cargo area substantially.
Long: The rear seat behind the passenger folds down similar to utility mode, but the front passenger seat folds backward, leaving an area that can hold items as long as 2.4 meters (7.9 feet).
Tall: Either section (or both) of the rear seat cushion fold up against the rear seat back, allowing for an area of 1.28 meters (4.2 feet) in height.
Refresh: With the headrest of the front seat removed, the front seat back can be folded down to form a lounge-style sitting area.
The Fit is produced in 5 factories throughout the world. Suzuka (Japan), Sumaré (Brazil), Guangzhou (China), Ayuttaya (Thailand), and Karawang (Indonesia). Models produced in Japan are sold in Honda's home market and exported to Europe, as well the Canada and United States. The Brazilian factory supplies all of Latin America and the Caribbean. Chinese models are sold in the region, and also exported to Europe.
The Fit is marketed in different ways and has different characteristics throughout the world, depending on which region it is sold in.
Two engines (1.3 i-DSI and 1.5 VTEC) were initially offered, each with a number of trim lines ranging from the basic "Y" to the sporty "S". The 1.3 L i-DSI was available with only the regular CVT automatic. 1.5 L VTEC models are available with either the 5-speed manual, or the CVT-7. Unique to the Japanese market, the Fit is also available in 4WD. The 1.3 L engine was dropped in mid-2005.
In Brazil, the Fit has the same two engines from the Japanese models (All Brazilian Honda cars have engines imported from Japan) and there are three trim levels available. Base model LX features the 1.3 i-DSI engine (which is marketed as 1.4 in Brazil). The second model in the range, the LXL, features the same engine from the LX, but has extra equipment. The top model is the EX, which has essentially the same equipment from the LXL, but comes with the 1.5 VTEC engine. All models are available with the 5-speed manual or the regular CVT automatic. There are neither side airbags nor side curtains available for the brazilian version. Note the position of the radio antenna position in the picture. Honda started selling the 2007 model in February 2006 with new bumpers and some cosmetic changes. The reference price is R$52,910 (around US$25,200) for Fit 1.5 EX MT on April 2006.
The European market also has two engines available. The European-only 1.2 i-DSI is offered as the base model in many countries, and can only be purchased with a 5-speed manual transmission. The 1.4 i-DSI is identical to the 1339 cc 1.3 i-DSI sold in Japan, but marketed as a 1.4 L to differentiate it from the smaller 1.2 L engine (ironically, at 1244 cc, it's closer to being a 1.3, than the bigger one is to a 1.4). 1.4 L models start out well-equipped with the 5-speed manual standard and the CVT-7 available as an option. All European models have ABS and 4-wheel disc brakes standard on every model. Side airbags are standard on 1.4 L models. In the United Kingdom, the Honda Jazz has received a serious amount of very good press. Most notably, the UK's biggest automotive service, by Top Gear, revealed that the Honda Jazz was the 4th best vehicle on UK roads, as voted by UK car owners. The enormous popularity of the Jazz has made it Honda's best-selling model in the region, comprising 30% of all European Honda sales. Honda originally intended to name the car Fitta, but did not take a liking to word's meaning in some languages ("fitta" is Swedish and Norwegian for "cunt"), resulting in a last-minute change.
The Fit went on sale in the United States and Canada in April of 2006 as a 2007 model year vehicle.[5] It replaced the Civic hatchback (now exclusively sold in Europe as of 2006) for North America. The Fit takes over for the Civic as Honda's chief entry-level subcompact; the Civic continues to grow in size and price and it was reclassified as a compact (larger than a subcompact) in 2001.
In keeping with Honda's safety initiative, the Fit is offered in North America with standard side airbags, side-curtain airbags, and ABS, in addition to the mandatory front airbags. Due to differing safety regulations, North American Fits have larger bumpers than the rest of the world, resulting in a slight increase in overall length.
The Fit is offered in two variants, Base and Sport. Differences are primarily limited to cosmetics and standard equipment. All models share the same 1.5 L 109 hp (81 kW) engine and standard 5-speed manual transmission. A conventional 5-speed automatic transmission is optional, instead of the CVT found throughout the rest of the world. The Fit Sport receives paddle shifters mounted behind the steering wheel when ordered with the automatic. The base model is priced at US$13,850, with the automatic transmission adding $800 and the Sport package adding $1,320.
The first series Jazz has been released in 2002 only as a hatchback. Trim levels ranged from GLi, VTi and the VTi-S with the starting price of $17,990 AUD. The Jazz came with two engine choices, a 1.3L and a 1.5L V-TEC petrol and two transmission options, a 5 speed Manual and a continuously variable transmission both driving the front wheels. The Jazz isn't far from safety with other small cars on the market particularly with dual front airbags and ABS standard. In 2005, production of the Australiasian-bound Jazz had moved to Thailand and the starting price was cheaper by $2,000 AUD and a special edition Vibe had been released.
In 2008, the second generation Jazz went on sale. It has more safety features available including side thorax airbags, side curtain airbags and electronic stability control. The sedan version of the Jazz, the City has already been released with a starting price of $20,490 AUD.
A Honda Fit Hybrid is planned for the near future.
The Fit was named one of Car and Driver's "Top Ten" cars for 2007.
The Fit/Jazz won the Japanese Car Of The Year in 2001.
The Fit/Jazz was runner up for the 2003 Most Beautiful Small Sedan in the World.
Design Quirks and Oddities
[
edit
|
edit source
]
Tamiya offers a model kit of the Fit in 1/24 scale, in two versions; one is a regular display model and the other a motorized version with a small electric motor and steerable front wheels, with parts to build a right- or left-hand drive version.. Ebbro offers a 1/43 scale diecast model in regular and Mugen versions, as well as a Fit Aria.
The Honda Jazz is ranked 2nd place in the Which? Car Owner's Satisfaction survey next to the Toyota Yaris Verso.
Community content is available under
CC-BY-SA
unless otherwise noted.