Main article: Honda Civic
See also: Honda Civic Hybrid
Honda Civic
Ninth generation (FB)

250px

Manufacturer
Honda
Country
{{{country}}}
Production
2011–present
Class
Compact car
Body style(s)
{{{body style(s)}}}
Layout

Front-engine, front-wheel drive

Engine(s)
{{{engine(s)}}}
Transmission(s)
{{{transmission(s)}}}
The ninth generation Honda Civic was launched in the North American market in April 2011 and Europe in February 2012.
North American specifications (2011-)
[
]
2012 model year
[
]
In May 2010, the ninth-generation Civic was said to be delayed into 2011, because of changing market conditions and tougher fuel economy and emissions regulations.[1]
The Civic was originally planned to become bigger, but after the collapse of Lehman Brothers and the global credit crisis in 2008, Honda wanted to make the car smaller, lighter and more fuel-efficient, while increasing space inside.[2]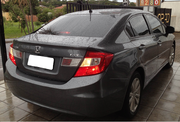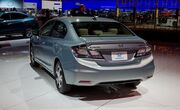 On December 13, 2010, Honda unveiled a sketch of the new ninth-generation Civic which was described as "energetic, sleek and aerodynamic." Both coupe and sedan concepts for the North American market were shown on January 10, 2011 at the 2011 North American International Auto Show. The production version of the ninth-generation Civic based on the revealed concepts will go on sale in spring 2011.[3] Gasoline, hybrid and natural gas variants will be offered. The gasoline-engined lineup includes a sedan and coupe. Both of them will be also offered in Si performance versions.[4]
The new model is slightly smaller and lighter than the outgoing models.[5] The sheet metal is all new, with a longer hood but still a familiar profile: Honda calls it the "one-motion" design.[6]
China models went on sale in 2011-10-29. Early models include a choice of 2 engines (1.8L, 2.0L), 6-speed manual (1.8L EXi) or CVT (1.8L EXi, 1.8L VTi, 2.0L TYPE-S) transmissions, navigation system (1.8L VTi, 2.0L TYPE-S).[7]
Honda's Eco Assist technology is added to most models (except Si), and becomes the first gasoline-only powered Honda to employ such technology in North America. It is an information system to help the driver adopt a more fuel-efficient driving style,[4] and is proven to improve fuel economy by about 10% for Honda's hybrid vehicles in Japan[8] by providing visual feedback to promote or confirm efficient driving.[9] The Eco Assist can also alter the transmission's shift pattern in the hybrid model.[10] A new Motion Adaptive electric power steering system helps to mitigate oversteer or understeer in conjunction with the standard Vehicle Stability Assist.[9]
Gasoline (DX, LX, EX, and EX-L), hybrid and natural gas variants are offered. The non-hybrid gasoline-engined lineup includes sedan and coupe, and Si performance versions are available as coupe and sedan. Honda has also released the Civic HF sedan, a model with aerodynamic and fuel efficiency enhancements which revives the "HF" moniker last used for the 1991 CRX HF. It features a Honda R18 1.8 Liter Inline Four-Cylinder engine and a 5-Speed Automatic transmission like the regular gas-powered models, but it has been tuned so that it returns 41 highway miles per gallon (MPG). It comes with fifteen-inch alloy wheels with low rolling-resistance tires that reduce rolling resistance by 20%, additional underbody covers, a rear decklid spoiler and keyless entry with a security alarm. This results in a 4% improvement in aerodynamic performance.[9] It comes in two colors, Polished Metal Metallic or Taffeta White Clear Coat with a gray interior. The Civic GX NGV (Natural Gas Vehicle) has been available available since late 2011.
All models (except for the base model DX), come with the Intelligent Multi Informational Display (iMiD) that integrates information of the vehicle and compatible personal electronics devices with a 5-inch color display and steering wheel controls.[9] It can display information such as current odometer mileage, current trip mileage, current time and date, current fuel economy readout, audio information (radio station, CD track info, radio data system info, climate info, and more, and will also allow you to upload two photos to the internal storage unit that can be displayed when the audio system is powered off.
All Civic models have better fuel economy in U.S. EPA ratings, by as much as 8% on the highway for models with an automatic transmission compared to 2011 versions.[9] Two versions attains fuel mileage of Template:Convert/mpgus (17.54 km/L) or above in U.S. government testing.[11] Aerodynamics and weight reduction play important role in fuel economy improvement: aero parts are placed under the engine bay, fuel tank, and the rear underbody to enhance airflow; front spoiler and strakes ahead of tires direct airflow around the wheel wells; there is a new flat underfloor; resulting in 3.4% lower coefficient of drag.[9] Increase use of high-strength steel to 55% on the sedan (56% for the coupe) from 50% contributes to a 7% reduction in body weight.[9] The electric power steering system is lighter by 1.3 kg (2.9 lb); the front subframe is lighter by 1.7 kg (3.7 lb); a thinner-walled fuel tank saves 1.0 kg (2.2 lb) and a laser-welded exhaust silencer that is 0.5 kg (1.1 lb) lighter.[9] As a result, the LX trim with an automatic transmission is almost 50 lb (23 kg) lighter.[9] On the other hand, for the 2012 sedan, passenger volume is increased by 3.8 ft³ (108 L) to 94.7 ft³ (2682 L),[9] with three more inches of elbowroom in the front and about two more inches of legroom in the back.[12]
The piston assembly was the source of the most significant losses in an engine. To reduce friction loss in the engine, pistons in the 1.8 litre engine have a molybdenum treatment applied in a polka-dot pattern.[13]
A HF model, the most fuel-efficient gasoline-only powered Civic in the lineup, gets Template:Convert/mpgus (17.54 km/L) under EPA highway test cycle, compares with Template:Convert/mpgus (15.38 km/L) for previous generation, increasing the combined fuel economy rating to Template:Convert/mpgus (14.08 km/L).[14][15]
The Civic hybrid, with a larger 1.5-liter i-VTEC engine that produces 90 horsepower and 97 pound-feet of torque[12] and a lithium-ion battery, is rated at Template:Convert/mpgus in combined city and highway EPA test cycle, an improvement of Template:Convert/mpgus over the previous generation hybrid.[15] A new stronger electric motor produces 23 horsepower and 78 pound-feet of torque. The new lithium-ion battery is lighter and more powerful compared with the nickel-metal hydride one in previous model.[12] Both the Civic HF and Civic Hybrid models have improved aerodynamics.[11]
Other gasoline-only powered Civic sedans and coupes get Template:Convert/mpgus in highway tests, an improvement of Template:Convert/mpgus over previous generation, and Template:Convert/mpgus for city driving. The Civic GX natural gas model will have a 7% improvement in fuel economy. The above models are also equipped with the Honda ECO Assist technology.[11]
The Civic Si sedan and coupe models have a larger, more powerful 2.4-liter inline-four engine with 201 hp (149 kW) and 170 lb-ft (230 N·m) of torque, as well as a new 6-speed manual transmission. The Civic Si achieves an EPA-estimated highway fuel economy of Template:Convert/mpgus, an increase of Template:Convert/mpgus.[11]
Vehicle color selections:
Alabaster Silver Metallic
Cool Mist Metallic
Crimson Pearl
Crystal Black Pearl
Dyno Blue Pearl
Green Opal Metallic (hybrid)
Polished Metal Metallic
Rallye Red
Sunburst Orange Pearl
Taffeta White
Urban Titanium Metallic
Frosty White Metallic
White Orchid Pearl
In 2012, Honda recalled 50,000 2012 Civics because the process required during assembly to seat the driver's side driveshaft and set the retaining clip was not completed.[16][17]
Model year updates
[
]
2013
[
]
Reviews of the 2012 Civic have been generally lackluster, with many reviewers citing the car's cheap interior materials, along with worsened driving dynamics and insubstantial exterior styling changes from the previous generation, as drawbacks. Consumer Reports went so far as to remove the 2012 Civic from its 'Recommended' list of compact cars, which the vehicle had been on for many years.[18] In response, Honda introduced a heavily revamped Civic for the 2013 model year. The refreshed Civic sedan features a new front fascia with a U-shaped honeycomb grille and chrome accents (replacing the 2012 model's three-bar grille), a redesigned hood, and a reworked rear end with new taillight designs, along with additional light clusters and a chrome bar on the trunk lid. New standard features include a rear backup camera, Bluetooth controls, and Pandora Radio access. Ride quality, handling, and interior material quality are also improved. The coupe retains the 2012 model's exterior styling, but receives the same interior and engineering upgrades as the sedan.[19]
Honda CEO Takanobu Ito explained that the 2012 model was developed during the height of the global financial crisis, which led the company to believe that consumers would be willing to forego upscale content and quality in new vehicles so long as they were fuel efficient and affordable. Ironically, rival automakers such as Ford and Hyundai increased the quality and feature content of their compact vehicles around the same time, pushing sales of Civic rivals such as the Ford Focus and Hyundai Elantra to new heights in the United States.[20]
2014
[
]
Changes include exterior styling updates on the Civic Coupe, premium interior refinements to all models, 7-inch capacitive touch-screen Display Audio, LaneWatch blind spot monitor, Smart Entry with Push Button, HondaLink connected-car technology, all-new CVT for gasoline only powered Coupe and Sedan.
US models include Civic Coupe LX/EX with a 5-speed manual transmission CVT, EX-L and EX-L Navi with CVT; Civic Sedan LX 5-speed manual or CVT, EX and EX-L and EX-L Navi and HF with CVT.[21]
Changes to Civic Coupe include exterior design changes that include a more aggressive grille, hood, front fenders and headlight design; new taillight lenses, sportier front and rear bumpers, new side mirrors and new wheel designs, 18-inch wheels and tires with new wheel designs.
Civic Si Coupe and Si Sedan include increase engine power to 205 hp and 174 lb-ft of torque via a retuned exhaust system.
Civic Si Coupe includes a unique lower front bumper garnish, larger rear decklid spoiler, a distinctive front spoiler and sporty rear air diffuser.
2014 Honda Civic EX-L Coupe with Honda Genuine Accessories includes Aero Kit (Front Underbody Spoiler, Side Underbody Spoiler, and Rear Underbody Spoiler), 18-inch Honda Factory Performance Diamond-Cut HFP alloy wheels.
Safety
[
]
IIHS

sedan scores:[22]

| | |
| --- | --- |
| Moderate overlap frontal offset | Good[23][24] |
| Small overlap frontal offset* | Good (2013–present models)[25] |
| Side impact | Good[26][27] |
| Roof strength | Good[28] |
IIHS coupe scores[29]

| | |
| --- | --- |
| Moderate overlap frontal offset | Good (2013–present models)[30] |
| Small overlap frontal offset* | Good (2013–present models)[31] |
| Side impact | Good (2013–present models)[32] |
| Roof strength | Good (2013–present models)[28] |
To improve safety Honda uses an updated ACE II body structure on 2013 Civics.[35]
Marketing
[
]
As part of 2013 Civic launch in the US, the 'Things Can Always Be Better' ad was premiered during 2013 Rose Bowl.[36]
As part of 2013 Civic Si Coupe launch, Honda partnered with Microsoft and Xbox to develop a branded destination experience complete with free car downloads for players. Beginning on 2013-01-15, Forza Horizon players can download the Honda Challenge Car Pack on Xbox LIVE, featuring 2013 Civic Si Coupe, original 1986 Civic Si or Honda Performance Development B-Spec Rally Fit, free to Xbox LIVE members. In 2013-02-15, a photo contest was launched in Forza Horizon encouraging players to submit photos taken in-game of the 2013 Civic Si, and the best photo would be featured on Honda social channels and on the Honda website, and the winners of the contest would receive a custom Civic Si-themed Xbox 360 gaming console. Beginning on 2013-12-15, the branded destination experience launched and video banner ads directed players from the Xbox LIVE environment, where players could then view photos of Honda cars and vote on the track to compete in the "2013 Civic Si Challenge."[37]
2013 SEMA concepts (2013-)
[
]
2014 HPD Civic Si Coupe Race Car is a Honda of America Racing Team race car for the IMSA Continental Tire Street Tuner series, built by Honda Performance Development, Inc. Changes include HPD-spec sealed K24Z7 racing engine, HPD cold air intake, HPD stainless steel exhaust header, Accusump oil pressure accumulator, HPD camber plates, HPD rear blade adjustable anti-roll bar, HPD suspension bushings, HPD 300x28T 2-Piece brake rotors, 225/45R17 Continental ExtremeContact DR ST-spec tires, Enkei RPF1 wheels, HPD racing spec body-in-white w/ sunroof and sound deadening delete, RECARO racing seat, Schroth driver restraint harness, fire suppression system.
2013 Civic SI Sedan Project by MAD Industries is a version of 2013 Civic SI Sedan built by MAD Industries, with Eibach Pro-Kit Performance Springs front and rear, lowers vehicle by 1.0" – 1.5" with Progressive Spring Design, MGP custom Satin Black Caliper covers, Nitto Tire NT 555 225/40ZR18 Ultra High Performance Tire, 18"x8.5" Honda Factory Performance Alloy Wheel in satin black, JDM Sport aluminum lug nuts, 3M 1080 Scotchprint Wrap Film Series satin black 1080-S12 personalized vehicle graphics, racing stripe installed by Sticky Finger, 3M Color Stable window film from Interwest.
2014 HPD Civic Street Performance Concept is a version of 2014 Honda Civic built by Honda Performance Development, Inc., designed to explore the performance potential of the Civic. Changes include HPD-spec K24Z7 racing engine, HPD Big Brake Kit w/ 4-piston calipers and 328 x 28T rotors, HPD brake line kit, HPD 25.4mm rear anti-roll bar, Eibach Sport Springs (front), HPD performance springs (rear), HPD 18-inch wheels, Michelin Pilot Super Sport tires 215/40R18 89Y, HPD wrap by One 11 ink. The vehicles were unveiled in 2013 SEMA show.[38][39]
Euro-spec 5-door hatchback (2011-)
[
]
The five door hatchback Civic for European market was unveiled at the Frankfurt Motor Show in September 2011.[40] Strong identity of the previous generation European Civic led Honda to refine the current package instead of radical changes. Basic look and proportions of previous car are retained as the futuristic design was welcomed by customers. Aerodynamics, rear and side visibility are all improved. It is claimed to be the most aerodynamic car in its class, with a coefficient of 0.27. The wheelbase is 30mm shorter without a decrease of interior space. Retaining the compact torsion beam rear suspension and the centrally mounted fuel tank help contribute to a boot capacity of 470 litres. More than 20,000 miles of testing was carried out on British roads for better handling and ride quality. The rear beam axle is completely redesigned for higher stiffness, and new fluid-filled bushing is used to improve stability and cornering ability, as well as ride quality. There are more standard equipment and higher interior quality.
UK models went on sale in 2011-10-01. Early models include a choice of 1.4-litre gasoline, 1.8-litre gasoline, 2.2 i-DTEC Diesel engines, with 1.6-litre Diesel engine available later in 2012.[41]
Civic Tourer Concept (2013)
[
]
It is a concept vehicle for the upcoming Civic Tourer.
The vehicle was unveiled at the 2013 Geneva Motor Show.[42]
2013 Honda Civic WTCC (2013-)
[
]
It is a race car version of Honda Civic 5-door hatchback for the FIA Super 2000 category of 2013 FIA World Touring Car Championship. It included a 1.6-litre inline-4 direct injection turbocharged engine with intercooler, dry oil sump.
Honda Racing Team JAS and Zengő Motorsport entered the 2013 WTCC tournament.[43]
The vehicle was unveiled in 2013 Frankfurt Motor Show (with HR412E 1.6 litre 4 cylinder direct injection turbo-charged petrol engine).[44]
2014 Civic hatchback update, 2014 Civic Tourer (2014-)
[
]
Changes to Civic hatchback include retuned electric power steering to provide a more secure control during higher speeds, front and rear dampers were revised for improving body control, toe and camber of the rear suspension were realigned to improve the hatchback's handling, privacy glass on the lower rear window, piano black touches on the number plate surround, tailgate and lower bumper; piano black front bumper, new alloy wheels, darker wheel arch garnishes, white stitching on the seats, steering wheel and knee pad; aluminum inserts around the cup holder, glossy black inserts.
Civic Tourer was developed and designed in Europe, includes centre fuel tank layout under the front seats used in the Civic 5-door, additional under floor storage in the boot, Magic Seats, 60:40 split in the seat base, 235mm longer body than the Civic 5-door.
Advanced Driving Assist System package (available for Tourer) includes blind spot warning, traffic sign recognition, lane departure warning and active city braking.
The vehicles were unveiled in 2013 Frankfurt Motor Show, and was set to go on sale in 2014, starting with Civic hatchback in January 2014.[44][45]
Early Civic Tourer models include 1.6 i-DTEC engine from the Earth Dreams Technology series or the 1.8 i-VTEC engine, 6-speed manual (1.6 i-DTEC, 1.8 i-VTEC) or 5-speed automatic (1.8 i-VTEC) transmission.[46][47]
2014 WTCC Civic (2014-)
[
]
Changes include wheel arch extensions, larger diameter wheels, sleeker aero package, extended rear spoiler increased engine power.
Gabriele Tarquini and Tiago Monteiro of JAS Motorsport entered 2014 World Touring Car Championship, with further Civics to be entered by private outfits Zengo Motorsport and Proteam Racing for Hungary's Norbert Michelisz and Moroccan Mehdi Bennani respectively.[48]
Civic Type R prototype (2013)
[
]
It is a version of Honda Civic 5-door hatchback for European market, with a direct injection turbocharged 2-litre VTEC TURBO engine from Honda's Earth Dreams Technology range rated Template:Convert/PS@7800rpm and Template:Convert/Nm@5600rpm.[49]
The vehicle was introduced during 2013 Frankfurt Motor Show.[50][51]
Motorsport
[
]
WTCC
[
]
Honda announced to enter the 2012 World Touring Car Championship (WTCC) with a racer built on the 2012 Euro Civic 5 door hatchback. The car is powered by HR412E - a bespoke, new 1.6-liter direct injection turbocharged engine developed by Honda's R&D centre in Tochigi, Japan, and will race from October in Japan, China and Macau before a two car team join the 2013 championship race.[52] The engine aims for higher efficiency and is said to herald "a new generation of high performance racing engines from Honda" and innovations during the engine's development will "further increase the efficiency of [Honda's] road car engines".[53]
Tiago Monteiro will race in the final three races of the 2012 season at Suzuka, Shanghai and Macau. A second race car will be driven by Gabriele Tarquini for 2013 season onward.[54]
Gabriele Tarquini and Tiago Monteiro entered 2013 FIA World Touring Car Championship with Civic WTCC car.[44]
BTCC
[
]
Honda entered the 2012 British Touring Car Championship with two NGTC compliant European Civic hatchbacks[55][56] with Matt Neal and Gordon Shedden as drivers.[57] It was the first time for a manufacturer supported team to commit to the newly introduced rule.[56] Work on the first car started in July 2011 and testing on the track began in February 2012.[58] Shedden won the 2012 champion title.[59]
Honda Yuasa Racing entered 2014 Dunlop MSA British Touring Car Championship with Civic Tourer race car.[60]
American Touring Car Racing
[
]
Using the latest Honda Civics, Compass 360 racing has continued to be successful in the SCCA World Challenge and the Continental Tire Sports Car Challenge.
Production
[
]
As Honda's Research and Development Centre at Tochigi, Japan was damaged in the March 2011 earthquake, designers of the European Civic were transferred to the Swindon plant in the UK, where all European Civic hatchbacks are built, to ensure the development is not delayed.[61] Production at Swindon, UK, was disrupted by supply chain disruption caused by the 2011 Japanese tsunami and flooding in Thailand. Normal production of Civic did not start until December 2011, delaying the new Civic to be only available on market from February 2012.[62]
The Automobile R&D Center of Honda R&D Co., Ltd. developed the engine for 2013 Honda Civic WTCC, while M-TEC Co., Ltd. manufactured and maintained 2013 Honda Civic WTCC. J.A.S. Motorsports of Italy, was responsible for vehicle body development and manufacturing, as well as team operations.[63]
Production of Civic 5-door hatchback began at Honda of the UK Manufacturing Limited by in November 2011.
Civic Tourer was built at Honda of the UK Manufacturing Ltd in Swindon alongside the Civic hatchback variant.[64]
The 1.6 i-DTEC and 2.2 i-DTEC engines used in Honda Civic were built at Honda's Swindon plant in the UK.[65]
References
[
]
Wikimedia Commons has media related to: [[Commons:Category: Category:Honda Civic (2011)
Honda Civic (2011)

]]

Template:Modern Honda vehicles Template:Honda Timeline