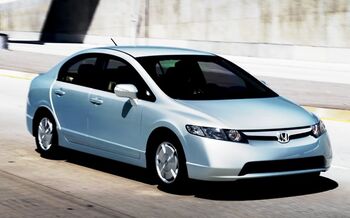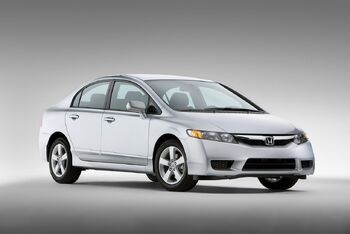 The Honda Civic is a perennial top ten best-seller. Recognized for its rock-solid reliability and value for the money, the compact car appeals across a wide demographic spectrum, from the young, tuner crowd to the average family. The most recent Civic, introduced for the 2006 model year, has continued the tradition of offering an appealing product.[1] It has picked up numerous automotive awards, including the North American Car of the Year award as well as the Motor Trend Car of the Year honor.
See Autopedia's comprehensive Honda Civic Review.
Recent Changes
For 2011, as with 2009, Honda is importing 1500 units of its Euro Civic Type-R to Japan as a special edition model. The current generation three-door Civic Type R has been terminated in Europe because its 2.0-litre VTEC engine does not meet the Euro V emissions regulations. Changes over the previous model year are the addition of a new Crystal Black Pearl color, some trim updates such as the different finish of the fuel cap and a new numbered plaque. Prices for the 2011MY Civic Type R Euro start from 3,000,000 Yen [including consumption tax] or about US$37,200.[1]
For 2011, the European-market Civic gets minor upgrades. [2]
In Australia, Honda is celebrating 40 years of sales with the Civic Limited Edition. Based on the VTi, it gets 15 inch alloy wheels, rear park assist, chrome-tipped tailpipes, foglamps and deluxe tailored floor mats at the cost of $24,990 AUD driveaway for the manual and $27,290 AUD driveaway for an automatic option.[3]
For 2009, the Honda Civic received an mid-term update, including a new front bumper and grille, and revised front and tail lights. Hybrid and Si models now come standard with electronic stability control.
For 2006, Honda redesigned the Civic by giving it a sleeker look. The new version acquired a ULEV-2 rating and boasts a more powerful 1.8 liter engine, but retains almost equal fuel economy compared to the previous generation. In keeping with their "Safety for Everyone" campaign, all models come standard with ABS, side and curtain airbags, and active head restraints. A sedan, coupe, Coupe Si, and Hybrid models are available. The Civic Sedan and Civic Coupe all come in 3 available trims (DX, LX, EX).
All Civics have unique covers/wheels specific to their model and all come in cloth with the exception of the EX-L trim level, which offers choice of brown or gray heated leather seats. Moreover, they feature a new "two-tier" instrument panel. Speed, fuel level and temperature are displayed in the upper tier, while the lower tier displays the tachometer.
For the 2007 model year, look for the Si Coupe's hardware to carry over to the Si Sedan. Debuted at the Chicago Auto Show, the initial concept car sported larger wheels (18" alloys) than its coupe brethren, 4-piston Brembo brakes, and large cross drilled brake rotors not found on the Si Coupe. The production version stripped some of these features and simply is a 4-door Si with the same features found on the Si Coupe.[2]
Honda recently debuted a Type-R concept for the European Civic at the Geneva Motor Show, the Type-R will use a 2.0 liter 220-hp I4. The car itself will be lighter than the standard Civic as dictated by Honda Type-R philosophy. Sophisticated handling aids such as traction control have also been eschewed for a purer, more soulful driving character. The Type-R should go on sale in 2007 after the regular 3-door hatchback models hit the market.
It is unknown whether Honda will produce a Type-R for other markets.
On June 28, 2007, Honda revealed the 300-unit limited edition Civic Mugen RR sports sedan. Unfortunately, the vehicle is only set for sale in Honda's home country of Japan. Power is bumped up 15hp over the standard Type R, producing 240hp at 8,000rpm and 160lb-ft at 7,000 revs. The jump comes from modifications to the intake system and new cams as well as high-flow exhaust. Weight has been cut back with the replacement of some panels with carbon-fiber and aluminum, down 10kg once again over the standard Type R. All vehicles will only be available in Honda's Milano Red paint job.
For the 2008 Paris Motor Show, Honda rolled out the facelifted 2009 Euro Honda Civic. All Models the 5-door, 3-door and Type-S benefits from the new fascia.[6]
Honda Civic in India
In the Indian auto market, Honda Civic was first introduced in year 2006. Now it is available now available with Honda Civic S MT, Honda Civic V MT and Honda Civic AT. All three variants of Honda Civic are powered by a 1.8-liter four-cylinder engine, which makes 140 hp. A five-speed manual transmission is standard feature which is available with Honda Civic S MT, and a five-speed automatic transmission gearbox is available with Honda Civic V AT. All trims get a broad range of safety features, such as anti-lock brakes, front-seat side airbags and full-length side-curtain airbags. Those accustomed to the Honda Civic conservative tradition will be surprised to find a dramatic-looking interior that features a new two-tier dashboard layout. The new Honda Civic will additionally sport features such as leather seats, front fog lamps and turn indicators integrated into outside rear-view mirrors. The major competitors of the new Honda Civic in Indian auto market are
Styles and Major Options
The Honda Civic is available as a sedan or a two-door coupe. There are three main trim levels available: DX, LX and EX.[7]
DX
The DX offers the following features:
Tilt steering wheel
Height-adjustable driver seat
LX
The LX comes with:
16-inch wheels
CD player with MP3/WMA playback
Air-conditioning
Full power accessories

Keyless Entry

Cruise Control
EX
The EX adds the following to the LX:
Alloy wheels
60/40-split rear seatback
2 extra speakers

Steering Wheel-Mounted Audio Controls

and a portable music player jack.
In addition, there are two specialty models: the Civic Hybrid sedan and the Civic Si. Both are equipped to a level similar to the EX trim, though the Si also comes with a sport-tuned suspension, 17-inch wheels and special interior trim, while the Civic Hybrid has automatic climate control but no sunroof.[4] For the EX, Hybrid, and Si, satellite radio and a navigation system are optional.
Pricing
Today's actual prices by city can be found at CarsDirect and Honda Civic Prices Paid.

Trim

DX Sedan

DX-VP Sedan

LX Sedan

LX-S Sedan

EX Sedan

EX-L Sedan

Si Sedan

GX Sedan

Hybrid Sedan

DX Coupe

LX Coupe

EX Coupe

EX-L Coupe

Si Coupe

Price

MSRP

$15,505

$16,255

$17,455

$18,055

$19,305

$20,855

$22,105

$25,109

$23,650

$15,305

$17,255

$19,305

$20,855

$21,905

Invoice

$14,296

$14,984

$16,085

$16,635

$17,782

$19,203

$20,350

$23,747

$21,767

$14,113

$15,901

$17,782

$19,203

$20,166
Gas Mileage
EPA estimates for various trims of the 2008 Honda Civic are as follows:
Trim

4-Cyl., 1.8L, 5-Speed Automatic

4-Cyl., 1.8L, 5-Speed Manual

4-Cyl., 2.0L, 6-Speed Manual

4 cyl, 1.8L, Automatic (CNG)

MPG

25/36

26/34

21/29

24/36

40/45
Reliability
There's always some risk of buying the first year of a new generation, but given the model's long history of being a reliable performer, this should be less of a concern. Consumer Reports has given the Civic a Predicited Reliabilty of Excellent.
RECALL ALERT: On September 14th, 2007, Honda issued a recall alert involving 182,000 Civics manufactured between 2006-2007 due to the potential failure of O-rings on a wheel speed sensor in the rear wheel bearings that can allow water and road salt to accumulate, effecting the bearing to loosen, overheat, and fail. [8]
RECALL ALERT: On March 25, 2008, Honda UK announced a recall affecting 80,000 2006 and 2007 Civics due to a faulty handbrake that may not stick if applied when pushing the release button. All owners of affected vehicles are being urged to visit their Honda dealer as soon as possible to replace the handbrake free of charge.[9]
RECALL ALERT: On November 24, 2008, Honda issued a recall alert affecting 3,940 USDM MY 2001 Honda Accords and Civics due to a defective driver's airbag inflator. The recall begins on December 22, 2008 and Honda urges owners to visit their nearest local Honda dealer where the defective item will be replaced free of charge.[10]
Safety
Honda Civic comes equipped with G-CON Technology, an advanced passive shielding that offers the occupant a survival zone in case of an unavoidable collision. The advanced active safeguards such as ABS (Anti-lock Braking System) with EBD (Electronic Brake-force Distribution) work in synergy with BA (Brake Assist) that makes your drive safe in any given road condition.
Honda also ensures safety with features like SRS Airbags, Pretensioner Seat Belts and Anti-theft Immobilizer. Simply, when it comes to safety, you can always depend on Honda.
Airbag - Front dual SRS airbags to protect heads & chests of the driver & front passenger.
Seat Belt - A pre-tensioner seat belt is used together with the SRS airbag.
ABS (Anti-Lock Brakes System) - It prevents locking of wheels during braking, avoids skidding and lets you maintain control over the steering.
EBD (Electronic Brake-Force Distribution System) - The system apportions / distributes braking force between the front & rear wheels based on distribution of weight within the vehicle
Brake Assist - It helps ensure that driver achieves full braking potential of the vehicle by increasing brake system pressure in a panic situation and bringing the vehicle into a desired stop. As per the details available at Honda Civic Safety Features
The 2006 Civic comes equipped with many more standard safety features compared to the 2005 model. All trims come equipped with ABS, side and curtain airbags, and active head restraints. Also, the Civic has Honda's new Advanced Compatibility Engineering (ACE) body structure, which is designed to enhance the vehicle's ability to deal with crash energy in impacts with vehicles of differing size. The Civic scored "Good" ratings in frontal, side and rear impact tests from the Insurance Institute for Highway Safety (IIHS), and earned the organization's "Top Safety Pick – Gold" Award.
2008 Euro Honda Civic undergoing EuroNCAP testing [5]
Photos
Colors
The 2006 Honda Civic comes in the following colors:
Atomic Blue Metallic
Galaxy Gray Metallic
Nighthawk Black Pearl
Royal Blue Pearl
Shoreline Mist Metallic
Taffeta White Pearl
Rallye Red Metallic
Alabaster Silver Metallic
Fiji Blue Pearl
Habanero Red Pearl
Main Competitors
The Honda Civic Hybrid is a hybrid version of the Honda Civic sedan.
For the 2003 model of the Civic, Honda added a continuously variable transmission and a Integrated Motor Assist hybrid system similar to that of the Insight, creating a fuel efficient hybrid sedan.[6]
The Civic Hybrid was redesigned in 2006 and based off the new Civic platform.
Before the 2006 model year, the electric motor was not able to drive the car itself but provided useful assistance to the gasoline engine during heavy load situations like accelerating. Starting in 2006, however, the electric motor is able to maintain the car at a low speed cruise (20-30 mph) without power from the gasoline engine.
Unique Attributes
Unique exterior, compelling interior, decent power, and excellent gas mileage
In Australia, the Civic VTi is the most fuel-efficient, non-hybrid petrol small car avaliable with the combined fuel consumption of just 6.9 L/100 km (manual).
Resale Values
The Honda Civic maintains resale value very well. It serves its purpose as an economically efficient investment. Automotive Lease Guide, which rates the predicted value of vehicles over their lifetime, gives the Civic three out of five stars.
Criticisms
Sedan

Weak-feeling engine
Poor brake-pedal feel.

Hybrid

There is sometimes criticism that the actual MPGs realized by drivers of the Civic Hybrid are not what the EPA sticker says they'll be. According to GreenHybrid.com, owners of the vehicle are getting an average MPG of 47 MPG.
Also, like many hybrids, the Civic Hybrid can be sluggish compared to the conventional model.
EX Coupe

Absolutely maddening seat-belt chime, which starts beeping as soon as the car's started. This is apparently a remnant of Japanese vehicle operating procedure: Buckle first, then start car. Doesn't work well in the USA.
No interior rear-seat fold-down release, coupled with no exterior trunk lock. If your cable-actuated latch lever breaks, as mine did, you can not get into the trunk without either prying open the trunk lid or sawing through the holddown latch U-bolt on the rear seat-back.
Cheap, easily scratched dash plastic.
Current Generation: (2006–present)
The Civic is all new for the 2006 model year. To answer criticism of a too-conservative design for the last generation, the new model is much sleeker and athletic looking. More features are included including side curtain airbags, antilock brakes, a telescoping steering wheel, and nearly 20 percent more horsepower. The downside of additional content is that the base price has been raised considerably and now starts at $15,305.

Previous Generations
Seventh Generation (2001-2005)
The Civic gets bigger, is more refined, and receives more horsepower. It has a distinctive short nose and an arching roof line that allows for a large glass area ensuring excellent visibility. Si Hatchback goes on a short hiatus, to return in 2002. The gas-electric hybrid Civic debuted in 2003.[11]
In late 2003 the Civic got a facelift and were introduced as 2004 models. The gauges became sportier, the headlights changed shape too. In 2005 the Special Edition model were introduced. The civics' trims are DX, DX Value Package,LX, LX Special Edition, EX, EX Special Edition.

DX: BASE model
DX VP
DX VP adds the following features:
LX
LX comes with:
Power windows
Power locks
Power mirrors
Tachometer
LX Special Edition
LX Special Edition adds the following to LX:
15" 12-spoke Alloy rims
MP3 6-cd changer
leather wrapped steering wheel
spoiler
EX
EX adds the following to LX:
Moonroof
15" 5-spoke Alloy wheels
EX Special Edition
EX Special Edition adds the following to EX and LX:
Moonroof
spoiler
6-Cd changer
Leather wrapped steering wheel
15" 12-spoke Alloy rims
Sixth generation (1996–2000)
All models increase in size. Engine outputs were also increased without a fuel consumption penalty. A HX trim was added in 1996 with the availability of an electronically controlled CVT-gearbox. Later EX models benefit from a larger engine (1.6L) and the popular Honda VTEC engine. The Civic del Sol was dropped in 1998, and a sporty Si coupe is introduced in 1999. From 1995-2000 a 5-door Honda Domani was sold in the UK badged as a Civic alongside the 6th generation model. A surge in import tuning and wide variety of aftermarket products available for the 6th generation Civic made it a popular choice among import enthusiasts. In Australia, the sixth generation was sold as a sedan and coupe but sales weren't as good and a 3 door hatchback known as a CXi.
See Wikicar's comprehensive Sixth generation Honda Civic Review.

Fifth generation (1992–1995)
Civic is reshaped into a more aerodynamic design, and both the coupe and sedan ride on a longer wheelbase. The wagon is dropped and the two-seater del Sol debuts in 1993 as a replacement for the CRX. From a safety point of view the fifth generation was responsible for a driver-side airbag and the introduction of ABS on the EX sedan.
Fourth generation (1988–1991)
The Civic became sleeker as well as larger. This generation saw the introduction of four-valve-per-cylinder engines across all models as well as fuel injection. And for the first time, the double wishbone suspension system used on the Accord and Prelude was incorporated in front and rear to guarantee excellent stability and handling. The LX model was introduced with more standard features compared to the DX, and an even more feature-laden EX was introduced in 1990 as part of the mid model lifecyle refresh. The Civic Si Hathaback departed but returned for 1989.
The three door hatchback comes in three trims DX, STD., and Si. The DX is the basic model. Thr STD. (Standerd) is the DX just they added passenger mirror, leather like seats, interior clock, and a tape player. The Si model was the top of the line, The Si gave you body colored bumpers, moonroof, tachometer, sporty tail pipe, and a 1.6 liter engine with multipiont fuel injection ,but not one of the hatchbacks have power windows.
The Civic 5-door hatchback came in one trim 4WD, it basically has Power steering and 4-wheel drive. it has the same 1.5 liters as the rest (except the Si) and no power windows.

In late 1987 the fourth generation civic arrived and were sold as 1988 models. The hatchbacks arrvied first then the sedans arrived a few months later.
Third generation (1984–1987)
The Civic became more sophisticated. The wheelbase increased 5 inches to 96.5 inches, matching that of the Accord's. A new 1.5-liter engine producing 76 horsepower was introduced except on the base hatchback, which turned out 60 horsepower. The line-up was made up of three hatchbacks (base, DX and S), a wagon, a sedan and a new two-seat sport version called the CRX. In 1985, a CRX Si became available with fuel injection and and 91 horsepower. In 1986, there was a refreshening that included flush-mounted headlights, a four-speed automatic, and a Si version of the Civic Hatchback.

Second generation (1979–1983)
The second generation Civic saw its external dimensions increase. Two different engines were available - the 1300 (55 hp) and the 1500 (67 hp) - in base and DX trims. In 1981, a four-door sedan debuted along with a three-speed automatic tranmission. A high fuel-efficient model, the FE, appeared in 1982, while a sporty "S" was introduced in 1983.

First Generation (1973–1979)
Available as a hatchback and two-door sedan, Honda's first Civic was powered by an all aluminium 54 hp 1.2 litre SOHC 4-cylinder engine. In 1975, the new car featured a low-pollutant CVCC engine, which until 1983 met the strict American exhaust gas standards without the use of a catalytic converter. Transmissions included a four-speed manual or a two-speed "Hondamatic".
Worldwide the Civic caused a sensation with its design, technology and low fuel consumption – features that characterized all later models. By 1976 production had already reached the magical one million mark.

Worldwide

The Japanese Civic has little but noticeable styling differences from the American version. While the arcing line sweeping across the front fascia is retained, the main headlights dip away from the main arc for a more sporty appearance. The front bumper also has more vents with a steeper angle and sharper corners than the US Civic.
On the interior side, the Japanese Civic has a contrasting two-tone color scheme. The three-spoke steering wheel from the US Civic Si and the European hatchback is standard. Engines include a 1.8 litre SOHC i-VTEC engine that produces 140bhp at 6300rpm and a 2.0 litre DOHC i-VTEC engine that produces 155bhp at 6200 rpm; both are mated to either a 5-speed manual or 5-speed automatic (with paddle shifting available on the 2.0L model) with drive by wire throttles. A hyrbid version is also available.
The European Civic is the most different in that it is only offered as 5-door and 3-door hatchback only. Mechanically, the European Civic differs from the US and Japanese variants in that it is based on the Honda Jazz/Fit platform and uses a simpler torsion beam suspension system for the rear wheels compared to the double-wishbone system. Externally, the European model is the most aggressively styled. While the sweeping front arc is maintained, a light replaces the grille. The rear tail lights are also similarly styled. Triangular accents are found on the front and back, with triangular fog-lamps in front and dual triangle exhaust tips at the back. The rear backglass is split into two levels, divided by a spoiler lip and the fuel filler cap is a race-inspired exposed metal cap. For the 5-door models, the rear door is hidden away, with the door handles tucked away at the corners of the rear windows. Inside, the Euro Civic follows the same split level theme, but with a slightly racier design with circular A/C vents and switchgear. There's also a start button reminiscent of the Honda S2000. The handbrake is in a more covnentional position behind the shift lever. All around there is a generous use of metallic trim. Engines include the 1.8 liter i-VTEC shared with the US and Japanese versions as well as a 2.2 litre i-CDTi turbodiesel, on the 5-door there is also a 1.4 liter petrol engine with 83hp (pre 2009 i-DSI) or 100hp (2009 I-VTEC). A 6-speed manual transmission or 6-speed i-SHIFT is available across the range.
While the Civic is sold in largely the same form worldwide, differences in the name of the models exist between markets. In Japan, the Hatchback Civic is just called "Civic" while the sedan or coupé model is called "Civic Ferio". In the United States "Civic" generically refers to any of the coupe, sedan or hatchback models.
The two-door-hatchback body style has not been very popular in the United States but has achieved wide acceptance in Canada, Japan and European markets. Starting in 2001, the Civic two-door hatchback has been built exclusively at Honda's manufacturing plant in Swindon, England. Accordingly, all instances of that model (left- or right-hand-drive, anywhere in the world) are British-made cars designed with Japanese engineering.
Design quirks and oddities
The wing mirrors are concaved and can distort anything behind. Drivers may find it more difficult to judge distances to overtake or reverse park.
In the What Women Want survey conducted by the RACV in 2003, the Civic is the most popular choice among women buying a Honda. Ironically, the sedan version was more preferrable than the hatchback according to the survey but only by a small amount.
Awards
The Honda Civic was Motor Trend's Import Car of the Year for 1980 and Car of the Year in 2006.
The Civic has been on the annual "10 Best" list 6 times for Car and Driver - in 1985, 1988 through 1991, and 1996.
The American Council for an Energy Efficient Economy named Civic GX the Greenest Car of 2005. The Civic GX is a natural gas version of the vehicle.
2006 RACV Australia's Best Mid-size Car under $28,000
2000 Japanese Car Of The Year
See also
References
External Links
Honda Manufacturer & Community Sites:

News & References
Enthusiast Sites & Discussion Forums