Search By Model

Defunct
Geo was a brand of economy cars introduced by GM in 1989. It was not considered its own make, but part of Chevrolet. It offered five models in all, which were all produced by either Suzuki, Toyota, or Isuzu, as the brand was intended to compete with Japanese imports. The name was discontinued in 1997, but its models were still produced and sold under the Chevrolet name starting in 1998.
Models
Metro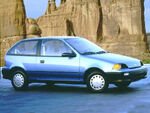 Metro was a subcompact car based on the Suzuki Swift available as either a three or five door hatchback, four door notchback, or less commonly as a convertible. The Metro's primary powerplant was a 1.0 liter, 3 cylinder engine. There was also a larger 4-cylinder engine available. It had very high MPG, and the first generation models got 53 city, 58 highway. It was introduced in 1989, redesigned in 1995, and renamed the Chevrolet Metro in 1998. The hatchback model was discontinued in 2000, but the sedan lasted until 2001.
Prizm
Prizm was a compact four door sedan based on the Toyota Corolla. While the Prizm consistantly won awards from the auto industry (including having the honor of being a Consumer's Digest Best Buy), it was always outsold by the Corolla, likely due to the perceived higher value of the Toyota brand. Additionally, Prizm had an akward position in Chevrolet's lineup, as it had to compete with a car it stared across the lot at: the Cavalier. Being in the same class as Cavalier, Chevrolet took the approch of marketing Cavalier as a "premium entry level sedan" while marketing Prizm as an "entry level compact sedan." Towards the end however, Prizm became more or less a redundancy in Chevrolet's lineup, which likely led to its demise. It was introduced in 1990, redesigned in 1993, and redesigned again in 1998, when it was renamed the Chevrolet Prizm. It was discontinued in 2002.
Spectrum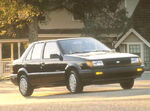 Spectrum was a short-lived compact one step up from the Metro, based on the Isuzu I-Mark. The Spectrum was previously sold as a Chevrolet model from 1985 to 1988. It was renamed the Geo Spectrum for 1989 but discontinued at the end of 1989. This was because it was built in Japan by Isuzu, who discontinued the I-Mark.
Storm

Storm was a sporty coupe, loosely based on the Isuzu Impulse, available in either a two door fastback configuration, or as a station wagon, which Geo oddly marketed as a hatchback. The suspension was provided by Lotus, which was owned by GM at the time. Storm entered Geo's lineup in 1990, and made a quick departure in 1993 despite strong sales. This was due in part to Isuzu discontinuing their non-truck vehicles. GM also sold off Lotus in 1993, which it had owned since 1986.
Tracker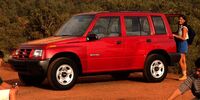 Tracker was a light SUV, based on the Suzuki Sidekick, which itself was a replacement for the highly criticized Suzuki Samurai. The Tracker was a part of the original Geo lineup from 1989, and was the longest running model. It was renamed the Chevrolet Tracker in 1998, and redesigned in 1999. Starting in 1999, the Sidekick became the Vitara. The Chevrolet Tracker was discontinued in 2004. Tracker was available in either a convertible or hardtop configuration, with either two or four seats. The buyer had the option of either a 2x2 drive setup, or optional 4-wheel drive. Geo touted Tracker as a versitile vehicle, being either an around town runabout, or a rugged off road vehicle. However, Tracker's high center of gravity coupled with its tall profile made it particularly prone to rollover, especially in earlier years. The

In Popular Culture
The Simpsons - Ned Flanders drives a red Metro
Big Trouble - Elliot Arnold (played by Tim Allen) drives a yellow Metro. His son makes many wise cracks about it during the film, and its small size was parodied when the whole family is crammed into it when they chase a stolen cop car.
See Also
External links
Community content is available under
CC-BY-SA
unless otherwise noted.