General Motors Astra
Vauxhall / Opel / Holden / Saturn
aka
Saturn Astra
Production
1991>
1996-2009 (Aust)
Class
Small family car
Body Style
3 dr-5 dr Hatchback, Wagon, Coupe-Convertible
Length
Width
Height
Wheelbase
Weight
Transmission
5 speed Manual
6 speed Manual
4 speed Automatic, FWD
Engine
1.8L Ecotec 4 cylinder
1.9L

CDTI

Power
N/A hp @ N/A rpm
N/A lb-ft of torque @ N/A rpm
Similar
Volkswagen Golf
Mazda3
Ford Focus
Peugeot 307
Designer
Designer (lead designer if it was a team effort)
General Motors Astra, also known as, Vauxhall Astra in United Kingdom, Opel Astra in Europe, Holden Astra in Australia, Chevrolet Astra in Latin America and Saturn Astra in North America, is a hatchback style automobile which was produced from 1991 - 2009
Recent Changes
On June 16, 2010, Opel and Vauxhall unveiled the Astra Sports Tourer on the internet, ahead of its 2010 Paris Motor Show debut on October 2. Essentially a station wagon (estate) version of the Astra, the ST increases cargo load length to 1835 mm and overall cargo space to 75 litres. In Europe, the Astra Sports Tourer's powertrain line-up will comprise of eight gasoline and diesel engines, ranging in power from 95HP to 180HP, including a new 1.4-liter Turbo petrol with 140-horsepower and a 2.0-liter turbo diesel with 160-horsepower that returns a combined fuel consumption of 5.1 lt/100km (equal to 46.1mpg US and 55.4mpg UK) with 134 g/km CO2 emissions. [1]
Opel Astra Sports Tourer
Vauxhall Astra Sports Tourer
The 2009 Frankfurt Auto Show played host to the unveiling of the next-generation Astra. The new Golf rival takes styling cues from its bigger Insignia brother and is slated to go on sale in Europe by Autumn 2010.[2][3]
As early as April 9, 2009, images of the next-generation Astra was leaked on the internet. Unlike the official teasers, the new images show the new Astra in its entirety.[4]
On September 8, 2008, Vauxhall leaked a teaser image of the next-generation Astra ahead of its official 2009 Frankfurt Motor Show release. From the early sketches, it would seem that General Motors' designers drew inspiration from the Ford Fiesta and the Vauxhall & Opel Insignias. The new car will be based on GM's new

Delta Platform

and will arrive bristling with new technology such as the Front Camera System first seen on the Insignia, which combines traffic sign recognition with a lane departure system and the next generation Adaptive Front Lighting (AFL) that provides nine unique light beams to improve visibility. [5]
Styles and Major Options
Certain vehicles come in different trim levels or body styles. Features and major options should be mentioned here.
Pricing
Add more fields as necessary.
MODEL Trims
Trim1
Trim2
Trim3
Trim4
MSRP
$Price1
$Price2
$Price3
$Price4
Invoice
$Price1
$Price2
$Price3
$Price4
Gas Mileage
Add more fields as necessary.
As seen on the FuelEconomy.gov website, the City/Highway MPG averages are as follows:
Trim
Trim1
Trim2
Trim3
Trim4
MPG
c/h
c/h
c/h
c/h
Engine and Transmission
Specifications, details, graphs, pictures and other information regarding the powertrain is placed in this section.
Performance
Acceleration
0-60 km/h: 4.3 seconds (CDTI)
0-80 km/h: 7.2 seconds (CDTI)
0-100 km/h: 9.9 seconds (CDTI)
Braking
Stopping distance: 24.2 metres from 80 km/h. (CDTI)
Reliability
Astras have all stand to a test of time. Mechanically, they give a little trouble and the car holds well in terms of good build quality. Their bodies are zinc galvanised to minimise corrosion (rust) and the majority of all Astras are well looked after.
Servicing
The cam timing belt for all Astras should be changed every 60,000 kilometres (37,500 miles).
Safety
This section should reference points on safety ratings and features of the vehicle.
Photos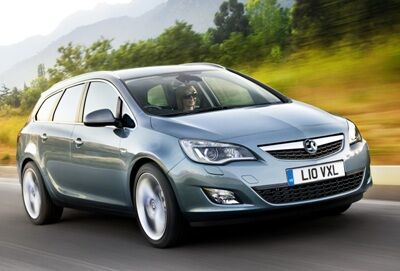 2010 Astra
Astra Interceptor (UK)
Colors
List the colors that the particular <MODEL> is offered in.
Main Competitors
Hybrid Models
If there are hybrid versions of this vehicle manufactured, then please elaborate a little bit on it here.
Unique Attributes
If there are any features of this vehicle that sets it apart from other vehicles in its class, then mention those unique attributes here.
Interior
This section should include information on the interior's design, build quality, ergonomics, space (head and legroom, front and rear), features, stowage compartments and overall comfortability and livability. Add pictures wherever applicable and keep information in a third-person point of view.
Resale Values
Add more fields as necessary.
<MODEL> Year
Year X
Year X-2
Year X-3
Year X-4
Resale Value
$
$
$
$
Criticisms
Please make sure to keep critiques in a third-person point of view. If using criticisms from a reputable automotive source, then please make sure to cite the quote.
Generations
Fill in as many as appropriate. Add more if necessary and pictures wherever applicable.
Please make sure NOT to use copyrighted pictures.

Current Generation: (2009–present)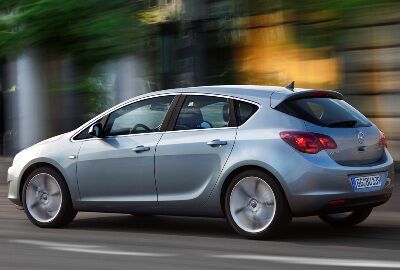 The car had been unveiled at the 2009 Frankfurt Motor Show and available to purchase on Friday, December 11, 2009. The Vauxhall Astra has been assembled at Ellesmere Port. The car includes a Flexfloor adjustable boot (trunk) system and a Flexfix bycicle carrier.
The Estate has been announced at the 2010 Frankfurt Motor Show, dubbed 'Sports Tourer' by Opel/Vauxhall and then went on sale shortly afterwards, pricing £16,575 for the ES version and then Exclusiv, SRI and SE versions, with the SE costing from £20,345. This is cheaper than the previous estate, but has more kit.
Fourth generation (H/C)(2004-2010)
Overall dimensions
Length: 4249 mm
Width: 1753 mm
Height: 1460 mm
Wheelbase: 2614 mm
Holden Astra AH
This is the third and final series Astra on sale in Australia. The range started off with the CD and CDX all in hatchback form with C18SE engine connected either a manual or an automatic with the staring price for the CD Manual costing $21,990 plus on-road costs. The sedan version was dropped and the 3 door coupe and wagon versions then followed in 2005 all with the same models as the current hatchback. The Astra wagon was unique to the market because it's one of the few small wagons in the Australian market along with wagon versions of the Holden Viva and the Peugeot 307.
2006 saw the inroduction of the new diesel version (called the CDTi) which comes with a 6 speed Manual transmission returning fuel economy of 6 litres/100 kilometres. There is also a 6 speed Automatic option but it's less powerful than the manual version. Also, two new petrol engines have been made availaible such as a direct-injected 2.2 litre engine for all SRi models and a turbocharged 2 litre engine for an SRi Turbo. The new Twin Top model is available to take on the new foldable hardtop convertibles with strong sales in Australia. It comes with the 2.2 litre engine driving the 6 speed Manual or a $2000 4 speed Automatic option. It's equipped with a reasonable amount of features such as leather appointed seats, 6 disc CD system, rear parking sensors and climate control air conditioning as standard. For safety, it comes with dual front and side airbags, ABS brakes and electronic stability control. The Astra Twin Top is the cheapest 4 seater convertible at $45,490 for the manual version and it offers the most room for all of its passengers compared to its rivals.
2007 saw the upgrade for the C18SE engine. Sales were strong but however in 2009, exchange rates had increased and that had put pressure on sales since the Global Finanicial Crisis struck General Motors hard. The Astra as we know it would be less competitive in the market today with the upcoming Astra expected to be priced as little as $22,990. The Astra was then dropped and replaced with the new more price competitive Cruze.
See Prices for 2004-2009 AH Astra and Trim levels for Holden AH Astra.
Third generation (G/B)(1998–2004)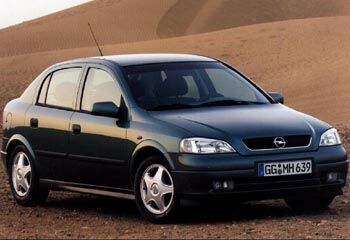 Holden Astra TS
The newly improved G/B Astra dubbed the TS went on sale in 1998 and production moved to Belgium so the car was better value for money. The 1.6L engine has been discontinued so the 1.8L engine became the mainstream engine throughout the range. The trim model line-up was re-calibrated and now consisted with the City, CD and the SRi (replacing the GSi).
The City adds dual airbags, 6 speaker stereo system with CD player, remote central locking, enigne immobiliser and a tilt and reach adjustable steering wheel. It also has a fold-down armrest for backseat passengers, body coloured bumpers and side body mouldings and is valued at $20,990 AUD (Auto $1,500 extra). The CD adds alloy wheels, cruise control, electric mirrors and front and rear electric windows along with valour trim with the starting price of $22,990 AUD (Auto $1,950 extra) and both models come with air conditioning and metallic paint as optional extras. Anti-lock Brakes (ABS) are optional in the CD model.
The SRi, released in 2001 gets the new 2.2L X22SE engine, it also adds 16 inch alloy wheels, air conditioning, white-faced gauges, fog lamps, leather wrapped steering wheel, metallic finishes on the dashboard and gearknob, electric windows, cruise control, traction control and the front and rear spoilers valued at $28,065 AUD (Auto $1,850 extra) and is only available in 3 door hatchback form and is also available with metallic paint optional. 2001 also saw the introduction of the new 3 door hatchback codenamed SXi and the convertible version available in the Astra range. The convertible was offered with a 2.2L engine, 16 inch alloy wheels, ABS, air conditioning, CD player, dual front and side airbags, cruise control, traction control, automatic stability control, power steering and power windows and is priced at $44,990 AUD (Auto $,1950 extra) and metallic paint is optional.
In 2003, the SRi is available with a turbocharged version and all models get 8 speakers for their stereo systems. They also get a drive-by-wire throttle and a multi-functional screen and varied price changes for every model. There are limited edition models as well including an Equipe City that adds 15 inch alloy wheels, air conditioning and electric mirrors over the regular City model. The Olympic model for the City and CD is released for the Sydney 2000 Olympic games. The limited edition models for the convertibles are the Limited Edition and the Linea Rossa. As the TS Astra closes to an end, the final limited edition Classic adds climate control air conditioning as one of the standard features and sells for $18,990 AUD for the manual until the end of 2005.
The TS Astra had won 3 Australia's Best Car awards 3 years in a row and is considered the best handling small car in its time.
See Autopedia's comprehensive General Motors G/B (TS) Astra Review.
Second generation (F/A)(1991–1998)
Holden Astra TR
Ever since Nissan Australia closed its Clayton plant in 1992, where the Pulsar was produced, Holden was left with the Corolla-rebadged Holden Nova. Holden have been looking for a small car to take place where the Holden Astra (originally a rebadged Nissan Pulsar) so they turned to GM's European arm Opel to import the F/A Vauxhall Astra built in England into Australia as a Holden.
The F/A Astra coined the TR came with three trim levels stating from City, GL and the GSi. It also came with a choice of a 5 door hatchback and sedan body styles and a choice of a 4 speed Automatic and a 5 speed Manual transmission both driving the front wheels. The City came with a 1.6L fuel-injected C16SE engine, power steering, driver's airbag, 6 speaker stereo system with radio and cassette player, intermittent wipers and central locking with the starting price of $19,990 AUD (Auto $1,500 extra). The GL comes with a 1.8L C18SE engine and adds body coloured bumpers, front fog lamps and electric mirrors at the price of $23,900 AUD (Auto $1,950 extra). As part of the optional extras for both the City and GL, they get air conditioning and an airbag for the front passenger. The range topping GSi comes with a 2L X20XEV engine, front and rear spoilers, 15 inch alloy wheels, front foglamps, 6 speaker stereo system with radio and cassette player, dual airbags, power steering, electric mirrors, alarm, central locking, engine immobiliser, leather steering wheel, sports seats, sports suspension and air conditioning optional at the cost of $33,390 AUD hatch and manual only. Cruise control and traction control were added in 1998.
The TR Astra proved to be the sales success and is sold alongside the budget-bound Nova. The TR came to an end in 1998 and is replaced with the new model Astra.
First Generation/Origins (YYYY–YYYY)
See Opel Kadett.
Variants
Astra Convertible
Astra TwinTop
The Astra TwinTop is the new retractable hardtop convertible in the C/H Astra model range replacing the G/B convertible. The two advantages over the ordinary convertible Astra are an increase of security and reduction of wind noise but it comes with an extra cost of weight. The TwinTop is one of the convertibles to offer room for 4 passengers (including driver) and ensuring that space, the roof consists of three piece (2 pieces rooftop, 1 piece rear window) compared with two-piece roofed convertibles such as the Peugeot 206 CC, 207 CC, 307 CC, 308 CC and the Mitsubishi Colt CC as well as the Nissan Micra C+C.
Overall dimensions
Length: 4476 mm
Width: 2020 mm (including mirrors)
Height: 1411 mm
Wheelbase: 2614 mm
Kerb weight: 1590 kg (2.2L)
Worldwide
If the vehicle is sold in other markets worldwide, then this is the section to mention that information. Also, mention if the <MODEL> goes by another name in these other markets.
Design quirks and oddities
On Top Gear a show on the BBC a Vauxhall Astra Techline Diesel was used as the Reasonably Priced Car being the successor to the Kia Cee'd.
Awards
1998 CarsGUIDE Car Of The Year
2000 RACV Australia's Best Mid-Size Car Under $25,000 (Holden Astra)
2001 RACV Australia's Best Mid-Size Car Under $25,000 (Holden Astra)
2002 RACV Australia's Best Mid-Size Car Under $25,000 (Holden Astra)
See also
External Links