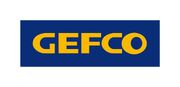 GEFCO (French name - Groupages express de Franche-Comté) is a group of transportation and logistics subsidiary of automotive group PSA Peugeot Citroën. Founded in 1949 to improve the quality of supply and distribution of products for the Peugeot factory in Sochaux, France, GEFCO then expanded in Western Europe in the 1980s. Since the late 1990s, GEFCO expanded into Central and Eastern Europe, South America, North Africa and Asia.
In late 1998, GEFCO had eight subsidiaries, and had grown to 28 in 2011.
Since its inception, GEFCO has diversified its business into the following areas: automotive manufacturers and suppliers; manufacturers of motorized two-wheelers; and industrial hygiene, beauty, consumer electronics, and specialty retailers.