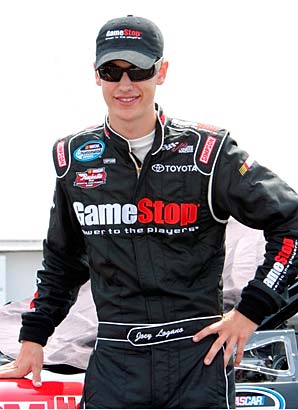 GameStop MotorSports is a popular NASCAR Nationwide Series and Rolex Sports Car Series Racing Team. They began in 2008 and continue to participate in NASCAR as of 2012.
In 2008, upcoming NASCAR Driver, Joey Logano, was in need of a sponsor and so was his team, Joe Gibbs Racing. When this news broke out, GameStop decieded that they were interested in having a NASCAR Team. In 2008, they joined Joe Gibbs Racing and Joey Logano took the car to Victory Lane multiple times.
After a successful 2008 NASCAR Nationwide Season, GameStop Racing and Joe Gibbs Racing worked out a contract and continued there success. 2009 was similar to 2008 including more trips to Victory Lane.
With Joey Logano now racing in the NASCAR Sprint Cup Series, GameStop MotorSports will only make starts in NASCAR Nationwide Series events that Joey Logano was also participating in. Though they only missed about five events, there were once agian many trips to Victory Lane.
In 2011, Joe Gibbs Racing worked out a deal with Dollor General Racing. DGR would become the Primary Sponsor pushing GameStop Racing to Secondary. Though Joey Logano still manily drove his famed GameStop Racing Toyota , he was also forced to drive the DGR Toyota in multiple races. GameStop still returned to Victory Lane multiple times though.
In 2012, GameStop Racing only started in select events. Now the GameStop Racing Toyota is only raced to advirtise a new video game that is coming out that is expected to be popular. Some of these games include Max Payne 3, Call Of Duty: Black Ops 2, and Halo 4. So far, GameStop Racing has only been to Victory Lane three times but Joey Logano has been there multiple times.
Community content is available under
CC-BY-SA
unless otherwise noted.