GMC, formerly known as GMC Truck, is a branch of General Motors' brand name of trucks, vans, and SUVs. Its vehicles are marketed in North America and the Middle East.
History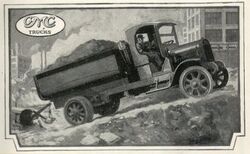 In 1900, Max Grabowsky established a company called the "Rapid Motor Vehicle Company", which developed some of the earliest commercial trucks ever designed. The trucks utilized one-cylinder engines. In 1909, the company was purchased by General Motors to form the basis for the General Motors Truck Company, from which GMC Truck was derived.
Another indepedent manufacturer purchased by GM that same year was Reliance Motor Car Company. Rapid & Reliance were merged in 1911, and in 1912 the marque "GMC Truck" was first shown at the New York Auto Show. 22,000 trucks were produced that year, though GMC's contribution to that total was a mere 372 units.
In 1916, a GMC Truck crossed the country from Seattle to New York in thirty days, and in 1926, a 2-ton GMC truck was driven from New York to San Francisco in 5 days and 30 minutes.
During the Second World War, GMC Truck produced 600,000 trucks for use by the U.S. military. In 1996 GM dropped the word 'truck' from the GMC Truck name, thus creating the GMC name as we know it today.
In 2002, GMC released a book entitled, GMC: The First 100 Years, that explained the company's complete history.
GMC currently manufactures SUVs, pickup trucks, light-duty trucks, and medium-duty trucks. In the past, GMC also produced fire trucks, ambulances, heavy-duty trucks, military vehicles, motorhomes, and transit buses. GMC is positioned as an outlet for the same trucks available under the Chevrolet, and (both previously, now discontinued) Isuzu or Suzuki brands, usually for Buick dealers, typically at lower volumes. The Envoy XUV was a unique body style. The GMC Denali is an alternative to the Cadillac Escalade, but it does not sell the popular Avalanche or minivan based SUVs. The GMC Sprint (later Caballero) was a rebadged El Camino and is a rare alternative. A consumer would choose on the basis of styling details and dealer preference.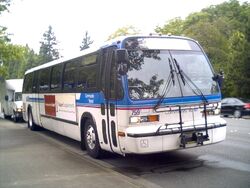 In 2007, the company will introduce the Acadia, a crossover SUV, which will be the company's first unibody vehicle.
GMC models
Intercity bus

PD-4501 Scenicruiser (1950s)
"Buffalo" Buses

H8H649 (1979 - 1980)
PD4107
PD4108
P8M4108A
PD4903
PD4905
P8M4905A
H8H649

Motorhome
Product Gallery
See also
External links
Community content is available under
CC-BY-SA
unless otherwise noted.